Are Zara Jeans True to Size? Unveiling the Truth about Zara Jeans Sizing
Are Zara jeans true to size? This is a question that many fashion-conscious individuals find themselves pondering before making a purchase. This comprehensive guide will delve deep into the world of Zara jeans sizing.
From understanding the nuances of Zara's sizing standards to exploring the factors that can affect the fit of their jeans, we've got you covered. By the end of this article, you'll have the knowledge needed to confidently choose the perfect pair of Zara jeans for your wardrobe.
Read Also- Are Next Jeans Good?
Understanding Zara Sizing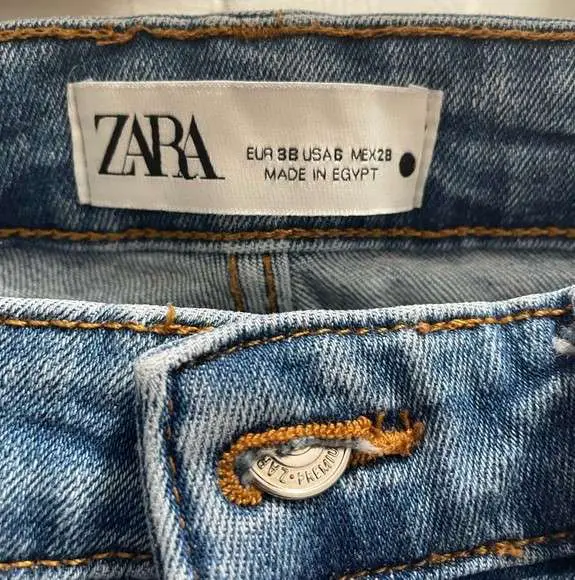 One must first comprehend Zara's unique sizing standards to decipher whether Zara jeans are true to size. Zara, a renowned fast-fashion brand, is known for its European influence on sizing. European sizing tends to be slimmer and more tailored than American sizing.
Therefore, it's crucial to familiarize yourself with European size conversions, as this will play a significant role in determining the fit of your Zara jeans.
Factors Affecting Jeans Sizing
Zara jeans sizing isn't just about the numbers; several factors come into play. These factors can significantly influence whether a pair of Zara jeans will fit you perfectly or not. Some of the key factors to consider include:
1. Body Shape
The shape of your body plays a vital role in how Zara jeans will fit. Those with an hourglass figure may find Zara's sizing to be more accommodating, while individuals with a straighter build might need to explore different fits within the brand.
Read More: Are Bling Jeans Out of Style?
2. Style of Jeans
Zara offers various jean styles, from skinny to boyfriend to bootcut. The style you choose can impact the fit. For example, skinny jeans may require a different size than a pair of relaxed-fit Zara jeans.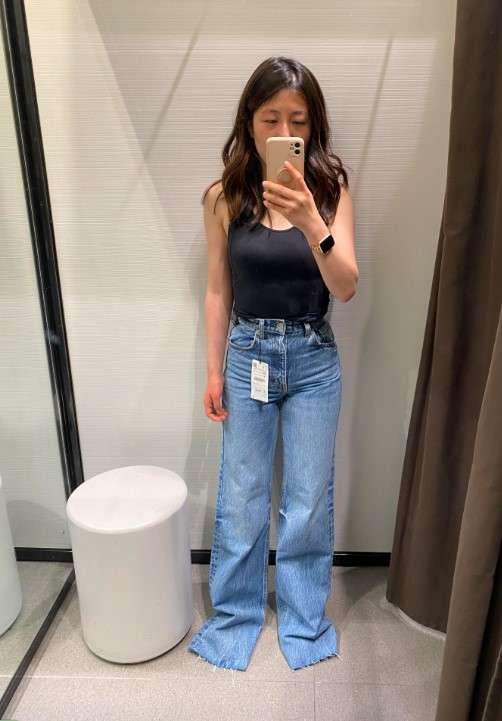 3. Fabric Composition
The fabric used in Zara jeans can also affect how they fit. Stretchy denim will offer more give and comfort, while rigid denim might require you to size up for a comfortable fit.
4. Manufacturing Variations
Like any other clothing brand, Zara may have manufacturing variations affecting the sizing. This is why it's essential to try on Zara jeans or consult their size chart before purchasing.
Zara Jeans Size Chart
To make your Zara jeans shopping experience more manageable, here's a simplified size chart for reference:
| Zara Size | Waist (inches) | Hips (inches) |
| --- | --- | --- |
| 34 | 25 | 35.5 |
| 36 | 26 | 37 |
| 38 | 27.5 | 38.5 |
| 40 | 29 | 40 |
| 42 | 30.5 | 41.5 |
| 44 | 32 | 43 |
Customer Reviews and Feedback about Zara Jeans Sizing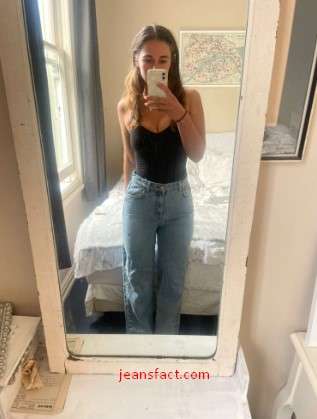 Here are some customer reviews and feedback about Zara jeans sizing:
"I usually wear a size 27 in jeans, but I had to size up to a 28 in Zara. They run small, especially in the waist."
"I love Zara jeans, but they definitely run small. I would recommend sizing up one size, especially if you have a curvy figure."
"I'm usually between a size 28 and 29 in jeans, and I found that the Zara jeans I tried on were true to size. Initially, they were a bit snug but stretched out after I wore them a few times."
"I'm 5'2″ and have short legs, so I always have to hem my jeans. Zara jeans are especially long, so I would recommend sizing down if you're petite."
"I'm not sure if it's just me, but I find that Zara jeans shrink a lot after I wash them. I always have to air dry them to avoid this."
Are Zara Jeans True to Size? My Personal Experience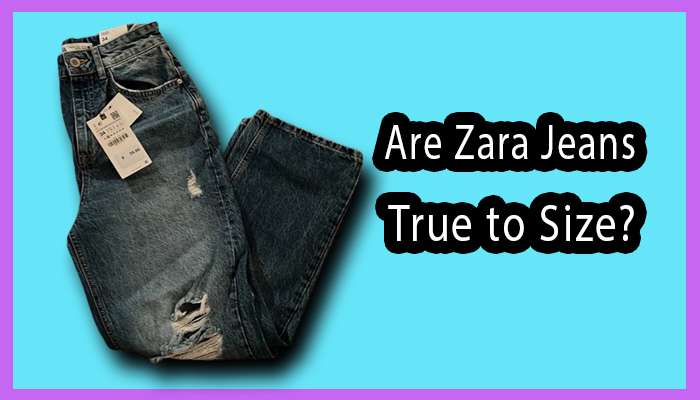 Now, let me share my personal experience with Zara jeans. As someone who has tried a variety of Zara jeans styles, I can attest that Zara jeans tend to be true to size if you are familiar with European sizing. However, there are exceptions.
For instance, you may want to consider sizing up if you prefer a skinny fit and a more relaxed feel. It's also essential to check the fabric composition and elasticity of the jeans, as this can vary between styles.
Related Post: Are Black Dress Pants Business Casual?
Frequently Asked Questions (FAQs)
Are Zara jeans smaller or larger than other brands?
Zara jeans are known for their European sizing, which tends to be slimmer and more tailored than many American brands. So, if you're accustomed to American sizing, you may find Zara jeans to be smaller. It's advisable to consult Zara's size chart and consider trying on a pair before purchasing to ensure the perfect fit.
What should I do if the Zara jeans I ordered don't fit?
If you receive Zara jeans that don't fit as expected, don't worry; Zara has a hassle-free return policy. You can return the jeans and either request a different size or receive a refund. Be sure to check Zara's return policy for specific details and timelines.
Can I return Zara jeans if they don't fit?
Yes, Zara typically allows returns on items that don't fit or meet your expectations. However, adhering to their return policy is essential, which may have specific conditions and timeframes. Always check the return policy on Zara's website or consult with their customer service for guidance.
What size are Zara 42 jeans?
Zara's size 42 jeans typically have a waist measurement of approximately 30.5 inches and a hip measurement of around 41.5 inches. However, remember that sizing can vary slightly between different Zara jeans styles.
How do Zara women's jeans fit?
Zara women's jeans come in skinny, straight, and wide-leg styles. The fit can vary depending on the style you choose. It's advisable to consult Zara's size chart and read customer reviews to determine the best fit for your body type and style preference.
Are Zara jeans good for tall individuals?
Zara offers jeans in various lengths, including options for taller individuals. If you're tall and looking for jeans that fit well, consider exploring Zara's "tall" or "long" options, which are designed to provide a better fit for taller frames.
Conclusion
The question, "Are Zara jeans true to size?" can be answered with a resounding "yes" if you understand Zara's unique European sizing standards.
By considering factors such as your body shape, the style of jeans you prefer, fabric composition, and reading customer reviews, you can confidently select the perfect pair of Zara jeans for your wardrobe.
Remember that Zara offers a hassle-free return policy, so don't hesitate to make exchanges or returns if needed. Happy shopping, and may your Zara jeans fit you like a glove!
Source: