How to Wear a Brown Jacket with Grey Pants: 11 Stylish Outfit Ideas for Men
When it comes to men's fashion, mixing and matching different pieces of clothing can be daunting. One classic combination that often perplexes men is pairing a brown jacket with grey pants.
However, fear not because, in this style guide, I will not only answer the question, "Can you wear a brown jacket with grey pants?" but I will also provide you with 11 actionable and interesting outfit ideas to ensure you nail this look effortlessly.
Can You Wear a Brown Jacket with Grey Pants?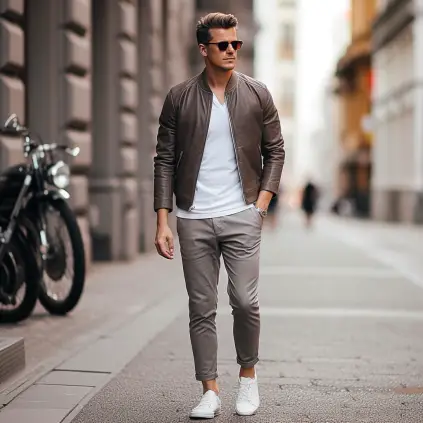 Absolutely! The key to creating a stylish outfit with a brown jacket and grey pants lies in understanding color coordination and the art of balancing. Brown and grey are neutral colors, making them a versatile and sophisticated pair. But let's delve deeper into how you can make this combination work for you.
Don't miss our recent post- Can Guys Wear Miss Me Jeans?
How to Wear a Brown Jacket with Grey Pants?
Here are 11 stylish outfit ideas for men on how to wear a brown jacket with grey pants:
1. The Classic Elegance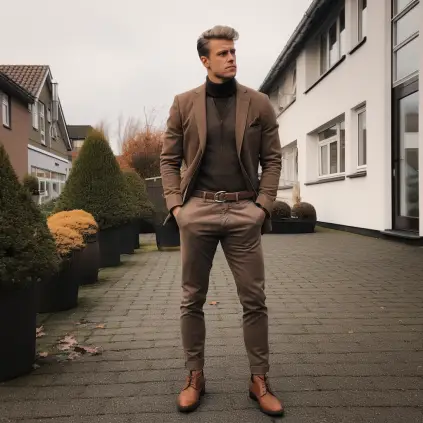 Pairing: Brown Blazer + Grey Dress Pants + White Dress Shirt + Brown Oxford Shoes
Start with a brown blazer over a crisp white dress shirt for a timeless and elegant look. Add grey dress pants and complete the ensemble with brown oxford shoes. This ensemble is perfect for formal occasions and business meetings.
2. Casual Cool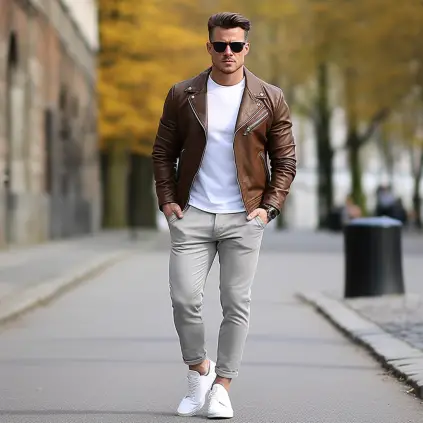 Pairing: Brown Leather Jacket + Grey Chinos + Grey T-Shirt + White Sneakers
If you want a more relaxed and laid-back style, opt for a brown leather jacket with grey chinos. Pair it with a grey T-shirt and white sneakers. It's a great choice for a weekend outing or a casual date.
3. Sophisticated Office Attire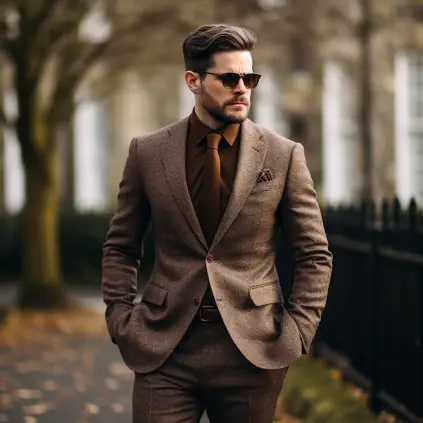 Pairing: Brown Suit Jacket + Grey Wool Trousers + Light Blue Dress Shirt + Brown Dress Shoes
Choose a brown suit jacket with well-fitted grey wool trousers for a refined office look. Complement the outfit with a light blue dress shirt and brown dress shoes. You'll exude confidence and professionalism. Read also- How to Wear a Black Tuxedo Jacket with Jeans for Men?
4. Smart Layers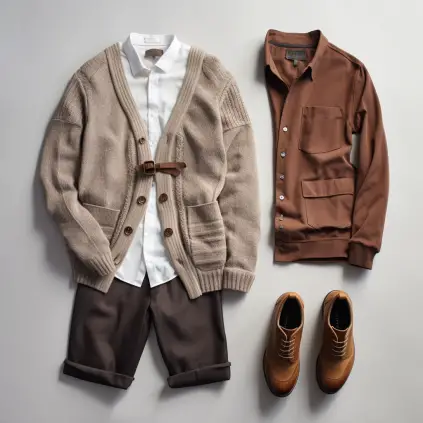 Pairing: Brown Cardigan + Grey Flannel Pants + White V-Neck Sweater + Brown Chelsea Boots
Layering is key in this outfit. Start with a brown cardigan, add a white v-neck sweater, and top it with grey flannel pants. Finish the look with brown Chelsea boots for a stylish and cozy appearance.
5. Weekend Vibes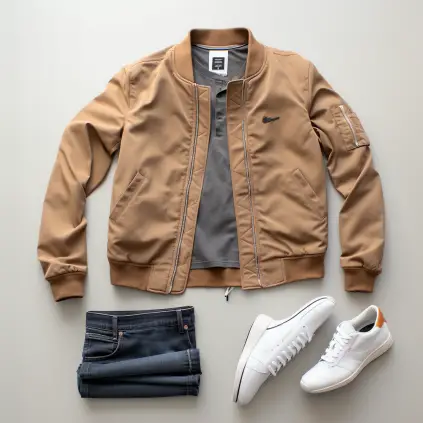 Pairing: Brown Bomber Jacket + Grey Jeans + Black Graphic T-Shirt + Sneakers
Choose a brown bomber jacket paired with grey jeans for a relaxed weekend outfit. Add a black graphic T-shirt and sneakers for a cool and casual look. It's perfect for running errands or hanging out with friends.
6. Dapper Evening Look
Pairing: Brown Velvet Blazer + Grey Dress Trousers + Black Dress Shirt + Black Loafers
When the occasion calls for a touch of luxury, opt for a brown velvet blazer paired with grey dress trousers. Add a black dress shirt and loafers for a dapper evening ensemble that turns heads.
7. Vintage Charm
Pairing: Brown Suede Jacket + Grey Corduroy Pants + Chambray Shirt + Desert Boots
Embrace vintage vibes with a brown suede jacket, grey corduroy pants, and a chambray shirt. Complete the look with desert boots for a rugged yet stylish appearance.
8. Weekend Warrior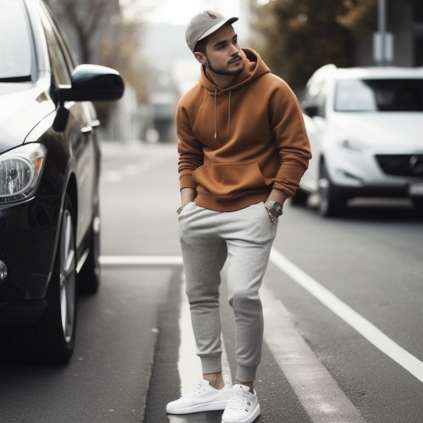 Pairing: Brown Hoodie + Grey Joggers + White Henley Shirt + Athletic Sneakers
Choose a brown hoodie with grey joggers for a sporty, comfortable weekend look. Layer it with a white henley shirt and complete the outfit with athletic sneakers for maximum comfort.
Further Read: How to Wear Brown Pants with a Pink Shirt?
9. Business Casual Chic
Pairing: Brown Sports Coat + Grey Dress Slacks + Navy Blue Dress Shirt + Brown Brogues
Achieve a polished business casual look with a brown sports coat, grey dress slacks, and a navy blue dress shirt. Elevate the style with brown brogues for a touch of sophistication.
10. Rustic Charm
Pairing: Brown Tweed Jacket + Grey Tweed Pants + Plaid Flannel Shirt + Leather Boots
Choose a brown tweed jacket with grey tweed pants for a rustic and outdoorsy aesthetic. Pair it with a plaid flannel shirt and leather boots for a rugged yet fashionable look.
11. Street Style Swagger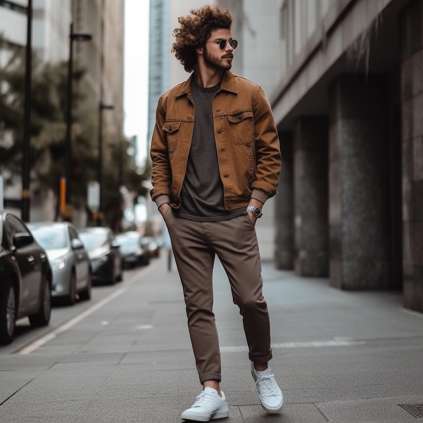 Pairing: Brown Denim Jacket + Grey Cargo Pants + Graphic Tee + High-Top Sneakers
Unleash your inner street style icon with a brown denim jacket, grey cargo pants, and a bold graphic tee. Finish the look with high-top sneakers for a trendy and urban outfit.
Celebrities Who Nailed the Look
Celebrities often serve as style inspiration; several have effortlessly rocked the brown jacket with a grey pants combo. Here are a few notable examples:
George Clooney: Known for his impeccable style, Clooney has been spotted in a brown leather jacket paired with grey trousers, achieving a timeless look.
David Beckham: The football legend and fashion icon has been seen sporting a brown blazer with grey pants, showcasing a perfect blend of sophistication and casual flair.
Tom Hardy: Hardy's rugged charm shines through in a brown suede jacket and grey jeans combo, proving that this pairing can work for various occasions.
Idris Elba: Elba's red carpet appearance in a brown suit jacket and grey dress trousers demonstrates how this combination can exude elegance and charisma.
FAQs (Frequently Asked Questions)
What colors of shirts go well with this combination?
Neutral-colored shirts such as white, light blue, and pastel shades complement the brown jacket and grey pants combination exceptionally well. These shades create a harmonious and balanced look.
Can I wear a black shirt with this combination?
While you can wear a black shirt with a brown jacket and grey pants, it's advisable to proceed cautiously. This combination can create a high-contrast look, so ensure the overall outfit is well-balanced and doesn't appear too stark.
How do I choose the right tie color for a Brown jacket and Grey Pants?
When selecting a tie for this combination, consider earthy tones like burgundy, olive, or mustard for a cohesive look. Alternatively, you can opt for patterned ties incorporating brown and grey to tie the outfit together.
What footwear goes well with a Brown jacket and Grey Pants?
Brown footwear, such as loafers, brogues, or oxford shoes, complements this combination seamlessly. However, depending on the style and occasion, you can experiment with black or tan shoes to add contrast or a touch of sophistication.
Conclusion
Wearing a brown jacket with grey pants is possible and a stylish choice for various occasions. By following the outfit ideas provided in this guide and considering the color combinations, you can confidently rock this classic look.
Remember that fashion is all about expressing your personality, so don't hesitate to experiment and add your unique flair to these combinations.
Resource Link
https://lookastic.com/men/brown-jacket/looks
Glossary of Style Terms
Henley Shirt: A collarless, round-necked shirt with a buttoned placket.
Corduroy Pants: Trousers made from corduroy fabric featuring raised, parallel lines.