Style Guide for Men | How to Wear Brown Pants with a Pink Shirt?
In fashion, the essence lies in making a distinctive statement and showcasing your style. Pairing brown pants with a pink shirt is an intriguing fusion that can elevate your appearance. Yet, how can one successfully pull off this unconventional yet stylish ensemble?
Within this guide, we shall delve into the art of harmonizing these two hues to craft captivating outfits that capture attention and leave a memorable mark.
Choosing the Right Shade of Brown Pants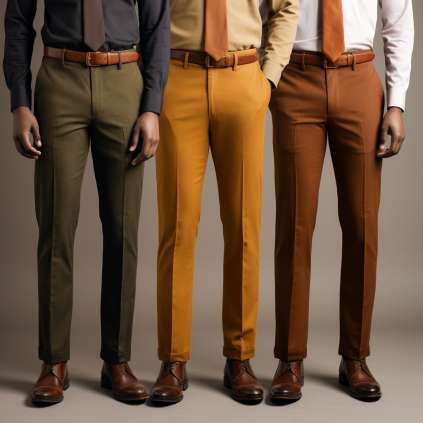 Before you even think about pairing your brown pants with a pink shirt, choosing the right shade of brown is essential. The right shade can make all the difference in your outfit. Here are some points to consider:
1. Light Brown
Light brown pants are versatile and pair well with various shades of pink. They create a balanced, relaxed look for casual outings or beach gatherings.
2. Dark Brown
Dark brown pants exude sophistication and elegance. They are ideal for formal occasions or evening events when you want to make a bold statement with your outfit.
3. Earthy Tones
Explore different earthy tones like taupe or camel for a unique and rustic vibe. These shades complement pastel pink shirts beautifully, creating a harmonious ensemble. Don't miss our recent post- How to Wear a Brown Jacket with Grey Pants?
Selecting the Perfect Pink Shirt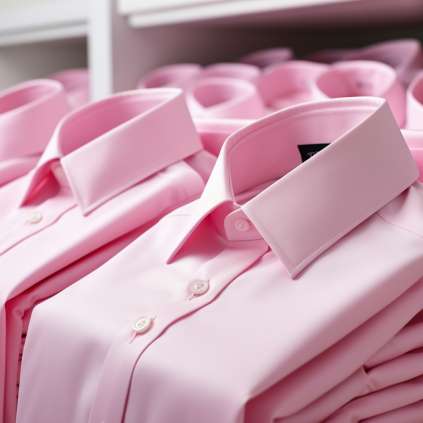 Now that you've chosen the right brown pants, it's time to find the perfect pink shirt to complete your outfit. Here are some points to help you make the right choice:
1. Pastel Pink
Pastel pink shirts are a classic choice when paired with brown pants. They create a soft, pleasing contrast for casual and semi-formal occasions.
2. Salmon Pink
Salmon pink shirts add a touch of vibrancy to your outfit. This shade pairs excellently with light or medium brown pants and is perfect for daytime events.
3. Hot Pink
For a bold and daring look, consider a hot pink shirt. This choice is ideal for making a statement at parties or nightclubs when paired with dark brown pants.
How to Wear Brown Pants with a Pink Shirt? – 13 Outfit Ideas for Men
Now that your brown pants and pink shirt are ready let's dive into some outfit ideas that will make you a style icon. Each outfit will have its unique charm and purpose.
1. Casual Elegance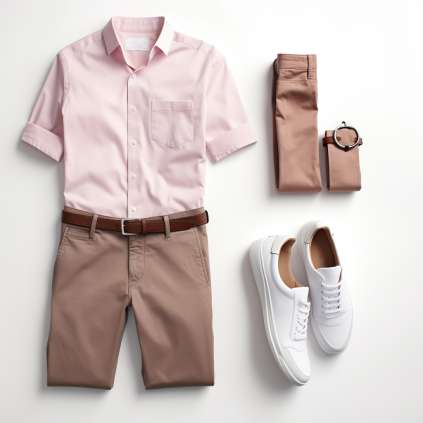 Pairing: Light brown pants, pastel pink shirt
Accessories: Brown leather belt, white sneakers
Occasion: Weekend brunch with friends
Combine light brown pants with a pastel pink shirt for a relaxed yet sophisticated look. Add a brown leather belt and white sneakers to complete the ensemble. You'll effortlessly stand out in a crowd.
2. Boardroom Ready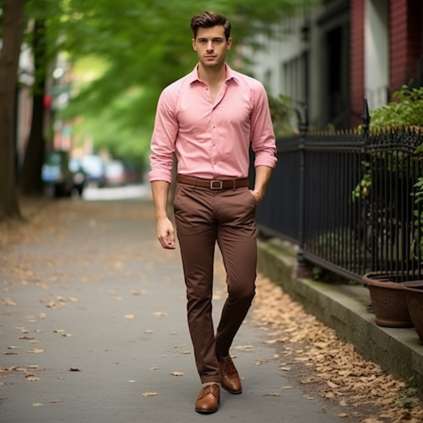 Pairing: Dark brown pants, salmon pink shirt
Accessories: Black dress shoes, black leather belt
Occasion: Business meeting
Make a powerful statement in the boardroom by pairing dark brown pants with a salmon pink shirt. Accessorize with black dress shoes and a matching leather belt for a commanding presence.
3. Date Night Delight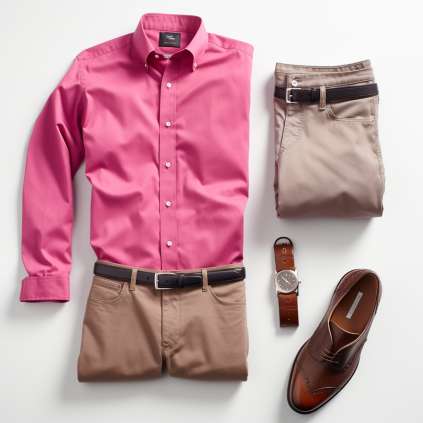 Pairing: Medium brown pants, hot pink shirt
Accessories: Brown loafers, statement watch
Occasion: Romantic dinner date
Turn heads on your date night by wearing medium brown pants with a hot pink shirt. Complement the look with brown loafers and a stylish statement watch to impress your special someone.
4. Beach Vibes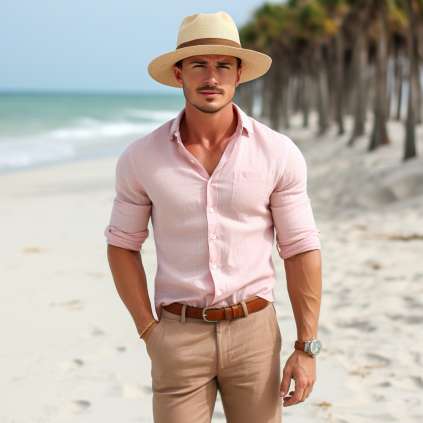 Pairing: Light brown linen pants, pastel pink linen shirt
Accessories: Straw hat, flip-flops
Occasion: Beach vacation
Embrace the beach vibes with light brown linen pants and a pastel pink linen shirt. Complete the look with a straw hat and comfortable flip-flops for a relaxed and fashionable beach day.
5. Wedding Guest Chic
Pairing: Dark brown dress pants, blush pink dress shirt
Accessories: Black formal shoes, silk tie
Occasion: Wedding reception
Be the best-dressed wedding guest by combining dark brown dress pants with a blush pink dress shirt. Elevate the look with black formal shoes and a silk tie for a touch of elegance.
6. Vintage Charm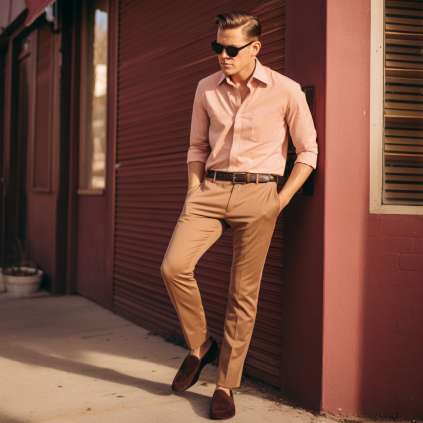 Pairing: Camel brown pants, dusty rose shirt
Accessories: Suede brown shoes, retro sunglasses
Occasion: Retro-themed party
Channel vintage charm by wearing camel brown pants with a dusty rose shirt. Don't forget suede brown shoes and retro sunglasses to complete your nostalgic look.
7. Business Casual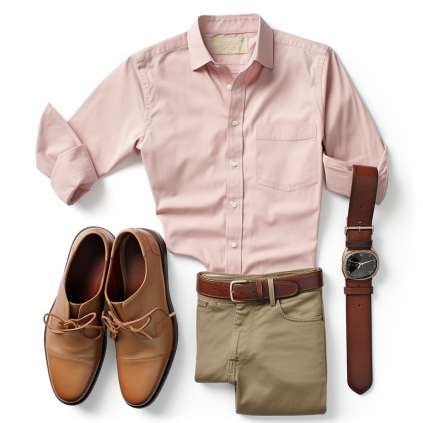 Pairing: Tan chinos, light pink button-down shirt
Accessories: Brown leather loafers, canvas belt
Occasion: Casual office day
Master the art of business casual with tan chinos and a light pink button-down shirt. Add brown leather loafers and a canvas belt for a comfortable yet professional look.
8. Weekend Adventure
Pairing: Chocolate brown cargo pants, coral pink polo shirt
Accessories: Sporty sneakers, canvas backpack
Occasion: Outdoor adventure
Stay comfortable and stylish on your weekend adventure with chocolate brown cargo pants and a coral pink polo shirt. Sporty sneakers and a canvas backpack complete the rugged yet fashionable ensemble.
9. Bohemian Rhapsody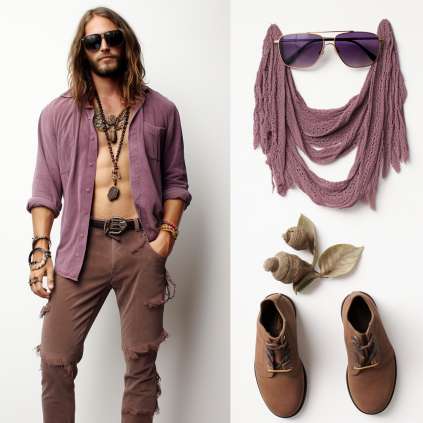 Pairing: Rustic brown corduroy pants, mauve bohemian shirt
Accessories: Leather sandals, beaded necklace
Occasion: Bohemian-themed festival
Embrace your inner bohemian spirit with rustic brown corduroy pants and a mauve bohemian shirt. Slip into leather sandals and wear a beaded necklace for a laid-back, boho-inspired look.
10. Music Festival Vibes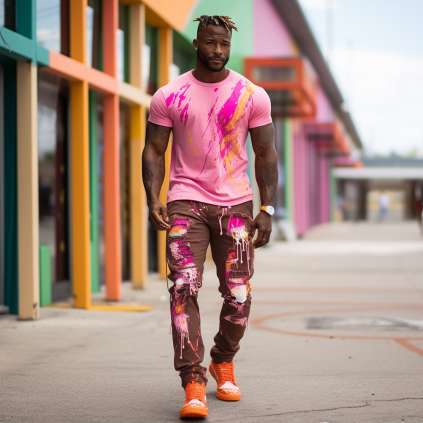 Pairing: Brown ripped jeans, neon pink graphic tee
Accessories: High-top sneakers, festival wristbands
Occasion: Music festival
Rock the music festival scene with brown ripped jeans and a neon pink graphic tee. High-top sneakers and a collection of festival wristbands complete the edgy and energetic look.
11. Classic Tuxedo Twist
Pairing: Dark brown tuxedo pants, light pink tuxedo shirt
Accessories: Black patent leather shoes, bow tie
Occasion: Formal gala
Put a twist on the classic tuxedo look by opting for dark brown tuxedo pants and a light pink tuxedo shirt. Elevate the ensemble with black patent leather shoes and a stylish bow tie.
12. Art Gallery Affair
Pairing: Slim-fit brown trousers, rose silk dress shirt
Accessories: Brown monk strap shoes, pocket square
Occasion: Art gallery opening
Make a statement at an art gallery affair with slim-fit brown trousers and a rose silk dress shirt. Add sophistication with brown monk strap shoes and a tasteful pocket square.
13. Weekend Getaway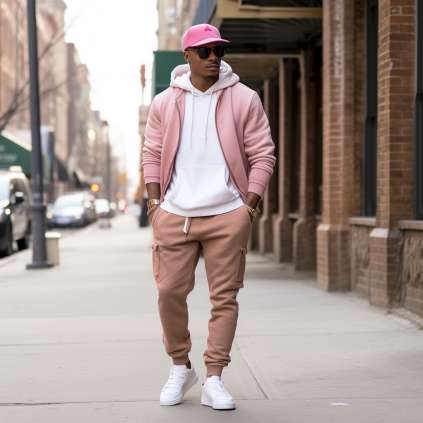 Pairing: Brown jogger pants, oversized pink hoodie
Accessories: White sneakers, baseball cap
Occasion: Weekend escape
Stay cozy and stylish on a weekend getaway with brown jogger pants and an oversized pink hoodie. Complete the look with white sneakers and a sporty baseball cap for a relaxed yet fashionable appearance.
Celebrity Who Wear Brown Pants with Pink Shirt
Celebrities often lead the way in fashion trends. Here are a few notable figures who have confidently sported the brown pants and pink shirt combination:
1. Ryan Reynolds
At a movie premiere, Ryan Reynolds was spotted wearing caramel brown trousers and a pale pink shirt. His charisma and style turned heads.
2. Zac Efron
Zac Efron chose a bold approach with dark chocolate brown pants and a hot pink shirt at a fashion event, proving that confidence is key.
3. David Beckham
David Beckham effortlessly combined olive brown pants with a pastel pink shirt during a casual outing, showcasing his fashion-forward sensibility.
FAQ
Does a pink shirt go with brown pants?
Absolutely! Choosing a pink shirt can complement brown pants beautifully, creating a stylish and eye-catching ensemble.
What color shirt matches brown pants?
Shirts in shades of pink, white, light blue, and even lavender can all work well with brown pants, depending on the occasion and your personal style.
Can I wear pastel pink with brown pants?
Yes, pastel pink pairs exceptionally well with brown pants, creating a harmonious and fashionable look suitable for various events.
Are there any specific patterns to avoid?
It's best to avoid overly busy patterns when combining brown pants and a pink shirt. Stick to solid colors or subtle patterns to maintain a balanced appearance.
What shoes go best with this combination?
The choice of shoes depends on the overall style and occasion. For a formal look, wear dress shoes, while casual outfits can be completed with sneakers or loafers.
Conclusion
Combining brown pants and a pink shirt is a versatile and stylish choice for men looking to make a fashion statement. By carefully selecting the right shades and styles, you can create a variety of outfits suitable for any occasion. So, go ahead and experiment with this unique pairing, and let your style shine.
Source:
https://www.styleforum.net/threads/pink-shirt-brown-pants-what-color-tie.118380/
https://archiveavenue.com/what-to-wear-with-brown-pants-for-men/