How To Wear Jeans To Work For Women? 13 Outfit Ideas
When it comes to selecting the perfect outfit for work, jeans might not be the first thing that comes to mind. However, with the right styling and combinations, jeans can be transformed into a chic and professional workwear option for women.
In this guide, we'll explore how to wear jeans to work while maintaining a polished and sophisticated look that aligns with the professional environment.
Selecting the Best Jeans for Work
Choosing the right pair of jeans is the foundation of creating a stylish work outfit. Here are some tips for choosing the best jeans for office wear.
Opt for dark wash jeans with a tailored fit.
Avoid overly distressed or embellished jeans.
Prioritize a well-fitted, comfortable pair that flatters your body type.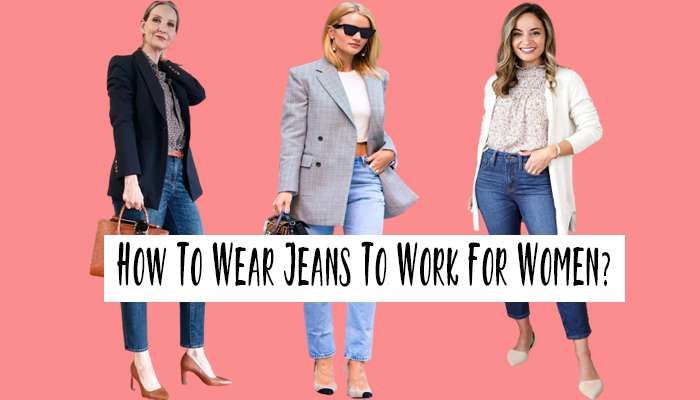 Pairing Jeans with Professional Tops
To achieve a polished and sophisticated appearance, consider these tops to pair with your jeans:
Crisp button-down shirts convey authority.
Elegant blouses in solid colors or subtle patterns exude professionalism.
Tasteful sweaters or cardigans can create a cozy yet refined look.
Also Read: How To Wear Jeans To Work For Men?
What Shoes To Wear With Jeans for a Professional Look
Your choice of shoes can greatly influence the overall vibe of your outfit. Opt for these options:
Classic pointed-toe heels add an instant touch of elegance.
Stylish loafers bring a blend of comfort and style.
Closed-toe pumps create a sleek and powerful impression.
What Accessories To Wear With Jeans for a Professional Look
Accessorizing thoughtfully can elevate your jeans ensemble:
Minimalist jewelry adds sophistication, such as stud earrings and a sleek watch.
A structured leather handbag complements your professional appearance.
A statement belt can accentuate your waist and tie the outfit together.
13 Jeans Office Outfits For Ladies
Here are the 13 jeans office outfits that empower ladies to express their individuality while adhering to workplace norms.
1. The Classic Blazer Duo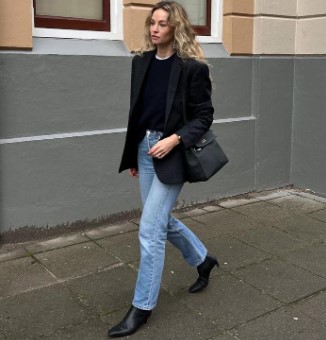 Nothing exudes confidence like a well-fitted blazer paired with tailored jeans. Opt for a navy blazer with gold buttons over a crisp white shirt, complemented by dark-wash skinny jeans.
This ensemble effortlessly walks the line between professionalism and trendiness, making it perfect for presentations and client meetings.
2. Casual Chic with Cardigans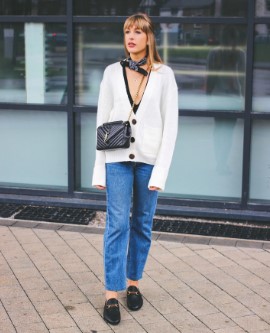 Elevate your casual Fridays with a lightweight cardigan worn over a silk camisole and straight-leg jeans. Choose neutral tones for a refined look or experiment with pastels for a touch of playfulness.
This ensemble showcases your fashion-forward sensibilities while maintaining an air of relaxed professionalism.
3. Monochromatic Magic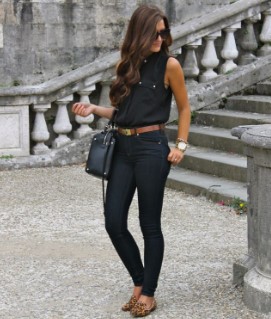 Monochromatic outfits never go out of style. Select a pair of black high-rise jeans and match them with a sleek black blouse. Complete the look with a statement belt and ankle boots. Monochromatic ensembles elongate your silhouette and project an air of effortless elegance.
4. Effortless Denim Jumpsuit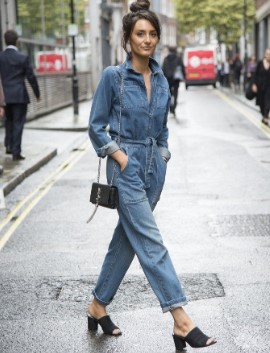 For days when you're aiming for maximum comfort without compromising style, a denim jumpsuit is the answer. Opt for a tailored jumpsuit with a cinched waist and a belt. Accessorize with delicate jewelry and a pair of mules. This outfit exudes confidence and flair, ideal for creative workplaces.
5. Business Casual Blend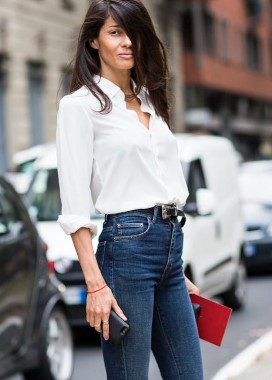 Blend business casual with denim by combining a structured white shirt with wide-leg jeans. Tuck in the shirt for a polished touch, and add a statement necklace. This ensemble is perfect for days when you have important meetings on your agenda.
Also Read: How to Style Dress Pants?
6. The Power of Accessories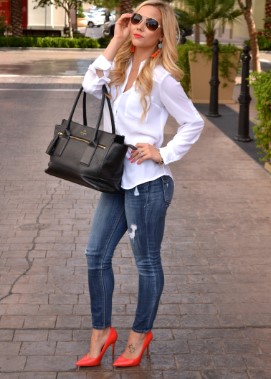 Transform a simple jeans-and-blouse combo into a head-turning outfit by incorporating bold accessories. A chunky belt, oversized sunglasses, and statement earrings can instantly elevate your look from ordinary to extraordinary, showing off your unique style.
7. Trench Coat Sophistication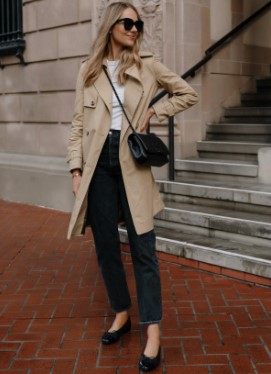 A trench coat is a timeless piece that pairs wonderfully with jeans. Slip on a tailored trench coat over a tucked-in blouse and dark denim. This ensemble exudes sophistication and is perfect for transitioning between office and evening events.
8. Relaxed Friday Vibes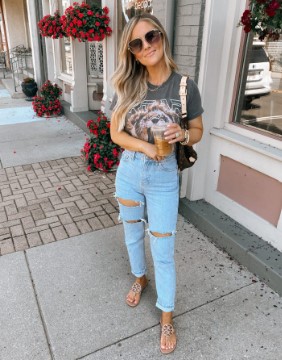 Embrace the laid-back vibes of casual Fridays with a tucked-in graphic tee, distressed jeans, and low-top sneakers. Add a lightweight jacket or a kimono for a touch of elegance. This outfit seamlessly balances comfort and style, letting you express your personality.
9. Denim Pencil Skirt Delight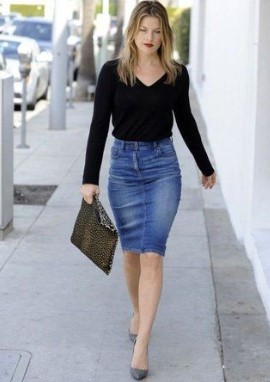 Reimagine the traditional pencil skirt with a denim twist. A well-fitted denim pencil skirt paired with a tucked-in blouse and heels creates a modern yet professional look. This outfit is a stylish nod to classic office attire.
10. Playful Patterns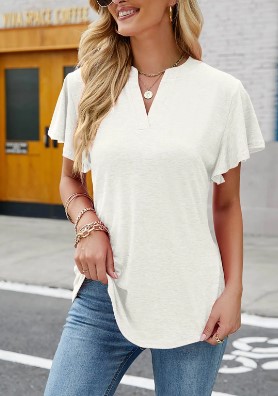 Inject fun into your office attire by pairing patterned jeans with a solid blouse. Stripes, polka dots, or subtle floral prints add a dash of personality while maintaining a polished appearance. Just ensure the patterns are not overly bold for a professional vibe.
11. Layered Sophistication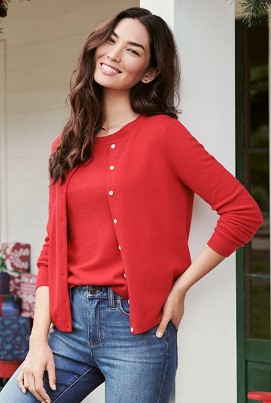 Master the art of layering by teaming a lightweight sweater with dark jeans and a tailored vest. This ensemble offers warmth and style, perfect for transitioning between air-conditioned offices and outdoor meetings.
12. Culottes and Confidence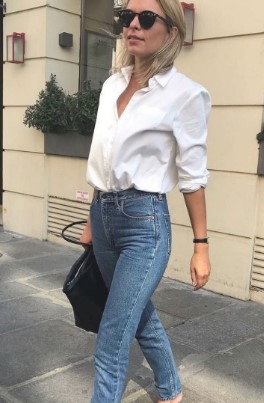 Culottes offer a fusion of comfort and elegance. Choose a high-waisted denim culotte and pair it with a tucked-in blouse. Add a belt to define your waist, and finish the look with ankle boots. This ensemble is a daring take on office fashion.
13. The Timeless White Shirt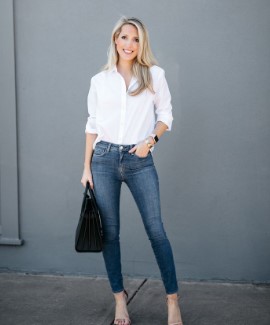 When in doubt, turn to the timeless white shirt. Pair it with straight-leg jeans and accessorize with a statement watch and dainty bracelets. This ensemble radiates professionalism while allowing you to make a subtle style statement.
What To Avoid For Jeans Office Wear
Ripped Jeans: Excessive distressing or large tears can look unprofessional.
Overly Casual Tees: Save graphic or casual tees for your off-duty days.
Flashy Embellishments: Jeans with heavy embellishments might not align with the office environment.
FAQ
What are the rules for wearing jeans to work?
Rules for wearing jeans to work have evolved. Opt for well-fitted, clean, and non-distressed jeans, and pair them with polished tops and accessories for a professional look.
Can women wear jeans as business casual?
How to look formal in jeans, women?
Combine darker shades with structured tops, blazers, and classy accessories to look formal in jeans.
Can I wear distressed jeans to the office?
It's best to avoid heavily distressed jeans in the office, as they may not align with a professional environment.
What types of tops work best with jeans for a professional look?
Tops such as button-down shirts, blouses, and sweaters work best with jeans for a professional look.
Are there certain colors of jeans I should avoid?
Avoid overly bright or flashy colors. Stick to classic shades like dark blue, black, and gray for a more professional appearance.
Conclusion
Wearing jeans to work is about striking the right balance between comfort and professionalism. With careful consideration of the jeans' style and fit, paired with the right tops, shoes, and accessories, you can confidently embrace jeans as a stylish choice for the modern workplace.
Source:
https://www.indeed.com/career-advice/starting-new-job/casual-dress-code