Best Kind Of Shoes To Wear With Straight-leg Jeans
Straight-leg jeans are one of the most popular denim styles around right now. They're versatile and flattering. This blog post will explore the best shoes to pair with straight-leg jeans and provide some outfit ideas to inspire you. So whether you're looking for a stylish new look or need some advice on what shoes to wear with straight-leg jeans, read on for our top picks!
What Shoes To Wear With Straight-leg Jeans?
These shoes are best for straight leg jeans-

Plain White Sneaker
Heels
Classy Flats
Chunky Sneakers
Strappy Sandals
Clogs
When styling straight-leg jeans, the key is to look for comfortable and stylish shoes that pull the look together. Some outfit ideas with the shoes are: 
1. Plain White Sneaker And Short Sleeve T-Shirt With Straight-leg Jeans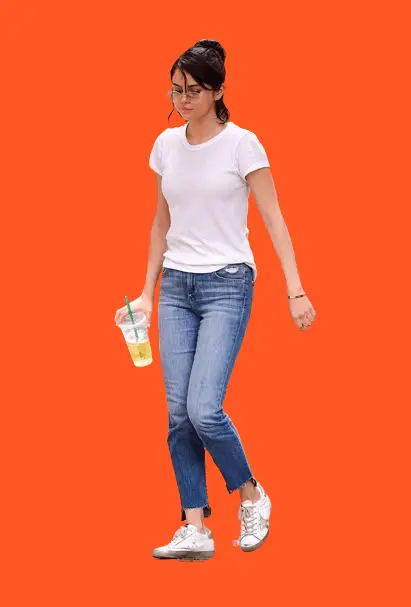 The ultimate casual look for the modern woman is plain white sneakers, a short-sleeved t-shirt, and straight-leg jeans. These three pieces are the perfect combination of comfort and style.
The plain white sneakers bring a timeless, classic look to the outfit, while the short-sleeved t-shirt and straight-leg jeans provide convenience and versatility for any occasion.
The neutral color palette of the outfit also allows for easy accessorizing, making it the perfect choice for busy women on the go. If you want to know about wearing straight-leg jeans with sneakers, you should read this- How To Wear Straight-leg Jeans With Sneakers?
2. Heels and Brown Wool Coat With Straight-leg jeans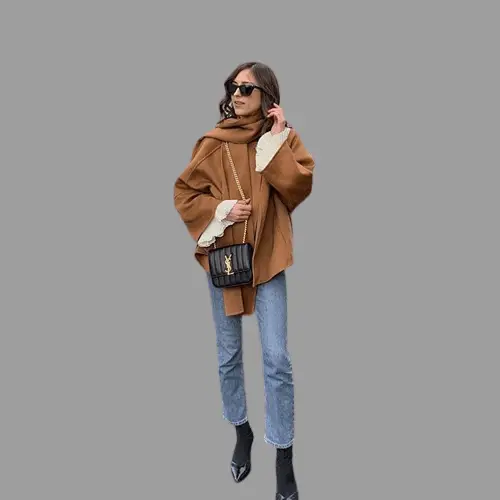 Heels and a brown wool coat with straight-leg jeans make a perfect combination for a modern and sophisticated look for women. The muted color palette gives an understated elegance. This look is ideal for any occasion, from a casual lunch date to a night out. With this ensemble, you'll be sure to make a statement.
3. Classy Flats And White Blouse With Straight Leg Jeans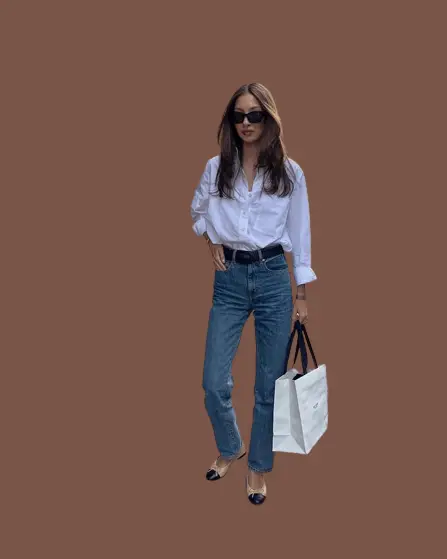 The perfect ensemble for any professional woman is a pair of classy flats and a white blouse paired with straight-leg jeans. The flats will provide a subtle yet stylish touch, while the blouse will give a classic and professional feel. The straight-leg jeans will provide a flattering and comfortable fit while maintaining a professional look. 
4. Mules And a Black V-neck T-shirt With Straight-leg Jeans
Opt for a pair of straight-leg jeans, a black v-neck t-shirt, and mules for a sophisticated and comfortable look. This timeless combination is suitable for any season and occasion, day or night.
The straight-leg jeans provide a classic silhouette, while the v-neck t-shirt offers a flattering cut. The mules are the perfect finishing touch, as they are comfortable, stylish, and can be worn with various looks. 
5. Chunky Sneakers And Blazer With Straight-leg Jeans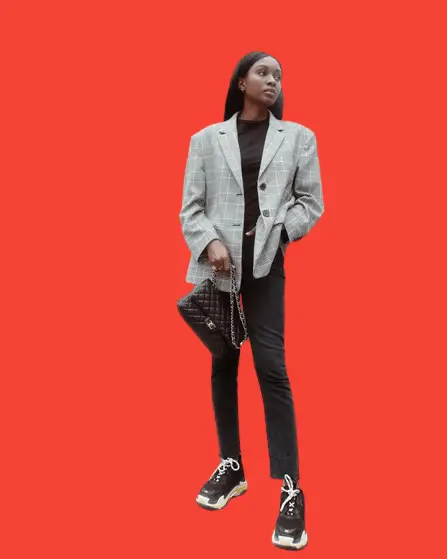 Straight-leg jeans and a blazer paired with chunky sneakers are an effortlessly chic look for any woman. This ensemble is ideal for a casual or semi-formal event, providing an edgy yet sophisticated vibe.
The combination of the structured blazer and straight-leg jeans helps to create a long, lean silhouette, allowing the wearer to look modern and stylish.
6. Strappy Sandals And Maroon Shirt With Straight Leg Jeans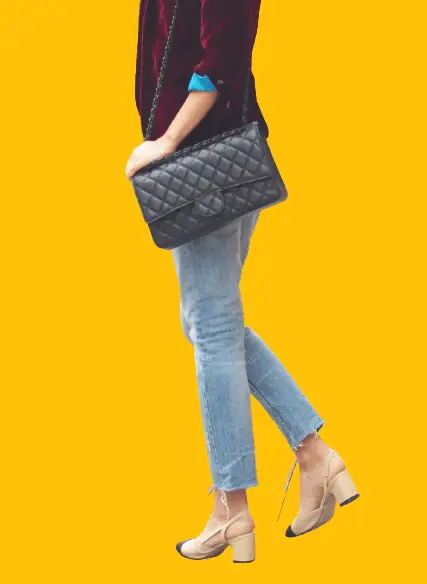 This look is perfect for a casual day out and a great way to show off your style. The maroon shirt adds a pop of color and can be paired with blue straight-leg jeans. The strappy sandals are not only on-trend but also comfortable.
This look is an easy way to look fashionable and feel confident. You can pair the shirt and jeans with accessories like a statement necklace, hoops, or a bold watch. The colors are complementary, and the pieces are timeless.
7. Clogs And Striped T-Shirt With Straight Leg Jeans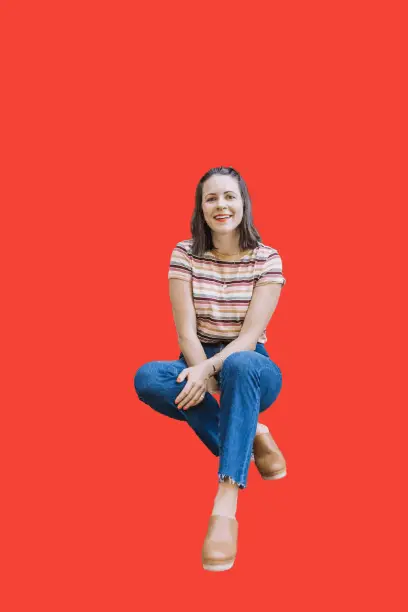 Clogs and striped t-shirts with straight-leg jeans offer an effortless look for the modern woman. The clogs are perfect for adding a hint of classic style to everyday looks, while the crisp lines of the straight-leg jeans offer an edgy, contemporary flair.
The striped t-shirt perfectly balances the two, providing a casual yet flattering look. Whether for work or play, this classic combination is a must-have for any fashionable female.
Can You Wear High Tops With Straight-leg Jeans?
One of the great things about fashion is that there are no hard and fast rules. Sure, some looks are more traditionally deemed "appropriate" for certain occasions, but at the end of the day, fashion is about expressing your unique sense of style. With that in mind, you can wear high tops with straight-leg jeans. 
This pairing can create a cool, edgy look. The key is to find the right balance between the two pieces. If your jeans are too baggy or your shoes are too chunky, the look can feel a bit juvenile.
But if you pair slim-fitting jeans with sleek, stylish high-tops, you can turn heads for all the right reasons. So go ahead and experiment with this fun fashion trend – after all, fashion is all about having fun!
Lower Heel With Straight-leg Jeans
One of the most common questions at the Denim Boutique is, "Can I wear a lower heel with straight-leg jeans?" The answer is a resounding yes! Straight-leg jeans are one of the most versatile styles and can be worn with different shoes. 
Low heels are a great option if you're looking for comfort and style. They pair perfectly with straight-leg jeans, giving you a polished look perfect for work or weekend wear. If you feel extra stylish, pair your straight-leg jeans with ankle boots. No matter what shoe you choose, you'll want to cuff your jeans to show off your footwear. Trust us; this is one fashion trend that's here to stay.
Conclusion
Though many different types of shoes can be paired with straight-leg jeans, we've narrowed it down to our top five picks. These styles will help you create versatile and stylish outfits for any occasion. We hope you found this post helpful! If you have any questions or suggestions, please leave a comment below.