How to Wear Bootcut Jeans with Converse: A Stylish Guide

Ready to step up your style game? If you've ever wondered how to effortlessly combine the timeless appeal of bootcut jeans with the iconic cool of Converse sneakers, you're in for a fashion-forward treat.
In this blog post, we'll unveil the art of rocking bootcut jeans with Converse shoes, proving that comfort and style can go hand in hand.
Whether you're a denim devotee or a sneaker enthusiast, this style fusion is a must-try, and we're here to guide you through the steps. Get ready to stride with confidence in your favorite jeans-and-kicks combo!
Choosing the Right Bootcut Jeans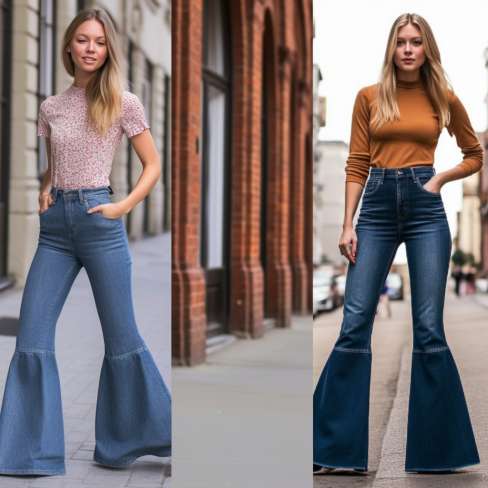 When it comes to bootcut jeans, the fit is key. Opt for a pair that hugs your hips and thighs and then gently flares out from the knee down.
This classic silhouette elongates your legs and balances your overall look. Dark washes are versatile and slimming, while distressed options add a touch of edginess. Finding the perfect fit might require trying a few pairs, but the results are well worth it!
Perfect Converse for Bootcut Jeans
Now, let's talk about footwear. Converse sneakers are a timeless choice that can effortlessly elevate your bootcut jeans ensemble. The iconic Chuck Taylor All Stars are a fantastic option, offering both comfort and style. Opt for classic white or black for a clean and versatile look, or choose a pop of color to make a bold statement.
How to Wear Bootcut Jeans with Converse for Women?
Ladies, here are eleven outfit ideas that'll inspire you to rock the bootcut jeans and Converse combo:
1. Casual Chic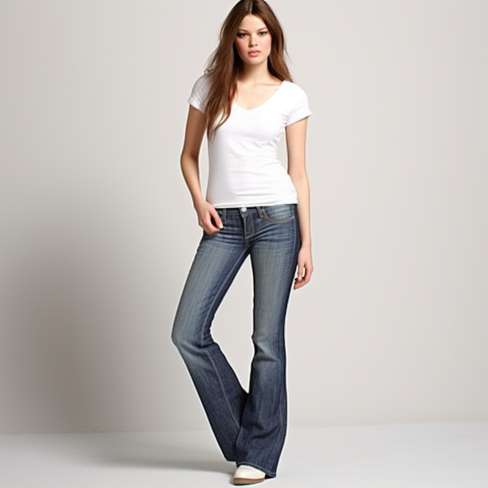 Start with a pair of dark-wash bootcut jeans for a casually chic look. These universally flattering jeans create a slimming effect and serve as the focal point of your outfit when paired with a classic white tee. Add a touch of cool and nostalgia with classic white Converse Chuck Taylors.
They're comfortable for a day out with friends or running errands. A statement belt can define your silhouette, while a crossbody bag adds practicality and style. This outfit is perfect for shopping, coffee dates, or relaxed brunches.
2. Boho Vibes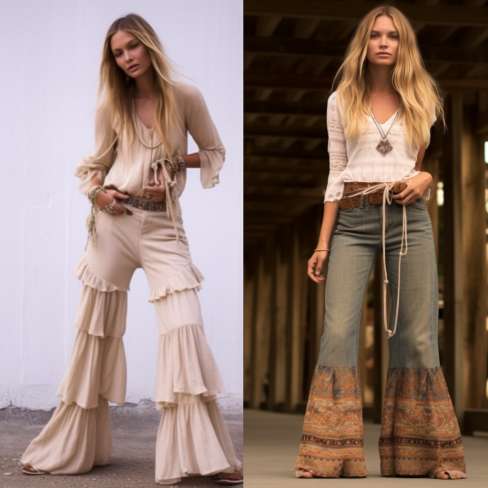 Embrace a bohemian-inspired look with faded bootcut jeans that exude a vintage, free-spirited feel. Pair them with a flowy blouse in earthy tones like olive green, rusty brown, or mustard yellow.
Choose muted, earthy-colored Converse sneakers, such as beige, olive, or deep burgundy, to maintain the boho aesthetic.
Layered beaded necklaces and bracelets add an authentic touch to your outfit. Consider completing the look with a wide-brimmed hat for that ultimate boho vibe.
Related Post: Shoes For Bootcut Jeans
3. Office Ready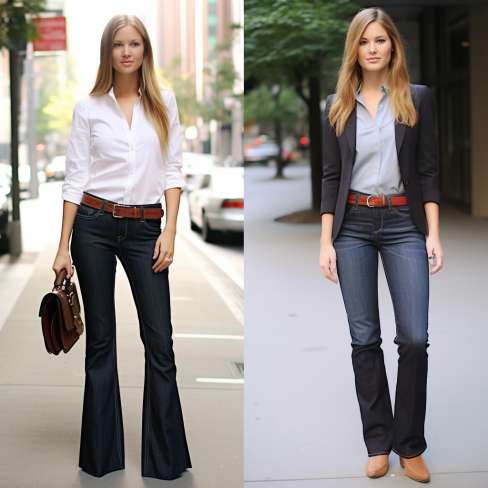 Don't rule out bootcut jeans for the office. Opt for a tailored pair in a darker wash to maintain a professional look.
Pair them with a crisp blazer, a tucked-in blouse, and a classic Converse in a muted color. This combination is stylish and work-appropriate, allowing you to rock your favorite jeans even at the office.
4. Street Style
For an urban and street-inspired look, go for distressed bootcut jeans. These jeans add a hint of edginess to your outfit. Pair them with an oversized graphic tee and high-top Converse sneakers. Don't forget to complete the look with a beanie and cool shades for that ultimate street-style vibe.
5. Date Night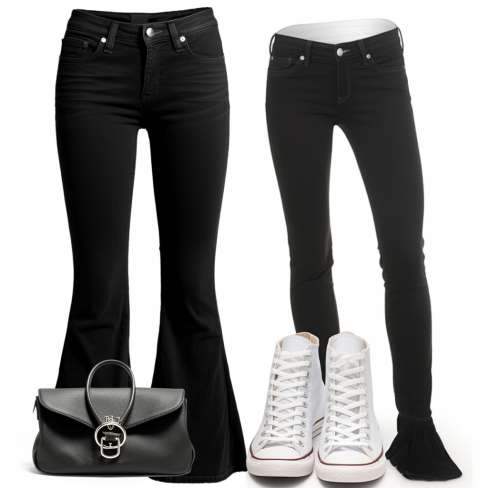 Impress on date night by pairing black bootcut jeans with a slinky top. Add Converse sneakers in a contrasting color to make a statement. Finish off your look with statement earrings and a chic clutch. This ensemble perfectly balances casual and dressy, making it ideal for a night out.
6. Sporty Spice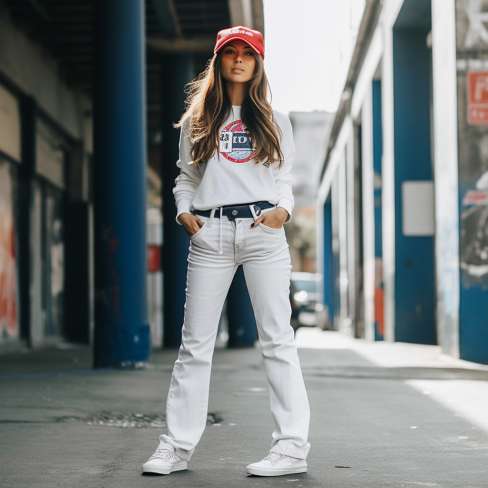 Combine sporty and chic with a hoodie, bootcut jeans, and Converse sneakers with a sporty twist. Throw on a baseball cap to complete the sporty, laid-back look. It's an outfit that's comfortable and stylish, perfect for a day of running errands or hitting the gym.
Related post: How To Wear Bootcut Jeans With Ankle Boots?
7. Festival Fun
Get ready for music festivals with fringed bootcut jeans, a crop top, and vibrant Converse sneakers. Don't forget to accessorize with a flower crown for that festival-ready look. This outfit is all about embracing your inner bohemian and having fun at outdoor events.
8. Vintage Vibes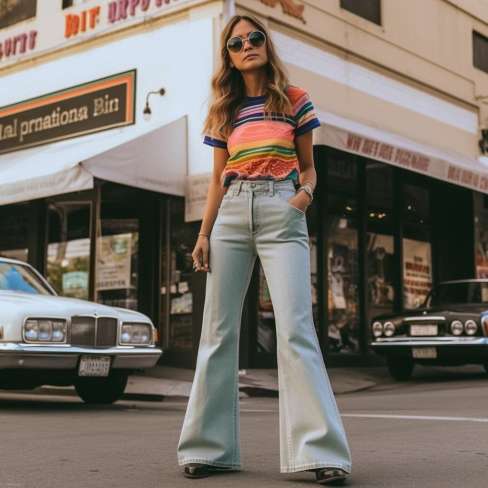 Embrace retro vibes by opting for high-waisted bootcut jeans. Pair them with a tucked-in retro band tee and vintage-style Converse sneakers. This outfit takes you back in time while staying fashion-forward.
9. Edgy Elegance
Mix edgy and elegant by pairing leather bootcut jeans with a tailored blazer, a sleek top, and black leather Converse sneakers. This combination oozes sophistication with a touch of rebellion. Perfect for a night out with friends.
10. Monochrome Magic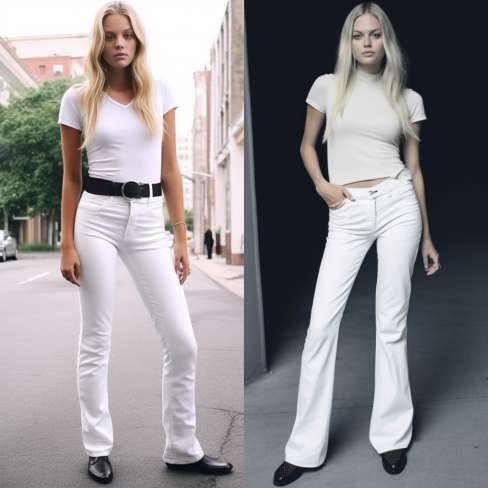 Create a sophisticated look by wearing bootcut jeans and Converse sneakers in the same color. Add a contrasting top for a pop of style. Monochromatic outfits are sleek and modern, making them great for various occasions.
11. Denim on Denim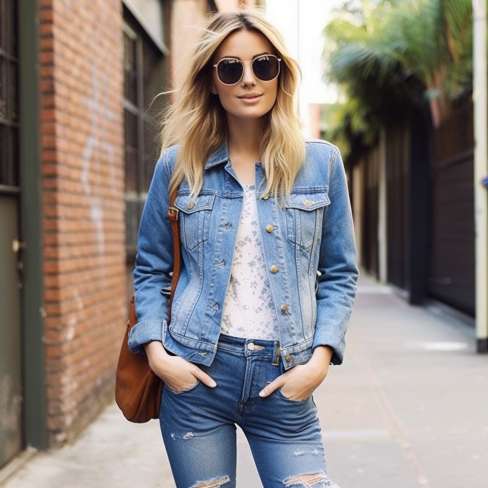 For the ultimate denim lover's dream, rock bootcut jeans with a denim jacket and Converse sneakers in a complementary shade. This outfit celebrates all things denim and offers a stylish yet casual look that's perfect for everyday wear.
Tips for Styling Bootcut Jeans with Converse
Roll 'Em Up Show off your Converse by rolling up the hem of your bootcut jeans slightly. It's a small detail that can make a big difference in your overall look.
Experiment with Socks: Try ankle socks for a sporty look, or go sockless for a more casual vibe. The choice is yours!
Play with Proportions: Balance the volume of your bootcut jeans with a fitted top to create a flattering silhouette.
Accessorize: Don't underestimate the power of accessories. A statement belt or a chunky necklace can add personality to your outfit.
FAQ
Which Top to Wear with Bootcut Jeans?
The top you choose for bootcut jeans largely depends on the occasion and your personal style. For a casual look, a simple tee or tank top works great. If you're aiming for a more polished appearance, opt for a blouse or a tailored shirt. Don't be afraid to experiment and find what makes you feel fabulous!
Are Bootcut Jeans Still in Style?
Absolutely! Fashion is cyclical, and bootcut jeans have made a stylish comeback. They offer a refreshing alternative to skinny jeans and can be dressed up or down, making them a versatile addition to your wardrobe.
Can You Wear Bootcut Jeans with Any Type of Converse?
While classic Chuck Taylor All-Stars are a safe bet, you can certainly experiment with different Converse styles. High-tops, low-tops, platform sneakers – it all depends on your personal style and the overall vibe you want to achieve. Mixing and matching can lead to unique and exciting looks!
Conclusion
There you have it, a comprehensive guide on how to wear bootcut jeans with Converse. Remember, fashion is about expressing yourself, so don't be afraid to get creative and have fun with your outfits. With the right pair of bootcut jeans and Converse, you'll be strutting your stuff with style and confidence in no time!
Source:
https://www.hoodmwr.com/what-shoes-to-wear-with-bootcut-jeans/