How To Wear Black Tuxedo Jacket With Jeans for Women? 13 Stylish Outfit Ideas
Welcome, fashionistas, to a guide that will elevate your style game! Today, we're diving into the fabulous world of women's fashion, exploring the art of pairing a classic black tuxedo jacket with the casual comfort of jeans.
Whether you're a trendsetter or just looking to redefine your wardrobe, we've got you covered. Let's unravel the secrets of wearing a black tuxedo jacket with jeans in style. Read our recent post- Black Blazer With Khaki Pants.
Choosing the Right Tuxedo Jacket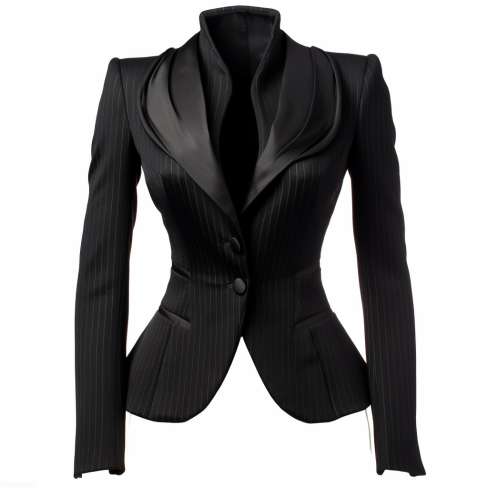 When it comes to donning a tuxedo jacket, the key is to find one that fits you like a glove. Don't be afraid to invest in quality. A well-fitted tuxedo jacket can be a timeless addition to your closet. Here are some essential tips:
1. Fit Matters
Ensure the jacket fits snugly at the shoulders and tapers at the waist. This accentuates your silhouette, creating a chic and flattering look.
2. Classic vs. Contemporary
Decide on the style – classic or contemporary. Classic tuxedo jackets have satin lapels, while contemporary ones might feature unique detailing. Choose what resonates with your style.
3. Fabric and Color
Opt for black or deep navy for versatility. As for fabric, wool is a classic choice, but velvet can be a luxe option for special occasions.
Further Read: How to Wear Bootcut Jeans with Converse?
Perfect Jeans for Tuxedo Jacket
Now that you've sorted your tuxedo jacket, let's talk jeans. The right pair can complement your jacket beautifully.
1. Dark Denim Rules
Dark denim jeans are a match made in fashion heaven with a black tuxedo jacket. They exude elegance and sophistication.
2. Skinny or Flare?
Choose the jeans' cut based on your body type. Skinny jeans offer a sleek look, while flares can create an intriguing contrast.
3. Distressed or Clean?
The choice between distressed and clean jeans depends on your personal style. Distressed jeans can add a touch of edginess, while clean ones are effortlessly chic.
Perfect Footwear for a Tuxedo Jacket and Jeans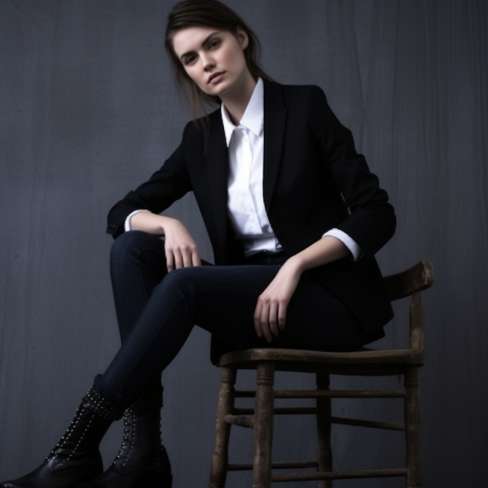 Your footwear can make or break the ensemble. Let's find the perfect pair to complete your look.
1. Classic Black Pumps
Pair your tuxedo jacket and jeans with classic black pumps for a timeless look. They add height and elegance.
2. Ankle Boots for Edge
Want to add a hint of edginess? Opt for ankle boots. They bring a touch of rebellion to your sophisticated ensemble.
3. Sneakers for Casual Cool
To nail that casual-cool vibe, throw on some trendy sneakers. It's a comfortable yet stylish choice.
How To Wear Black Tuxedo Jacket With Jeans for Women? 13 Outfit Ideas
Now, the moment we've all been waiting for – outfit inspiration! Here are 13 fantastic ways to style your black tuxedo jacket with jeans:
Read Also: Are Topshop Jamie Jeans True to Size?
Outfit 1: The Classic Monochrome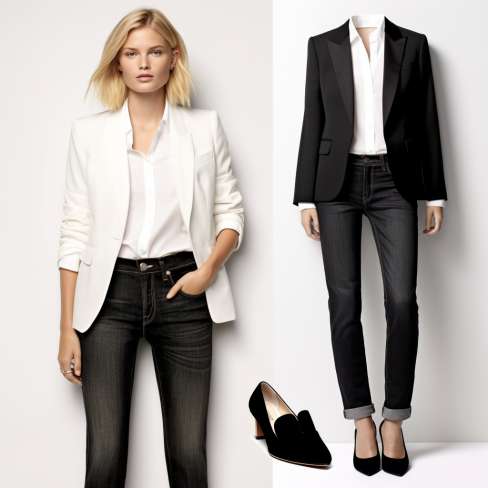 Tuxedo Jacket: A perfectly tailored black tuxedo jacket with satin lapels for a touch of elegance.
White Shirt: A well-fitted white shirt with a classic collar neatly tucked into your jeans.
Dark Denim Jeans: Dark indigo jeans with a slim or straight-leg cut for a polished look.
Accessories: Minimal accessories with delicate jewelry, a slim belt, a black clutch, and classic black pumps.
Outfit 2: Edgy Glam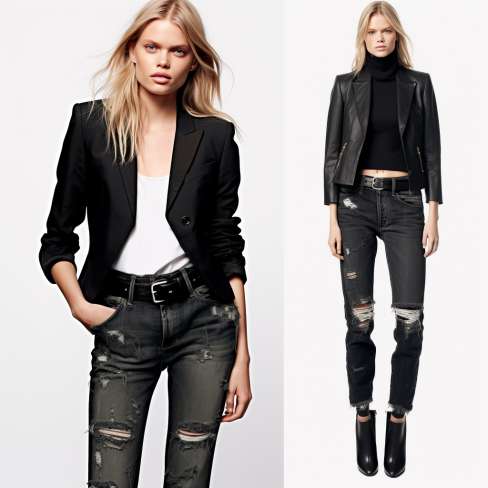 Tuxedo Jacket: A classic black tuxedo jacket with unique detailing like leather-trimmed lapels for an edgy twist.
Distressed Jeans: Distressed jeans with rips and frays for a rebellious and glamorous look.
Ankle Boots: Ankle boots with hardware details to perfectly complement the distressed jeans.
Accessories: Bold, chunky jewelry, a statement belt, and a pop of red lipstick for added drama.
Outfit 3: Boyfriend Jeans Chic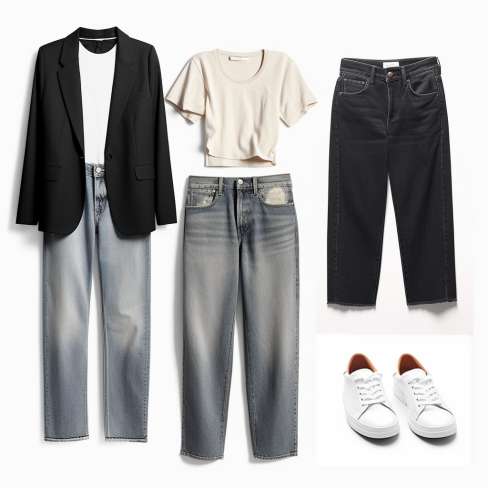 Tuxedo Jacket: The classic black tuxedo jacket with satin lapels to contrast with the relaxed boyfriend jeans.
Boyfriend Jeans: Relaxed-fit boyfriend jeans that are slightly baggy and cuffed at the ankles.
Sneakers: Trendy white sneakers for a fresh and youthful appearance.
Accessories: Minimalist jewelry, a casual canvas belt, and a crossbody bag for a laid-back chic look.
Further Read: Shoes To Wear With Wide-Leg Jeans
Outfit 4: Velvet Elegance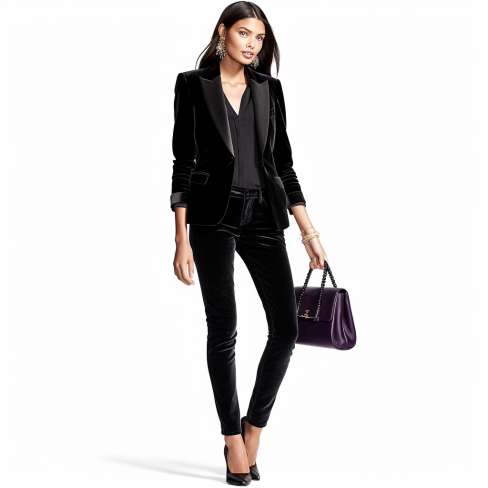 Velvet Tuxedo Jacket: A black velvet tuxedo jacket for a luxurious and evening-ready outfit.
Skinny Jeans: Classic, well-fitted skinny jeans in a dark wash to balance the plushness of the velvet.
Stiletto Heels: Stiletto heels in a complementary color for an elegant touch.
Accessories: Delicate metallic accessories and a clutch with subtle embellishments to complete this opulent ensemble.
Outfit 5: Weekend Casual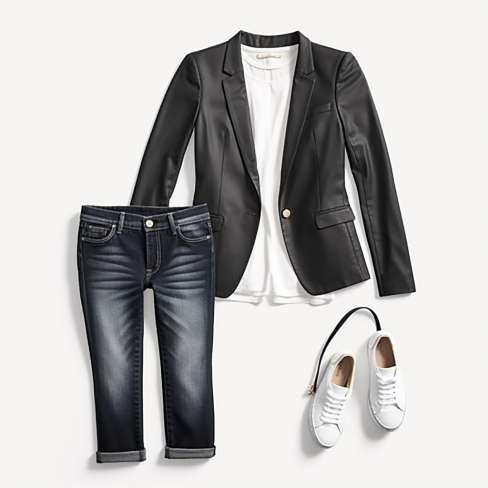 Tuxedo Jacket: Your classic black tuxedo jacket for a relaxed yet stylish weekend look.
Clean Jeans: Clean, medium-wash jeans for comfort and versatility.
White Sneakers: Comfortable white sneakers for a laid-back and cool vibe.
Accessories: Minimal jewelry, a casual leather belt, and a crossbody bag with a fun graphic tee for personality.
Outfit 6: Denim on Denim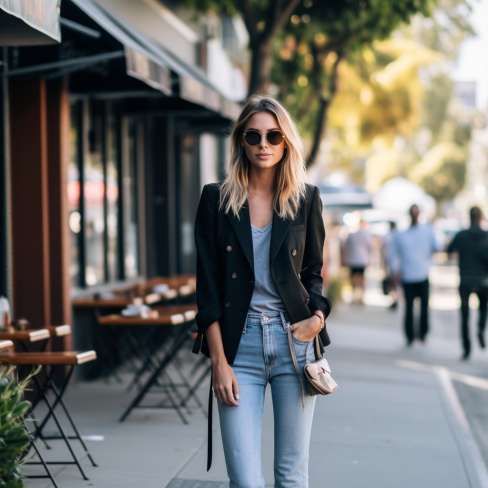 Tuxedo Jacket: The classic black tuxedo jacket provides a stylish contrast to the denim.
Denim Jeans: Jeans in a slightly different shade than your jacket for a coordinated denim-on-denim style.
Footwear: Ankle boots or white sneakers, depending on the overall vibe you want to achieve.
Accessories: Minimal accessories with a statement belt and a crossbody bag in a neutral tone.
Outfit 7: Pop of Color
Tuxedo Jacket: The classic black tuxedo jacket is a canvas for adding a pop of color.
Colored Jeans: Colored jeans in shades like red or emerald to inject vibrancy into your outfit.
Footwear: Neutral-toned shoes to let the colored jeans take center stage.
Accessories: Keep accessories understated to let the colorful jeans shine.
Read Also: Can a Woman Wear Pants to a Jewish Funeral?
Outfit 8: Office Glam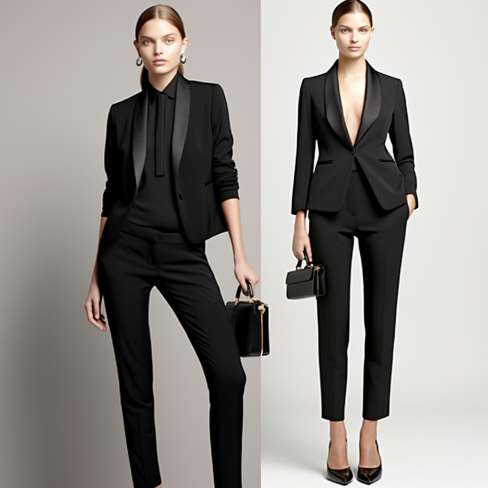 Tuxedo Jacket: Your classic black tuxedo jacket, but pair it with tailored black trousers for a professional look.
Tailored Trousers: Well-fitted black trousers to create a powerful, boss-lady appearance.
Heels: Classic heels for an elevated and authoritative presence.
Accessories: Minimalist jewelry and a structured handbag for a polished office ensemble.
Outfit 9: Boho Chic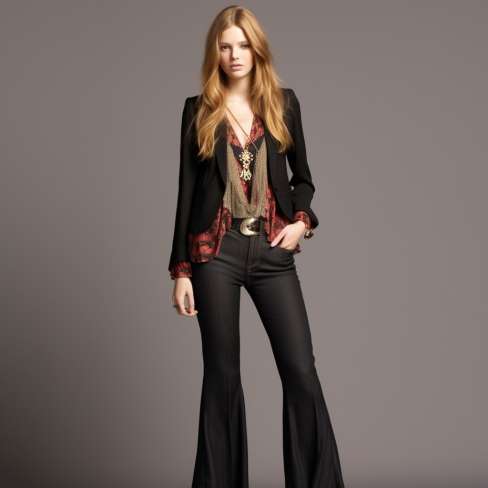 Tuxedo Jacket: The classic black tuxedo jacket adds a touch of sophistication to your boho-inspired look.
Flared Jeans: Flared jeans for a boho vibe with a hint of sophistication.
Flowy Blouse: A flowy, patterned blouse for that bohemian touch.
Accessories: Layered necklaces, a wide belt, and ankle boots for a perfect boho-chic ensemble.
Outfit 10: All About Accessories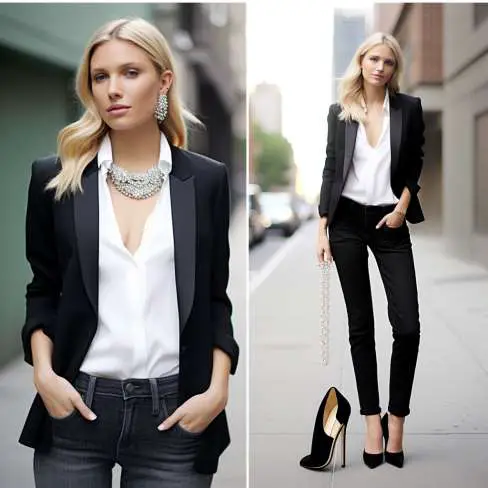 Tuxedo Jacket: The classic black tuxedo jacket as a backdrop for statement accessories.
Jeans and Tee: Keep it simple with jeans and a white tee.
Statement Jewelry: Bold statement jewelry to add drama and flair to your outfit.
Heels: High heels for a touch of sophistication.
Outfit 11: Street Style Swagger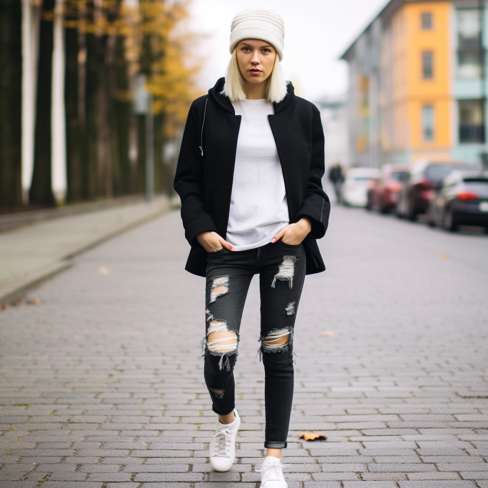 Tuxedo Jacket: Your classic black tuxedo jacket for a cool and edgy street-style look.
Ripped Jeans: Ripped jeans bring an element of rebellion to your outfit.
Beanie: A beanie for that street-inspired accessory.
Sneakers: Trendy sneakers for comfortable urban swagger.
Outfit 12: Cocktail Hour Glam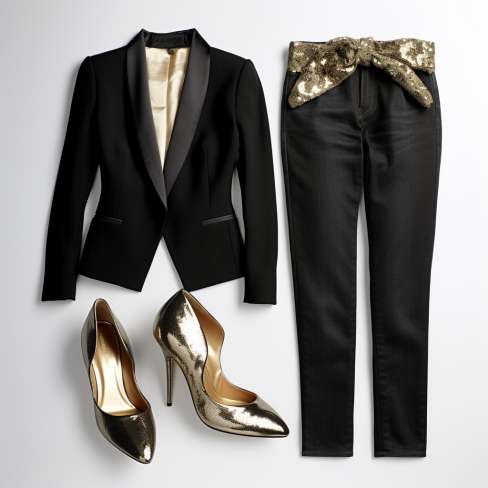 Tuxedo Jacket: Your classic black tuxedo jacket, but pair it with high-waisted jeans for a night out.
High-Waisted Jeans: High-waisted jeans to elongate your legs and create an elegant silhouette.
Metallic Heels: Metallic heels for a touch of glamour.
Accessories: Statement jewelry and a clutch for a glamorous night on the town.
Outfit 13: Summer Vibes
Tuxedo Jacket: Even in summer, you can rock your tuxedo jacket for a breezy look.
White Jeans: White jeans for a fresh, summery vibe.
Sandals: Comfortable sandals to keep cool in the summer heat.
Accessories: Minimal accessories and a floppy hat for that summer vacation feel.
Tips for Wearing Black Tuxedo Jacket with Jeans for Women
Now that you have outfit ideas let's delve into some tips for wearing this ensemble like a pro.
Confidence is Key: The most important accessory you can wear with this outfit is confidence. Rock it with self-assuredness!
Tailoring Matters: Get your tuxedo jacket tailored if needed. A perfect fit elevates the entire look.
Experiment with Accessories: Don't be afraid to play with accessories. Statement necklaces, scarves, and belts can transform your outfit.
Play with Makeup: Experiment with makeup. Bold lips or smoky eyes can add drama to your tuxedo jacket ensemble.
FAQ
Time for some frequently asked questions:
Can I wear a black tuxedo jacket with ripped jeans?
Absolutely! A black tuxedo jacket can add sophistication to ripped jeans for a chic contrast.
Where can I find affordable tuxedo jackets?
You can find affordable tuxedo jackets at popular fashion retailers or consider checking out thrift stores for unique finds.
Can I wear this combo to a casual event?
Yes, you can. Just choose the right jeans and accessories to suit the occasion, and you'll look effortlessly stylish.
Can I wear this outfit in any season?
Yes, the beauty of this ensemble is its versatility. You can adapt it for any season by choosing appropriate fabrics and layering.
What hairstyle complements a tuxedo jacket and jeans?
Hairstyles like a sleek ponytail, loose waves, or a messy bun can all complement this outfit beautifully.
How do I maintain my tuxedo jacket?
Always follow the care instructions on the jacket's label. Dry clean it when necessary to keep it looking sharp.
Conclusion
There you have it – a comprehensive guide on wearing a black tuxedo jacket with jeans for women. Whether you're aiming for classic elegance or a trendy street style, this versatile ensemble has you covered.
So, mix and match, and make heads turn with your impeccable fashion sense. Remember, fashion is about expressing yourself, so have fun with it!
Source:
https://shilpaahuja.com/best-female-celebrity-tuxedo-looks-wear-ladies-tuxedo/