How to Wear Mom Jeans With Boots? 14 Stylish Ways to Wear Mom Jeans with Boots
Mom jeans are a wardrobe staple that has made a major comeback in recent years. They are comfortable, stylish, and versatile, making them perfect for any occasion. However, when pairing them with boots, many people may be unsure how to style them to create a cohesive look.
In this blog post, I will explore different ways to wear mom jeans with boots, including ankle boots, knee-high boots, and over-the-knee boots. Whether you prefer a casual, edgy, or sophisticated look, I have got you covered. So, grab your favorite pair of mom jeans, and let's get started!
How to Wear Mom Jeans with Boots?
I'm always looking for stylish ways to spruce up my wardrobe, and lately, I've been really into wearing mom jeans with boots. I love the look because it's comfortable and fashionable all at the same time. Whether you prefer a modern take on the trend or something more classic, there are many ways to incorporate this look into your wardrobe. Here are 14 stylish ways to wear mom jeans with boots that I'm sure you'll love!
1. Mom Jeans with Neck Knit Jumper and Utility Boots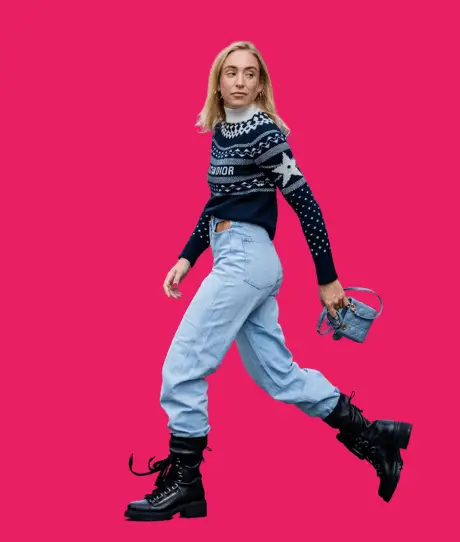 I recently discovered the trend of wearing mom jeans with boots, and I'm all for it! I love the look of high-waisted mom jeans paired with a chunkier boot, like a utility boot. To complete the look, I like to add a cozy neck knit jumper for a comfortable and stylish look. This is a great way to rock a comfortable yet fashionable look for any day of the week.
2. Cowboy Boots with Mom Jeans and Long Coat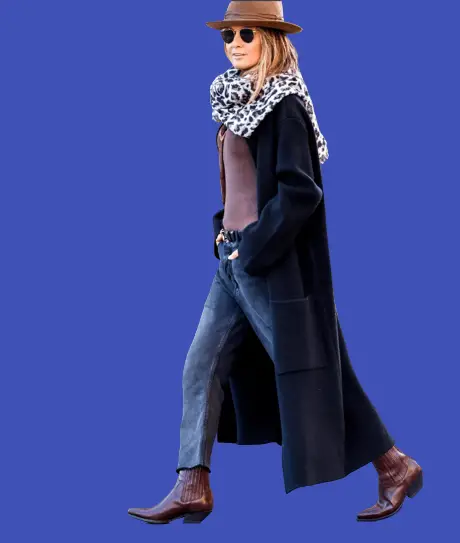 Cowboy boots were always my go-to for a casual look. I love how they look when paired with a long coat and mom jeans. The combination of these items gives off a stylish yet laid-back vibe. Overall, mom jeans with cowboy boots and a long coat are a great way to look stylish yet remain comfortable.
3. Minimalistic Boots with Cashmere Coat and Mom Jeans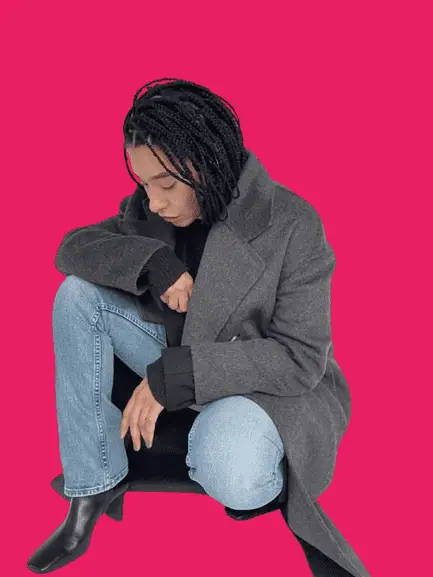 Number 3 on my list of mom jeans with boots is a classic look with a twist. I love to pair my favorite mom jeans with a cozy cashmere coat and minimalistic boots. This look is perfect for a casual yet stylish outfit. I would add a simple white t-shirt, a black belt, and some statement jewelry to complete the look. This look is perfect for running errands or going out with friends.
4. A Teddy Bear jacket with Black leather Doc Martins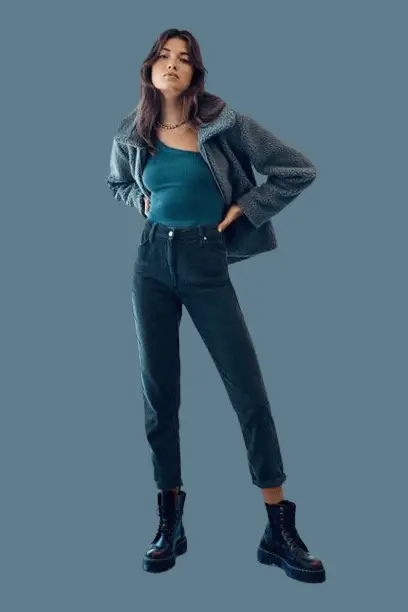 My Doc Martins are perfect for sprucing up my mom's jeans. For any occasion, I can turn heads in my dusted green teddy bear jacket, dark turquoise one-strap bodysuit, and stylish cuffed black mom jeans. Their sleek and timeless design perfectly contrasts the laid-back vibe of my jeans and bodysuit. Not to mention, they add a touch of edge!
5. A Maxi Cardigan with Mom Jeans and Ankle Boots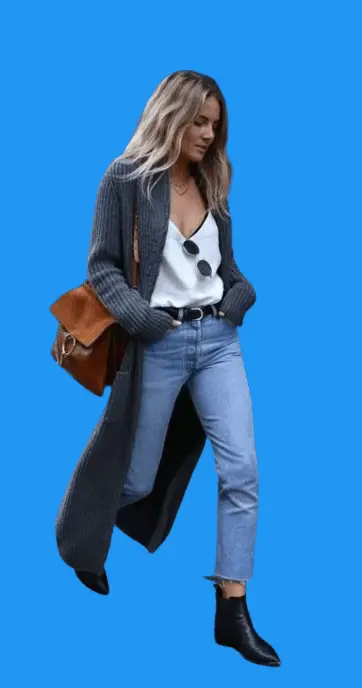 Number 5 on my list is a classic look that never goes out of style. I love this combination of a maxi cardigan in grey, a white slip tank top tucked in mom jeans, and black leather ankle boots. This look is effortlessly chic and perfect for transitioning into the fall season. I like how the cardigan adds a layer of warmth while allowing the white tank top to be the focal point. This is a look that I recommend trying out this season.
6. Wild Style: Mom Jeans, Boots, Sweater & Animal Print Jacket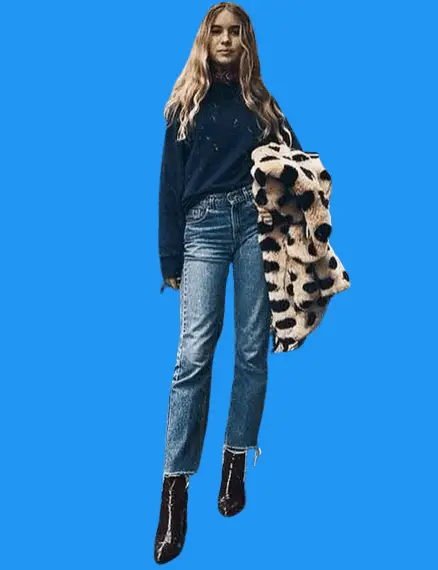 I love the look of mom jeans with boots! Recently, I decided to try something new and mix up the look with an animal print jacket, neck bandana, and a sweater. The animal print jacket was the perfect way to add some edge to my look. It instantly gave the outfit a more modern, fashion-forward feel. The neck bandana added some texture and depth.
7. Layers Boots with a Cardigans and Mom jeans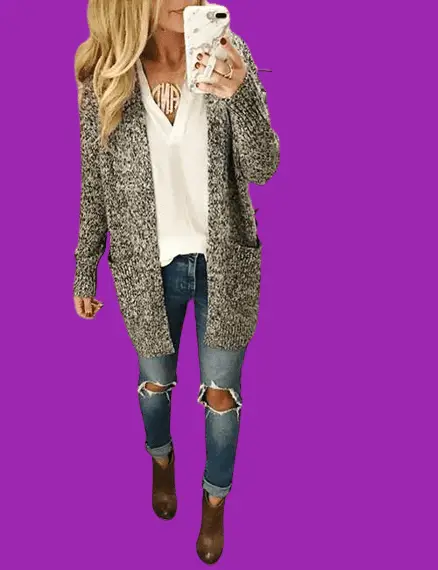 Layer boots are a great way to add a stylish twist to mom jeans. Choose a pair of mom jeans with a straight or slightly tapered leg. For a casual look, try a pair of ankle boots with a couple of distressed mom jeans and a cozy cardigan. With these tips, you will look stylish and on-trend in your mom's jeans and boots.
8. A Puffy Jacket, Boots, and A Belt with Mom Jeans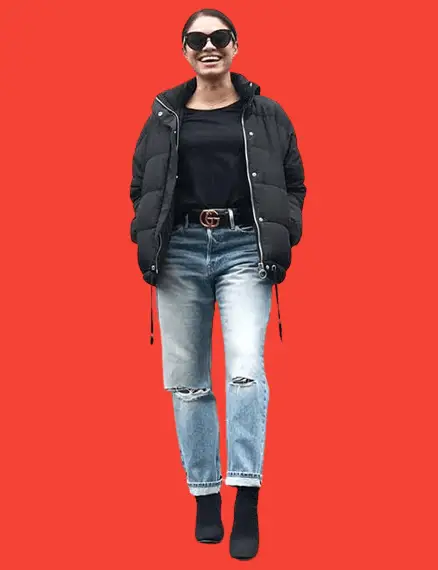 Number 8 of my favorite ways to wear mom jeans is with a puffy jacket, boots, and a belt. It's a great way to create a stylish yet comfy look. The puffy coat adds a nice layer of warmth, and the boots are perfect for keeping your legs warm. To add a bit of style, I love to add a belt to the look to cinch in the waist. You can accessorize with a hat and a cute bag for a finishing touch. This look is perfect for a winter day out with mom jeans!
9. Mom Jeans with A Loose Shirt and Ankle boots.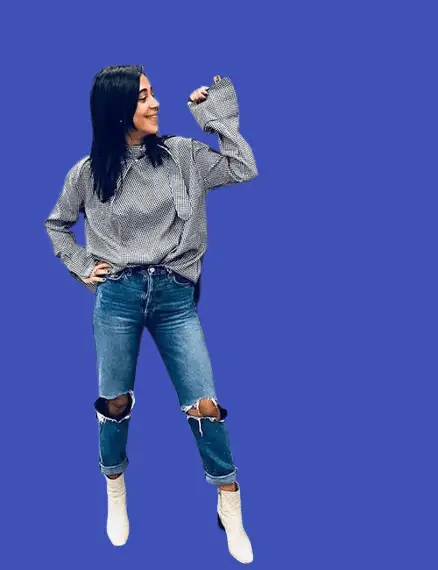 Ankle boots and ripped mom jeans are classic combinations that stay in style. So if you're looking for an effortless, timeless look, pairing mom jeans with ankle boots is the way to go. I pair my mom's jeans with a loose shirt and statement ankle boots to get the most out of this style combo.
10. Edgy Chic: Combat Boots and Mom Jeans Outfit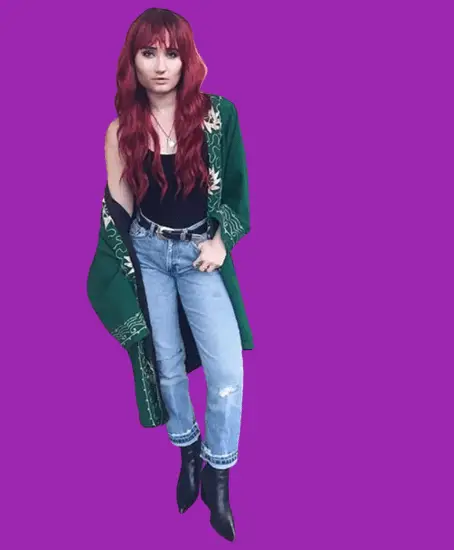 Combat boots are my go-to fashion staple when I'm looking to rock a classic, timeless look. Mom jeans, an oversized jacket, and a tank top perfectly combine comfort and style. The boots give the outfit an edgy, rugged look that can be casual and dressy. With these items, I'm able to create a look that is both stylish and functional.
11. Snakeskin Print Boots with Blue Mom Jeans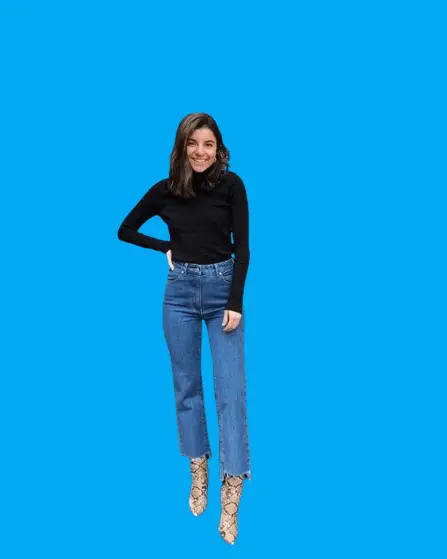 Number 11 on my list of mom jeans and boots outfit ideas is a black turtleneck sweater tucked in blue mom jeans completed with snakeskin print boots. This outfit is perfect for a night out with friends or a special date night. The black turtleneck and mom jeans provide a classic look, while the snakeskin print boots add a touch of edge. This outfit is sure to make you stand out from the crowd!
12. A Zebra Print Sweater and White Boots with Mom Jeans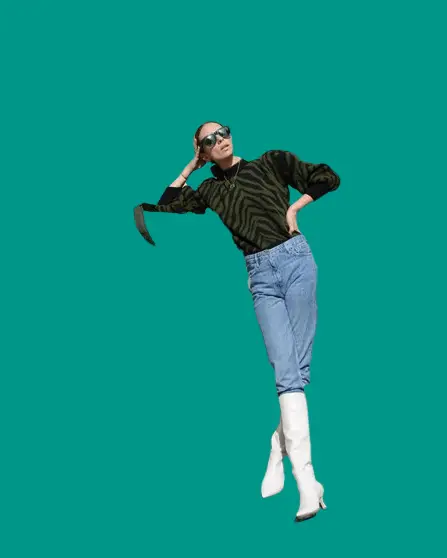 A zebra print green-black sweater is the perfect way to add a bit of edge to your look. Tucked into high-rise mom jeans and tucked into white high boots, this is a classic yet modern look. Combining the sweater, mom jeans, and boots is a great way to create a timeless and fashionable outfit. With the shirt providing a subtle statement, the combination of the mom jeans and boots creates a classic and stylish look.
13. Lace-up Boots and Semi-sheer Blouse with Mom Jeans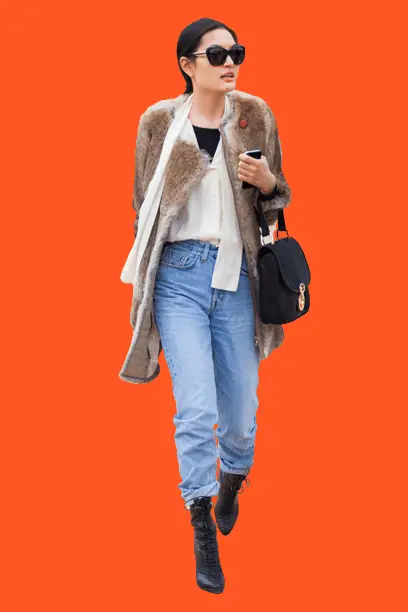 Mom jeans with a semi-sheer blouse and lace-up boots perfectly combine classic and modern. The jeans are comfortable and relaxed, with a slightly higher waist for a flattering fit. The semi-sheer blouse adds a touch of femininity, and the lace-up boots add an edgy, modern look. I added a fur coat for warmth and style to complete the look.
14. Mom Jeans with an Oversized Sweater And Jeweled Boots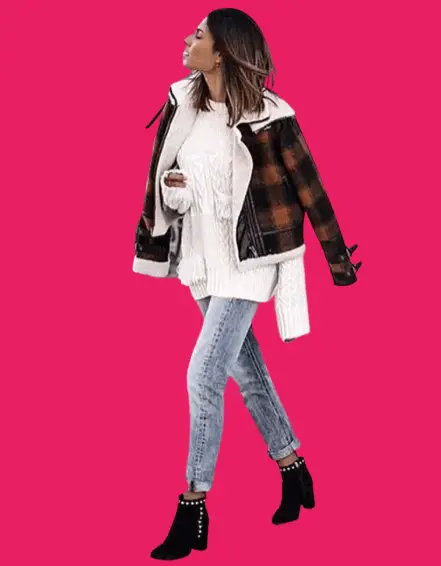 The last number on my list of 14 outfit ideas is to wear mom jeans with an oversized sweater and jeweled boots. This outfit pairs the timelessly classic mom jeans with a modern twist. The large sweater adds a layer of warmth and comfort, and the jeweled boots complete the look with glamour. Try this look, and you'll be sure to make a statement!
Can You Wear Mum Jeans with Ankle Boots?
Yes, you can wear mum jeans with ankle boots! Mum jeans are a classic style of denim that provide a comfortable fit, while ankle boots can add a bit of edge to any outfit. Finding the right balance between casual and dressy is the key to pulling off this look.
Can you wear Chelsea boots with mom jeans?
Yes, you can wear Chelsea boots with mom jeans! This excellent outfit combination will give you a modern, stylish look. The slim fit of the Chelsea boots and the relaxed fit of the mom jeans creates a comfortable, elegant look that can be worn for both casual and dressy occasions. Plus, the neutral colors of the boots will go with almost any top you choose to pair with the jeans. So go ahead and give this outfit combination a try – you won't be disappointed!
Conclusion
Mom jeans with boots are a great outfit combination that can be worn in many ways. Whether you're looking for a casual weekend look, a dressier evening outfit, or something in between, there's a style out there. With these 14 outfit ideas as a starting point, you can create your unique look by experimenting with different colors, patterns, and accessories.