What Are Tapered Jeans? Who Should Wear Them?
If you're looking for a new style of jeans to add to your wardrobe, you should consider tapered jeans. Tapered jeans are becoming increasingly popular, and for a good reason – they can look great on just about anyone. But what are tapered jeans, exactly? And how do you know if they'll look good on you? Keep reading to learn more! Don't miss the related post How To Wear Tapered Jeans For Men? and How to Wear Tapered Jeans for Women?
What Are Tapered Jeans?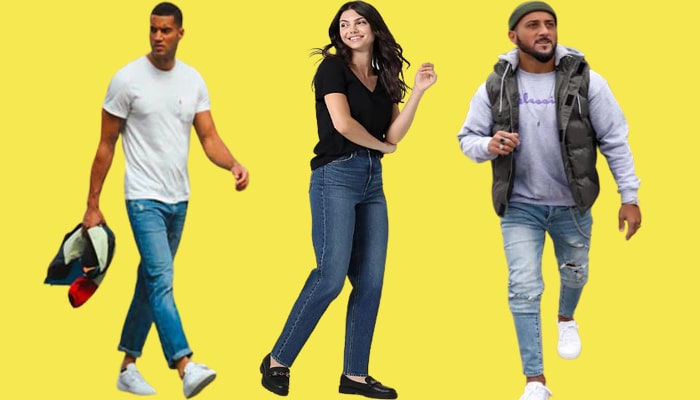 Tapered jeans are a type of denim pants that are fitted through the hip and thigh and then gradually becomes more narrow from the knee to the ankle. This style of jeans is also often referred to as "skinny" or "slim" fit jeans. Tapered jeans can be made from various denim fabrics, such as 100% cotton denim, stretch denim, or even distressed denim.
One of the benefits of wearing tapered jeans is that they tend to flatter most body types. So tapered jeans usually look good on you, tall or short, skinny or curvy.
Tapered Jeans are fitted through the hip and thigh and then gradually becomes more narrow from the knee to the ankle
The Evolution of Tapered Jeans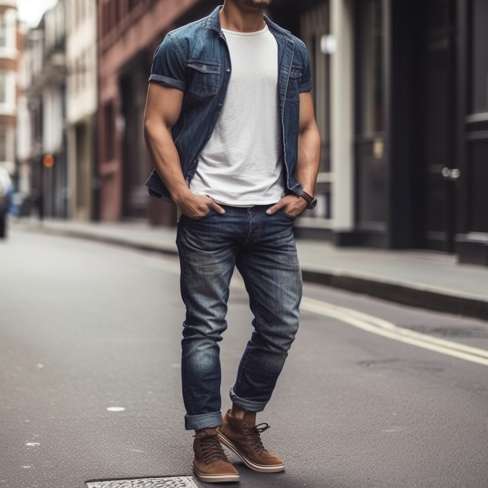 Tapered jeans have an intriguing history that traces back to the 1980s. Originally, they were designed as a unisex style, with both men and women embracing this fashionable fit. The '80s and '90s saw the popularity of this denim style soar, with celebrities and icons donning tapered jeans in music videos and movies, further fueling their trend.
Over the years, fashion designers and denim brands have continued to experiment with the tapered style, incorporating different washes, colors, and distressing techniques. Today, tapered jeans have evolved into a must-have item in every fashion-forward individual's wardrobe.
What Sets Tapered Jeans Apart?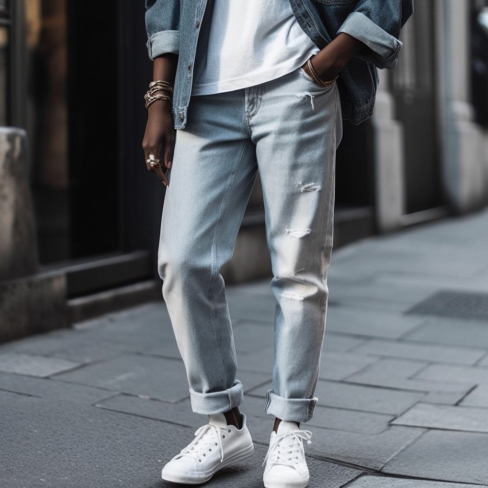 Tapered jeans stand out from other denim styles for several reasons:
Comfort and Mobility: The roomier fit in the hips and thighs provides unparalleled comfort, allowing for ease of movement throughout the day.
Modern Aesthetics: The narrowing of the legs towards the ankles creates a sleek and modern appearance that complements various outfits.
Versatility: Tapered jeans can be dressed up or down effortlessly, making them suitable for casual outings, office wear, and even semi-formal events.
Body Flattering: The gradual tapering enhances the natural shape of the legs, flattering different body types.
Why are tapered jeans popular?
One reason tapered jeans may be popular is that they can create the illusion of a slimmer figure. They do this by narrowing at the ankle, which can make the legs look longer and leaner. In addition, tapered jeans can be more comfortable than straight-leg or wide-leg styles, as they don't bunch up at the ankle. They can also be more flattering on those with a pear-shaped or hourglass figure, as they accentuate the waist.
Also Read: What Are Kick Flare Jeans? 
What is The Difference Between Slim Fit and Tapered Jeans?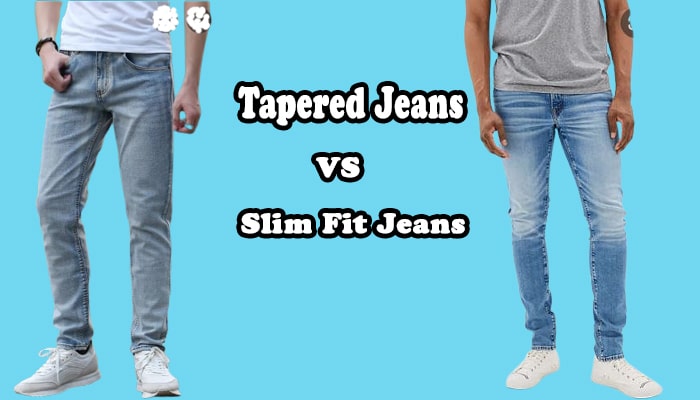 Like most guys, you probably think all slim-fit jeans are the same. But there's a big difference between slim and tapered jeans. Here's what you need to know about each style.
Slim jeans are just that – slim. They're tight through the thigh and leg, with a slightly narrower leg opening than regular-fit jeans. Tapered jeans are also slim through the thigh and leg, but they have a more drastic taper at the ankle, resulting in a smaller leg opening.
What is The Difference Between Tapered and Straight Leg Jeans?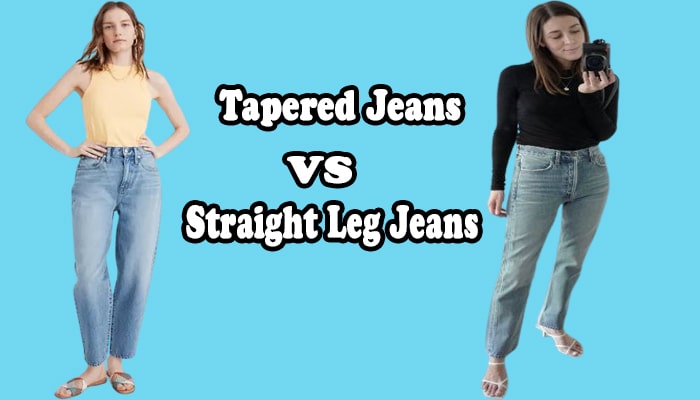 There are a few key differences between tapered and straight-leg jeans. First, tapered jeans are more fitted through the hips and thighs and flare out at the bottom, while straight-leg jeans are straight from the hips down. As a result, tapered jeans are typically more flattering on curvier figures, while straight-leg jeans can work on any body type. Another difference is that tapered jeans are usually more comfortable because they don't bunch up at the bottom like straight-leg jeans.
Also Read: What Are Athletic Taper Jeans?
Are Taper Jeans in Style?
Taper jeans have been in style for several years and show no signs of going out of fashion anytime soon. They are particularly popular with younger people and those who are fashion-conscious.
Common FAQs about Tapered Jeans
Are tapered jeans only for slim individuals?
Not at all! Tapered jeans are designed to suit various body types and can be flattering for all shapes and sizes.
Can men and women wear tapered jeans?
Yes, absolutely! Tapered jeans are a unisex style, and both men and women can embrace this trend.
Are tapered jeans suitable for formal occasions?
While tapered jeans can be dressed up for semi-formal events, they might not be the best choice for very formal occasions like black-tie events.
What footwear complements tapered jeans?
Tapered jeans look great with a wide range of footwear, including sneakers, loafers, ankle boots, and heels.
Can I wear tapered jeans with a tucked-in shirt?
Yes, tucking in your shirt can add a touch of sophistication to your tapered jeans outfit.
Can I cuff my tapered jeans?
Absolutely! Cuffing your tapered jeans can add a stylish flair to your look, especially when wearing ankle boots.
Conclusion
So, what are tapered jeans? They're a type of jeans that are fitted at the waist and get gradually wider towards the bottom. They're a great option if you want both stylish and comfortable.