What Are Carpenter Jeans? Carpenter Jeans Vs Cargo Jeans
Carpenter jeans are a type of denim that is specifically designed for tradespeople such as carpenters, plumbers, and electricians. They're made from heavier denim than other jeans, making them more durable. Carpenter jeans also have reinforcements in specific areas to ensure they don't tear when you're working on a project.
Here I will discuss "what are carpenter jeans?" and every detail about these jeans. Read Our recent post about What Are Capri Jeans?
What Are Carpenter Jeans?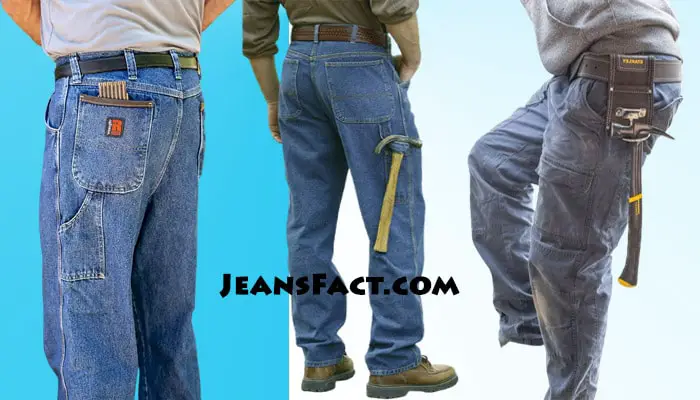 Carpenter jeans are jeans that have many pockets and loops, which are used for carrying tools. Carpenter jeans have wider legs. The specialty of Carpenter jeans is its many pockets, loops, and loose around the legs.
Although they were initially developed for use by carpenters, they are now used by many construction workers because of their durability, ease of care, and comfort. The fabric of the jeans is woven tightly so that the material is strong and durable. In addition, the legs and seat areas of the jeans are reinforced with elastic material. These sections are also cut longer than the regular jean length to allow a bit more room for movement and comfort.
Carpenter jeans are commonly available in denim or canvas. They are usually branded with a logo related to the manufacturer.
Why Are They Called Carpenter Pants?
Carpenter pants are a type of pants that are often worn by carpenters when they are working. They are also referred to as work trousers. In addition, they are called "carpenter pants" because they were originally designed for use by carpenters and other woodworkers. Carpenter jeans help the carpenter carry tools during work.
There are also a lot of other professions that use carpenter pants. For example, roofers, electricians, and plumbers all use them to protect their clothing from stains. And the great thing about them is that they're available in various styles and come in a few different colors.
The pants were made durable, comfortable, and practical so that the carpenter could spend most of their time working on a job. As time went on, the term carpenter became more generic, and today, we use it to refer to various occupations and trades.
Can You Wear Carpenter Jeans?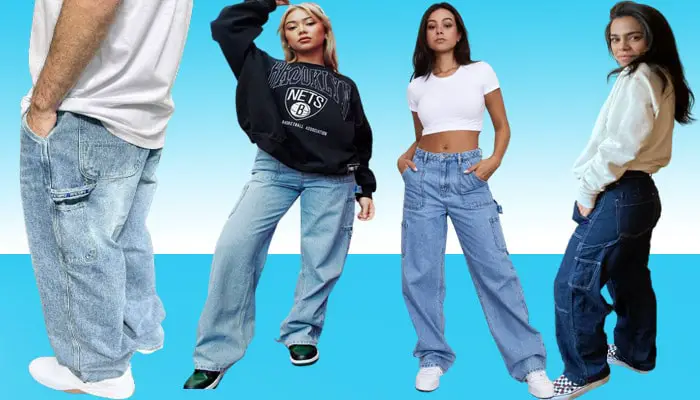 Of course! While they may not look like regular denim, carpenter jeans are constructed with a similar process to regular jeans. The main difference is carpenter jeans are typically denim and canvas rather than cotton and thread.
Carpenter Jeans are the perfect choice for you if you're looking for a pair of durable, comfortable pants that won't go out of style. The cotton is thick and stretchy, so it'll keep you comfortable throughout the day. And if you work outside all day, the breathability and material will prevent blisters from forming.
So, can you wear carpenter jeans? Of course, you can!
Why Are Carpenter Jeans So Baggy?
Carpenter jeans are generally baggy because they can be able to accommodate the affixed items. Carpenter jeans protect the wearer's legs from splinters while working on a construction site. 
There are two main reasons. First, most carpenters wear jeans because it makes it easier for them to climb around the site and work comfortably. They'd have a more challenging time getting up and down ladders or other obstacles if they wore regular-fit jeans.
The second reason is that carpenter jeans are designed to support the weight of your tools. Carpenter can use the loops of the jeans to hold little tools like a hammer. So they are meant to hold a lot of weight and are generally made to be very comfortable. This means that they need to be able to move quickly, which requires them to wear jeans that allow for a quick, agile movement.
Also Read: What Are Biker Jeans?
What Are Carpenter Pants Used For?
The most common use of carpenter pants is in the construction industry. Therefore, people in this field usually need to wear carpenter pants.
Carpenter pants are typically used when workers use tools such as hammers and other supplies and need to keep the tools close to their bodies. Because they're designed specifically for this purpose, they're usually made from cotton materials. In addition, the pants are often reinforced in the knees and legs.
Carpenter pants are an essential part of being a skilled tradesman. They provide comfort and protection to the wearer, making the job easier and safer.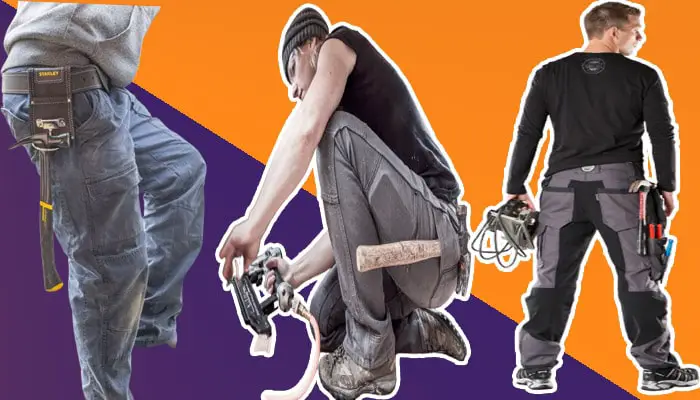 What Is The Difference Between Carpenters And Cargo Pants?
The difference between carpenter and cargo pants are: 
Carpenter pants are pants explicitly made for a person who is a carpenter. The material is usually thick cotton or denim.
Cargo pants are pants generally made of denim and used for many activities, from outdoor hiking to working in the warehouse.
Carpenter Jeans have a "Hammer loop" on the left leg. Cargo pants have no hammer loop.
Carpenter jeans have some extra little pockets outside the thigh. Cargo pants have big pockets.
Carpenter Jeans have extra rivets for durability. Cargo jeans have no extra rivets.
Carpenter Jeans have wider belt loops. Cargo pants have natural belt loops.
What Is The Difference Between Painter Pants And Carpenter Pants?
Painter pants is a term used for trousers specifically designed for use by painters. These pants are white canvas with heavily stitched seams and feature pleats and are often brightly colored.
Carpenter pants have many pockets and loops to carry essential tools. These jeans are specially designed for carpenters. Carpenter pants are usually made of cotton or denim.
What Are Classic Carpenter Jeans?
Classic carpenter jeans are the kind that sits a natural waist more than regular carpenter jeans. While they look great on almost everyone, they can also be an excellent alternative for people who have trouble finding clothes that fit them properly.
It was originally developed for carpenters, which explains why they're often made from extra sturdy denim. However, you can find these jeans in various fabrics, colors, and sizes.
Classic carpenter jeans are also highly versatile. You can wear them casually, dressed up, or even dressed down. A good pair will make you feel good, regardless of the occasion.
What Is The Small Pocket On A Carpenter's Jeans For?
The pocket of a carpenter's jeans is used to hold the carpenter's hammer and put small objects.
The pocket is typically located on the back of the jeans' waistband. It's made of cloth and holds a carpenter's hammer. Because of its location, the pocket is easy to access.
The carpenter's pants come in various colors, but all are designed to keep the carpenter's tools handy.
Conclusion
Carpenter jeans are a versatile and comfortable clothing item that they can wear for various activities. They are perfect for a day spent outside working on your project or when you want to relax and enjoy the weather. So if you're looking for something to add extra comfort to your work or leisurewear wardrobe, carpenter jeans are worth considering.