The Ultimate Guide to Wearing Gaucho Pants | 16 Outfit Ideas with Gaucho Pants
For those days when you can't decide what to wear, gaucho pants are a time-tested solution for maximum style with minimum effort! From an easy beach look to a night out on the town, gaucho pants are the perfect piece of clothing to incorporate versatility and personality into your wardrobe. So what to wear with gaucho pants? In this post, I'll provide 16 outfit ideas to explore how gaucho pants can be customized and tailored just for you.
What To Wear With Gaucho Pants?
Each season, fashion has exciting new trends – and this season, one trend catching everyone's eye is gaucho pants! Gaucho pants are breezy, billowy, and the perfect way to bring your wardrobe a fresh look. But what outfits can you create around gaucho pants to make an unforgettable ensemble? Here are 16 gaucho pants outfit ideas to help get your creative flow going!
Also Read: How To Style Ankle Pants?
1. Graphic Baby Tee With Gaucho Pants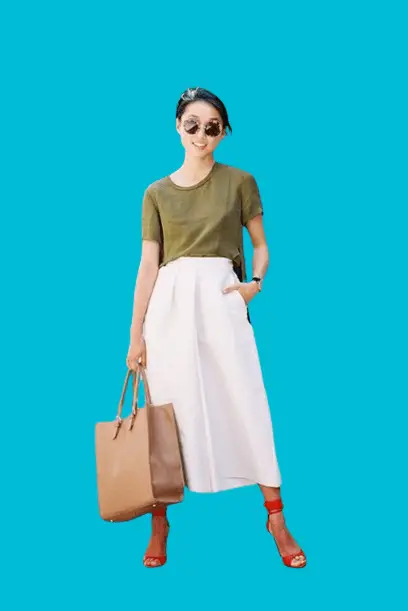 I love pairing a casual graphic baby tee with gaucho pants for those relaxed everyday looks. It's the perfect combination of comfort and effortlessly cool for days out or grabbing lunch with your friends. I find it so easy to accessorize this sweet and simple ensemble. Always a winning combination in my book!
2. Pullover With Gaucho Pants
My favorite way to wear gaucho pants is with a cozy pullover. They pair nicely with elastic waist gaucho pants since they are draped casually over your curves. This look oozes comfort and ease but is still well put together. Add a few layered necklaces or a statement belt to elevate the outfit – if you want to add a bit of extra pizzazz!
3. Tie-front Top With Gaucho Pants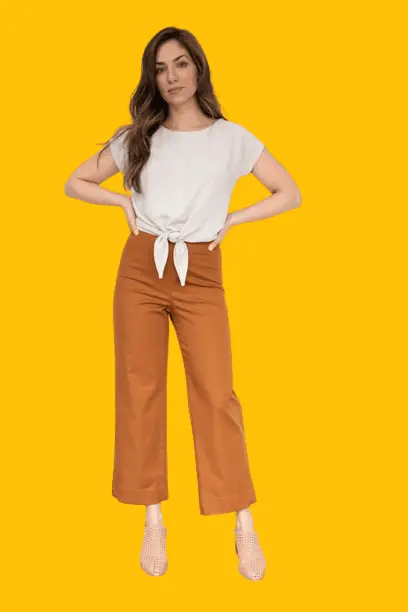 One of my next go-to outfits is pairing a tie-front top with gaucho pants. The key to making this look perfect is finding the right combination. Choose a tie front top with a different texture or pattern than the fabric of your pants. This contrast will add depth and dynamism to the outfit, making you look stunning.
4. Printed Top With Gaucho Pants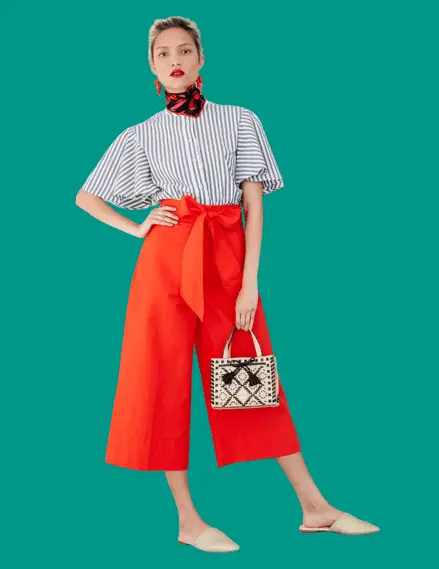 Another approach you can walk with is a printed top styling with relaxed gaucho pants. Go with something light like a t-shirt with a trendy tag and combine it with one of your favorite prints to make them look contemporary and stylish. Pick up some jewels to embellish the ensemble. You will look like an iconic celebrity in no time.
5. Short-Sleeve Sweater With Gaucho Pants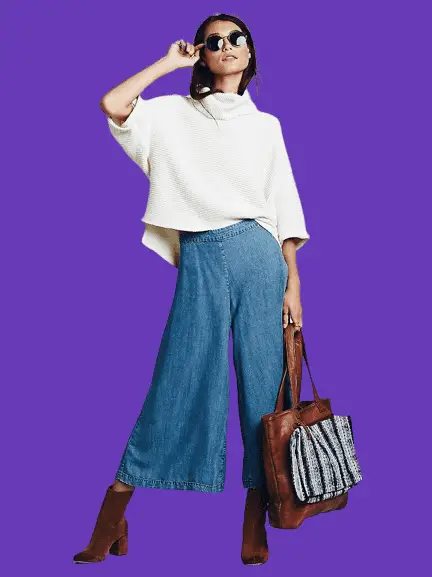 A short-sleeved sweater is another great choice to match your gaucho pants. Grab your best pair and style it with a rich-colored toned lightweight sweater. Showcasing a pop of vibrant colors to liven up this classic look is a must. Polished, cutting-edge can be found through subtle details, so show off your composition by accessorizing with statement art pieces throughout your ensemble.
6. Sleeveless Turtleneck Top With Gaucho Pants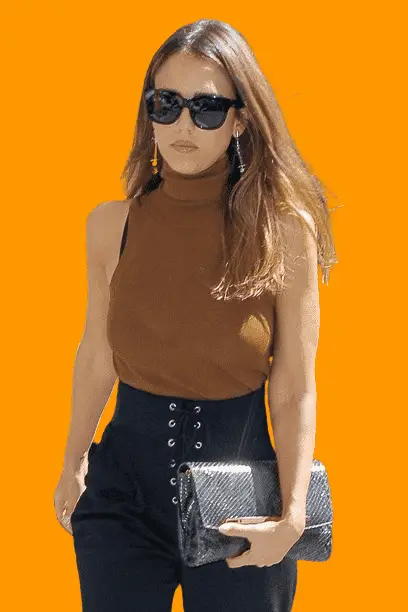 Go extra glam with a sleeveless turtleneck top when wearing gaucho pants. Effortless and fashionable, you can pull off this look with ease. Finish your ensemble with high boots, and you will be street-scouting perfectly. For a truly contemporary twist, I recommend making special attention to your accessorizing. Since this look is quite classical, you can add a twist by extra accessorizing with your favorite patterned scarves for a bold autumn appeal.
7. Cropped Top With Gaucho Pants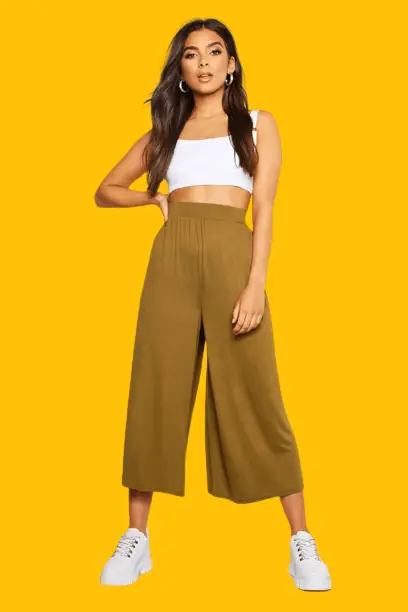 A little crop can go a long way when you want to make bold statements with your stylish outfits. Choose a cropped top that complements the pair of gaucho pants while allowing them to remain the focus. Elevate the crop with one of your favorite statement belts to give your entire look an explosion of fun. Finally, add a chat of color or velvet texture to your pair of earrings, balancing out and unifying the look.
8. Blazer With Gaucho Pants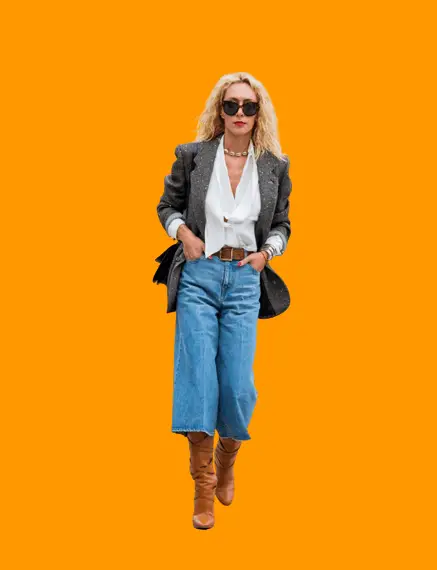 A classic blazer is another great go-to for styling your gaucho pants. Create a smart-elegant looks by adding a nice blazer on the top. This look is perfect for autumn temperatures and adds structure and confidence to your silhouette. You can layer with statement tie-dye fabric to show off a bolder look. Add small details with modernized heels that shine modernity for extra shades of delight.
9. Collared Shirt With Gaucho Pants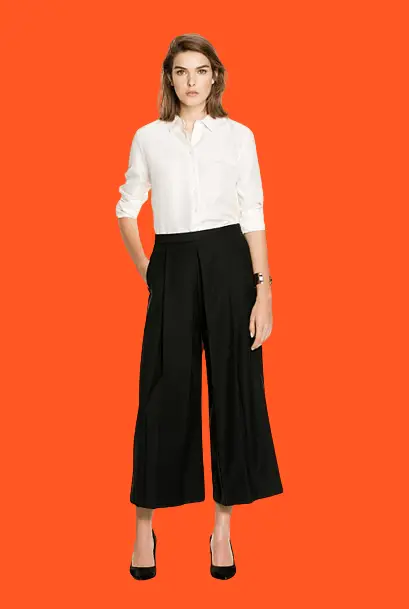 Style up your outfit with a soft-colored collared shirt and matching gaucho pants. This classic combination can be the perfect mix of comfortable and formal. Accentuate the whole look with a belt that fits the color and material of the collared shirt or the trouser. Going the extra mile can be demonstrated accordingly with a pair of slim suede loafers or simple slippers – nothing too dressy!
10. Tank Top With Gaucho Pants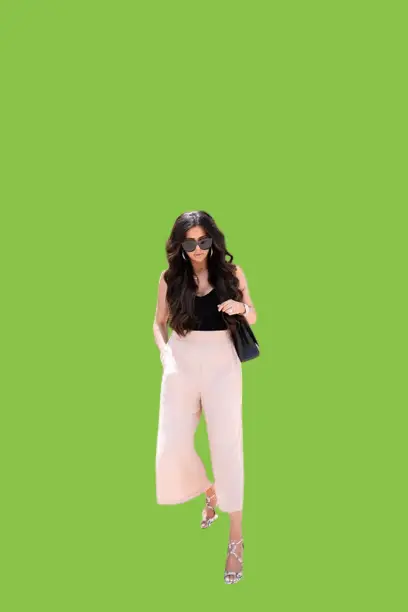 The summer still sneaks by, so why not show off this season's look with a sleeveless tank top and gaucho pants? With this outfit, you'll ensure comfort and fashion spontaneously implying throughout the whole look. Provide an extra dose of texture by adding a structured or transparent jacket to frame the entire ensemble for bright days. Remember to pair up a matching handbag as an essential detail that will add extra poise to your overall look.
11. Leather Jacket With Gaucho Pants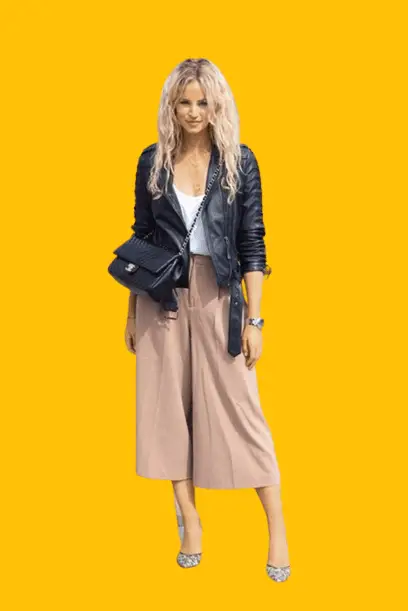 A stunning and daring look can only be packed from a tailored leather jacket. Dream the weather away on colder days with a shearling-collar leather jacket and a medium pair of your favorite perfectly choosy gaucho pants. Add an oversized turtleneck, and this fierce look will be on fire. Extra statements will be made if you go bold with a bright pair of white shoes and a classy necklace!
12. V-neck Blouse With Gaucho Pants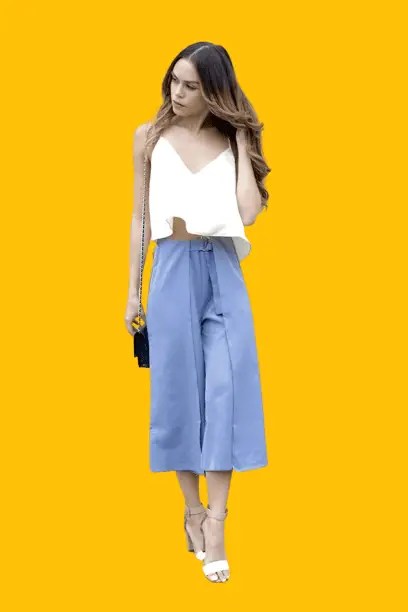 For days that ever need a twist of sophistication, I never forget to reach for a loose-fitting v-neck blouse. Unfortunately, it only airs with the draping nature of the gaucho trousers promoting a look that speaks fashion sense only. Instead of adding another layer over the top of this outfit, I suggest balancing the proportions with a thin layered accessorizing that won't take away from the natural material of the garment but will merge the look in a more smart-casual, wavey way.
13. Striped T-shirt With Gaucho Pants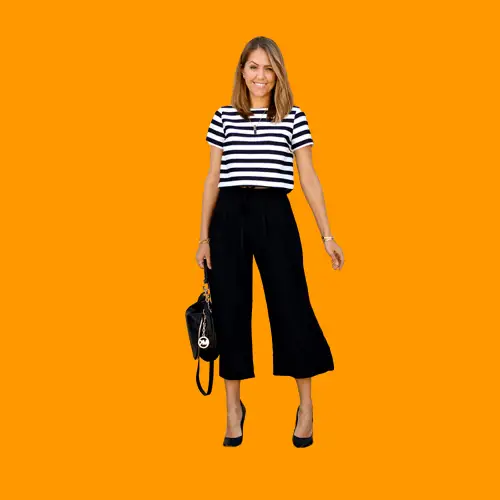 The last outfit for today is an adapted look that pairs a striped t-shirt with matching gaucho pants. Stripes are ultimately a classic that never goes out of style, and they pair great with gaucho pants – if you opt for a playful colored pair. Complete your chic outfit with a couple of tonal statement jewelry pieces. This look is perfect for a walk to your early summer dinner!
How To Wear Gaucho Pants in The Winter?
Knowing how to dress up in gaucho pants for the winter can be difficult as the cooler months approach. Luckily, with just a few simple additions, your favorite pair of gaucho pants can easily become winter-friendly! Here are three ways to wear gaucho pants in the winter.
1. Denim Jacket With Gaucho Pants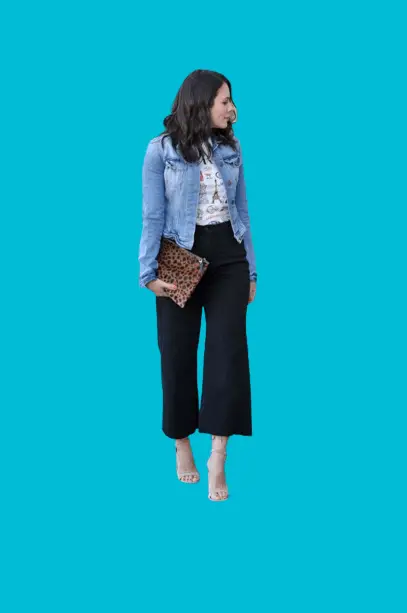 Winter can make putting together stylish combinations difficult, but one outfit worth trying is a denim jacket with gaucho pants. With this look, you can combine warm, rugged denim pieces with the free-spirited folk style that gaucho pants bring. Adding denim brings warmth and structure to the outfit, which works great in the colder months. The leather belt and ankle boots are perfect for all winter styles.
2. Turtleneck Top With Gaucho Pants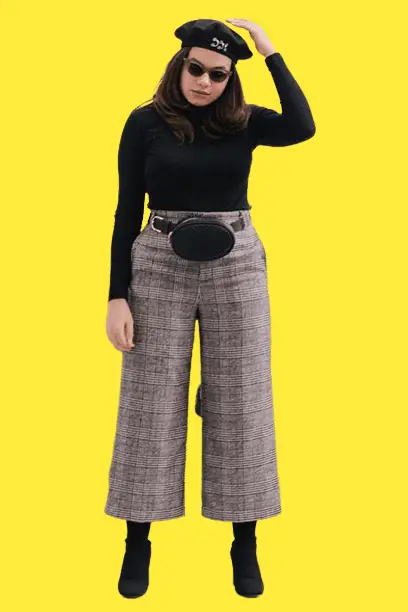 The turtleneck top with gaucho pants is a great option for a timeless look that can do double-duty for fall and winter. The turtleneck provides warmth and adds texture to the look, while the gaucho pants help to balance everything out and give you a flattering, bohemian silhouette. Layer on accessories such as bracelets, a watch, or statement earrings to keep it stylish.
3. Chunky Knit Sweater With Gaucho Pants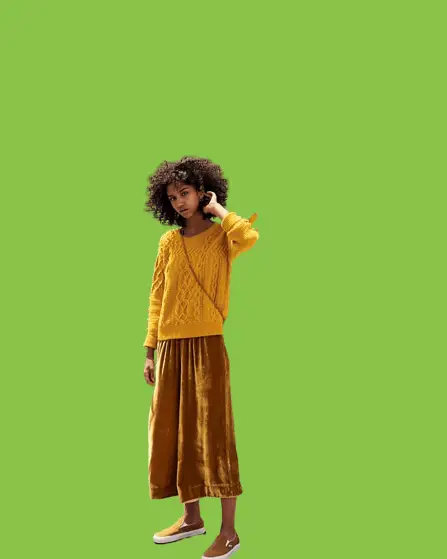 You can't go wrong with a chunky knit sweater and gaucho pants combination for winter. The look is comfy for the colder months yet is trendy. The chunky legs of the gaucho pants add volume and contrast to the look, while the sweater provides warmth and a classic winter aesthetic. A pair of ankle boots and leather gloves are all you need to complete this popular style.
What Shoes to Wear With Gaucho Pants?
Styling gaucho pants just right can be tricky, but one thing is certain – if you pick the right pair of shoes, you're halfway done! So here are my favorite shoes to wear with gaucho pants.
Sneakers
Ankle Booties
Loafers
Sandals
Slides
What Tops to Wear With Gaucho Pants?
Gaucho pants are a great way to add a touch of flair and fashion to any look. But, if you don't know what tops to pair with them, it cannot be easy to create a stylish ensemble. So, here are some of the best tops for gaucho pants that will give you a chic and fashionable look.
Tank Top
Cropped Top
T-shirt
Turtleneck Top
V-neck Blouse
Printed Top
Tie-front Top
Gaucho Pants Styling Tips
Have you wanted to try out the latest trend of gaucho pants but need to know how to style them? Not to worry! Here are some styling tips for gaucho pants to help you make the most of this fashion statement. 
Keep it cool with an oversized shirt.
Add a stylish belt to cinch in the waist.
Spice it up with a wide-brimmed hat.
Layer it up with a long cardigan.
Play with textures and pair them with a leather jacket.
Conclusion
Overall, gaucho pants are a great way to add a unique, fashion-forward look to your wardrobe. With a little creativity, you can find a variety of great outfits that will make you look stylish, fashionable, and confident. Whether going for a more playful look with a crop top and a pair of sandals or a more formal look with a blouse and heels, there are countless options regarding what to wear with gaucho pants. With these eleven outfit ideas, you'll make a great impression wherever you go.