A Guide to Casual Cool for Men: How To Style Dad Jeans?
As a fashion-conscious man, I always look for new ways to rock my wardrobe. And let's be honest; dad jeans are a staple in every man's closet. But styling them can be tricky. You don't want to look stuck in the 80s, but you don't want to appear too casual. So, I've compiled 13 outfit ideas on how to style dad jeans for men to help you style those dad jeans with confidence and ease. Trust me; you'll be turning heads in no time. Let's get started!
How To Style Dad Jeans?
I understand the importance of looking stylish and on-trend. But I also appreciate the timelessness of classic pieces like dad jeans. Dad jeans are a perfect way to add a touch of style to your everyday look. But how do you style them? Here are 13 outfit ideas for men to help you rock your Dad jeans.
1. Basic T-shirt With Dad Jeans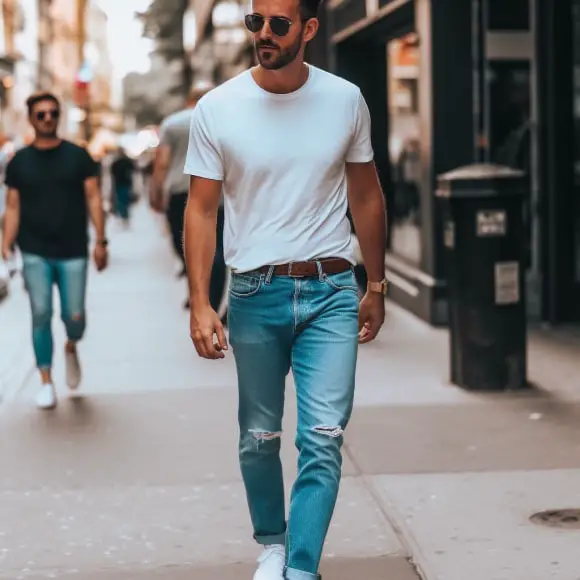 I love the classic dad jean look. It's easy to achieve and perfect for everyday wear. I usually pair my Dad jeans with a basic T-shirt for a simple, timeless look. The T-shirt can be plain, depending on my mood. Adding accessories like a belt, watch, and sneakers allows me to create a stylish, comfortable outfit that can be worn for any occasion.
2. Sweater With Dad Jeans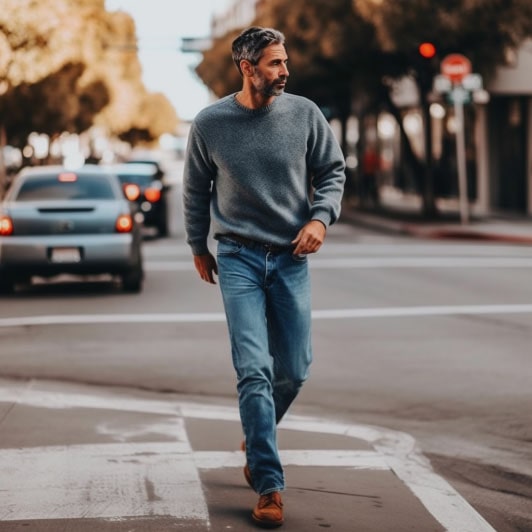 One of my favorite looks is a pair of dad jeans and a cozy sweater. The combination is great for a casual day out and a great way to stay warm during winter. The sweater adds a touch of style to the classic dad jeans while keeping the look comfortable and relaxed. You can easily take this look from day to night with the right accessories. Read our guide for shoes with Dad jeans- What Shoes To Wear With Dad Jeans? 
3. Flannel Shirt With Dad Jeans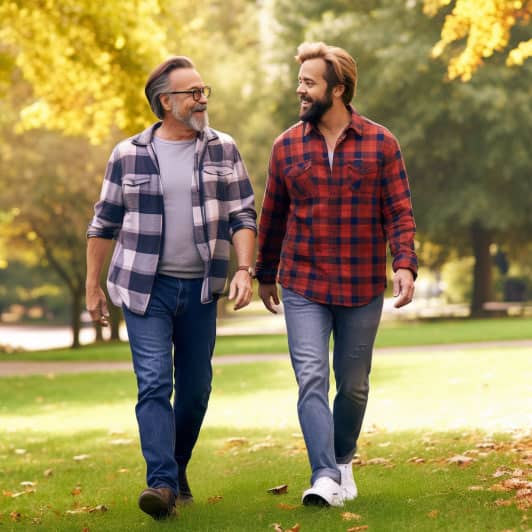 I recently discovered the perfect combination for a casual weekend look: a flannel shirt and dad jeans. Dad jeans are a great way to look stylish and laid-back all at the same time. I love how the soft, plaid flannel shirt looks with the classic, relaxed fit of the dad jeans. The jeans have a slightly high-waisted fit, allowing me to tuck the shirt in for a more put-together look. I can wear the combination with sneakers, boots, or even dress shoes for a more elevated look. It's the perfect way to look cool yet still comfortable and relaxed.
4. A Denim Jacket With Dad Jeans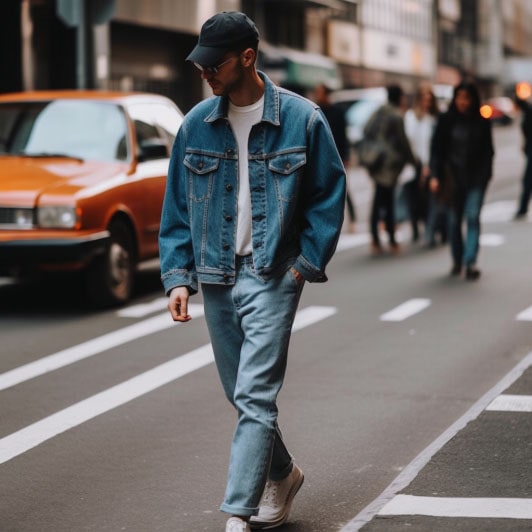 Denim jackets and dad jeans are perfect for a stylish yet casual look. I like pairing a denim jacket with a pair of dad jeans for a classic but modern look. The denim jacket adds a bit of edge to the outfit, while the dad jeans provide a relaxed yet put-together vibe. It's a great look when I want to look put together without feeling too stylish.
5. Button-down Shirt With Dad Jeans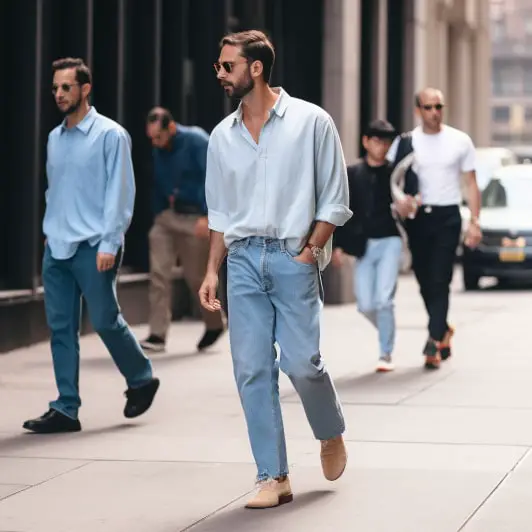 It's no secret that dad jeans are a must-have in any man's wardrobe. But what's the best way to style them? I love pairing my Dad jeans with a crisp, button-down shirt for a classic yet modern look. So whether I go out on the town or head to the office, the button-down shirt and dad jeans combo always looks great.
6. Graphic Tee With Dad Jeans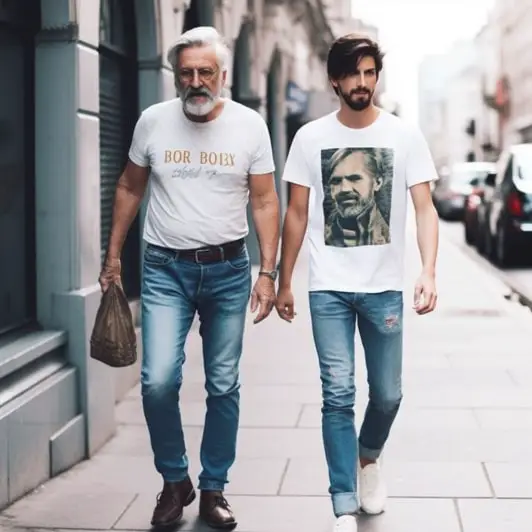 The perfect outfit for any occasion, I love how stylish and comfortable Dad jeans look when paired with a graphic tee. It's a look that screams effortless cool and is great for those days when I feel like I must put together a full outfit. The jeans' relaxed fit and the graphic tee's boldness helped me stand out. In addition, I can easily accessorize with a belt and some sneakers to complete the look.
7. Collared Shirt With Dad Jeans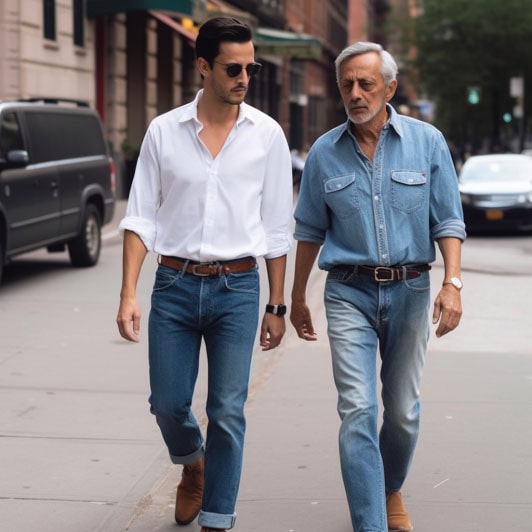 Collared shirts and dad jeans are a timeless combination for men! The look is effortless, stylish, and perfect for any occasion. Whether you're headed to brunch or a night out, this classic combo will always have you looking your best. For a dressier vibe, wear a collared shirt and add a pair of loafers. With dad jeans, the possibilities are endless!
Also Read: How To Style Dad Jeans for Women?
8. Turtleneck With Dad Jeans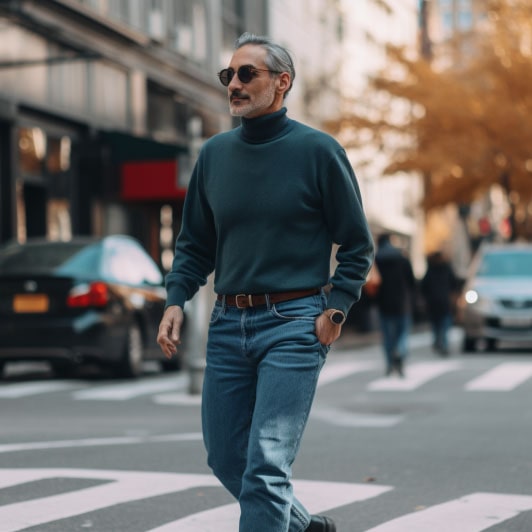 Combining a turtleneck and dad jeans is a great way to look fashionable without taking too much time or effort. The timeless turtleneck adds a touch of sophistication, while the relaxed fit of the dad jeans keeps the look casual and comfortable. With the right accessories, this iconic look can be the perfect way to elevate your everyday style.
9. Hoodie With Dad Jeans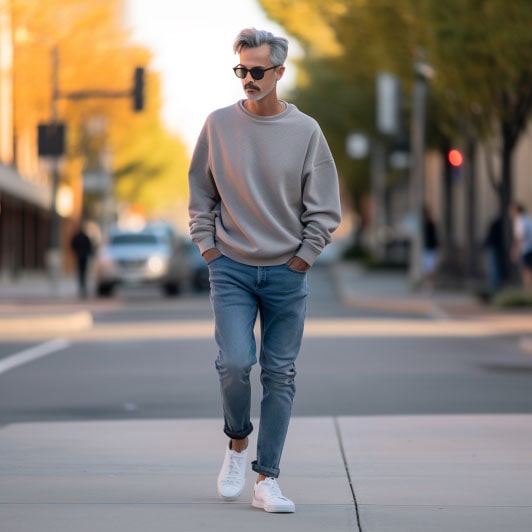 My other favorite way to style dad jeans is to pair them with a cozy hoodie. Combining the two creates a laid-back yet stylish look for any casual occasion. The hoodie adds a bit of warmth and comfort, while the dad jeans give the outfit a classic touch. It's a great way to look put together without having to go all out.
10. Polo Shirt With Dad Jeans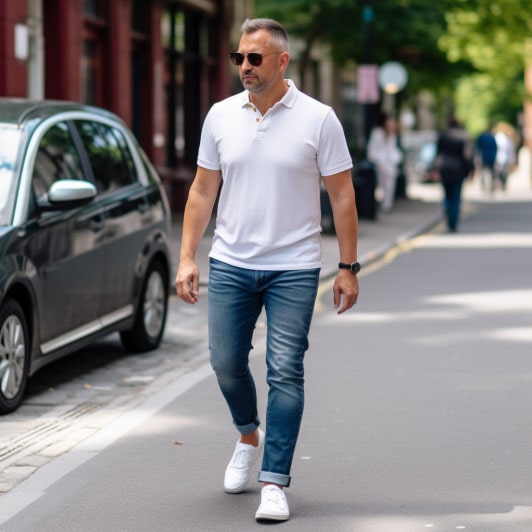 Dad jeans can be tricky to style, but pairing them with a polo shirt can create a timeless look that will turn heads. The combination of the classic polo silhouette and the loose fit of the jeans will give you a trendy yet relaxed look that is perfect for any occasion. You can easily pull off this effortlessly cool look with simple accessories.
11. Blazer With Dad Jeans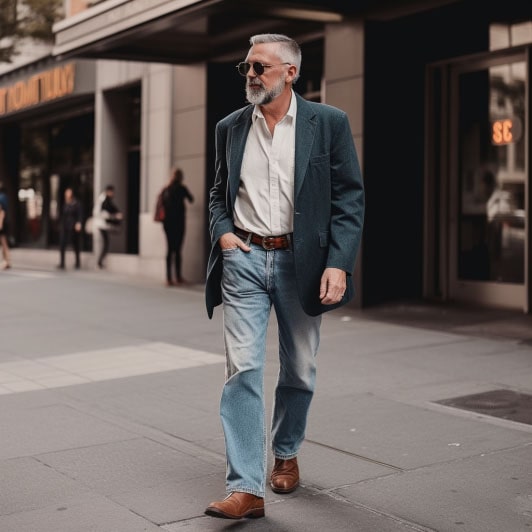 A blazer with dad jeans is perfect for a stylish yet relaxed vibe. I recently tried it out and was surprised at how great it looked! The combination of the classic blazer plus a comfy pair of dad jeans created a fashionable and comfortable look. The right accessories can be a great way to show off your style. Plus, you can keep it casual, depending on the occasion.
12. Leather Jacket With Dad Jeans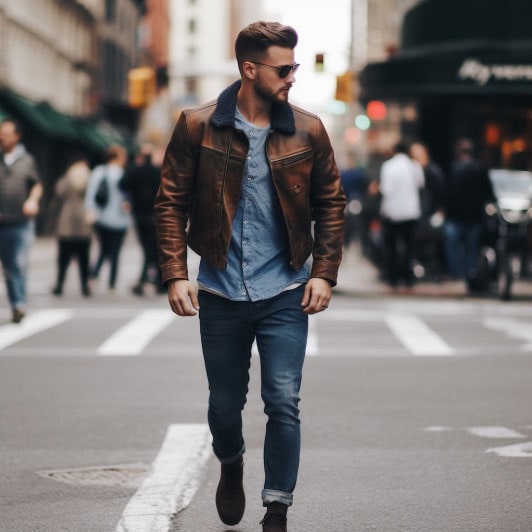 Try pairing your Dad jeans with a cool leather jacket for a modern, effortless look. It is stylish and comfortable, but this combination will also give you an edge with its edgier, laid-back vibes. Whether going for a night out or a casual day, the leather and denim combo breathes a whole new life into your wardrobe.
13. Long-sleeve Shirt With Dad Jeans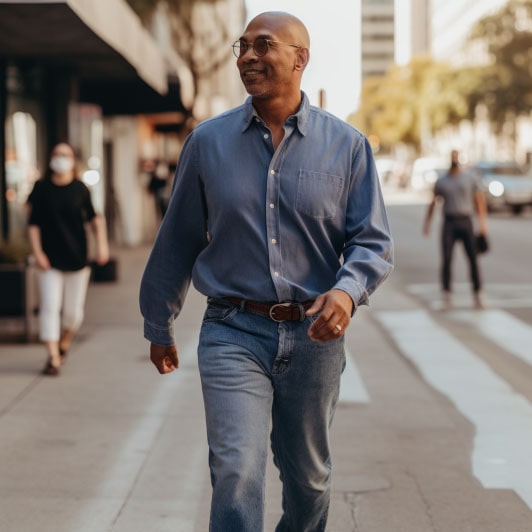 My last attempt at achieving an edgy look was pairing dad jeans with a long-sleeve shirt for a casual but cool look. The long-sleeve layers nicely underneath a jacket for extra warmth or can be left open for a subtle yet stylish effect. The baggy silhouette of the dad jeans is versatile – perfect for a relaxed day at the park or a night out partying with friends. With this outfit, you'll always go right.
Tips for wearing dad jeans
Dad jeans are a classic staple in any wardrobe, but they can be tricky to style. Here are my top tips for rocking dad jeans: 
Balance out the bagginess of dad jeans with a T-shirt. 
Accessorize with a belt to define your waist and add a pop of color. 
Try pairing it with a blazer for a classic, smart look. 
Roll up the hem for a more casual, street-style vibe. 
Add a pair of sneakers or boots to complete the look.
Conclusion
Well, there you have it! After reading this blog post, you should know how to better style dad jeans for men. With 13 outfit ideas, you can mix and match different pieces to create the perfect look. Remember to remember the details and ensure your chosen pieces fit you well. With the right parts, you can rock any look. So go ahead and give Dad jeans a try!