5 Reasons You Should Add Boyfriend Jeans to Your Wardrobe
As a fashionista, I often search for the perfect pair of jeans to add to my wardrobe. Recently, I've been looking into boyfriend jeans and am amazed by how versatile and stylish this trend is! In this blog post, I will explain why you should add boyfriend jeans. Whether you're a fashion-forward trendsetter or a more classic dresser, boyfriend jeans are a great addition to any wardrobe.
5 Reasons You Should Add Boyfriend Jeans to Your Wardrobe
I have always been a fan of comfortable and stylish fashion, and boyfriend jeans are the perfect way to achieve this balance. Here are five reasons why you should add boyfriend jeans to your wardrobe: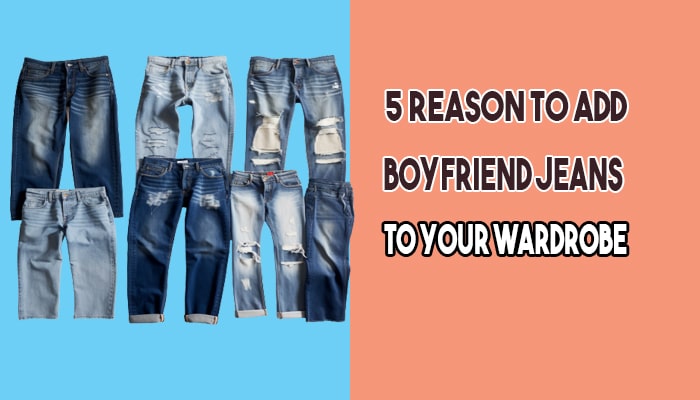 1. Boyfriend Jeans Are Comfort:
If you're looking for comfort, boyfriend jeans are the way to go. These jeans are often made with a looser fit, which makes them great for days when you don't want to be restricted by tight clothing. The relaxed fit also helps to keep you cool and comfortable during the warmer months. Plus, the slightly distressed look adds a touch of style. 
2. They Go With Everything:
Boyfriend jeans are incredibly versatile and can be paired with almost any type of top and footwear. So whether you are wearing a blouse and heels or a t-shirt and sneakers, these jeans will always look great. This makes them a great wardrobe staple you can turn to repeatedly.
3. Durability: 
One of the best things about boyfriend jeans is their durability. Unlike other jeans, which can easily stretch out and become baggy, boyfriend jeans are designed to last. They are made from thicker, more durable materials that won't stretch out over time.
This means you can wear them for years and still look great. In addition, they are much less likely to rip or tear than other jeans. So if you're looking for jeans that will last you a long time, boyfriend jeans are the way to go.
4. Timeless
Boyfriend jeans have been a fashion staple for years and show no signs of going out of style. They are timeless pieces that can be worn year after year.
5. These are Super Trendy
Boyfriend jeans have been a popular trend for a few years, showing no signs of slowing down. The relaxed fit and slightly distressed look make them a great option for those who want to stay on top of the latest trends. And since they're so versatile, you can wear them with almost any outfit.
Conclusion
I'm thrilled with the boyfriend jeans I added to my wardrobe. They're comfortable, stylish, and versatile, making them a great addition to my closet. In addition, they're perfect for a range of looks and occasions, making them a great all-rounder.
Boyfriend jeans can do everything from a casual weekend look to a dressy night out. I'm so glad I finally added boyfriend jeans to my wardrobe, and I'm looking forward to trying out all the different looks I can create with them.