The History and Evolution of Boyfriend Jeans
Boyfriend jeans have become a wardrobe staple for many fashion-savvy women in recent years. But where did these comfy and stylish jeans come from, and how has their style evolved? In this blog post, we'll be looking at the history and evaluation of boyfriend jeans, detailing the major changes in style and evaluating the current state of the trend. So if you're wondering whether boyfriend jeans are still fashionable, read on to find out!
What Are Boyfriend Jeans?
Boyfriend jeans are a type of denim that has become increasingly popular over the last few years. They are a relaxed, slightly baggy fit that is meant to look like they were borrowed from your boyfriend. They typically feature a looser fit around the hips, a slightly tapered leg, and a higher waistline. The idea is to create a look that is both stylish and comfortable.
Overview of the History of Boyfriend Jeans
Boyfriend jeans are a style of jeans that are loose-fitting and typically feature a straight leg. They are named after the idea that they look like they were borrowed from a boyfriend. The history of boyfriend jeans is relatively recent and can be traced back to the early 2000s.
The origin of boyfriend jeans can be traced to the grunge fashion movement of the early 1990s. The grunge movement was characterized by a rebellious, anti-fashion aesthetic, often including loose-fitting clothing. One of the key figures of the grunge movement was Kurt Cobain, the lead singer of the band Nirvana. Cobain often wore oversized, baggy jeans, which became a signature part of his look.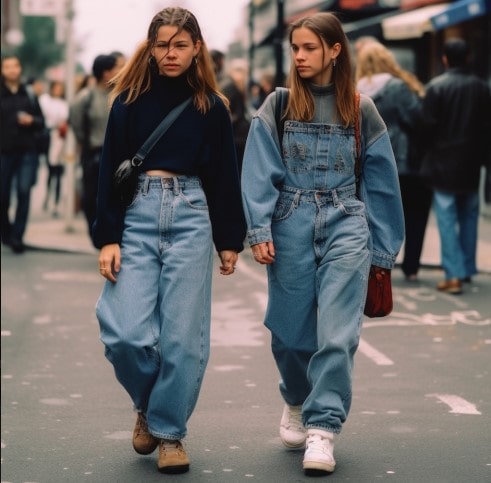 In the early 2000s, fashion designers began to take notice of the grunge aesthetic and started incorporating elements of it into their collections. One of the designers who played a key role in developing boyfriend jeans was Emily Current. In 2003, she and her business partner Meritt Elliott launched a denim line called Current/Elliott. One of the key pieces in their collection was a pair of distressed, loose-fitting jeans that they called "boyfriend jeans."
The popularity of boyfriend jeans exploded in the mid-2000s, and they became a staple in women's fashion. Celebrities and fashion influencers embraced them, and soon every major denim brand had its version of the boyfriend jean. The style was also adapted to include different washes, colors, and embellishments, making it a versatile option for various outfits.
The popularity of Boyfriend Jeans in the Early 2000s 
The early 2000s were a time of fashion experimentation, and boyfriend jeans were one of the decade's most popular trends. These jeans were a staple in the wardrobes of many young women and men, and their popularity has only grown since then.
The popularity of the boyfriend jean in the early 2000s was due to their comfort, versatility, and affordability. It was a style anyone could wear, regardless of body type or budget. The Boyfriend jean is still popular today, and their timeless style has made them a wardrobe staple for many.
Also Read: Boyfriend Jeans vs. Girlfriend Jeans
Different Styles of Boyfriend Jeans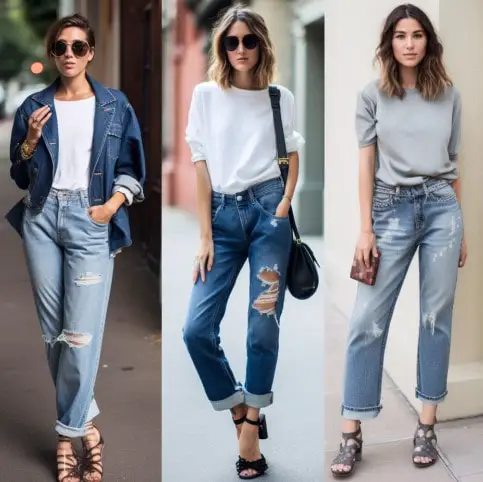 Boyfriend jeans come in various styles, each offering a unique look and fit. Here are some of the most popular styles of boyfriend jeans:
Classic Boyfriend Jeans: This loose-fitting style features a straight leg. It often has a mid-rise waist and is made from denim fabric. Classic boyfriend jeans can be dressed up or down, making them a versatile option for any occasion.
Distressed Boyfriend Jeans: These jeans have a worn-in look with rips, tears, and frayed edges. They offer a casual and edgy look that is perfect for weekend wear.
High-Waisted Boyfriend Jeans: This style sits higher on the waist and is often more fitted in the hips and thighs. High-waisted boyfriend jeans are a great option for those who want a looser fit without sacrificing their waistline.
Cropped Boyfriend Jeans: These are shorter, typically hitting above the ankle. They can be worn with sandals for a summery look or with ankle boots for a more polished outfit.
Wide-Leg Boyfriend Jeans: This style features a wider leg, providing a more relaxed fit. Wide-leg boyfriend jeans are a great option for those who want a looser fit without the bagginess that comes with classic boyfriend jeans.
Reasons for the Continued Popularity of Boyfriend Jeans
The continued popularity of boyfriend jeans is largely due to their comfortable, casual, and stylish look. They also provide a relaxed fit, allowing for more freedom of movement and creating a more laid-back look. Furthermore, boyfriend jeans come in various styles, colors, and washes, so there are plenty of options to fit your style. Lastly, boyfriend jeans are often considered more affordable than other types of jeans, making them a great choice for those on a budget. All these factors combine to make boyfriend jeans a popular and timeless choice. 
Conclusion
Boyfriend jeans have been a major fashion trend. They've become a staple in many women's wardrobes, offering comfort, style, and an effortlessly cool look. While boyfriend jeans are not for everyone, they provide an easy way to add more style to an outfit. The right fit and accessories can add a unique and stylish element to any look.