13 Outfit Ideas: Black Shirt With Khaki Pants for Men
As a style-conscious man, I have often wondered if wearing a black shirt with khaki pants is acceptable. After exploring and experimenting, I'm thrilled to share 13 fabulous outfit ideas combining these versatile clothing pieces.
These outfits are stylish and trendy and provide an excellent balance between casual and semi-formal looks. So, if you're ready to elevate your fashion game, let's dive into the world of fashion-forward combinations!
Is it OK to wear a black shirt with khaki pants?
Yes, it is perfectly fine to wear khaki pants with a black shirt. It can be a very stylish and versatile combination. The key is choosing the right shades of black and khaki and accessing the outfit appropriately.
For example, wearing a dark black shirt, you will want to pair it with a lighter shade of khaki pants. This will help to create a more balanced look. You can also add some contrast by wearing a black belt and shoes with a different brown or tan shade.
If you wear a lighter black shirt, pair it with darker khaki pants. This will create a more monochromatic look. You can also add some interest to the outfit by wearing a scarf or jacket in a different color.
13 Outfit Ideas with a Black Shirt and Khaki Pants for Men
Every man's wardrobe should include a few go-to staple pieces, and black shirts and khaki pants are two of those pieces. They serve as a perfect base for almost any look imaginable. If you want to mix up your wardrobe, here are thirteen stylish outfit ideas for men with a black shirt and khaki pants. 
1. Black graphic tee, khaki pants, and white sneakers: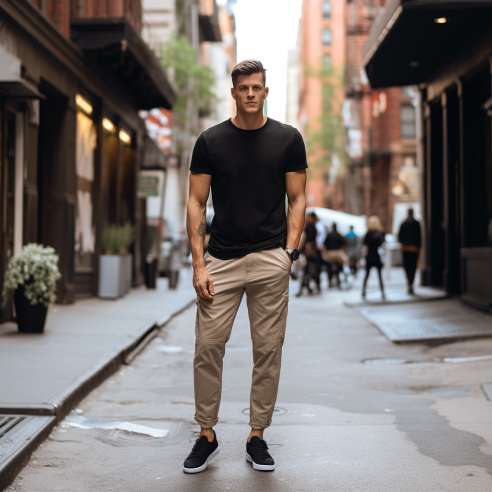 This casual ensemble combines a black graphic t-shirt with khaki pants, creating a laid-back and trendy look. The graphic tee adds a touch of personality and can showcase your interests or favorite designs. As a versatile choice, Khaki pants provide a stylish and comfortable bottom.
Complete the outfit with classic white sneakers, adding a sporty and youthful flair. This outfit is perfect for everyday wear, hanging out with friends, or running errands.
2. Black polo shirt, khaki joggers, and black athletic shoes: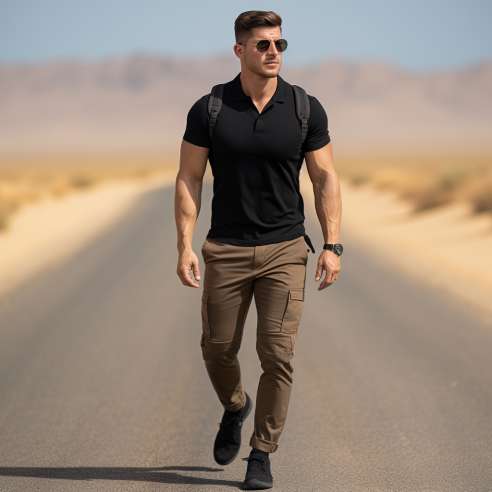 To create a sporty and modern outfit, you can effortlessly combine a black shirt, khaki pants black shoes ensemble. Start by pairing a black polo shirt with khaki joggers, striking the perfect balance between refinement and relaxation.
The polo shirt adds a touch of class to the look, while the khaki joggers provide a comfortable and casual option for the bottom half. To complete the sporty aesthetic, opt for black athletic shoes that complement the outfit's black elements and enhance the overall style. 
3. Black button-down shirt, khaki chinos, and brown loafers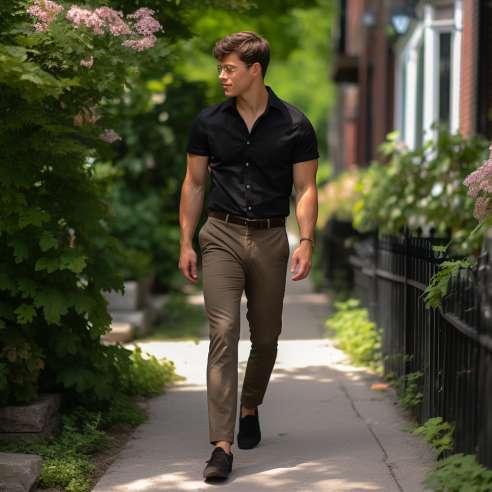 Balance smart and casual, making it suitable for various occasions. The black button-down shirt adds a touch of sophistication, while khaki chinos offer a polished and versatile option for pants. Opt for classic brown loafers to elevate the look further, exuding a refined and put-together appearance. 
4. Black leather jacket, crew neck shirt, khaki pants, and boots: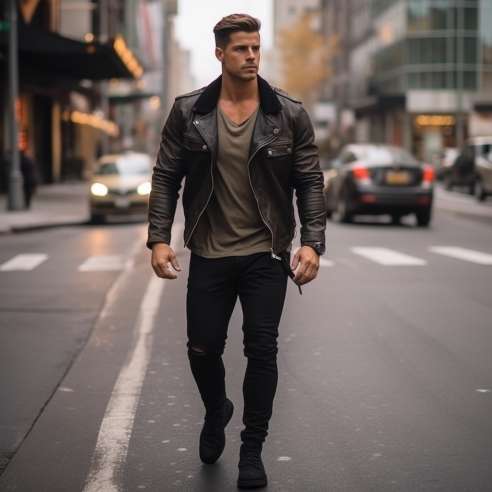 Start with a black crew neck shirt as the base layer for a rugged and edgy style. Layer it with a black leather jacket, which adds a bold and rebellious touch to the outfit. Khaki pants create a contrast against the black elements while maintaining a relaxed and casual look.
Complete the ensemble with boots, such as black combat boots or brown leather boots, to enhance the edgy aesthetic. This outfit is perfect for nights out, concerts, or when you want to make a strong fashion statement.
5. Black dress shirt, khaki trousers, and brown leather oxfords: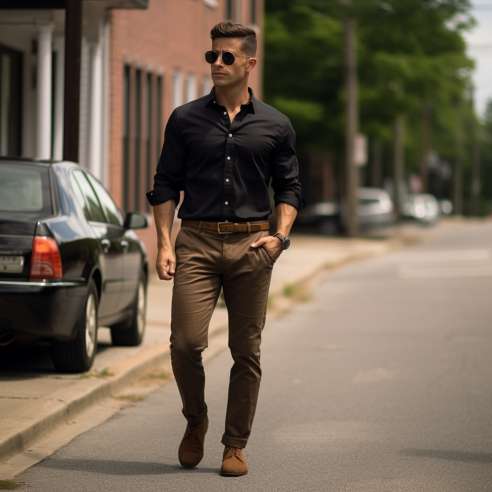 Embrace a sophisticated and elegant look by learning how to wear a black shirt and khaki pants. To achieve this stylish combination, start with a black dress shirt, which exudes a sense of formality and is perfect for dressier events. Pair it with khaki trousers, a timeless choice that adds warmth and complements the black shirt effortlessly.
Opt for brown leather oxfords to complete the refined appearance, showcasing a classic and polished finish. Whether it's a formal occasion, business meeting, or elegant evening event, this outfit will make a lasting impression.
6. Wear a black linen shirt with khaki shorts and white sneakers: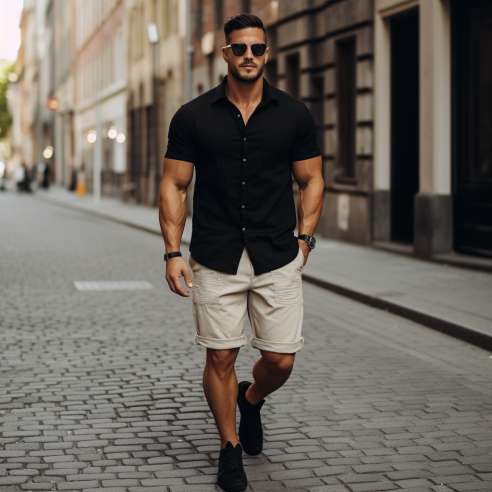 Wear a black linen shirt with khaki shorts for a relaxed and breezy outfit option during warmer weather. Linen fabric provides breathability and a relaxed drape, ideal for summer or tropical destinations. Khaki shorts maintain a classic and versatile appearance.
7. Black oversized t-shirt, khaki cargo pants, and black sneakers: 
Embrace a relaxed, street-style look with an oversized black t-shirt and khaki cargo pants. The oversized tee offers a comfortable and trendy silhouette. Khaki cargo pants provide a practical touch, adding functionality and style.
Wear black sneakers to finish the outfit, contributing to the urban and contemporary vibe. This outfit is perfect for casual streetwear, concerts, or any laid-back occasion.
8. Black suit jacket, black dress shirt, khaki dress pants, and black dress shoes: 
Consider the timeless combination of a black shirt, khaki pants, and black shoes for a polished and refined formal look. Begin by selecting a black suit jacket and pair it effortlessly with a black dress shirt, creating an elegant and sophisticated base.
Opt for khaki dress pants that add a touch of modernity while maintaining a refined appearance to introduce a refreshing contrast. As for footwear, choose black dress shoes like oxfords or loafers to continue the formal aesthetic from head to toe seamlessly.
9. Black Vintage Band T-Shirt, Khaki Pants, and Brown Leather Boots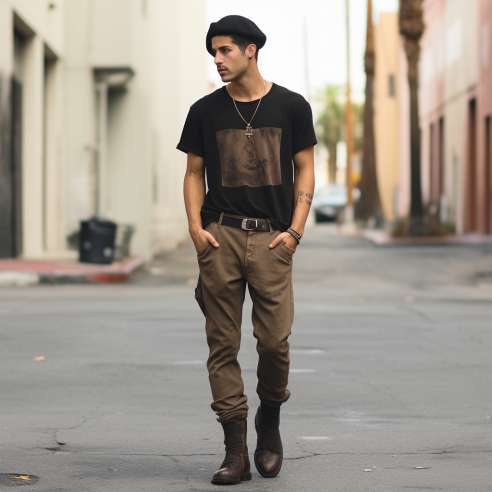 Infuse your black shirt khaki pants outfit with a vintage charm by opting for a black vintage band t-shirt. This statement piece adds a unique and nostalgic vibe to your overall look. Pair it effortlessly with classic khaki pants, creating a balanced and stylish combination. To elevate the ensemble further, choose stylish brown leather boots that complement the khaki pants and add a fashionable touch.
This outfit is perfect for casual outings, whether grabbing coffee with friends or attending a relaxed gathering. The vintage band t-shirt adds personality to your style, making it a standout choice for those who appreciate a retro-inspired aesthetic.
10. Black Blazer, White Button-Down Shirt, Khaki Chinos, and Brown Loafers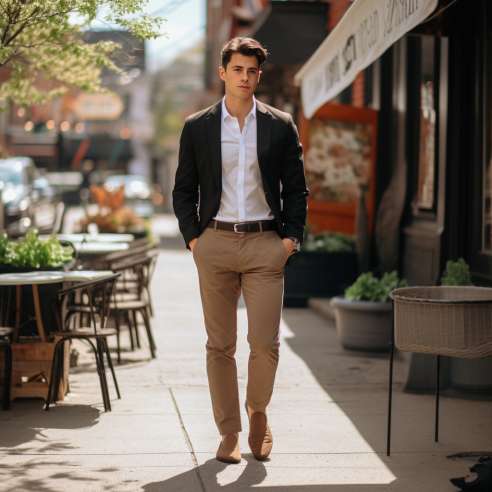 Achieve a refined yet relaxed look by pairing a black blazer with a crisp white button-down shirt and khaki chinos. Complete the ensemble with brown loafers, creating a timeless outfit for various semi-formal occasions.
11. Black Leather Jacket, Graphic Tee, Khaki Pants, and Combat Boots
Embrace an edgy and adventurous style with a black leather jacket layered over a graphic tee and khaki pants. Add an element of ruggedness with combat boots, making this outfit ideal for outdoor activities or concerts.
12. Black Floral Print Shirt, Khaki Shorts, and Brown Sandals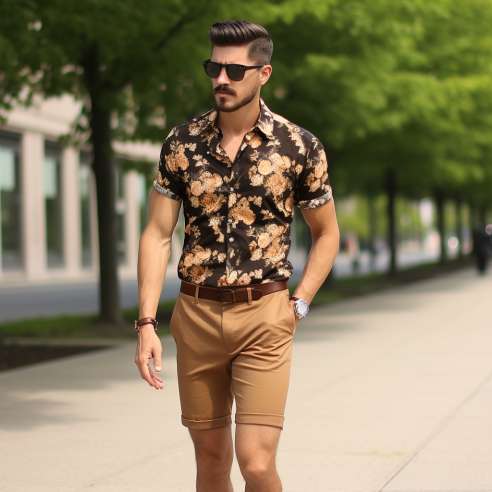 Try a black floral print shirt matched with khaki shorts for a fun and stylish summer look. Pair the outfit with comfortable brown sandals, perfect for beach trips or casual outdoor events.
13. Black Turtleneck Sweater, Khaki Trousers, and Black Chelsea Boots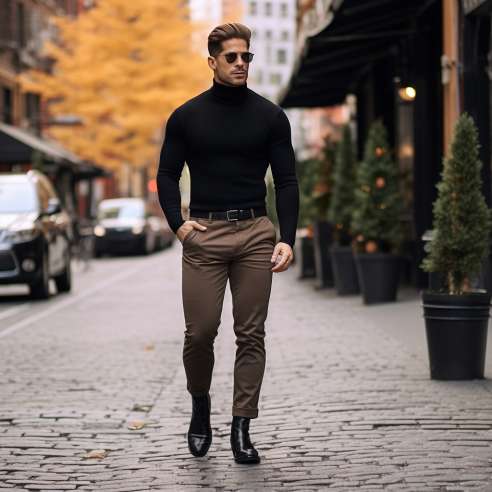 Consider pairing a black turtleneck sweater with khaki trousers for a chic black shirt khaki pants outfit in colder months. The black turtleneck sweater exudes sophistication and warmth, making it a perfect choice for the season. Complement the khaki trousers with their timeless appeal, creating a sleek and refined appearance.
Opt for black Chelsea boots that enhance the formal aesthetic and provide practicality and comfort to elevate the overall outfit. This ensemble is ideal for formal events or evening gatherings where you want to make a fashionable statement while staying cozy and elegant.
Styling Tips for a Black Shirt and Khaki Pants
To make the most of your black shirt and khaki pants outfits, consider these styling tips:
Accessorize with leather belts, watches, or sunglasses for an added touch of elegance.
For varying looks, experiment with different tuck styles for your black shirts, such as a full tuck, half tuck, or untucked.
Try rolling up the sleeves of your black shirt for a more relaxed and casual vibe.
Opt for slim-fit khaki pants for a modern and tailored appearance.
Incorporate different textures into your outfits, such as leather, denim, or linen, to add depth and interest.
Frequently Asked Questions
How Can I Make a Black Shirt and Khaki Pants Look Formal for Special Events?
Choose a tailored black dress shirt and well-fitted khaki dress pants to make this outfit combination formal. Add a blazer or suit jacket for an extra touch of sophistication, and complete the look with dress shoes like Oxfords or loafers.
Can I Wear Black Sneakers with Khaki Pants and Still Look Stylish?
Absolutely! Black sneakers can complement khaki pants, especially in casual and urban outfits. Ensure that the sneakers and khaki pants are well-maintained and clean for a polished appearance.
Are There Any Age Restrictions When Wearing This Outfit Combination?
No, this outfit combination is versatile and can be worn by men of all ages. Adjust the style elements and accessories to suit your preferences and the occasion.
Can I Wear a Patterned Black Shirt with Khaki Pants?
Yes, you can wear a patterned black shirt with khaki pants for a more eye-catching look. Ensure the patterns do not clash and the overall outfit remains balanced and cohesive.
What Color Tie Goes with Black Shirt and Khaki Pants?
Consider a burgundy or deep red tie for a classic and elegant look. Depending on the event's formality, you can experiment with other earthy tones, like olive green or navy blue.
Black shirt, khaki pants, what color belt?
The traditional rule is to wear a brown belt with khaki pants and a black belt with black pants. However, there are some exceptions to this rule. For example, by wearing a black shirt with khaki pants, you can wear a black belt to create a more monochromatic look. You can also wear a brown belt with black pants to contrast your outfit.
Conclusion
By combining a black shirt with khaki pants, you can create a plethora of stylish and versatile outfits suitable for various occasions. Whether you prefer a casual streetwear look or a sophisticated formal ensemble, the key lies in appropriately balancing the elements and accessorizing. Embrace your style and confidently rock these trendy outfits with flair!