Cuffed Jeans With Chukka Boots | How To Rock Cuffed Jeans with Chukka Boots
Fashion is a language that speaks volumes without uttering a word. It's a reflection of personality, style, and individuality. One fashion trend that has stood the test of time and continues to turn heads is the pairing of cuffed jeans with chukka boots.
This comprehensive guide will delve into the art of mastering this stylish combination. From understanding the basics to exploring the variations and accessorizing tips, we've got you covered.
So, fasten your seatbelts as we take a fashionable journey through the world of cuffed jeans and chukka boots.
Read Also: 7 For All Mankind vs Joes Jeans
Why Cuffed Jeans With Chukka Boots?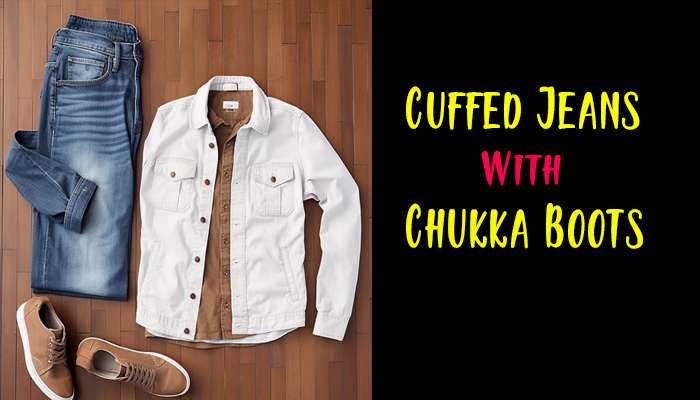 Cuffed jeans and chukka boots are a match made in fashion heaven, and here's why:
# Style Meets Comfort
Cuffed jeans exude a casual, laid-back vibe that is perfect for various occasions. They strike a harmonious balance between style and comfort. Chukka boots, with their ankle-high design and versatile appearance, complement cuffed jeans flawlessly. This combination allows you to look chic without sacrificing comfort.
# Versatile Pairing
One of the most significant advantages of cuffed jeans and chukka boots is their versatility. Whether going for a casual daytime look or dressing up for a night out, this combo adapts effortlessly. You can even wear them to the office with the right styling.
# Timeless Appeal
Fashion trends come and go, but some classics endure. Cuffed jeans and chukka boots have stood the test of time, consistently remaining a go-to for fashion enthusiasts. Investing in these wardrobe staples is an intelligent decision, as they'll serve you well for years.
How To Wear Cuffed Jeans With Chukka Boots For Men? 7 Interesting Outfit Ideas
Now that you know why cuffed jeans and chukka boots are a match made in fashion heaven, let's explore seven fantastic outfit ideas for men:
1. Casual Day Out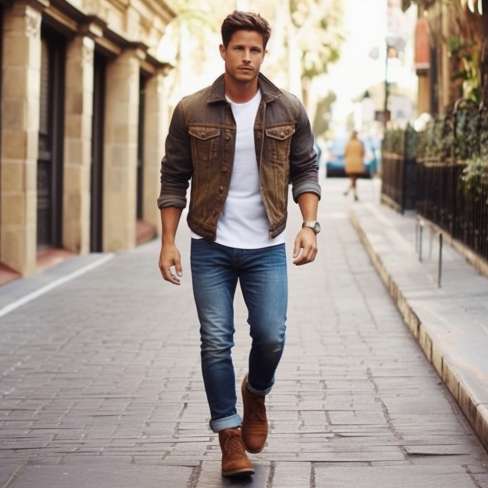 Pair your dark-wash cuffed jeans with a crisp white t-shirt for a relaxed daytime look. Throw on a light denim jacket and slip into your brown suede chukka boots. This ensemble exudes effortless coolness.
2. Business Casual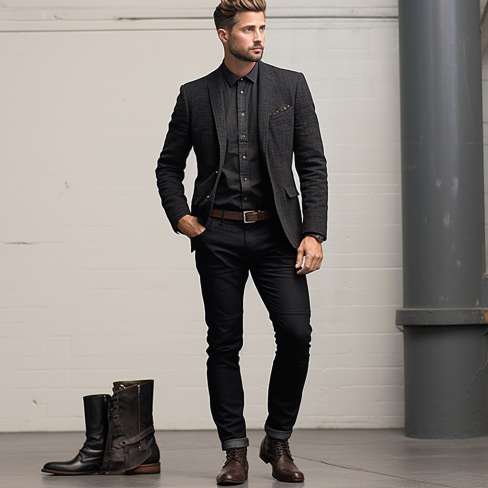 Elevate your office attire by wearing cuffed black jeans with a well-fitted blazer. Opt for a patterned dress shirt to add a touch of sophistication. Complete the look with black leather chukka boots, and you're ready to conquer the boardroom.
3. Date Night Ready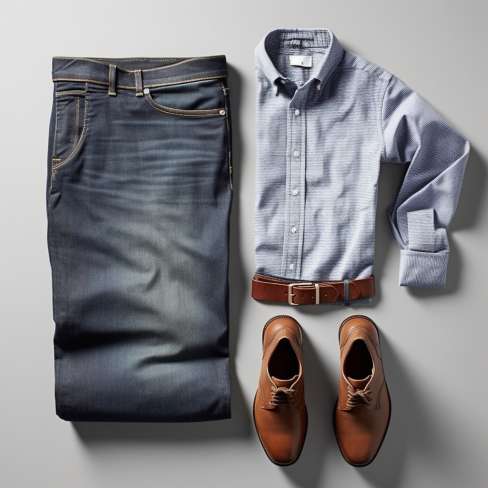 Planning a romantic evening? Don your favorite pair of slim-fit cuffed jeans, a stylish button-down shirt, and a sleek belt. Finish off the look with polished brown leather chukka boots. You'll make a lasting impression.
4. Weekend Warrior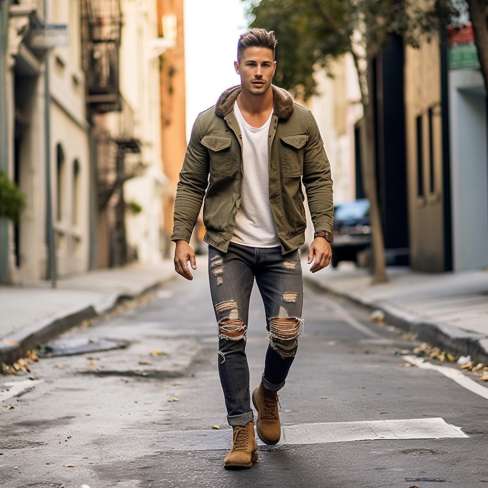 Choose distressed cuffed jeans with a graphic tee for a rugged weekend look. Top it off with a utility jacket and your trusty chukka boots in a darker shade. You'll be ready for whatever adventure comes your way.
5. Monochromatic Magic
Experiment with monochromatic styling by combining black cuffed jeans with a black t-shirt or sweater. Add a pop of contrast with tan suede chukka boots. This minimalist look is both sophisticated and sleek.
6. Smart-Casual Elegance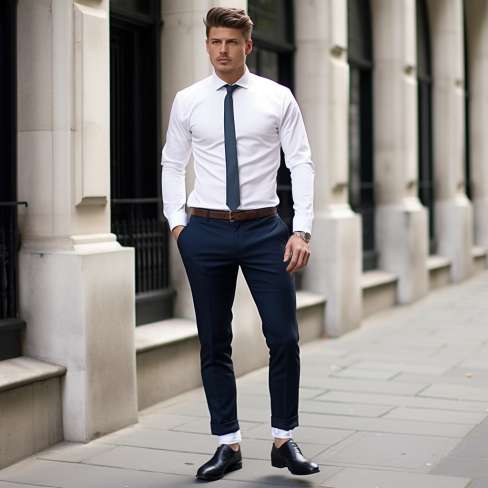 Attending a semi-formal event? Opt for navy cuffed jeans, a crisp white dress shirt, and a slim tie. Slide into your polished black chukka boots, and you'll effortlessly blend sophistication with a touch of edge.
7. Bohemian Vibes
Wear light-wash cuffed jeans with a flowy, patterned shirt for a relaxed, bohemian-inspired outfit. Slip into your suede chukka boots and accessorize with layered bracelets. This look screams laid-back charm.
How To Wear Cuffed Jeans With Chukka Boots For Women?
Ladies, it's time to embrace the cuffed jeans and chukka boots trend. Here are seven fabulous outfit ideas tailored just for you:
1. Effortless Chic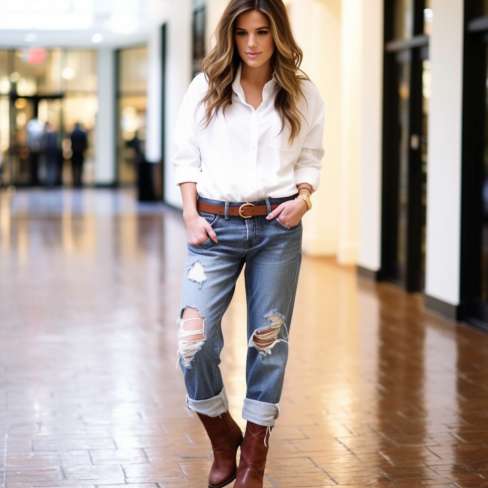 Achieve an effortlessly chic look by pairing your distressed cuffed jeans with an oversized white blouse. Add a statement belt and your favorite brown chukka boots for a relaxed yet polished appearance.
2. Classic Denim Duo
Combine your cuffed jeans with a timeless denim jacket for the ultimate denim-on-denim ensemble. Slip into black leather chukka boots for an edgy twist on this classic look.
3. Boho Beauty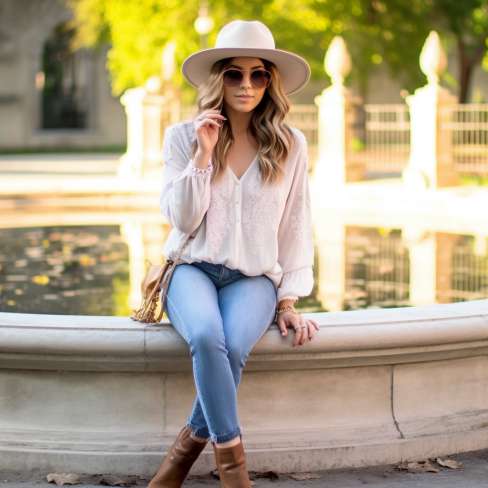 Channel your inner bohemian goddess with light-wash cuffed jeans and a flowy boho blouse. Complete the look with suede chukka boots and a wide-brimmed hat for a carefree vibe.
4. City Sleek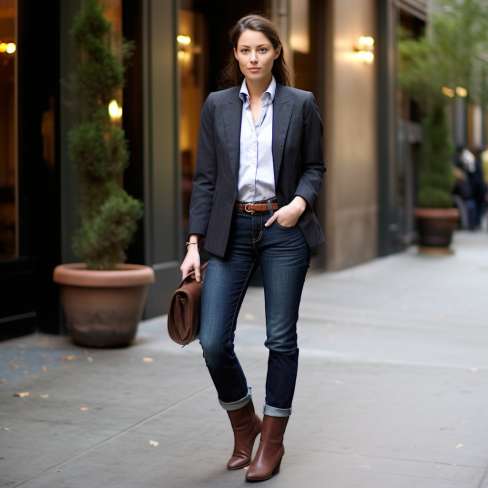 For a city-ready outfit, choose dark-cuffed jeans and a tailored blazer. Add a touch of glamour with heeled chukka boots and bold accessories. This ensemble effortlessly transitions from day to night.
5. Casual Elegance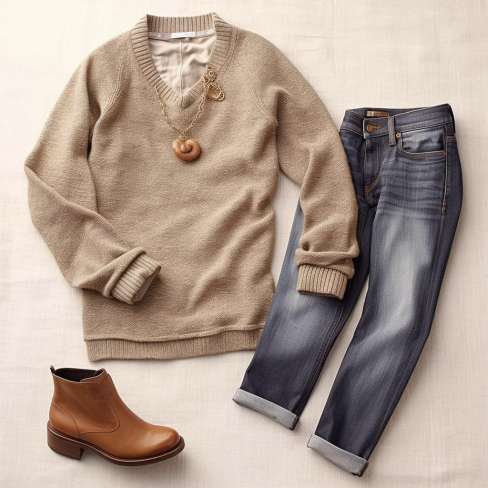 Elevate your casual attire with cuffed jeans, a cashmere sweater, and a statement necklace. Slip into your brown suede chukka boots for a cozy yet elegant look.
6. Weekend Wanderer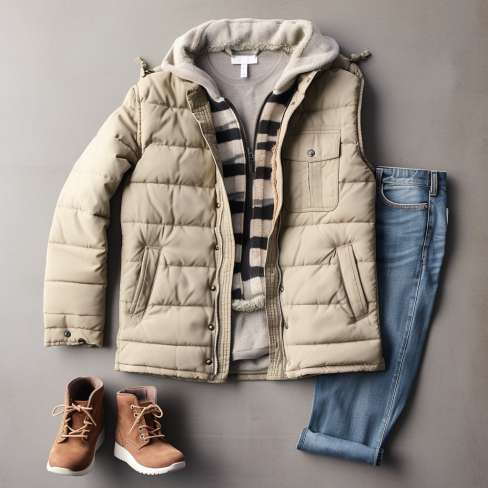 If you're headed for a weekend getaway, pack your distressed cuffed jeans, a comfy sweater, and a puffer vest. Finish the look with lace-up chukka boots for a blend of style and warmth.
7. Date Night Delight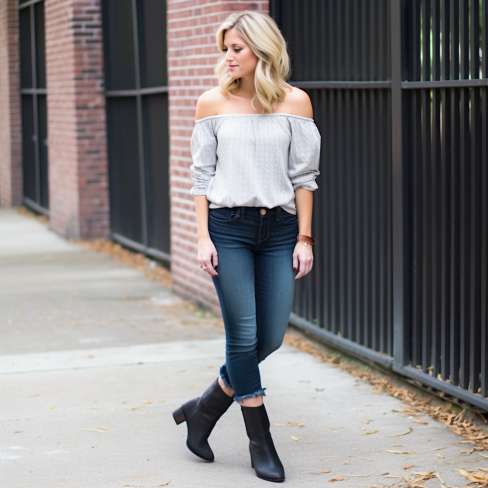 Planning a romantic evening out? Opt for black cuffed jeans, a chic off-the-shoulder top, and statement earrings. Complete the look with heeled chukka boots for a touch of glamour.
FAQ
Do you cuff jeans with boots?
Yes, cuffing jeans with boots is a stylish and practical choice. It adds a flair to your outfit while ensuring your jeans don't bunch up at the ankles, giving your boots the spotlight they deserve.
What shoes to wear with cuffed pants?
Cuffed pants, including cuffed jeans, go well with various shoe styles. In addition to chukka boots, you can pair them with sneakers, loafers, brogues, or even heels, depending on the occasion and your style.
How can I prevent my cuffed jeans from coming undone?
To keep your cuffed jeans in place, try using double-sided fashion tape. Apply a small strip on the inside of the cuff before folding it up. This will help prevent any unruly cuffs and keep your look polished.
Can I cuff any type of jeans with chukka boots?
While you can cuff most jeans, it's essential to consider the fit and style. Slim or tapered jeans work best with chukka boots, creating a balanced and visually appealing look. Baggy or wide-legged jeans may not complement the sleek design of the boots.
Are there any specific socks I should wear with this combination?
The choice of socks depends on your style and comfort preferences. No-show or ankle socks are a popular choice to maintain the minimalist look. However, if you want to add a pop of personality to your outfit, you can opt for patterned or colorful socks.
Conclusion
Cuffed jeans and chukka boots are a winning combination for both men and women. Their timeless appeal, versatility, and comfort make them a must-have in any fashion-savvy individual's wardrobe. You can rock this stylish pairing with confidence with the outfit ideas and tips provided. So, cuff those jeans, lace up those chukka boots, and step out in style!
Source:
https://stridewise.com/how-to-wear-chukka-boots/