What To Wear With Khaki Pants Female? 15 Perfect Outfit Ideas
Khaki pants are a versatile wardrobe staple that can be dressed up or down for various occasions. When styling khaki pants, color choices and combinations are crucial in creating a fashionable and polished look. In this article, I will explore different options for pairing tops, footwear, and accessories with khaki pants to help you elevate your style game.
What To Wear With Khaki Pants Female?
Women have a multitude of choices when it comes to styling khaki pants. There are numerous options, whether you're aiming for a laid-back casual look or a more sophisticated ensemble. Let's delve into some top choices for pairing tops with khaki pants.
Top Options for Khaki Pants
1. Casual Tops for a Laid-back Look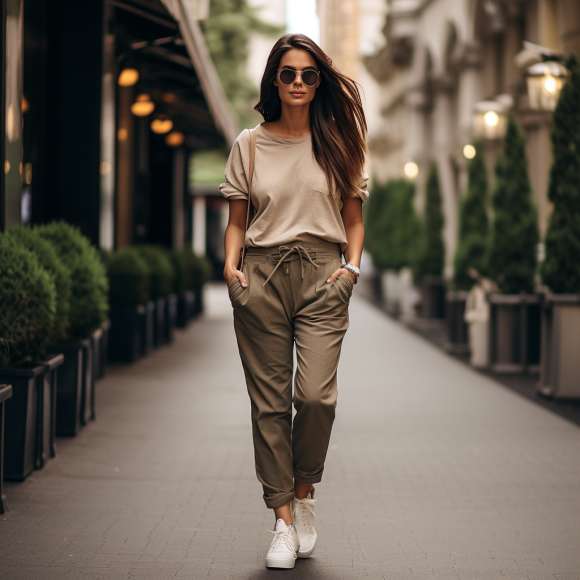 When wondering what to wear with khaki pants, female fashion enthusiasts can opt for casual tops that perfectly complement the laid-back nature of khaki pants. In this context, T-shirts and tanks in neutral tones such as white, black, or gray work exceptionally well.
These basic pieces offer versatility and serve as a great canvas for accessorizing or layering with jackets, cardigans, or sweaters, enhancing your style while staying cozy and warm effortlessly.
Also Read: Black Shirt With Khaki Pants for Men
2. Dressy Blouses and Shirts for a More Sophisticated Style
If you aim for a more sophisticated and polished style, dressy blouses and shirts are the way to go. Crisp white button-down shirts or feminine blouses in vibrant colors can instantly elevate the look of khaki pants. 
3. Sweaters, Cardigans, and Jackets for Layering
During colder seasons or in air-conditioned environments, layering becomes essential. Khaki pants provide an excellent base for layering different pieces. Opt for cozy sweaters, stylish cardigans, or structured jackets to add depth and dimension to your overall look. 
Footwear Pairings
The right footwear can make or break an outfit. Some footwear pairings complement khaki pants and contribute to a well-rounded look. Read our full guide about What Shoes To Wear With Khaki Pants?
1. Classic Shoe Styles That Complement Khaki Pants
Classic shoe styles such as loafers, oxfords, and ballet flats are timeless options that pair exceptionally well with khaki pants. These shoes exude sophistication and add a touch of elegance to your overall look. Opt for neutral colors like black, brown, or navy for versatility.
2. Sneakers and Athletic Shoes for a Casual and Sporty Vibe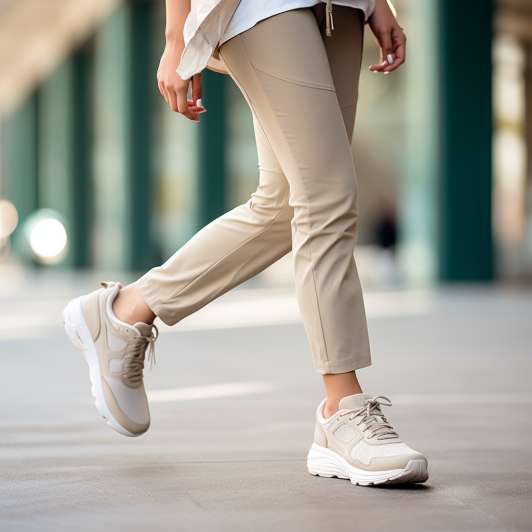 For a casual and sporty vibe, sneakers and athletic shoes are a fantastic choice. Whether you prefer chunky sneakers, classic canvas sneakers, or running shoes, they can effortlessly complement khaki pants. 
3. Boots and Booties for a Trendy and Versatile Look
Boots and booties are a smart and versatile footwear option to pair with khaki pants. Ankle, Chelsea, or knee-high boots can add a fashionable edge to your outfit. Opt for leather or suede materials in neutral shades like black, tan, or gray to achieve a chic and put-together look.
4. Sandals and Flats for a Comfortable and Feminine Touch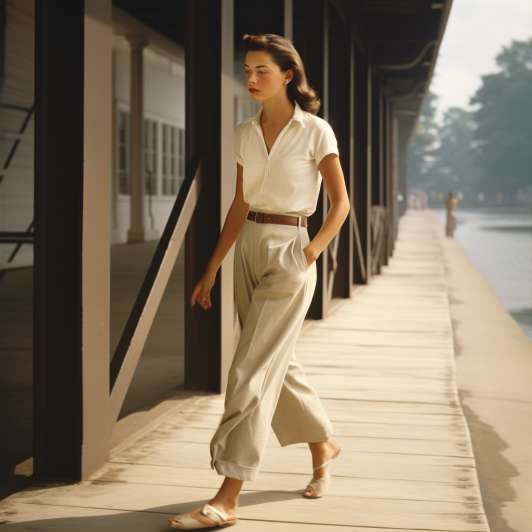 During warmer months, sandals and flats provide comfort and a feminine touch to your khaki pants ensemble. Opt for strappy sandals, espadrilles, or ballet flats in colors that complement your outfit. 
Accessories to Enhance the Outfit
Accessorizing is the key to elevating any outfit, and khaki pants are no exception. Let's explore some accessories that can enhance the overall look when paired with khaki pants.
1. Belts and How They Can Elevate the Khaki Pants Look
Adding a belt to your khaki pants can instantly elevate your outfit and create a more defined silhouette. Choose belts in different colors, textures, or statement buckles to add a touch of personality and flair to your look. 
2. Jewelry Choices to Add Personality and Flair
Jewelry is a fantastic way to add personality and flair to your khaki pants ensemble. Consider wearing statement necklaces, dainty earrings, or stackable bracelets to accentuate your style. 
3. Handbags and Purses That Go Well With Khaki Pants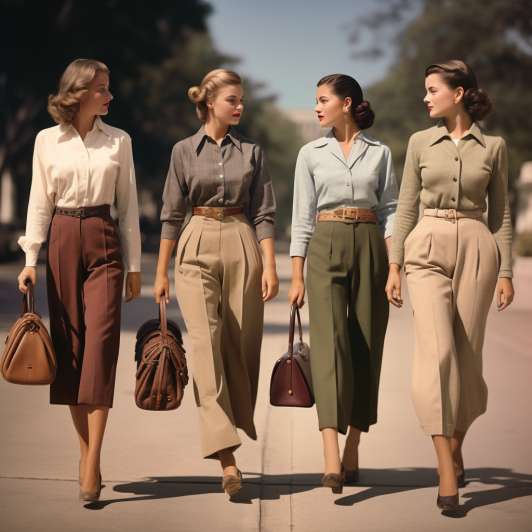 The right handbag or purse can complement your khaki pants and tie the whole outfit together. Opt for bags in neutral tones like black, brown, or tan for a timeless and versatile look. Choose styles that suit the occasion, such as tote bags for everyday use or clutches for formal events.
4. Scarves, Hats, and Sunglasses for a Stylish Finishing Touch
Consider accessorizing with scarves, hats, and sunglasses to add a stylish finishing touch. Scarves in vibrant colors or trendy patterns can add visual interest and warmth. Hats like fedoras or wide-brimmed hats can provide sun protection and elevate your overall style. Complete the look with stylish sunglasses that suit your face shape.
15 Outfit Ideas With Khaki Pants for Female
Here are 15 outfit ideas to inspire your khaki pants styling:
1. Business Casual Chic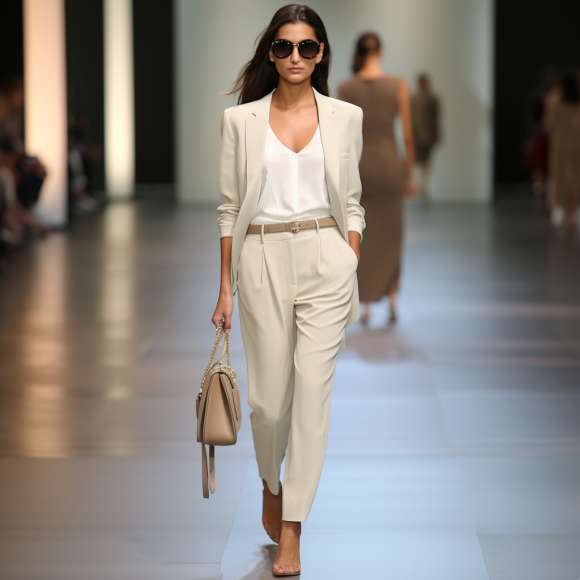 Are you looking for khaki pants outfit ideas? Look no further! Pair your khaki pants with a crisp white blouse and tailored blazer for a sophisticated office look. The combination of these pieces creates a polished and professional ensemble. 
Remember to complete the outfit with a pair of sleek pointed-toe pumps and a structured handbag to elevate the outfit. This combination not only exudes professionalism but also maintains a stylish edge, allowing you to make a confident and fashionable statement in the workplace.
2. Effortlessly Elegant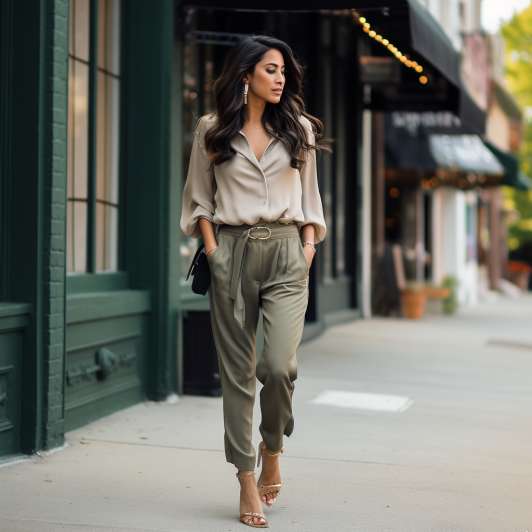 Create an effortlessly elegant look by combining khaki pants with a flowy silk blouse in a soft pastel hue. Add a statement necklace and a pair of strappy heels to elevate the outfit. This ensemble is perfect for a dinner date or a semi-formal event.
3. Casual Cool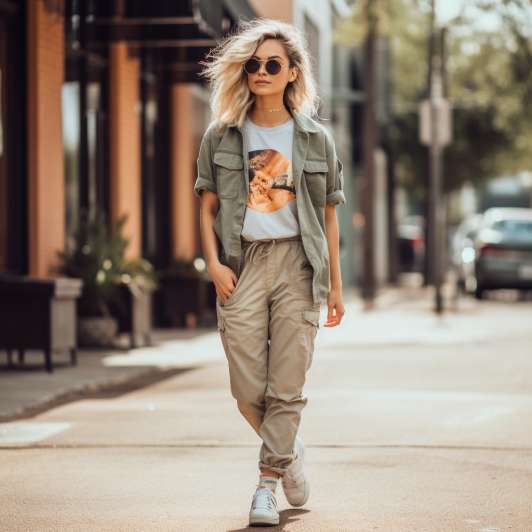 Wear your khaki pants with a graphic tee and denim jacket for a laid-back and chic outfit. Roll up the cuffs of the pants and add a pair of white sneakers for a touch of casual coolness. This ensemble is ideal for running errands or meeting friends for brunch.
Also Read: How To Style Carpenter Jeans for Women?
4. Boho Babe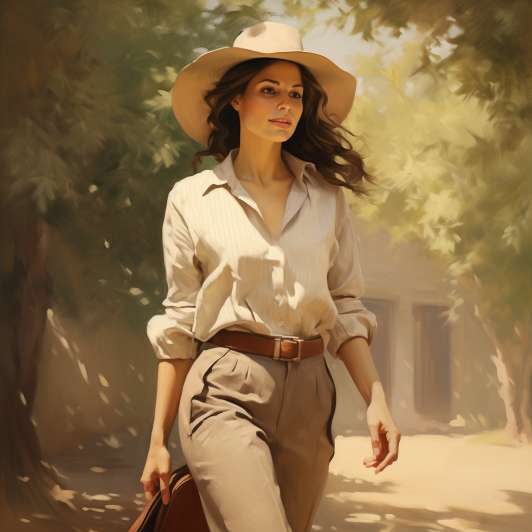 Prepare for your next music festival or weekend getaway with a fun and stylish bohemian-inspired outfit! Simply pair your khaki pants with a loose-fitting peasant top and top it off with a wide-brimmed hat. 
Complete the outfit with slip-on suede ankle boots, and remember to accessorize with layered necklaces and bangles. These khaki pants outfit ideas will have you feeling effortlessly stylish and ready for any adventure.
5. Office Glam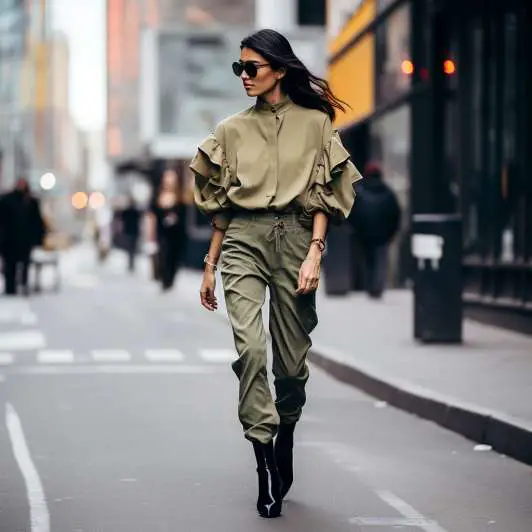 Take your office attire to the next level by pairing your khaki pants with a ruffled blouse in a bold color like burgundy or emerald green. Opt for a pair of sleek ankle boots and a structured tote bag to complete the look. 
6. Sporty Spice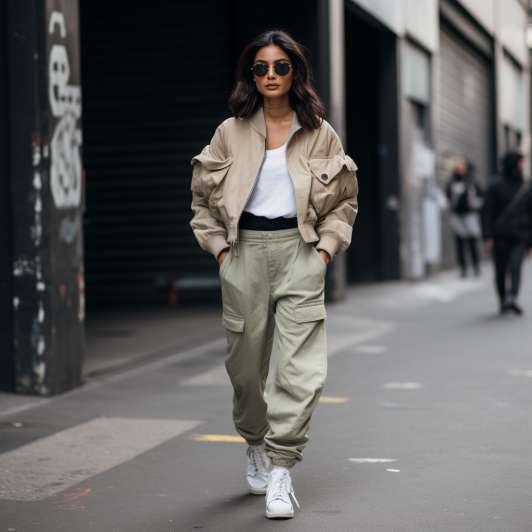 Wear your khaki pants with a fitted crop top and a bomber jacket for a sporty and stylish ensemble. Finish off the look with chunky sneakers and a baseball cap. This outfit is perfect for a casual day out or a weekend adventure.
7. Sophisticated Stripes
Ladies, khaki pants are a versatile option if you want to create a sophisticated and polished outfit. Pair them with a classic striped button-down shirt for a timeless look. For added definition, tuck in the shirt and cinch your waist with a skinny belt. 
Complete the ensemble with a pair of nude pumps for an elegant touch, and carry a structured tote bag to hold all your essentials. These khaki pants outfits for ladies are perfect for business meetings or professional events, effortlessly showcasing your style and professionalism.
8. Weekend Vibes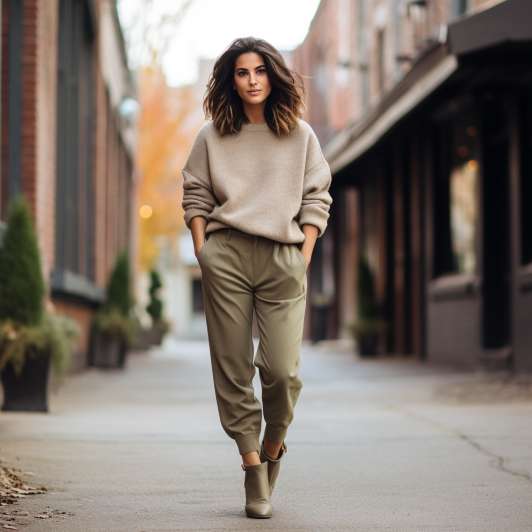 Combine your khaki pants with a cozy oversized sweater and ankle boots for a relaxed weekend look. Layer on a long pendant necklace and carry a slouchy hobo bag. 
9. Classic and Chic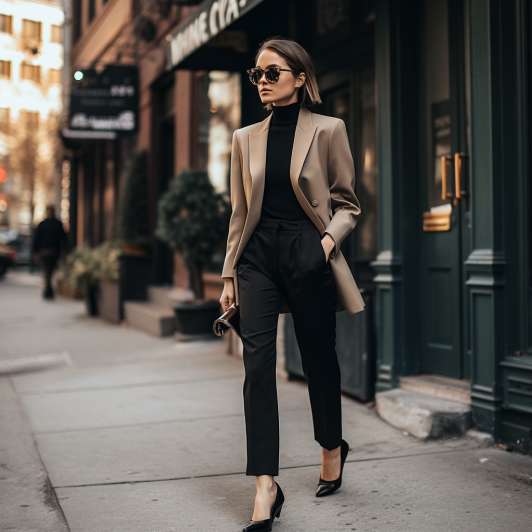 Achieve a classic and chic look by pairing your khaki pants with a black turtleneck and a tailored blazer. Add a pair of pointed-toe flats or loafers for a sophisticated touch. 
10. Floral Delight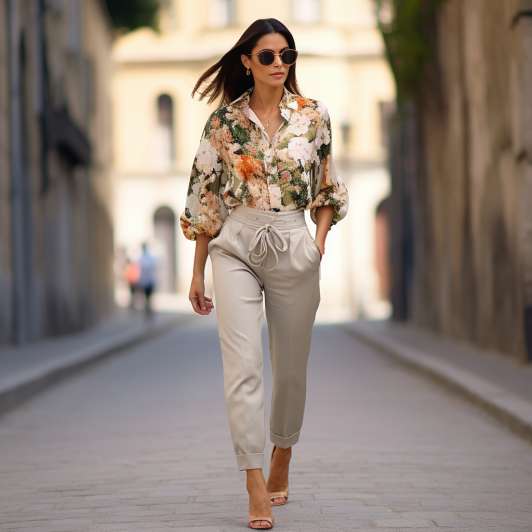 Wear your khaki pants with a vibrant floral blouse for a feminine and romantic ensemble. Opt for strappy sandals and accessorize with dainty jewelry. 
11. Edgy and Cool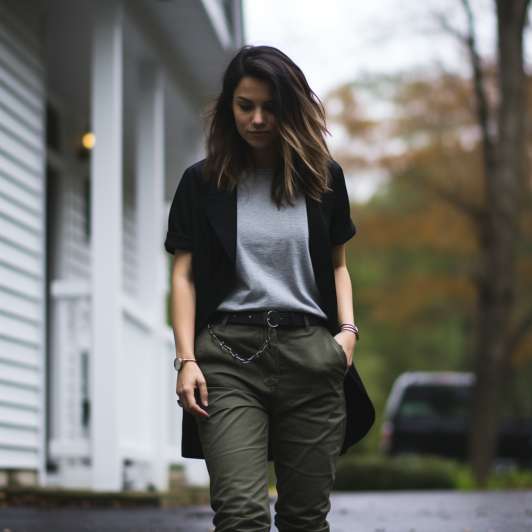 Create an edgy and cool outfit by combining your khaki pants with a black leather jacket and a band tee. This combination exudes a rebellious and stylish vibe, perfect for casual outings. Don't forget to accessorize with a statement belt to add a dose of personality. These trendy outfits with khaki pants will make you the fashion-forward star of the show.
12. Effortless Casual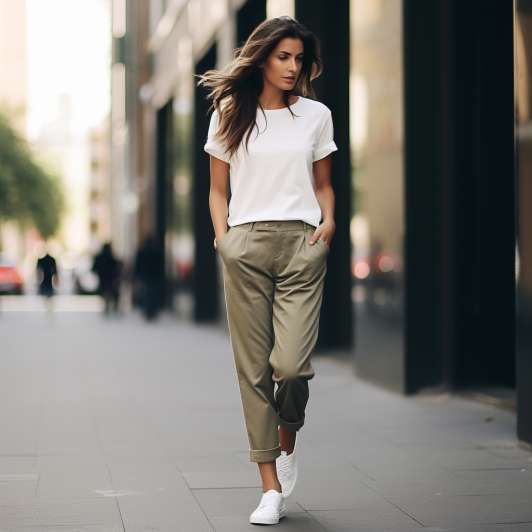 Pair your khaki pants with a simple white t-shirt and sneakers for a casual and comfortable look. Add a denim jacket for an extra layer of style. This outfit is perfect for a day of shopping or running errands.
13. Nautical Vibes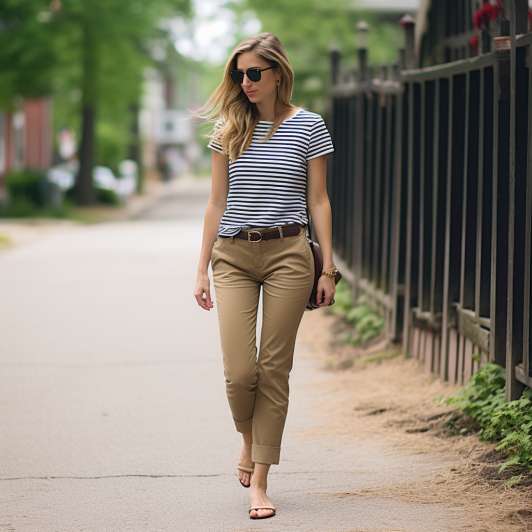 Achieve a nautical-inspired look by pairing your khaki pants with a navy and white striped top. Add a pair of boat shoes or espadrilles and accessorize with a straw hat and a canvas tote bag. 
14. Vintage Charm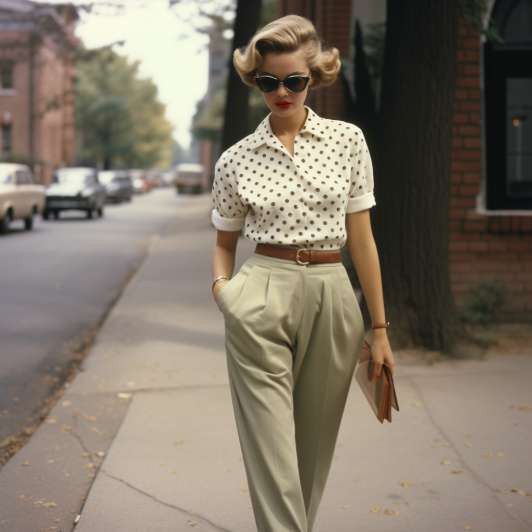 Create a vintage-inspired outfit by wearing your khaki pants with a tucked-in blouse in a retro print like polka dots or floral. Add a pair of kitten heels and cat-eye sunglasses for a touch of old-school charm. 
Also Read: How to Wear Black Shoes With Khaki Pants?
15. Monochrome Magic
For an effortlessly chic look, pair your khaki pants with a top in a similar shade for a monochrome outfit. Opt for neutral tones like beige or camel for an elegant touch. Add minimalist accessories and a pair of nude heels to complete the ensemble. 
Frequently Asked Questions (FAQs)
What types of tops go well with khaki pants?
Khaki pants can be paired with various tops depending on the desired style. Casual tops such as t-shirts and tanks in neutral tones work well for a laid-back look. Dressy blouses or shirts in vibrant colors or patterns can be chosen for a more sophisticated style. Sweaters, cardigans, and jackets are also great for layering.
Are there specific shoe styles that should be avoided with khaki pants?
While personal style preferences may vary, no specific shoe styles should be completely avoided with khaki pants. However, it's important to consider the occasion and the overall look you want to achieve. For example, flip-flops or overly casual sandals might not be suitable for formal or professional settings.
What should a woman wear with khaki pants?
Women can wear a wide range of options with khaki pants. They can opt for casual tops like t-shirts, dressy blouses for a more polished look, sweaters or jackets for layering, and even t-shirts or tanks for a relaxed ensemble. The choice ultimately depends on personal style and the occasion.
What colors go best with khaki pants?
Khaki pants are versatile and can be paired with various colors. Neutral white, black, gray, and navy tones are classic choices that work well with khaki pants. Earthy tones like olive green, burgundy, or mustard yellow complement khaki pants nicely.
Conclusion
Khaki pants offer endless possibilities for creating stylish and fashionable outfits. By carefully selecting the right tops, footwear, and accessories, you can elevate your khaki pants look for any occasion. Whether you prefer a laid-back casual style or a more sophisticated ensemble, the combinations discussed in this article will help you achieve a polished and trendy appearance. 
Experiment with different colors, patterns, and textures to personalize your outfits and make a fashion statement. With these styling tips, you can confidently rock your khaki pants and stand out with your impeccable style.