Can You Wear a Blue Shirt with Blue Jeans?
Nothing beats the simple combination of a blue shirt with blue jeans. While some may say it's too predictable, it's classic and can be the perfect finishing touch to a stylish outfit. If you want to shake up your style, I'm here to offer you 13 ways to wear a blue shirt with blue jeans for men. From ultra-casual combinations to dapper dressy looks, you'll find an outfit idea for whatever occasion.
The Basics of Color Coordination
Color coordination mastery is key to stylish, eye-catching looks. The color wheel's role in fashion provides a solid foundation for harmonious and visually appealing outfits. Complementary colors create striking effects, while analogous colors offer polished and cohesive styles. Elevate your wardrobe with confident color mixing!
Can You Wear a Blue Shirt with Blue Jeans?
Yes, you can wear a blue shirt with blue jeans! It is an easy and classic outfit combo that looks great on most men. The key to styling a blue shirt with blue jeans is to use different shades and hues of blue. This will create contrast and make the look more attractive. It's also a great way to create a bold fashion statement.
How To Wear Blue Shirt with Blue Jeans?
Blue on blue is a stylish combination that's sure to turn heads. Here are thirteen outfits with blue shirts and blue jeans for creating a bold and elegant look.
1. Light Blue Denim Shirt with Medium Wash Blue Jeans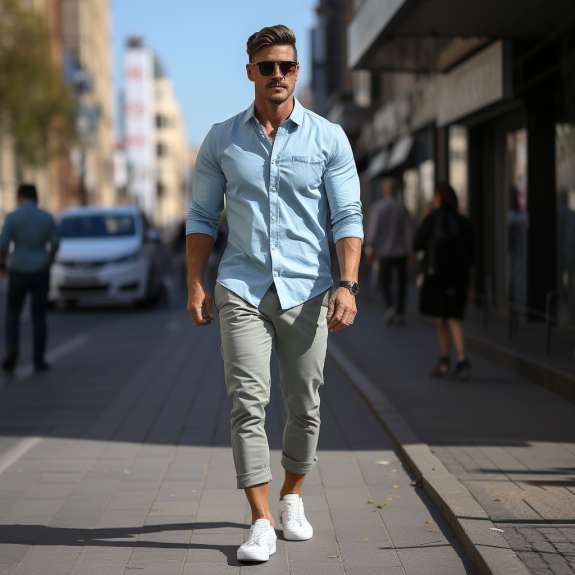 I'm starting this look with a light blue denim shirt for a laid-back and comfortable style. For a denim-on-denim ensemble, I'm pairing it with medium-wash blue jeans for a subtle tone variation. The shirt's relaxed fit adds to the casual appeal, while white sneakers add a youthful and energetic vibe.
To bring it all together, I'm finishing off the look with a woven brown leather belt for a touch of rugged elegance.
2. Dark Navy Blue Shirt with Dark Indigo Jeans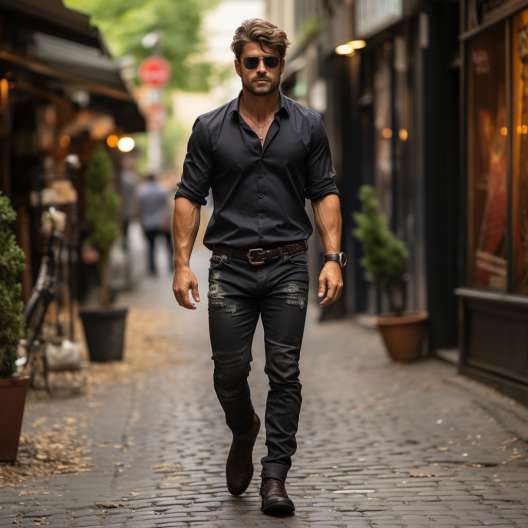 When I want to make a polished and refined impression, my go-to outfit consists of a dark navy blue shirt, dark indigo jeans, sleek black leather Chelsea boots, and a silver watch. The deep and rich hue of the shirt complements the jeans perfectly, creating an elegant monochromatic ensemble.
The addition of the Chelsea boots adds a touch of sleekness and versatility, while the silver watch punctuates the look with timeless charm.
3. Navy Blue T-shirt Under A Faded Denim Shirt with Ripped Blue Jeans
Creating a fashion statement that reflects my rebellious personality, I style myself with a navy blue t-shirt layered under a faded denim shirt. The intriguing play of textures is enhanced by ripped blue jeans, taking my outfit to the next level.
I add black combat boots and a trendy pendant necklace around my neck to complete the edgy look. Together, this ensemble creates a modern and confident vibe, allowing me to flaunt my urban charm.
4. Blue Denim Shirt with Distressed Blue Jeans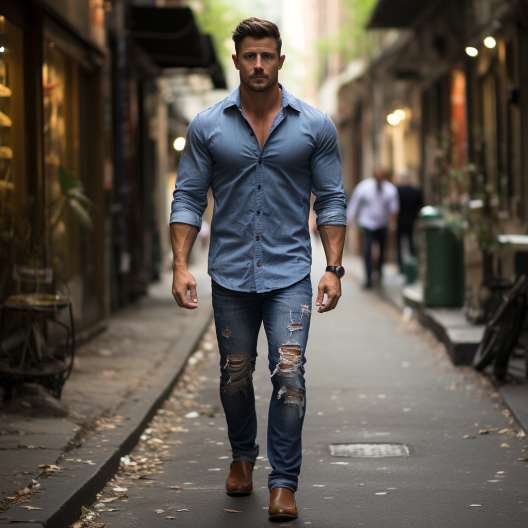 Embracing a touch of rugged charm, I confidently wear a blue denim shirt with distressed blue jeans. The distressed details add authenticity and lived-in character, amplifying the laid-back, effortlessly relaxed vibe.
To maintain comfort without compromising style, I slip into white canvas sneakers that complement the casual nature of the outfit. Additionally, I add a brown woven belt to infuse a hint of rustic elegance to the overall look.
5. Chambray Blue Shirt with Blue Jeans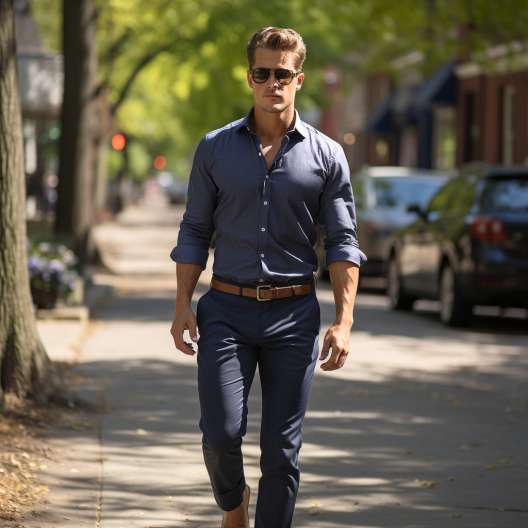 Seeking a delightful blend of casual ease and polished charm, I chose a chambray blue shirt known for its lightweight and softer denim fabric. This ensemble perfectly balances simple and sophisticated when paired with classic blue jeans.
I opt for brown leather loafers that exude timeless elegance to elevate the casual chic style. A straw fedora hat also graces my head, adding a dash of summary allure to complete the ensemble.
6. Dark Blue Dress Shirt with Dark-wash Blue Jeans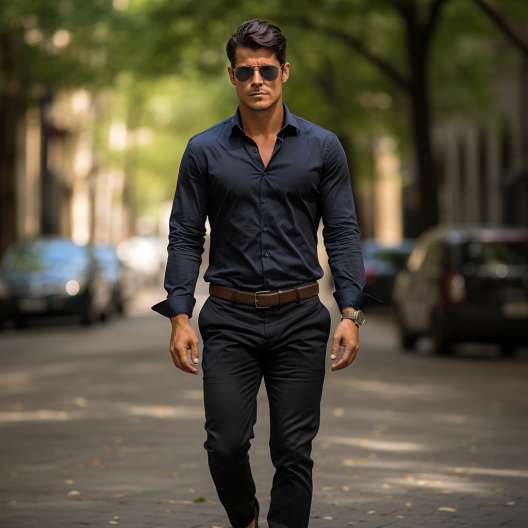 Transitioning into a more formal setting, I select a dark blue dress shirt that emanates elegance. This outfit achieves the ideal combination of traditional and casual when worn with dark-wash blue jeans.
Finishing the refined look, I wear brown leather Oxford shoes that elevate the ensemble to a new level of finesse. A matching brown leather belt cinches the waist, ensuring an impeccably put-together appearance.
7. Navy Blue Shirt with Light Blue Jeans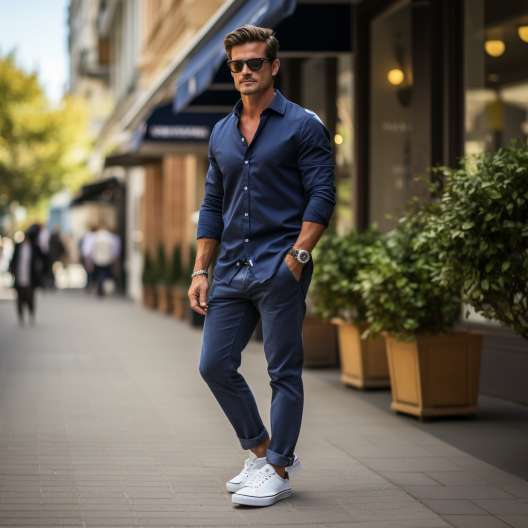 To create a striking visual effect, I combine a navy blue shirt with light blue jeans, harnessing the power of contrasting colors. This thoughtfully curated pairing adds depth and dimension to the outfit, making it visually captivating.
To further enhance the contrast, I slip into white low-top sneakers with blue accents, imparting a touch of modern flair. On my face, aviator sunglasses exude classic coolness, perfectly harmonizing with the ensemble.
8. Navy Blue Flannel Shirt with Dark Navy Blue Jeans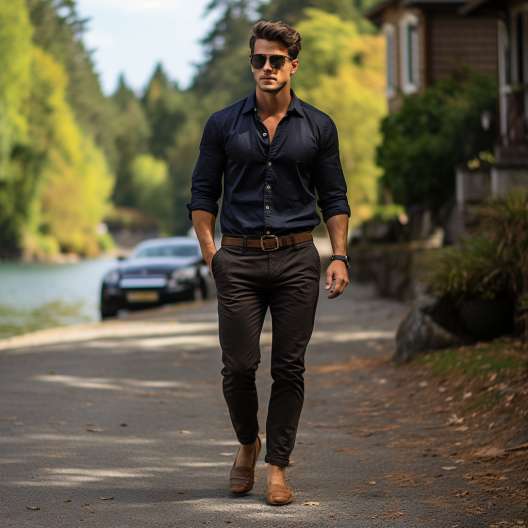 For a cozy and rustic appeal, I choose a navy blue flannel shirt that gives me warmth and texture. Its delightful pairing with dark navy blue jeans creates a comforting and stylish look for casual gatherings or outdoor adventures.
I step into brown suede desert boots to further enhance the rustic charm, adding a timeless appeal to the ensemble. Additionally, a woven straw beach tote provides practicality while infusing the look with bohemian flair.
9. Blue Denim Shirt with Slightly Faded Blue Jeans
I paired a blue denim shirt with slightly faded blue jeans to achieve a subtle tonal variation. The nuanced contrast in blue tones creates an intriguing and stylish look that stands out in its subtlety.
To complement the ensemble, I wear brown leather boat shoes that maintain the outfit's relaxed sophistication. As a final touch, a leather wrap bracelet adorns my wrist, adding an understated and tasteful accent.
10. Blue Printed Shirt with Blue Jeans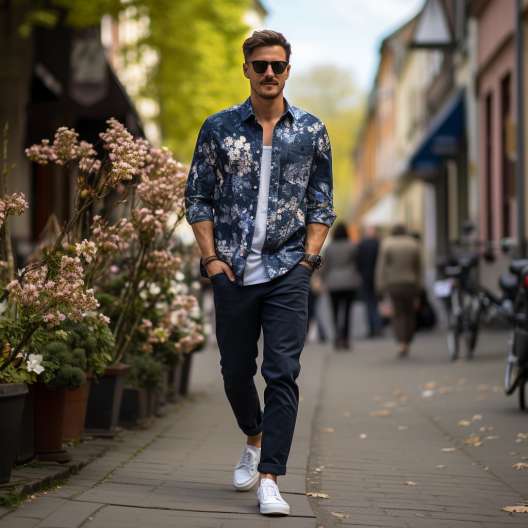 Infusing the outfit with personality and character, I opt for a blue printed shirt that brings a sense of playfulness and individuality to the ensemble. Pairing this outfit with classic light blue jeans achieves the ideal balance between laid-back and fashion-forward.
I chose white sneakers with blue accents to complete the outfit, creating a coordinated and harmonious ensemble. On my head, a denim cap adds an extra touch of charisma, making this look ideal for fun outings and casual gatherings.
11. Fitted Dark Blue Button-down Shirt with Blue Jeans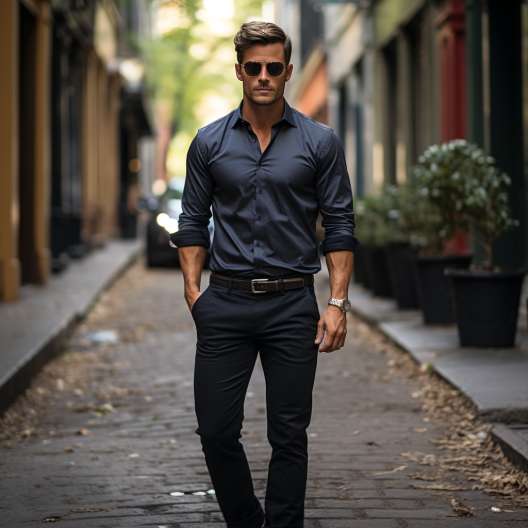 My goal was a polished and refined look, so I chose a well-fitted dark blue button-down shirt that exudes sophistication and class. Tucking it neatly into blue jeans creates an elegant and tailored silhouette suitable for formal and smart-casual settings.
To enhance the overall refinement, I opt for black leather dress shoes that elevate the ensemble to new heights of sophistication. As a finishing touch, a silver tie clip adds subtle yet impactful detail to the outfit.
12. Short-sleeved Light Blue Shirt with Blue Jeans
On warm, sun-drenched days, a short-sleeved light blue shirt is a refreshing and stylish choice. This combination perfectly balances comfort and style, making it an ideal summer ensemble. Slipping into blue slide sandals adds to the breezy and laid-back aesthetic, while a woven straw beach tote brings practicality and a beach-ready vibe to the look.
13. Dark Blue Shirts with Vibrant Blue Jeans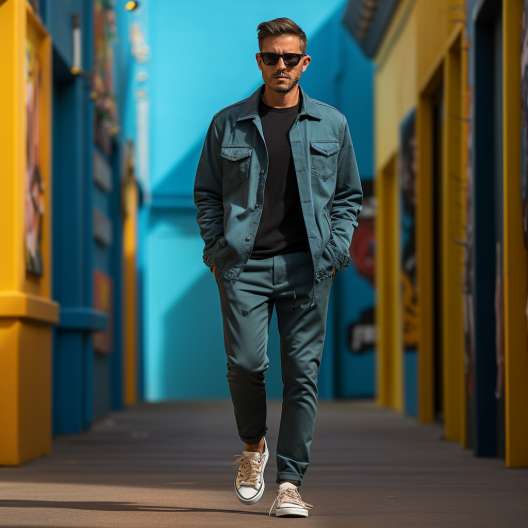 Embracing vibrant blue jeans, I confidently match them with a dark blue shirt, creating a bold and eye-catching statement outfit. This daring combination demands attention and exudes an air of self-assuredness. To ensure the jeans remain the focal point, I opt for white sneakers with blue accents that add a coordinated and balanced touch to the ensemble.
FAQ
What other colors can I pair with a blue shirt and blue jeans?
Blue is an incredibly versatile color, and I love coming up with different ways to style a blue shirt and blue jeans. To mix things up, I like to add other colors into the mix.
My go-to colors to pair with blue are creamy whites, classic neutrals, warm brown hues, and vibrant shades of green. Depending on the occasion, I like to accessorize with a pop of color, like a bright yellow baseball cap. You can create a chic, everyday blue shirt and jeans fashion look with these hues.
Are there any rules for accessorizing a blue ensemble?
Yes, the most important rule is to be mindful of the color. Blue can be an intense color, so keeping the rest of your look muted and neutral is essential.
For example, if you're wearing a blue shirt and blue jeans, you may want to add minimal accessories in soft colors like white, grey, and beige. This will help create a balanced look and not overshadow your blue ensemble.
Can you wear any color shirt with blue jeans?
Yes, you can wear any color shirt with blue jeans. The great thing about blue jeans is that they are very versatile and can be paired with almost any color.
From bright and vibrant shades to softer and muted tones, there are endless possibilities for creating stylish outfits with blue jeans. Whether you want to make a statement or keep it more subtle, there is a shirt color for you.
Conclusion
At the end of the day, it's up to you whether you decide to wear a blue shirt with blue jeans or not. The answer is absolute YES; you can! Using your wardrobe staples and imagination, you can create many looks with this outfit combination.
With the 13 outfit ideas above, I'm sure you've found many choices you can use for a stylish yet casual everyday look. Mix and match the staples in your wardrobe, and you'll soon create a successful look with your blue shirt and jeans. Thanks for reading!
Source:
https://lookastic.com/men/navy-shirt/looks