How To Wear Black Skinny Jeans For Men?
Black skinny jeans are a must-have in any guy's wardrobe. They are versatile, stylish, and flattering, making them a popular choice for men of all ages. In this blog post, I will discuss how to wear black skinny jeans for men and provide tips on how to style them for various looks. So whether you're looking for a casual or formal look, read on for our top styling tips!
How To Wear Black Skinny Jeans For Men?
Men today are finding more ways to express their style with clothing. Black skinny jeans offer a versatile option for men to create a casual yet trendy look. Here are 11 outfit ideas for men to wear in black skinny jeans:
1. A Black Satin Bomber Jacket With Black Skinny Jeans 
This season, the black satin bomber jacket and black skinny jeans combination are a must-have for any discerning man. The bomber jacket adds a touch of sophistication and subtle style, while the skinny jeans provide an effortless, modern look. This combination is perfect for the office or a night out on the town.
2. Multi Colored Plaid Long Sleeve Shirt With Black Skinny Jeans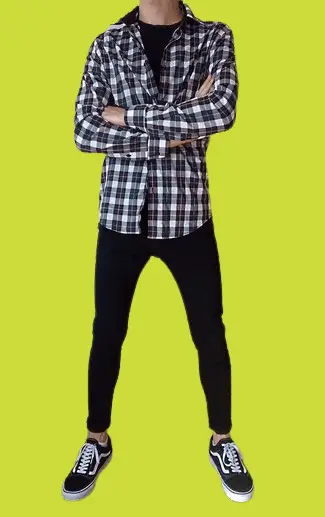 Men should add a multi-colored plaid long-sleeve shirt and black skinny jeans. This timeless combination is forever in style, no matter the season. Perfect for any occasion, from casual days to formal nights out. The long sleeve shirt comes in a classic plaid print that's sure to draw attention and will never go unnoticed. The black skinny jeans provide the perfect slim fit, creating an on-trend look for any guy. Durable and stylish, this outfit will keep him looking sharp for years.
Also Read: How To Wear Ripped Skinny Jeans?
3. Charcoal Overcoat With Black Skinny Jeans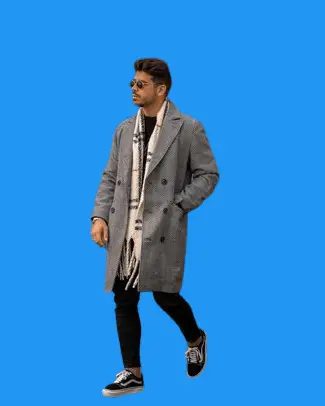 Charcoal overcoats and black skinny jeans are great options for men looking to create on-trend outfits. One can pair them with dressy tops, such as a turtleneck or crisp white shirt, to make an office-ready look or create a strong going-out ensemble with a simple closet staple like a plain black tee. Whichever outfit is chosen, charcoal overcoats and black skinny jeans offer the perfect way for men to stay on trend without needing to invest in endless separate pieces.
4. Navy Denim Jacket With Black Skinny Jeans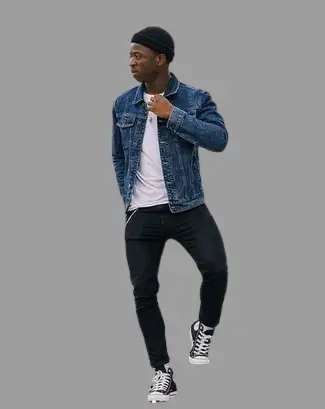 For a stylish and versatile look, pair it with black skinny jeans for a modern spin on the classic denim-on-denim style. Navy is incredibly versatile, allowing you to dress up or down and create unique ensembles. The navy denim and black skinny jeans will give any man the perfect balance between casual and dressed up to make it perfect for any outing. Add bold accessories such as statement shoes and jewelry to complete the look!
5. Beige Hoodie With Black Skinny Jeans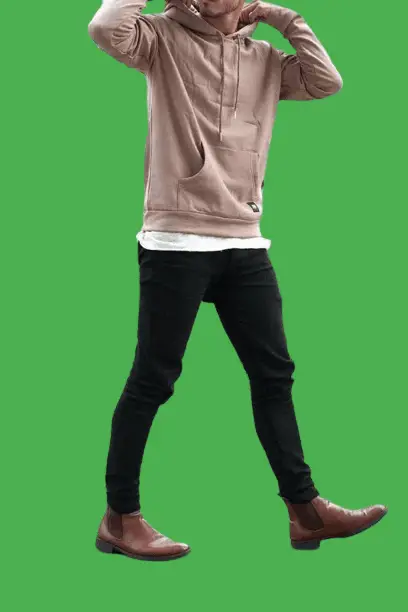 Stylish and sophisticated, a beige hoodie with black skinny jeans is perfect for any modern man's wardrobe. These timeless classics will ensure you look your best without compromising on comfort. No matter the occasion, beige and black will always remain trend-setting colors in men's fashion.
This reliable combination can never go wrong for office or casual wear. Play up your style and confidence by pairing this classic look with a sporty pair of low-tops or boots to complete your fashionable ensemble – you'll stand above the crowd.
6. White And Navy Vertical Striped Long Sleeve Shirt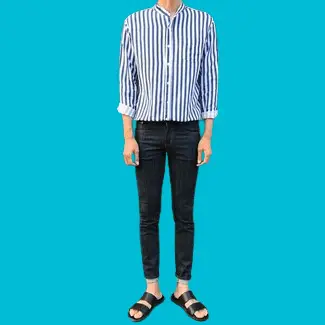 Spruce up your wardrobe with a classic look. When paired with black skinny jeans, a men's white and navy vertical striped long-sleeve shirt creates a timeless, put-together style that looks great in any setting. Be it the office, casual dress-down days, or weekend outings, this look can always be relied upon to present you with a neat appearance.
The combination of navy and white stripes gives off a distinguished vibe that speaks class and elegance without straying from being laid back. Get the look today for an effortless style paired with unparalleled comfort.
7. Dark Brown Leather Puffer Jacket With Black Skinny Jeans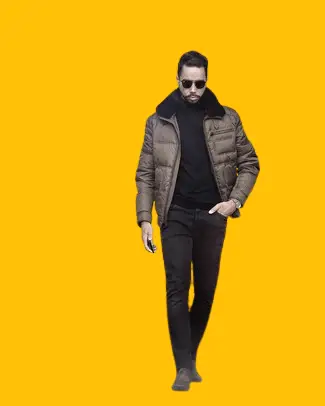 Invest in a classic yet modern look with a men's dark brown leather puffer jacket and black skinny jeans. This simple yet eye-catching combination is perfect for every season, as the leather puffer jacket will provide warmth while adding a touch of stylish sophistication. The sleek black jeans create a timeless finish, resulting in an effortless ensemble that exudes fashion-forward vibes. Perfect for any office setting or casual weekend brunch date, this combo will have you looking your best no matter the occasion.
8. Black Quilted Gilet With Black Skinny Jeans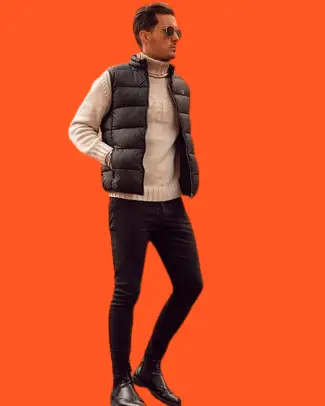 Choose this effortlessly stylish combination for a classic look that complements any contemporary style. The sleek silhouette of the gilet gives you an instantly polished look, while the slim-fit jeans provide a modern yet casual look to complete your outfit. The versatile color palette allows you to choose different complementary shades, making these two items perfect to pair together. Whether staying indoors or going out on the town, this timeless combination will never go wrong.
9. White Long Sleeve Henley Shirt With Black Skinny Jeans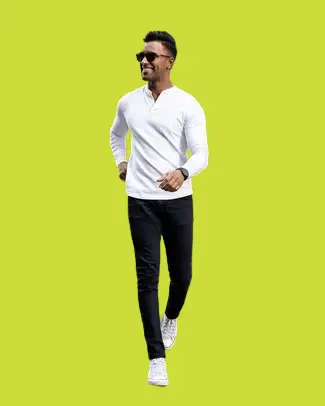 A white long sleeve henley shirt with black skinny jeans is a timeless look for men. It always brings the right style, letting you create your unique look. The fitted silhouette of the skinny jeans is complemented by the classic Henley design, which has a relaxed fit and features a few buttons at the neckline as well as trimming along the shirt's placket for an extra touch of finesse. With this look, you can make any impression – from being ready to tackle an important meeting to attending a night out on the town.
10. Tan Denim Jacket With Black Skinny Jeans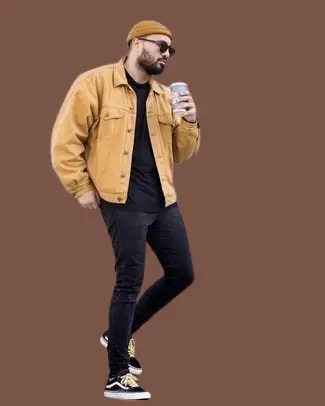 For men looking to add a bit of flair to their wardrobe while staying current, look no further than a tan denim jacket with black skinny jeans. The perfect pairing for a contemporary yet classic style, the combination is sure to get you noticed wherever your day takes you. The beauty of this combo lies in its versatility – dress it up or down depending on the occasion, and know that you'll always look great. Add clean white sneakers and maybe a pocket square to finish the outfit, and you'll be ready for any event.
11. Grey Cable Sweater With Black Skinny Jeans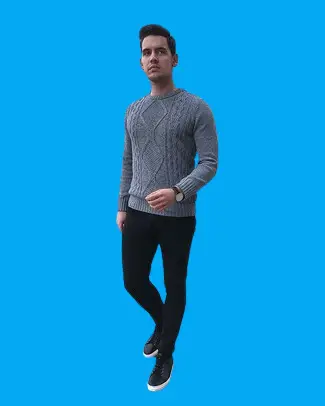 The grey cable sweater with black skinny jeans for men offers a stylish yet subtle look for casual occasions. The classic combination provides an easy-to-style option for any man's wardrobe. Soft, cozy fabrics ensure a comfortable fit, while the ribbed cuff and hem accentuate the simple design that's perfect for on-trend styling.
Whether you prefer to wear it as part of a smart-casual outfit or don it during chilly days, this timeless piece will surely give any man's wardrobe added oomph!
What Shoes Go With Black Skinny Jeans?
A quality pair of shoes can make or break the entire look for men looking to get the most out of their black skinny jeans. Black ankle boots are an excellent choice for those wanting a daring, edgy aesthetic and are perfect for both casual Fridays at the office and more formal occasions. Sneakers can also be a great way to complete your outfit, especially if you opt for something more sophisticated in a style that complements the fitted nature of your jeans. 
Finally, loafers or dressier oxfords work well with sleek, dark denim if you're looking for a refined appearance for a special evening out. No matter which shoe style you choose with your skinny jeans, be sure to pick something that works with the overall look you're going for to create an outfit that is nothing short of dazzling!
What Shirts Look Good With Black Skinny Jeans?
Black skinny jeans are a classic staple in anyone's wardrobe, especially for men. The possibilities are endless if you're trying to figure out what shirts look good with this outfit. Try pairing black skinny jeans with a crisp white button-down shirt for a sharp and sophisticated look. This look is stylish and timeless: it works for more formal occasions and casual hangouts with friends. Another great option is to go for a simple t-shirt. 
Depending on the occasion, you can pick from a selection of prints or intense colors like red or yellow, which brings out the best in this slimline style of jeans. To bring sophistication back into the equation, why not opt for a color-blocked henley? With its subtle pattern and neutral tones, this shirt will work excellently with skinny black jeans. So go ahead and make your sartorial statement – whichever way you dress up or dress down in black skinny jeans, I am sure you'll look picture-perfect!
Conclusion
That's it for my guide on how to wear black skinny jeans for men! I hope you found this post helpful. If you have any questions, please feel free to comment below. And be sure to keep an eye out for more style guides.