Chinos vs Jeans: Understanding the Differences and Choosing the Perfect Pair
In the vast realm of fashion, pants hold a prominent place, offering numerous styles and options to cater to various tastes and occasions. Among these, chinos and jeans are two popular choices that often confuse fashion enthusiasts. Both chinos and jeans are versatile, comfortable, and stylish, making them go-to options for casual and semi-formal looks.
In this comprehensive article, I will delve into the key differences between chinos and jeans, helping you make an informed decision when it comes to choosing the perfect pair for your wardrobe.
Chinos: The Epitome of Style and Sophistication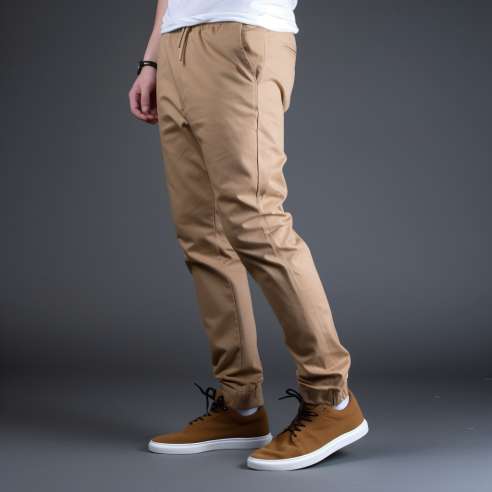 Chinos have gained immense popularity in the fashion world due to their timeless appeal and versatility. Let's dive deeper into what makes chinos an essential wardrobe staple:
1. Chinos: A Classic Wardrobe Essential
Chinos are a classic and timeless wardrobe essential that has stood the test of time. Their refined and sophisticated appearance makes them suitable for various occasions, from casual gatherings to semi-formal events. Whether you want to dress up for a date night or create a polished office look, chinos are the way to go.
2. The Perfect Fit for a Modern Look
The tailored and slim fit of chinos gives them an edge over other pants. They hug the body in a flattering way, creating a modern and sleek silhouette. This impeccable fit allows you to show off your style effortlessly.
3. Versatility Redefined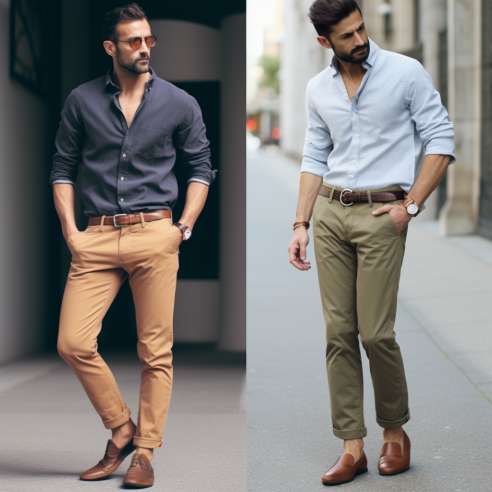 One of the greatest advantages of owning chinos is their unmatched versatility. They can be paired with a wide array of tops, including button-down shirts, polo tees, turtlenecks, or even casual graphic tees. Dress them up with a blazer and loafers or dress them down with sneakers for a relaxed yet chic appearance.
4. A Spectrum of Colors to Choose From
Chinos come in an extensive range of colors, offering you a spectrum of choices to complement your personal style. Opt for classic khaki or navy for a timeless look, or experiment with pastel shades for a touch of modernity.
5. Comfort Without Compromise
Comfort is key when it comes to clothing, and chinos deliver just that. Their lightweight and breathable cotton twill fabric ensure you feel at ease throughout the day, no matter the season.
6. Chinos for Every Season
Though chinos are an excellent choice for warm weather, you can still incorporate them into your winter wardrobe. Simply layer them with cozy sweaters or jackets to stay comfortable and stylish during the colder months.
Jeans: The Quintessential Casual Wear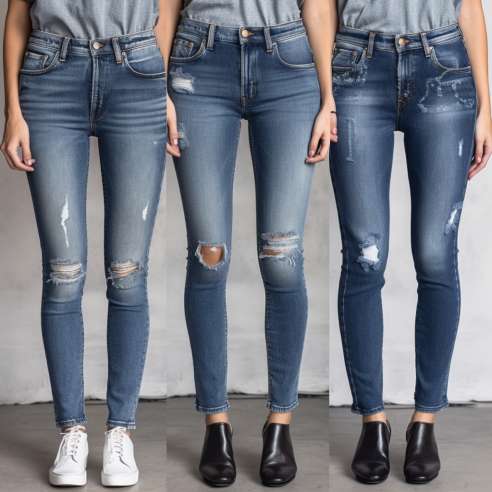 Jeans have revolutionized the world of fashion with their unmatched durability and easy-going style. Let's explore why jeans have become a timeless symbol of casual wear:
1. Jeans: The Icon of Casual Fashion
Jeans are the epitome of casual fashion and have become a symbol of comfort and versatility worldwide. Whether you're running errands, meeting friends, or going on an adventure, jeans offer a laid-back and effortless look.
2. Fits to Suit Every Body
One of the best features of jeans is their availability in various fits to cater to every body type. From slim and skinny to relaxed and straight, you can find the perfect fit that complements your physique and style preferences.
3. Dress Up or Down with Ease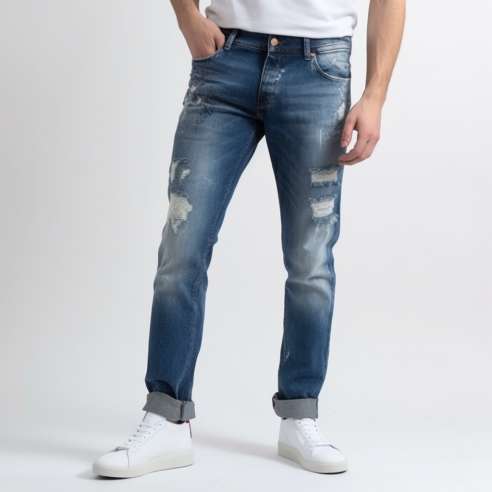 Jeans are incredibly adaptable and allow you to dress them up or down according to the occasion. Pair them with a crisp button-down shirt and dress shoes for a smart-casual look, or team them with a graphic tee and sneakers for an easy-going vibe.
4. Distressed and Trendy
For those who love an edgy and fashion-forward look, distressed jeans are a must-have. Distressing adds a touch of rugged charm to your outfit, making it stand out from the ordinary.
5. Jeans for All Seasons
While jeans are often associated with casual summer outfits, they are equally versatile for colder seasons. Slip into a cozy sweater or a stylish leather jacket, and you'll be ready to take on the chill in style.
6. Durability for the Long Haul
The robust nature of denim fabric makes jeans highly durable and resistant to wear and tear. A good pair of jeans can last for years, making them a worthy investment for your wardrobe.
Chinos vs Jeans: Understanding the Fundamental Distinctions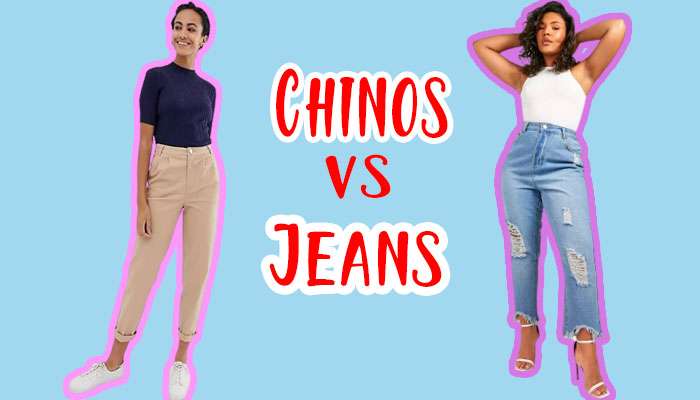 Chinos and jeans may appear similar at first glance, but they have distinct features that set them apart. Let's explore the primary differences between these two types of pants:
| | Chinos | Jeans |
| --- | --- | --- |
| Material | Chinos are typically made of lightweight cotton twill fabric, providing a smooth and refined appearance. | Jeans are crafted from heavyweight denim fabric, which is more durable and rugged in texture. |
| Fit | Chinos often offer a slimmer and more tailored fit, accentuating the body's shape while maintaining comfort. | Jeans come in various fits, including slim, straight, relaxed, and skinny, catering to different body types and style preferences. |
| Occasion | Chinos are well-suited for semi-formal and casual occasions, making them ideal for office wear and social events. | Jeans are considered more casual and are perfect for relaxed outings and leisure activities. Some workplaces also allow jeans in their dress codes. |
| Color Options | Chinos come in a wide range of colors, including traditional khaki, navy, black, and various pastel shades, offering more styling options. | Jeans are commonly available in classic blue, black, and grey shades, with some variations in washes and distressing. |
| Texture | Chinos have a smoother texture and a slightly dressier appearance, making them suitable for achieving a more polished look. | Jeans have a coarser texture, providing a rugged and laid-back vibe, perfect for achieving a casual and effortless style. |
| Seasonal Use | Chinos are often preferred in warmer weather due to their lightweight and breathable nature. | Jeans are well-suited for colder months, providing additional insulation and protection against the elements. |
Chinos Vs Jeans, Which One Should You Wear?
The best way to decide which one to wear is to consider the occasion and your personal style. If you are looking for a pair of pants that are more formal, then chinos are a good choice. If you are looking for a pair of pants that are more casual, then jeans are a good choice. If you are not sure which one to wear, you can always err on the side of caution and choose chinos.
FAQs About Chinos vs Jeans
Which is more appropriate for a casual look: chinos or jeans?
Both chinos and jeans can achieve a casual look, but jeans are inherently more casual due to their rugged texture and laid-back appearance.
Can I wear chinos to a formal event?
While chinos can work for semi-formal events, they might not be the most suitable choice for a formal occasion. Opt for tailored trousers or dress pants for a more elegant look.
Are chinos comfortable for all-day wear?
Yes, chinos are designed for comfort and breathability, making them an excellent choice for extended wear.
Can I wear jeans to the office?
The acceptability of jeans in the office varies depending on the workplace's dress code. Some workplaces allow jeans, especially on casual Fridays, while others may have stricter policies.
How do I style chinos for a trendy look?
To achieve a trendy look with chinos, pair them with a stylish bomber jacket and some trendy sneakers. Roll up the cuffs for an extra touch of flair.
Are distressed jeans suitable for all ages?
Distressed jeans can be worn by individuals of all ages, but the extent of distressing can affect their suitability. For a more age-appropriate look, opt for lightly distressed jeans.
Conclusion
In the battle of chinos vs jeans, both contenders have their unique attributes and are suitable for various occasions. Chinos offer sophistication, a tailored fit, and a diverse range of colors, making them a versatile choice for a semi-formal or casual look. On the other hand, jeans represent the epitome of casual fashion, with their durability, array of fits, and easy-going style.