What Are Roma Rise Jeans? The History of Roma Rise Jeans
As someone who has always struggled to find the perfect pair of jeans that fit comfortably and look great, I'm constantly looking for new denim styles that might solve my never-ending search. Recently, I've heard a lot about a type of jeans called Roma Rise Jeans, and I wondered if they could be the answer to my denim woes. After some investigation, I found much to like about this new style. In this blog post, I'll explain "What are Roma Rise Jeans?" So, if you're like me and always looking for a better pair of jeans, keep reading to learn about Roma Rise Jeans.
Also Read: How To Style Roma Rise Jeans?
What Are Roma Rise Jeans?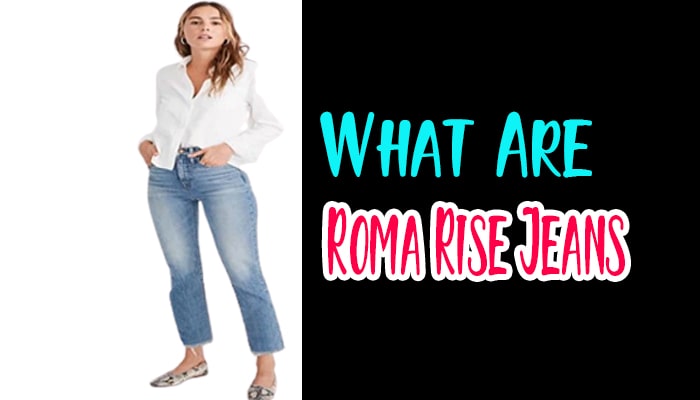 Roma Rise jeans, mid-rise jeans, or normal rise are designed to be worn at your natural waistline. This rise typically falls within the 9 to 11 inches range, offering a balanced and comfortable fit for individuals of different body types. "Roma Rise" is often used interchangeably with mid-rise or regular rise, emphasizing the jeans' positioning on the body.
The key characteristic of Roma Rise jeans is their ability to sit comfortably at the natural waist, which is the narrowest part of the torso above the hips. This positioning accentuates the waistline, creating a flattering silhouette and allowing for a more balanced proportion. Unlike low-rise jeans that sit below the waist or high-rise jeans that reach above the belly button, Roma Rise jeans strike the perfect balance by sitting at the natural waistline.
What Makes Roma Rise Jeans Unique?
Roma Rise Jeans are unique in design and construction, offering a comfortable and flattering fit for various body types. What makes them stand out is their higher waistline, which sits at the natural waist, providing excellent coverage and support. In addition, the rise of the jeans is specifically designed to flatter the midsection while allowing for a comfortable and relaxed fit throughout the hips and thighs. 
History of Roma Rise Jeans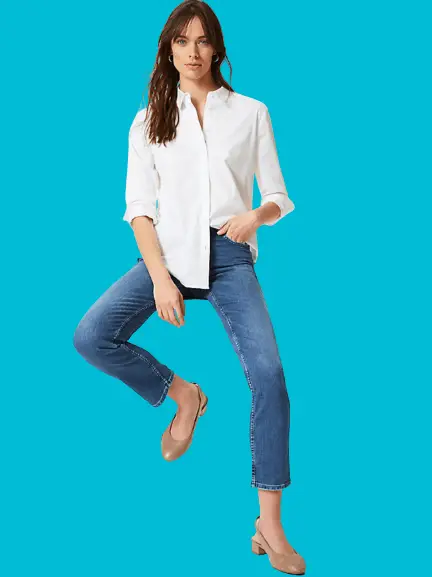 The history of Roma Rise jeans can be traced back to the early 2000s when Talbots introduced these high-waisted jeans to their collection. The concept came from the brand's desire to create a flattering and comfortable fit for women of all ages and body types. The Roma Rise style immediately gained popularity among women who valued a comfortable fit while still looking chic by offering a contour waistband that conforms to the body's curves.
The concept of high-waisted jeans can be traced back to the 1950s when women sought an alternative to the low-rise styles of the time. High-waisted jeans became a statement of empowerment and style for women during this era. The retro look of the high-waisted style has since become a staple in the fashion industry as it complements different body shapes and adds a layer of modern sophistication to any outfit.
Fast forward to the early 2000s when Talbots introduced its Roma Rise high-waisted jeans that reflect a modern iteration of the classic high-waisted style; its unique design allows for a perfect fit that is comfortable and stylish. The Roma Rise style quickly became a favorite among Talbots customers and remained one of their top-selling pieces.
Types of Roma Rise Jeans
Roma Rise jeans are popular among fashion enthusiasts for their comfortable fit and flattering style. They are designed to sit at the natural waistline, providing a sleek and sophisticated look. Here are some of the different types of Roma Rise jeans available in the market: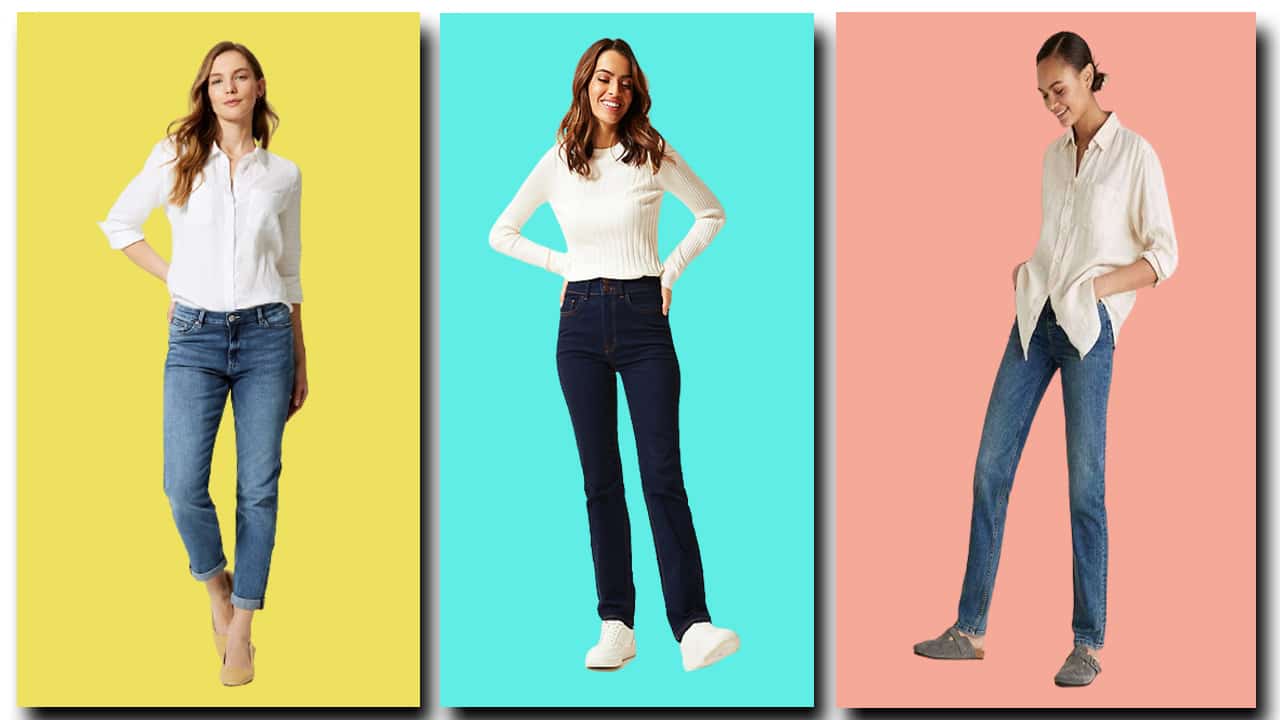 1. Skinny Roma Rise Jeans:
Fitted through the hips and thighs
Tapered leg for a sleek silhouette
Ideal for creating a modern and trendy outfit
2. Straight Leg Roma Rise Jeans:
Classic and timeless design
Straight from hip to hem
3. Bootcut Roma Rise Jeans:
Flares slightly from the knee to accommodate boots
Balanced and flattering silhouette
Perfect for creating a chic and retro-inspired look
4. Wide Leg Roma Rise Jeans:
Relaxed fit through the hips and thighs
The wide leg opening for a flowy and comfortable feel
Effortlessly stylish and suitable for both casual and formal occasions
5. Cropped Roma Rise Jeans:
Ends above the ankle for a modern and trendy look
It can be straight, wide, or tapered
Great for showcasing your favorite footwear
6. Flared Roma Rise Jeans:
Flares dramatically from the knee to create a bold statement
Adds a touch of vintage-inspired charm to any outfit
Pair well with heels or platforms for an elongated effect
Difference Between Mid Rise And Roma Rise Jeans
Mid-rise and Roma rise jeans are two types with a subtle but distinct difference in their rise or waist height. While mid-rise jeans typically sit just below the belly button, Roma-rise jeans are designed to sit at or slightly above the natural waistline. This makes Roma Rise jeans a great option for those who prefer more coverage and support around the waist area. 
FAQ
What is the difference between Roma Rise Jeans and regular jeans?
The main difference between Roma Rise jeans and regular jeans lies in the placement of the waistline. Here are the key distinctions:
| Feature | Roma Rise Jeans | Regular Jeans |
| --- | --- | --- |
| Waistline Placement | Sits at the natural waistline | Sits below the natural waistline |
| Fit and Silhouette | Tailored and fitted silhouette | Various fits available |
| Styling Options | Versatile for dressing up or down | Range of casual to rugged looks |
What body type is suitable for Roma Rise Jeans?
One of the great things about Roma Rise Jeans is that they are designed to flatter a wide range of body types. The higher waistline helps to elongate the legs and create a more streamlined silhouette, which can be particularly flattering for those with shorter legs or a curvier figure. Additionally, Roma Rise Jeans often come in various cuts and styles, from skinny to wide-leg, so everyone has an option. Whether petite, curvy or somewhere in between, Roma Rise Jeans are worth trying to see if they work for your body type.
What is the ideal length of Roma Rise Jeans?
The ideal length of Roma Rise jeans refers to the measurement of the rise, which is the distance between the crotch and the top of the waistband. This measurement typically falls within the 9 to 11 inches range for Roma Rise jeans. This range ensures a comfortable fit at the natural waistline or slightly below it, providing a flattering silhouette.
Conclusion
After learning all about Roma Rise Jeans and trying them on for myself, I can confidently say they are a game-changer. The high-rise waist and subtle shaping technology provide a comfortable fit that hugs all the right places while allowing plenty of movement. In addition, the variety of washes and styles available means a pair of Roma Rise Jeans to suit any taste. Whether looking for a casual weekend outfit or something more dressed, these jeans are versatile enough to fit the bill.