5 Outfits Should Not Wear With Skinny Jeans
Skinny jeans have been a staple in fashion for many years now and are a very popular type of jeans to wear. However, just like any type of clothing, there are certain ways to wear skinny jeans that will make them look flattering and stylish, and there are also certain ways that can make them look unflattering and messy. In this blog post, I will be discussing how not to wear skinny jeans so that you can look your best when wearing them. Read our recent post about- What Shoes Not To Wear With Skinny Jeans?
How Not To Wear Skinny Jeans?
Skinny jeans can be a great fashion choice as they can add a sleek, modern look to any outfit. However, there is a right and wrong way to wear them, and to ensure that you're making the best choice for your look, here are some tips on how not to wear skinny jeans.
1. Avoid Wearing Fitted Blazer With Skinny Jeans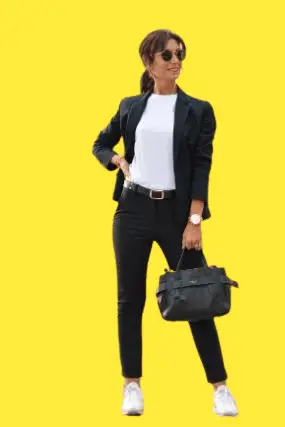 Wearing a fitted blazer paired with too-skinny jeans is a fashion move that should avoid as often as possible. Skinny jeans can be incredibly stylish, yet combined with a blazer that follows your body like a glove, creates an unwelcoming and possibly uncomfortable visual impression. Opting instead for a looser-fitting blazer can immediately add an air of professionalism to any outfit. 
Layering slim, straight-leg jeans and adorning them with a well-cut jacket is infinitely more polished, relaxed, and modern. You'll be able to capture the same sense of sophistication without sacrificing comfort and style for appearance.
2. Avoid Wearing Cropped Denim Jacket With Skinny Jeans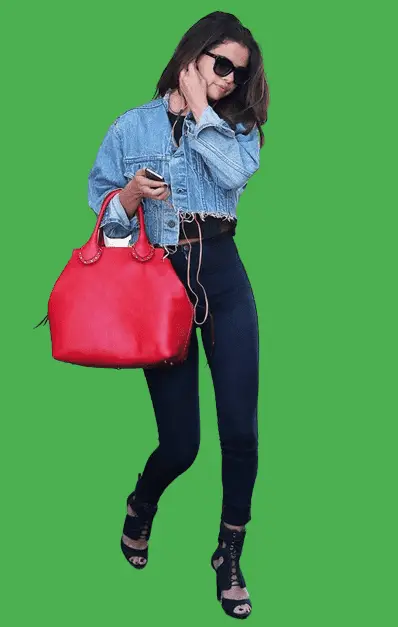 While cropped denim jackets with skinny jeans may sound like a modern, fashionable style combination, they can be overbearing and overly casual. Try pairing your favorite cropped denim jacket with bell-bottom or wide-leg jeans to achieve a more balanced look that is still trendy but not too casual. This way, you get the best of both worlds – the modern cropped jacket on top and the classic look of wide-leg jeans on the bottom. The resulting ensemble will make you look polished and put-together without being stuffy!
3. Avoid Wearing Standard V-Neck Sweaters With Skinny Jeans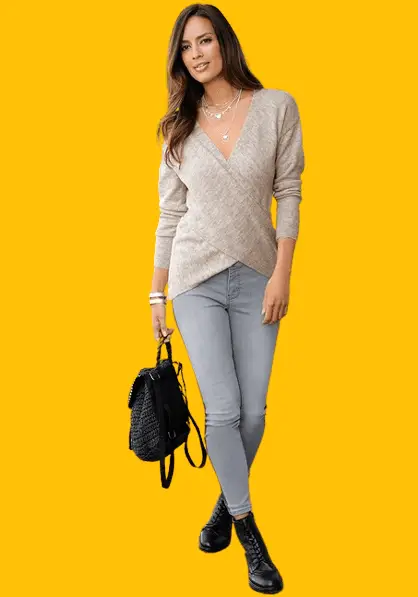 When it comes to fashion, combining the wrong pieces can create an aesthetically unpleasant look. An outfit faux pas to avoid is wearing classic v-neck sweaters with skinny jeans. While v-neck sweaters have been trendy for decades and are usually seen as traditional apparel choices, they tend to clash with the slim fit of skinny jeans. The solid block shape of v-necks also provides less definition than more modern silhouettes, such as tunic tops or fitted shirts with layered collars. 
To avoid these fashion disasters and get the most stylish results possible, try reversing this combination and opt for a pair of tailored trousers or wide-legged jeans paired with an improved v-neck style sweater.
4. Avoid Wearing Backless Loafers With Skinny Jeans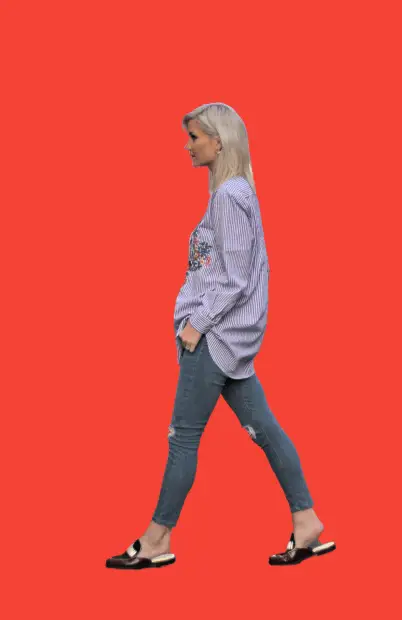 When deciding what to wear, it is essential to consider how each item of clothing complements the other. Combining backless loafers with skinny jeans is one look that does not go together – it gives off an unprofessional and unkempt appearance. Skinny jeans are intended to show off the body's curves, so it is best to pair them with a shoe that gives some coverage, such as ballet flats with ribbon ties or espadrilles. Doing this will ensure effortless style and elegance, making you stand out.
5. Avoid Wearing Tight-Fitting Tops With Skinny Jeans
When selecting an outfit, achieving a balanced look and feel is essential. Wearing tight-fitting tops with skinny jeans may not be the most appropriate choice considering the end aesthetic result. If you are looking for a stylish and comfortable ensemble, wearing loose-fitting tops with skinny jeans can provide a flattering silhouette and keep up to date with modern trends.
When in doubt, adding a belt around the waist area of either the jeans or top can help create defined shapes within the outfit. Overall, considering your body type for any clothing items worn together can make all the difference.
Conclusion
So there you have it! These are different ways not to wear skinny jeans. As always, let me know if you have any questions in the comments below. And be sure to check out our other posts for more style tips and advice.