8 Stylish Ways To Wear Skinny Jeans With Booties
Booties are a versatile footwear option that you can style in many different ways. Pairing them with skinny jeans is a great way to go if you're looking for an on-trend look. This blog post will show you how to wear booties with skinny jeans for a stylish and put-together look. So whether you're dressing up for a night out or want to add some extra flair to your everyday style, read on for tips on how to wear booties with skinny jeans!
Also Read: How To Wear Sneakers With Skinny Jeans?
How To Wear Booties With Skinny Jeans?
Booties are a great style to add to your wardrobe, and they look especially chic when paired with skinny jeans. With the right styling tips, this classic combination can create a polished and fashionable look. Here are some booties to wear with skinny jeans:
1. Skinny Jeans with Ankle Boots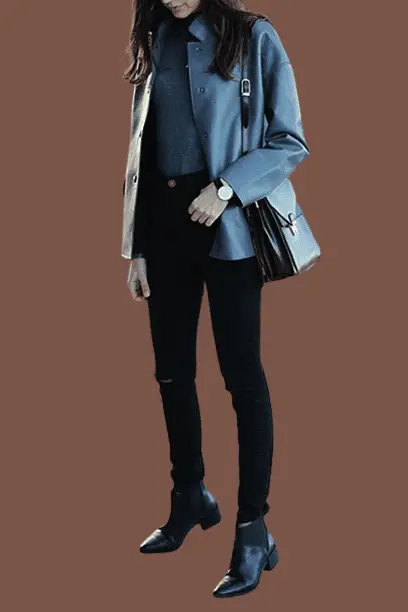 This classic look is perfect for transitioning between seasons, as the shape of skinny jeans elongates the leg and provides warmth without adding too much bulk. Pairing them with ankle boots adds an edgy twist while also creating an effortlessly stylish silhouette – even more so if you find a pair with transitional colors like black, grey, or brown.
For cooler days, high-top wedge booties can be an especially on-trend variation. Whether you keep things casual with sneakers or dress up with some stilettos, skinny jeans and ankle boots can always offer plenty of style and personality.
2. Skinny Jeans with Stiletto Ankle Boots
Skinny jeans with stiletto ankle boots offer the perfect combination of stylish functions for the modern woman. Their form-fitting silhouette creates a chic look. Skinny jeans add that little bit of extra edge to any ensemble, while their fitted design ensures you stay comfortable all day long. When paired with stiletto ankle booties, your look is elevated to an unforgettable level of fashion flair. Flexible and fashion-forward, this combo is ideal for making a statement no matter where you go!
3. Skinny Jeans With Low-Heeled Ankle Boots
This combination allows you to create an effortless, stylish outfit that can easily take you from day to night. Low-heeled ankle boots elongate the legs and add chicness when paired with the right skinny jeans. This combination offers endless versatility, allowing you to put together a look to suit your style and needs for any occasion. From relaxed, casual occasions to dressier affairs, find a combination that works best for you and wear it confidently, knowing you will always look fabulous!
4. Skinny Jeans With Combat Boots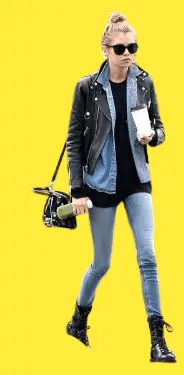 Skinny jeans with combat boots have become a popular fashion trend for women in recent years. Although this combo might appear to be an unlikely pair at first, it's a cleverly chic way to create a fashionable look with the bonus of being fun and practical. Combat boots add an edgy twist to an otherwise normal outfit, making it ideal for casual occasions.
As such, skinny jeans with combat boots are perfect for hitting the town on the weekend or running errands without sacrificing style. The combination goes surprisingly well and will turn heads wherever you go.
Also Read: What Shoes To Wear With Skinny Jeans?
5. Skinny Jeans With Chelsea Boots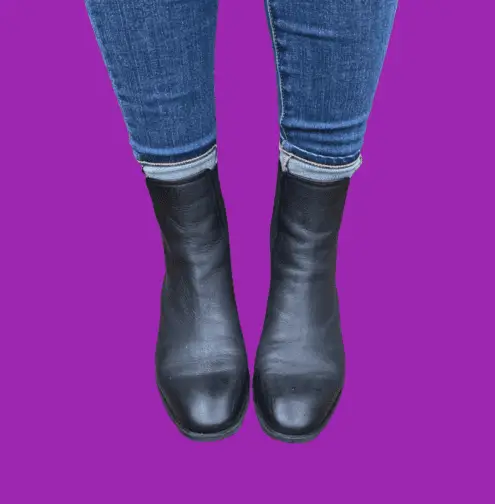 Skin skinny jeans with Chelsea boots are perfect if you're looking for a chic and stylish look to add to your wardrobe. The ankle-length cut of the jeans means they hug the contours of your body, while the stretchy material provides a comfortable fit. No matter what styling you choose, summer or winter, beach or brunch date, these boots will finish off your outfit in style. They offer effortless elegance and provide an alternative to flats that won't sacrifice sleekness.
6. Skinny Jeans With Over The Knee Boots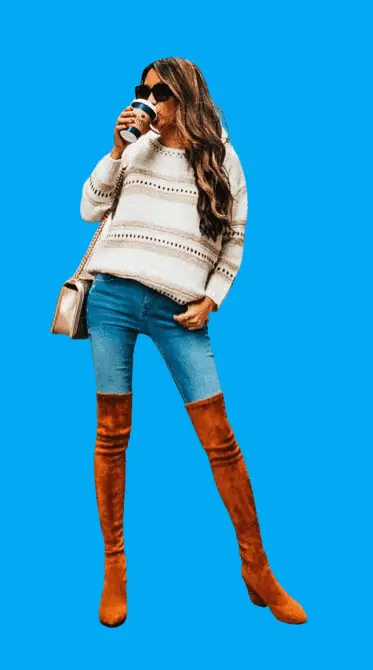 This bold combination is equal parts stylish and edgy, perfect for women of all ages and sizes. Styled right, over-the-knee boots can elongate your legs and enhance the look of skinny jeans. Finding the right pair to match any outfit has never been easier with multiple colors and styles available. Whether heading out to dinner or on a night out with girlfriends, pairing skinny jeans with OTK boots is a surefire way to show off your style while still staying comfortable.
7. Skinny Jeans With Peep-Toe Booties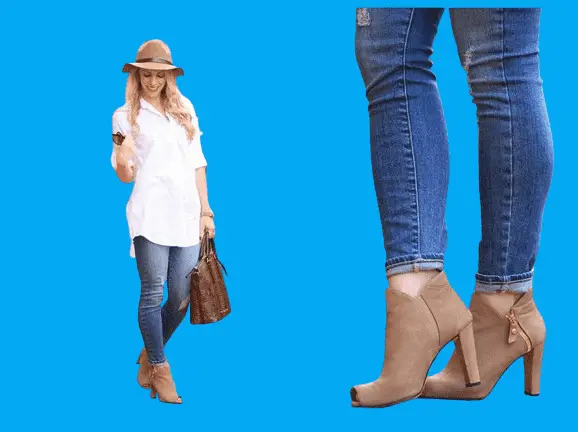 Skinny jeans with peep-toe booties are the ultimate fashion statement for women! The combination of a slim, fitted cut that hugs those curves and highlights them, paired with stylish and trendy peep-toe booties, makes for an unbeatable ensemble. Perfect for both day and evening wear, you can experiment with various looks to produce a comfortable yet fashionable look that fits your taste, whether for a casual outing or a more sophisticated occasion.
Also Read: How To Wear Cowboy Boots With Skinny Jeans?
8. Skinny Jeans With Riding Boots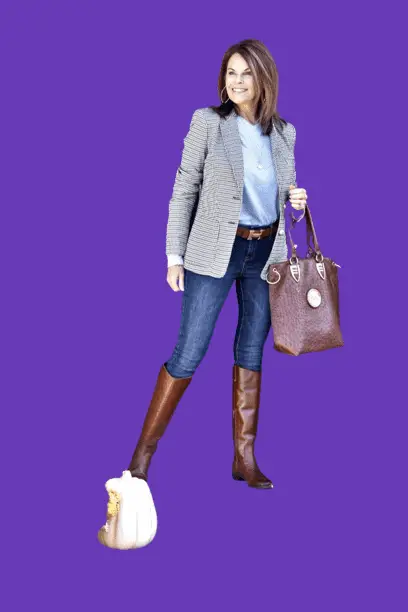 Skinny jeans with riding boots are the perfect fall combo for any woman. This stylish and timeless look pairs the classic boot silhouette with modern jeans cut to give an effortless yet put-together look. The form-fitting style of skinny jeans gives the rider's boot a fashionable edge. They're also incredibly comfortable and allow you to show off some of your favorite accessories.
Whether you're looking for something casual or dressier, skinny jeans paired with riding boots create a sharp and polished ensemble that will stand out this season.
Some Tips To Wear Booties with Skinny Jeans
Booties are a great way to add a fashionable flair to your style. When paired with skinny jeans, they can create an eye-catching look. Here are some tips to help you create the perfect combination:
Choose a pair of booties in a color that complements your jeans.
To create a slimming effect, try tucking your jeans into the booties.
Balance the look by adding a long top to cover the jeans' waistband.
Finish off the look with a few accessories, such as a belt, scarf, or jewelry.
With these simple tips, you can create a stylish look that will turn heads.
How Do You Wear High Booties With Skinny Jeans?
High booties are a trend that can be intimidating to wear. However, when paired with skinny jeans, they provide a stylish and versatile look. To get the most out of this style, begin with a casual outfit of your favorite skinny jeans in any color or style and add an oversized or fitted shirt for contrast.
Then slip into comfy high booties that provide texture if you want to liven up the overall outfit. Finish off by accessorizing with layering jewelry, updating your makeup, and styling your hair in braids or curls to complete the look. With high booties atop a pair of skinny jeans, you'll be comfortable yet fashionable all day long!
How Long Should Skinny Jeans Be With Booties?
When searching for the perfect skinny jeans to pair with a new pair of booties, the key question is: what length should they be? The best way to decide is to consider your leg's shape and overall stylistic taste. Ankle-length skinny jeans look great when paired with booties and tend to be the most popular option; however, mid-calf length can also look good depending on where the jeans hit and how high or low the booties are.
Considering the balance of showing off the shoe and ensuring that skinny denim complements it rather than covers it is key. Seam placement may also be an option if one wants more play in creating the ultimate look while pairing their boots with their favorite skinnies.
Conclusion
Booties are a great addition to any wardrobe and can be worn in various ways. I have shown you how to wear them with skinny jeans, but there are many other options. Please comment below if you have any questions or want to share your style tips. I love hearing from our readers!