How to Style Dress Pants? 15 Outfit Ideas for Women
Hey there, fashion enthusiasts! If you've ever wondered how to transform those elegant dress pants into show-stopping ensembles, you've come to the right place. I'm here to spill the beans on how to style dress pants like a true fashionista.
From corporate meetings to weekend brunches, I've got you covered with 15 versatile and creative outfit ideas that'll have you strutting your stuff with utmost confidence. Let's dive in! You might love this- How To Clean Dress Pants at Home?
DIfferents Types of Dress Pants
| Type | Description | Style/Purpose |
| --- | --- | --- |
| Dress Slacks | Classic tailored trousers made from wool or wool-blend fabrics. | Versatile; suitable for formal and semi-formal occasions |
| Khakis/Chinos | A casual alternative to dress slacks, suitable for business-casual | Pants with vertical folds or creases down the front offering a relaxed fit while maintaining a polished look. |
| Pleated Pants | Relaxed fit with a polished appearance, suitable for various events | Smooth front without wrinkles, providing a sleek and modern look. |
| Flat-Front Pants | Sleek and modern appearance, favored by those who prefer a slim fit | Pants with vertical folds or creases down the front offer a relaxed fit while maintaining a polished look. |
| Tuxedo Pants | Essential for tuxedo ensembles, matching the tuxedo jacket, featuring satin stripes down the sides. | The trendy choice for both formal and casual settings |
| Wide-Leg Pants | Looser fit through hips and thighs, legs widen downwards. | Relaxed and comfortable; associated with vintage or retro styles |
| Slim-Fit Pants | Narrower and tapered legs for a modern and stylish appearance. | Modern silhouette; favored by those who prefer closer fit |
| Cropped Pants | Shorter leg length, ending above the ankle; trendy and fashion-forward. | Made from high-quality wool, suitable for formal settings, offering warmth and a refined appearance. |
| Linen Pants | Lightweight and breathable; suitable for warm-weather events and casual occasions. | Great for summer events and casual gatherings |
| Wool Trousers | Formalwear; provides warmth and a refined look | Formalwear; an integral part of the tuxedo ensemble |
How to Style Dress Pants: 15 Outfit Ideas for Women
1. The Classic Chic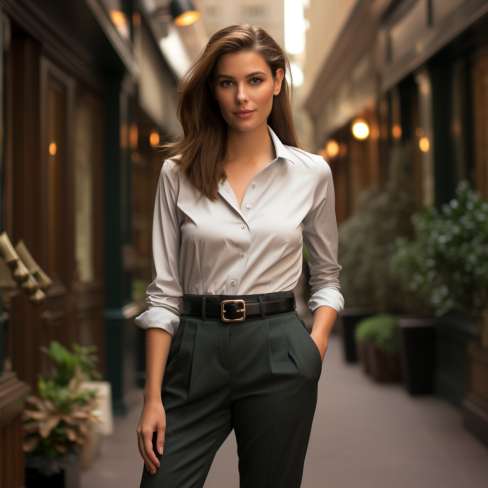 First things first – let's nail the timeless and classy look. Pair your well-fitted dress pants with a crisp white button-down shirt. Tuck it in and cinch at the waist with a statement belt.
Add a dash of sophistication with pointed-toe heels and delicate accessories. Voilà! You're ready to conquer the boardroom or impress on a formal dinner date.
2. Effortless Elegance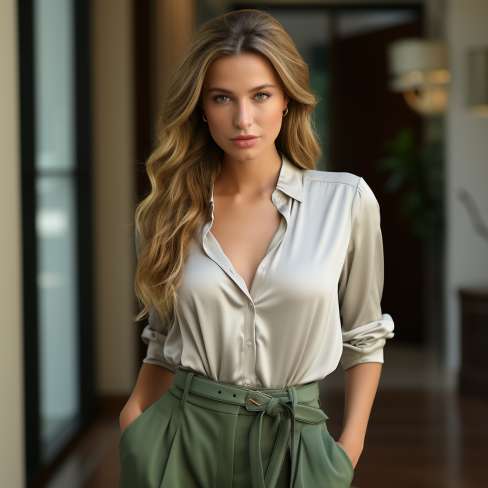 Opt for a lightweight, flowy blouse for a laid-back yet elegant vibe. Half-tuck it into your dress pants for an effortless charm.
Slip on some loafers or mules, and you're all set for a productive day at work, followed by a spontaneous evening outing.
Further Read: Can a Woman Wear Pants to a Jewish Funeral?
3. Bold and Beautiful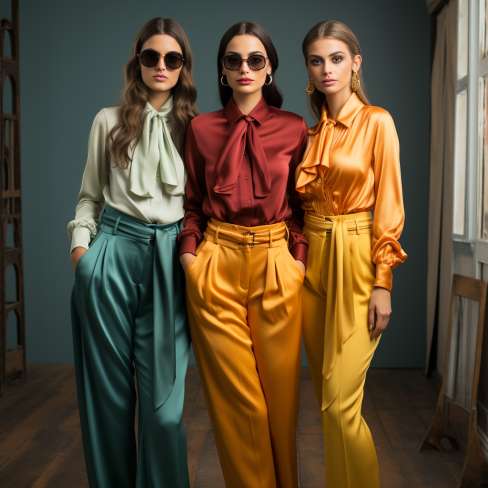 Infuse some boldness into your outfit by choosing a vibrant-colored blouse or top. Think electric blues, fiery reds, or emerald greens.
Let your dress pants play the role of the supporting act while your top steals the spotlight. Don't forget to accessorize with chunky jewelry for that extra oomph.
4. Casual Comfort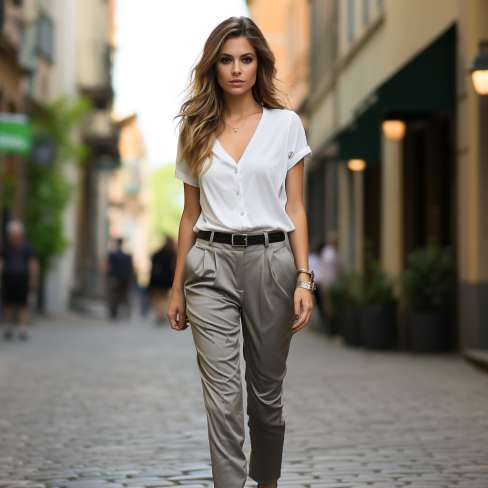 Yes, dress pants can be your go-to for a casual day too! Pair them with a graphic tee or a fitted sweater for a comfortable yet stylish ensemble. Sneakers or ankle boots complete this relaxed yet chic look for weekend errands or coffee catch-ups with friends.
5. Monochrome Magic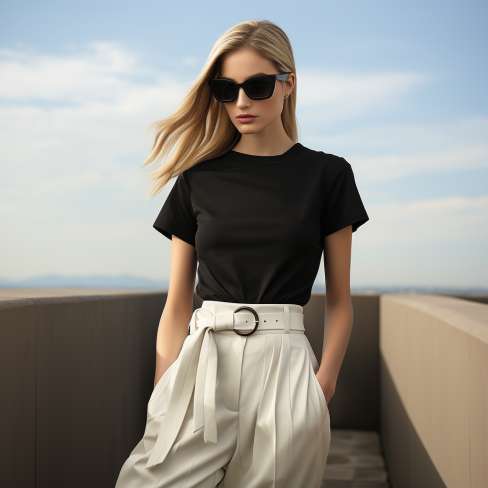 Monochrome never goes out of style. Choose a matching top and dress pants in the same color family for an elongated silhouette.
To break the monotony, play with textures – a silk blouse with tailored pants or a fitted knit top with wide-leg trousers. This minimalist approach exudes confidence and sophistication.
6. Layered Perfection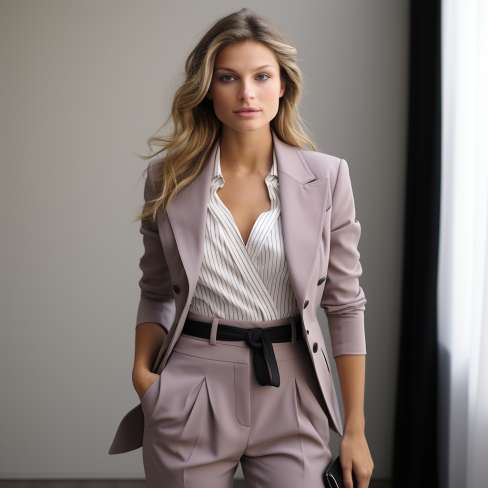 Layering is the secret to elevating your outfit. Throw on a tailored blazer over a tucked-in shirt and dress pants. This ensemble effortlessly transitions from office meetings to after-work cocktails. Choose contrasting colors to make your layers pop and create a stylish visual contrast.
7. Playful Patterns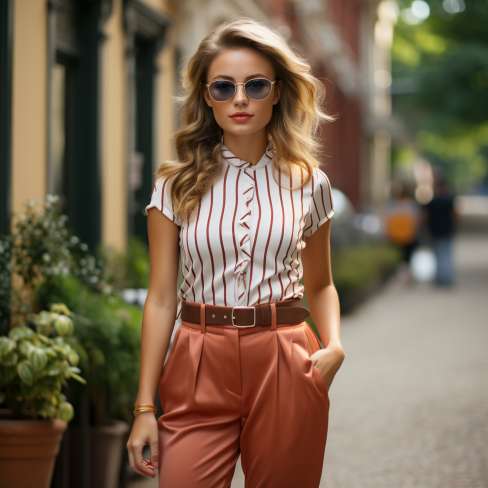 Embrace the power of patterns! Pair your dress pants with a printed top – stripes, polka dots, or florals. Make sure the colors complement each other, and tie the look together with a statement belt. Remember, confidence is key when experimenting with patterns.
8. Weekend Glam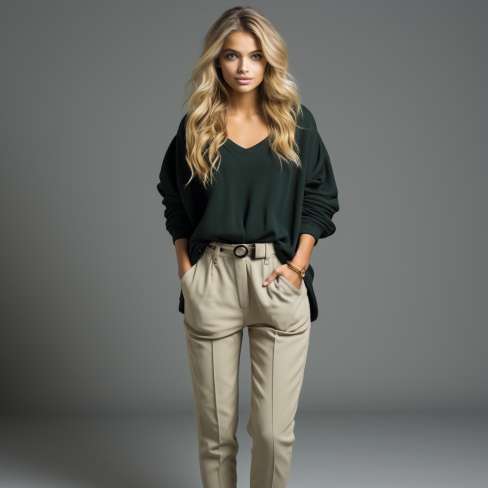 Who said dress pants are only for weekdays? Combine comfort and glamour by pairing them with a cozy oversized sweater. Add a touch of glam with statement earrings and ankle boots. This ensemble is perfect for a relaxed weekend brunch or a casual movie night.
9. Sporty Chic
Bring some sporty vibes into your dress pants game by teaming them up with a chic athleisure top. Think cropped hoodies, track jackets, or even a stylish sweatshirt. Finish off the look with sleek sneakers, and you'll be ready to conquer the streets with a sporty twist.
10. Vintage Vibes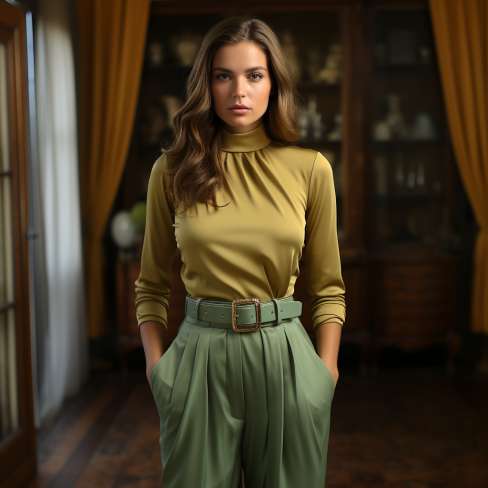 Channel your inner vintage diva by opting for a tucked-in turtleneck top with high-waisted dress pants. Add a retro belt to cinch your waist, and choose classic pumps to complete the ensemble. This timeless look will have you turning heads and earning compliments.
Also Read: How to Get Stains Out of White Baseball Pants?
11. Boho Beauty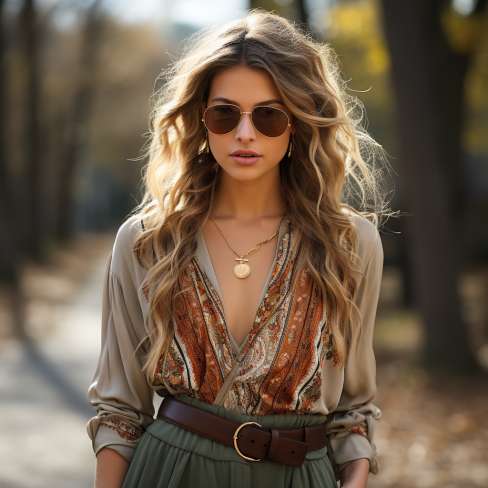 Inject a bohemian flair into your dress pants outfit by pairing them with a flowy, patterned blouse. Opt for earthy tones, and don't shy away from statement accessories like chunky rings and layered necklaces. Complete the look with ankle boots or strappy sandals for a chic boho vibe.
12. Date Night Glam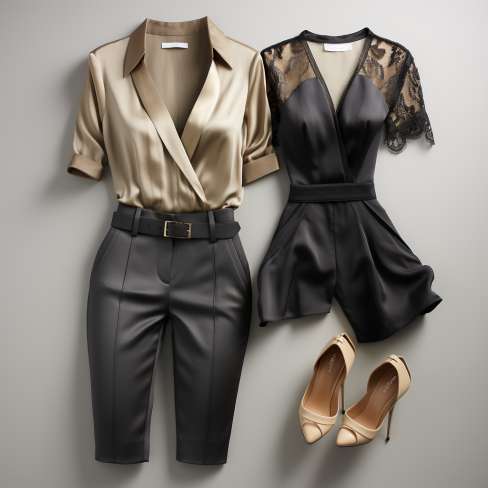 Heading out for a romantic evening? Pair your dress pants with a sleek, satin camisole. Choose a top with delicate lace detailing or embellishments for a touch of romance.
13. Office to Evening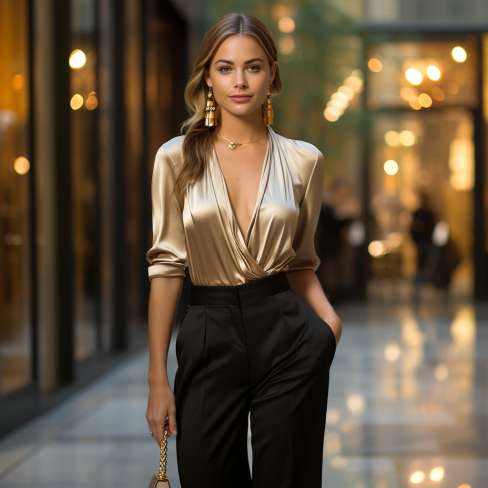 Turn your office-appropriate dress pants into a fabulous evening ensemble with a simple swap. Ditch the blouse for a shimmery or sequined top. Add a touch of drama with statement earrings and bold makeup. This quick transformation is perfect for post-work events or spontaneous night-outs.
14. Feminine Flair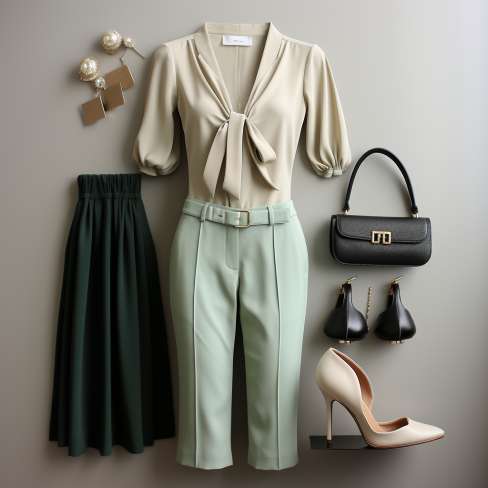 Pair your dress pants with a fitted, tucked-in blouse featuring ruffles or lace accents for a feminine and elegant look. Choose delicate colors and accessorize with dainty jewelry. A pair of kitten heels or ballet flats will complete this charming ensemble.
15. Power of the Jumpsuit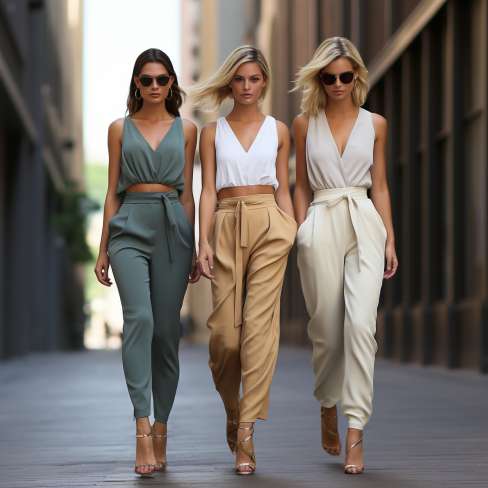 Why settle for separates when you can go for the jumpsuit version? Opt for a dressy jumpsuit that resembles the look of dress pants combined with a stylish top. This all-in-one outfit is perfect when you're in a rush but still want to look polished and put together.
FAQs
Can I wear dress pants casually?
Absolutely! Dress pants can be dressed down for a casual look by pairing them with a graphic tee, cozy sweater, or athleisure top. Add sneakers or ankle boots to complete the relaxed ensemble.
What type of shoes should I wear with dress pants?
The choice of shoes depends on the look you're aiming for. For a formal or sophisticated look, opt for pointed-toe heels. Ankle boots, loafers, or mules work well for semi-formal to casual outfits. Sneakers can add a sporty touch, and strappy heels enhance glam.
Can I wear printed tops with dress pants?
Absolutely! Printed tops can add a playful and stylish element to your dress pants ensemble. When pairing prints, ensure that the colors complement each other. Don't be afraid to experiment with patterns as long as you exude confidence in your choice.
Final Thought
There you have it – 15 captivating ways to style your dress pants and create stunning looks for every occasion. Remember, fashion is all about expressing yourself, so don't be afraid to mix and match, experiment with colors and patterns, and, most importantly, have fun with your outfits.
With these ideas in your style arsenal, you can make a bold statement wherever you go. So rock those dress pants like the style maven you are!
Source:
https://blog.treasurie.com/types-of-pants/