Winter Styling Tips: Look Fabulous in Girlfriend Jeans
Finding the perfect pair of stylish and warm pants can be challenging as winter approaches. That's why I'm excited to share my tips and tricks on how to wear girlfriend jeans in winter. Not only are they comfortable, but they are also versatile, making them a must-have in your closet. I've put together nine outfit ideas to keep you cozy and fashionable without compromising style. So let's explore ways to style girlfriend jeans this winter and make a statement!
How to Wear Girlfriend Jeans in Winter?
This winter, you can create a fashionable and warm look with a few styling tips and outfit ideas. Here are nine outfit ideas to get you started on winter-proofing your girlfriend jeans.
1. Sweatshirt With Girlfriend Jeans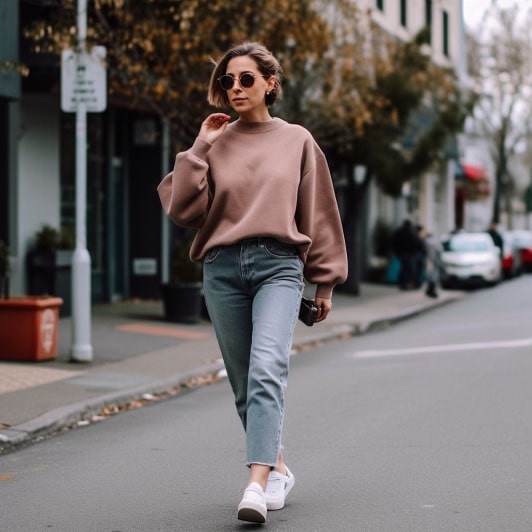 First of all, let me tell you that there's nothing more comfortable and stylish than wearing a pair of girlfriend jeans. I pair my favorite girlfriend jeans with a warm, elegant sweatshirt for a cozy winter look. The jeans' relaxed fit creates an effortless and comfortable look, while the sweatshirt provides enough warmth and style to make the outfit look together. With this combination, I'm ready to take on whatever the day may bring!
2. Cardigan With Girlfriend Jeans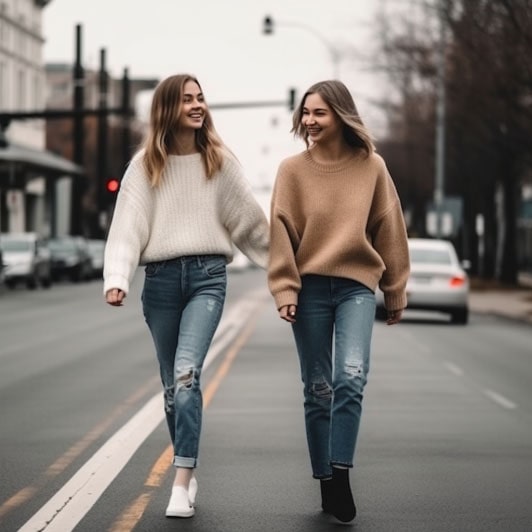 Adding a cozy cardigan to my girlfriend jeans is one of my favorite ways to keep warm in winter. The slouchy cut of the jeans is perfect for layering, and the cardigan adds an extra layer of warmth. In addition, the cardigan can be worn in various colors and styles, so I can switch up my look to match the occasion. I love pairing my cardigan with a simple t-shirt, ankle boots, and a beanie for a cozy winter look.
3. Blazer With Girlfriend Jeans
I'm all about mixing different styles to keep my winter wardrobe interesting, and I recently discovered the perfect combination: a blazer with girlfriend jeans. The best thing about this look is that it offers an effortless way to stay warm while making a fashion statement. Whether you pair it with a chunky knit sweater or a t-shirt, this look will turn heads. Plus, the girlfriend jeans contrast the tailored blazer, giving you the right mix of casual and dressy that is perfect for winter.
4. Puffer Jacket With Girlfriend Jeans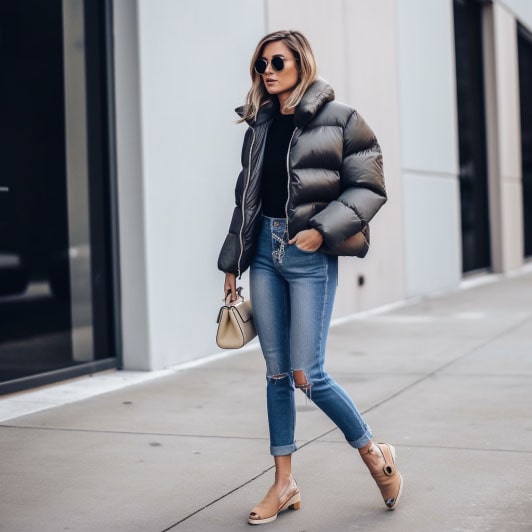 I recently tried wearing my girlfriend jeans with a puffer jacket and was so pleased with the outcome. The contrast between the two styles was so unexpected and looked amazing. The combination is stylish yet incredibly comfortable with the jeans' relaxed fit and the jacket's structured shape. It's a perfect look for winter as the long length of the puffer provides extra warmth against the cold. I highly recommend this look for anyone wanting to stay warm and cozy while still looking fashionable!
5. Striped Sweater With Girlfriend Jeans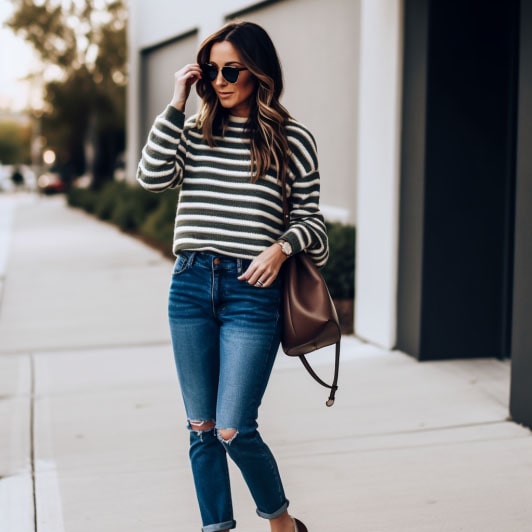 I'm embracing the cozy winter outfit with a striped sweater and girlfriend jeans this winter. Girlfriend jeans give me the perfect blend of comfort and style. I can stay warm with a cozy sweater and be fashionable with jeans. I'm styling these jeans with knee-high boots and a crossbody bag for a chic and effortless winter look. It's the perfect way to stay stylish while keeping warm.
6. Oversized Knit Sweater With Girlfriend Jeans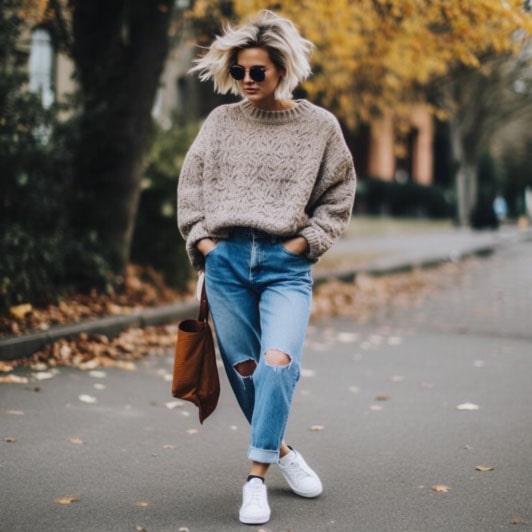 Oversized knit sweaters are a great staple to have in your winter wardrobe. Paired with a pair of girlfriend jeans, it's an easy and stylish look that keeps you warm and cozy all winter. The girlfriend jeans add a casual edge to the outfit, while the oversized sweater adds comfort and style. In addition, you can easily transition this outfit from day to night with a pair of boots.
Also, Read: 5 Reasons You Should Add Girlfriend Jeans To Your Wardrobe
7. Long Coat With Girlfriend Jeans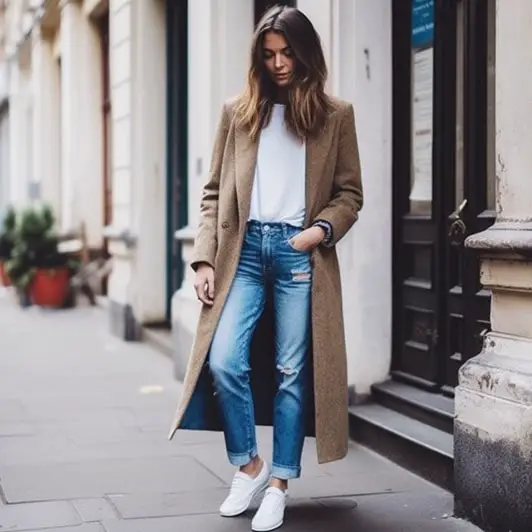 One of my favorite fashion staples for winter is a long coat paired with girlfriend jeans. I love the look of a warm coat with the casual, relaxed fit of girlfriend jeans. You can create an effortless yet stylish look perfect for a cold winter day with the right accessories. Whether it's a classic wool coat or an elegant fur-lined parka, this combination will keep you warm while still looking fashionable.
8. Black Leather Jacket With Girlfriend Jeans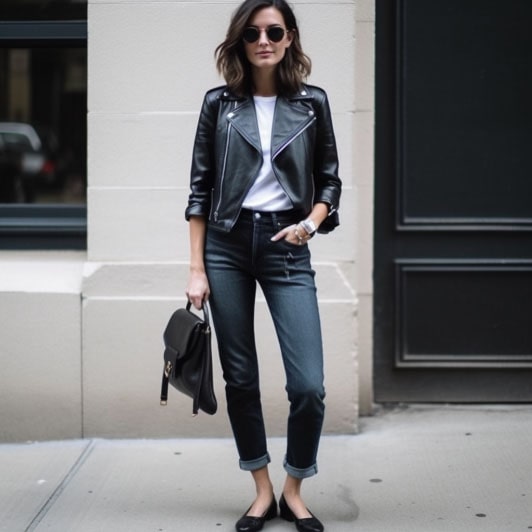 Winter calls for cozy layers and warm textures, so pairing my girlfriend jeans with a black leather jacket seemed the perfect way to keep out the chill. Not only is this combo stylish and comfortable, but it also adds a touch of edge and attitude to my look. Also, wearing a pair of boots with this outfit ties it together and gives it extra warmth. I love how versatile this outfit is; perfect for days when I want to look put together but still stay cozy.
9. Bomber Jacket With Girlfriend Jeans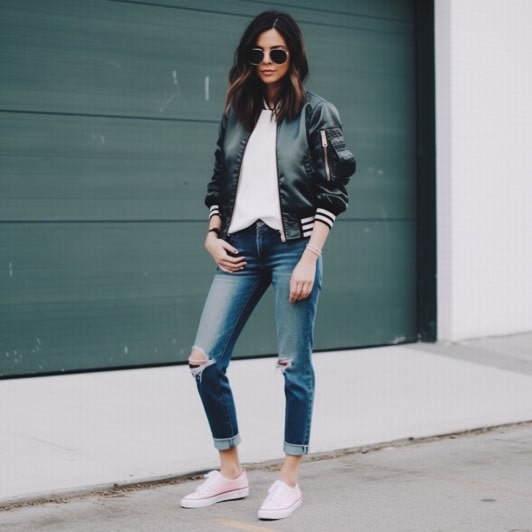 Last winter, I scored a great new pair of girlfriend jeans that I couldn't wait to wear. The problem was I didn't know how to style them for the colder weather. After some trial and error, I found that the best way to wear them in winter was with a bomber jacket. The bomber jacket's bold colors and fun textures bring an edge to the outfit. This combination has become my go-to winter look.
Also, Read: What Top To Wear With Girlfriend Jeans?
Tips for Wearing Girlfriend Jeans in Winter
Winter is my favorite season for fashion, but staying stylish and warm can be a challenge. One of my go-to pieces is girlfriend jeans, and in this post, I share four tips for wearing them in the winter:
Layer up with cozy sweaters and jackets.
Pair with ankle boots or knee-high boots.
Add a pop of color with bold accessories.
Experiment with different textures, like faux fur or knitwear.
Conclusion
I hope you found these nine outfit ideas helpful in styling your girlfriend jeans this winter. Remember, with the right pieces; you can make any outfit cozy and stylish. Whether you're going to work or out for a night on the town, girlfriend jeans fit any occasion. So, don't be afraid to experiment with different accessories, layers, and textures to create a look that's uniquely you. With these tips, you can stay warm and fashionable all winter long. Happy styling!