What Color Pants Goes With White Shirt?
It's a common question during the summer months: what color pants goes with white shirt? While the answer may seem simple, there are a few things to remember when choosing the fitting pants to pair with your white shirt. Here are a few tips to help you make a perfect choice. Read Recent Post What Color Pants Goes With Maroon Shirt?
How Can I Look Attractive In A White Shirt?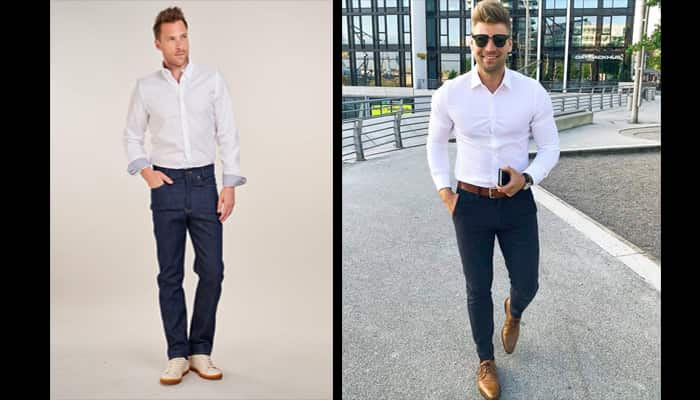 Looking good in a white shirt is not as difficult as it may seem. Here are a few tips to keep in mind:
A well-fitting white shirt is a key to looking your best. Ensure the shirt fits snugly around your chest and shoulders and is the correct length.
If you're taller, look for a shirt with a long tail. If you're on the shorter side, go for a shirt with a shorter tail.
A slim-fitting white shirt will highlight your best features and make you look more put-together.
To avoid looking too bland, try pairing your white shirt with other pieces in bolder colors and patterns. A printed tie or pocket square can add a touch of personality and make your outfit more interesting.
Keep your shirt clean and wrinkle-free for a polished look.
What Color Pants Goes With White Shirt? 
There are a few different colors of pants that go well with a white shirt for men. Those are:
1. Rock With Grey Pants: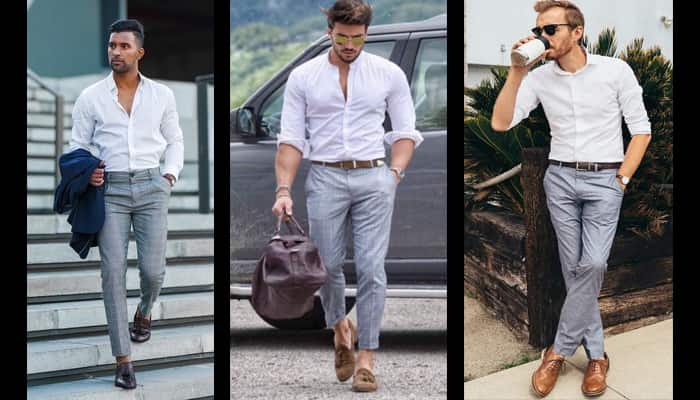 A white shirt with grey pants is a classic look that is perfect for casual and formal occasions. To achieve this look, pair a white button-down shirt with a pair of grey pants. Leave the shirt unbuttoned and roll up the sleeves for a more casual look. Then, tuck the shirt in and add a belt for a more formal look.
2. Blue Pants Goes Well With White Shirt: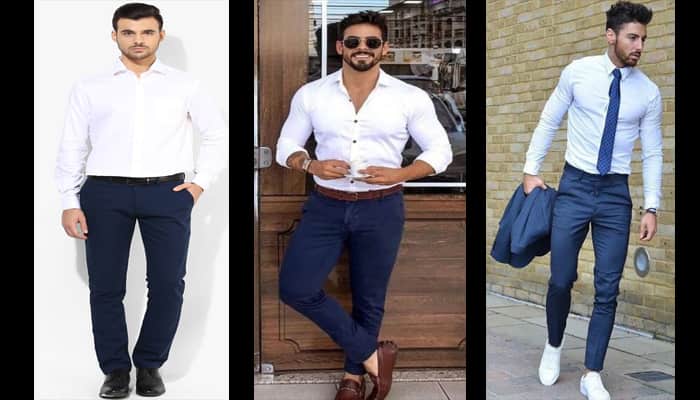 A white shirt with blue pants is another great option for casual and formal events. To create this look, start with a white button-down shirt and pair it with your favorite pair of blue jeans or chinos. Again, you can leave the shirt unbuttoned for a more casual aesthetic or tuck it in for a cleaner look. Finally, add accessories like a watch or sunglasses to complete the ensemble.
3. Black Pants With White Shirt: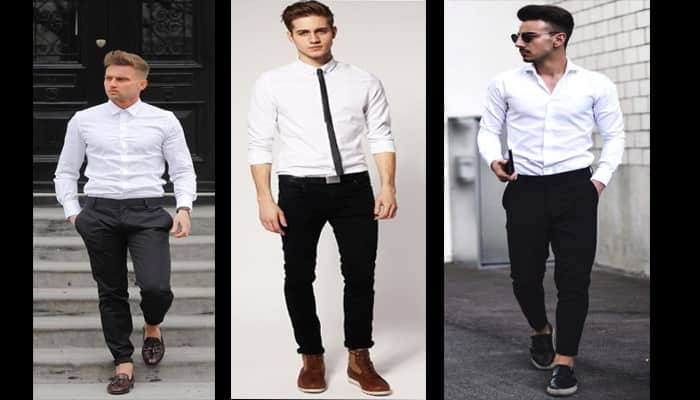 If you're looking for something a little more unique, try pairing a white shirt with black pants. This contrast creates a stark and stylish look that is perfect for making a statement. For the best effect, choose a pair of black trousers that are slim-fit or cropped. Then, add your white button-down shirt and accessorize as desired.
4. White Shirt with White Pants: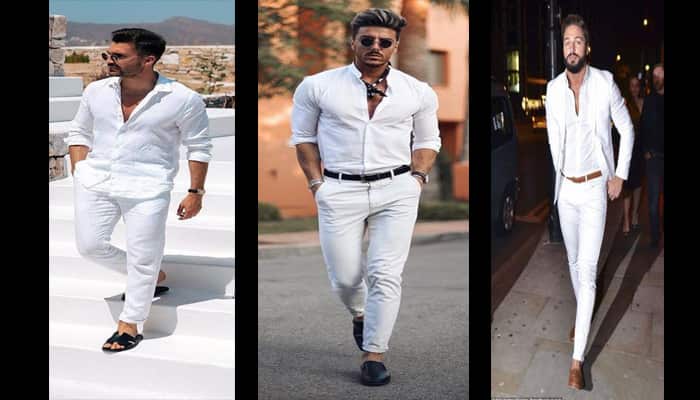 Another way to style a white shirt is by pairing it with white pants. This all-white ensemble is clean and modern, perfect for any event where you want to make a strong impression. To pull off this look, choose well-tailored white pants and pair them with a crisp white button-down shirt. Add simple accessories like black shoes or a silver watch to complete the outfit without detracting from its purity.
5. Unique Look With Patterned Pants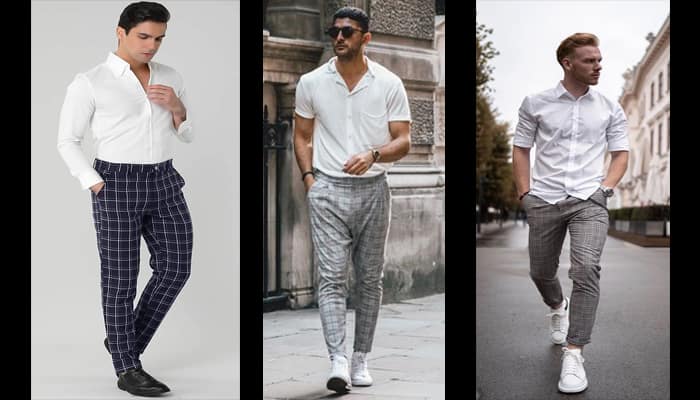 If you're bold, try styling a white shirt with patterned pants. This look is ideal for making a fashion statement, so have fun experimenting with different prints and colors. Start by choosing a pair of patterned pants that complement your style. Then, add a white button-down shirt and finish the ensemble with understated accessories like black shoes or a simple necklace.
Conclusion
White dress shirts are versatile and go well with almost any color of pants. This goes for casual and formal shirts. They are the perfect office wear. But, when worn with casual pants, they look more professional. It's a matter of personal choice and preference. So, if you're ever stuck on what color pants to wear with your white shirt, remember to check out the color wheel for some guidance. And always be sure to experiment with different combinations until you find what looks best on you!