How To Wear Sneakers With Skinny Jeans?
Sneakers are the perfect way to do it if you want to add a little edge to your look. But styling sneakers with skinny jeans can be tricky – if they're not done right, you can look like you're trying too hard. The key is finding the right balance between the volume of your sneaker and the fit of your jeans. So we've put together a guide on how to wear sneakers with skinny jeans for an effortlessly cool look. Keep reading for our top tips!
Also Read: How To Wear Booties With Skinny Jeans?
How To Wear Sneakers With Skinny Jeans?
Wearing sneakers with skinny jeans is a great way to stay on-trend and comfortable. Here are 13 outfit ideas to help you get started:
1. Olive Shirt Jacket With Skinny Jeans And Sneakers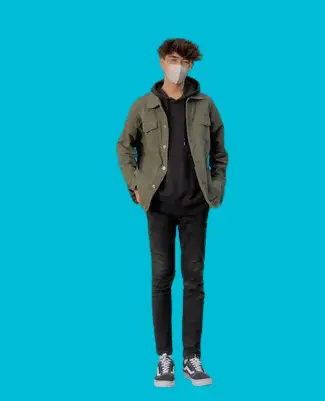 As autumn approaches, men's fashion has shifted towards the bolder olive shirt jacket. Worn with a classic pair of skinny jeans and white sneakers, it creates an effortless yet bold look with heads turning. The olive color of this shirt conveys an air of confidence while still being subdued enough to be appropriate for a professional setting.
Despite the seemingly minimal effort put into creating this outfit, the effect is surprisingly striking with this timeless pairing. Whether you're headed out for drinks with friends or to attend a business meeting, you can trust this ensemble as your unexpected but reliable go-to look.
2. Black Knit Shawl Cardigan With Skinny Jeans And Sneakers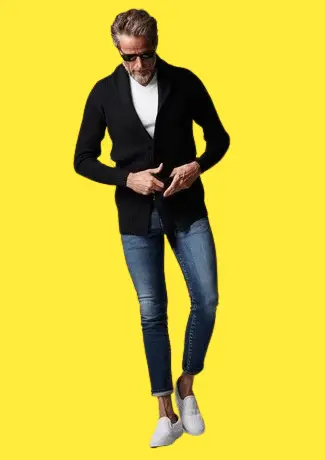 Style isn't one size fits all, and it's time we confidently embrace that notion. A black knit shawl cardigan is a staple to refresh any modern man's wardrobe. Whether layered over an Oxford shirt or a casual tee, this shawl cardigan gives any look a stylish edge that leans towards urban chic. Finish the look by adding slim-fit jeans and sneakers to illicit maximum street cred without compromising comfort levels. Elevate your style game this season with ease, and step out into the world with newfound confidence.
3. Navy Denim Jacket, Skinny Jeans, And Sneakers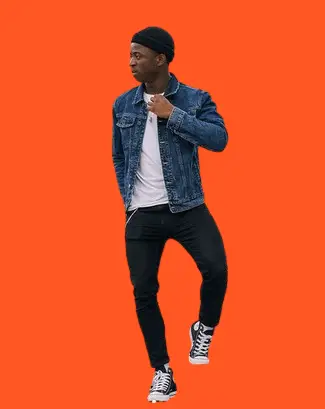 Navy denim jackets are an ideal way to create an effortlessly cool look for any man. For a classic modern style, pair the jacket with slim-fit skinny jeans and sneakers in a complementary color. This combo offers timeless style with just enough edge to set it apart from formal attire. Whether one's destination calls for casual business meetings or trendy night spots, pairing a navy denim jacket with skinny jeans and sneakers is sure to make for an eye-catching outfit.
The secret is in the details – subtle accessories like a hat or scarf are great ways to tie the ensemble together for maximum impact.
4. Mustard Harrington Jacket With Skinny Jeans And Sneakers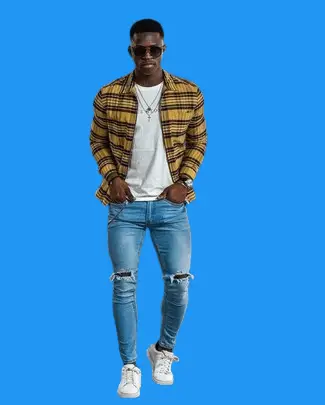 Men can't go wrong with a mustard Harrington jacket paired with skinny jeans and sneakers for a classic, versatile look with a modern spin. The combination of casual and smart makes it easy to transition from day to night or weekdays to weekends; the bold color of the jacket brightens up any outfit and gives it an instant boost of personality.
Whether the look is worn while out on the town or in the office, the comfortable cut of the jacket allows for all-day ease while providing a polished finish that elevates any man's wardrobe.
5. Skinny Jeans And Sneakers With White Crew-neck T-shirt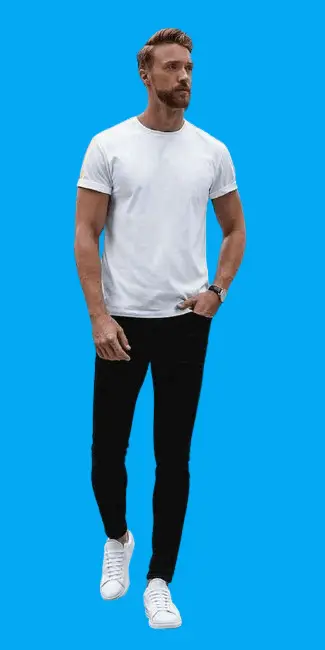 A white crew-neck t-shirt is a timeless wardrobe staple for men, and when paired with classic skinny jeans and stylish sneakers, it's the perfect look to take you from day to night. This versatile style can be dressed up for a night out on the town with a blazer or smart coat or kept more casual for daytime errands when layered with an oversized cardigan.
No matter your style, this simple outfit combination is ideal for any occasion. Crafted from quality fabrics and designed with considered details like rolled-up cuffs and simple patterning, this is sure to become your go-to outfit of choice.
Also Read: What Shoes Not To Wear With Skinny Jeans?
6. Navy Sweatshirt With Skinny Jeans And Sneakers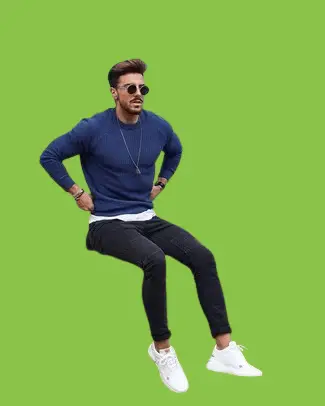 A classic navy sweatshirt with skinny jeans and sneakers is a great way for men to stay stylish and comfortable. The simple yet timeless design of the navy sweatshirt offers a minimalistic look. Skinny jeans accentuate the look's slim silhouette, while its stylish sneakers complete it with a modern touch. This take on fashion is sure to turn heads without breaking the bank. Plus, it's a versatile outfit option for any man looking for an effortless style factor.
7. Navy Print Varsity Jacket, Skinny Jeans, And Sneakers
Navy print is becoming a major trend in fashion this season, and men are looking for stylish but comfortable ways to incorporate it into their wardrobes. A navy print varsity jacket paired with skinny jeans and sneakers is the perfect way for men to do just that. The navy print adds a bold statement, while the varsity jacket offers a timeless silhouette to dress up any outfit.
The combination of skinny jeans and sneakers provides comfort and an urban vibe that no man can resist. This look will ensure you stand out in any crowd while maintaining your cool style.
8. Beige Hoodie With Skinny Jeans And Sneakers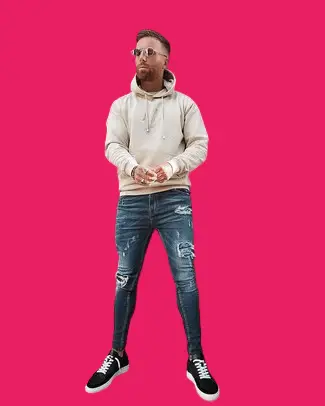 The newest addition to every man's wardrobe is a combination of a beige hoodie, skinny-fit jeans, and white sneakers. Its versatile design can easily go from urban streetwear to a cozy night out with friends or even a semi-formal look when matched with complementary items. This classic yet on-trend casual outfit is easy for men to create stylish everyday looks that are simple, effortless, and comfortable.
9. Grey Bomber Jacket With Skinny Jeans And Sneakers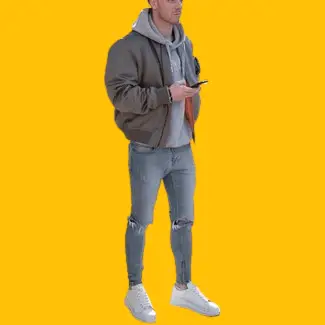 For the modern man looking for something fresh, a grey bomber jacket paired with a pair of skinny jeans and sneakers is the perfect look. This look mixes modern fashion with timeless pieces that will certainly turn heads. It's a look that screams versatility while remaining stylish and sophisticated – and it'll flatter just about any body type.
If you want an outfit that'll never go out of style, try pairing a grey bomber jacket with dark skinny jeans and sneakers; it's an effortless combination that makes you stand out amongst any crowd.
10. Green Polo With Skinny Jeans And Sneakers
For the modern man, nothing says polished comfort like a green polo with a pair of skinny jeans and sneakers. This classic and stylish combination is an effortless way to look put-together in any casual setting and is perfect for all leisurely occasions. The trick is to stick with neutral colors for the polo and jeans, allowing the vibrant green polo to take center stage.
Team it up with white dress shoes and a watch to keep the look smart instead of sloppy. Accessorize with a light-colored belt or scarf for added style and personality. With this timeless, go-anywhere look, you'll always be dressed to impress in any situation.
11. Pink Print Sweatshirt With Skinny Jeans And Sneakers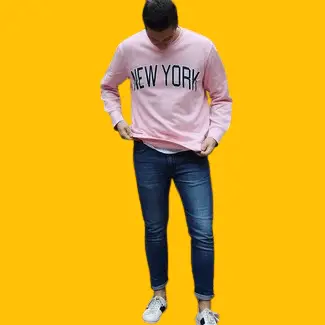 The perfect combination for the modern man is a pink print sweatshirt paired with skinny jeans and sneakers. Just like the classic blue jeans and white shirt combo, this look is versatile enough to go from running errands to meeting friends for drinks. The pink print adds a fun, modern touch to the otherwise laid-back outfit, making it appropriate for casual and more sophisticated occasions.
As if that wasn't enough, sneakers are both comfortable and fashion-forward, so you'll be able to take on your day in style. Get creative by adding different accessories to complete your look with confidence!
12. Brown Suede Biker Jacket With Skinny Jeans And Sneakers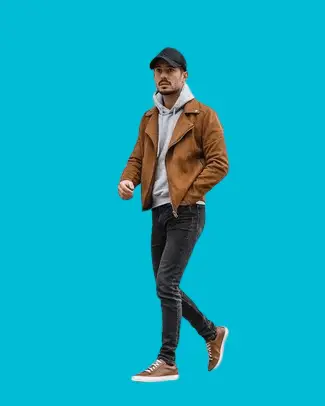 A brown suede biker jacket is a timeless classic in men's fashion. This look is great for casual days, stylish evening wear, and biker style. For a casual but contemporary look, combine the jacket with skinny jeans and sneakers, perfect for hitting the streets or heading out on the weekend.
The lightweight fabric allows you to layer while keeping you cool no matter the weather, and its tailored fit ensures that you look smart and well put together. Easily transition from daywear to evening with this stylish answer to any wardrobe need.
13. White Long Sleeve Shirt With Skinny Jeans And Sneakers
White long sleeve shirts are a basic wardrobe necessity for any man looking to dress for success. Paired with skinny jeans and sneakers, it's the perfect look for work days when you want to appear polished yet still dressed casually. It gives an air of professionalism that allows you to feel more confident during important meetings or presentations.
White looks timeless and is always in style, no matter what season. This combination of clothing items can easily make any man blend in while still looking put together, so he can fit every situation seamlessly while still making a statement.
Conclusion
So now that you know how to wear sneakers with skinny jeans, it's time to put your new knowledge into practice! Keep the following tips in mind when putting together your look, and you're sure to nail the perfect sneaker-and-skinny-jean combo. And if you have any questions or need help getting started, leave a comment below. I love hearing from our readers, and I will do my best to answer all of your styling questions.