What Colors Go With Maroon Pants?
When it comes to fashion, there are a lot of choices to make. What to wear, how to wear it, and where to buy it. But one of the most important choices is choosing the right colors. So, if you want to add a touch of class to your wardrobe, consider maroon pants. But what colors go well with maroon pants? I have put together a few suggestions to help you get started. Read our recent post- What Color Goes With Black Pants?
What Color Goes Well With Maroon?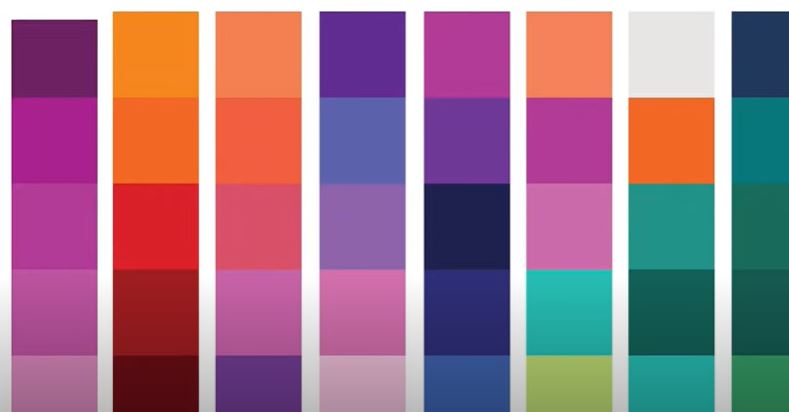 Maroon is a deep, rich color that looks great when paired with other colors in the same family, like burgundy or plum. It can also be complementary to colors like navy blue or forest green. When choosing what color to wear with your maroon shirt, trousers, or dress, consider what look you're going for. If you want to be bold, go for a brighter color like orange or coral. If you want a more subdued look, stick to neutrals like black or white.
Maroon color goes well with navy blue, forest green, orange, coral, black and white.
What Colors Go With Maroon Pants?
The simple answer is Maroon Pants are goes well with Navy, Gray, Burgandy, Green, White
Choosing the right colors to pair with maroon pants can be a bit tricky. While this deep, rich hue looks great with many colors, there are a few that stand out as being particularly complimentary. To help you choose the perfect colors to wear with your maroon pants, here are a few of our favorites:
Also Read: What To Wear With Maroon Pants Guys?
1. Maroon Pants With Navy Color: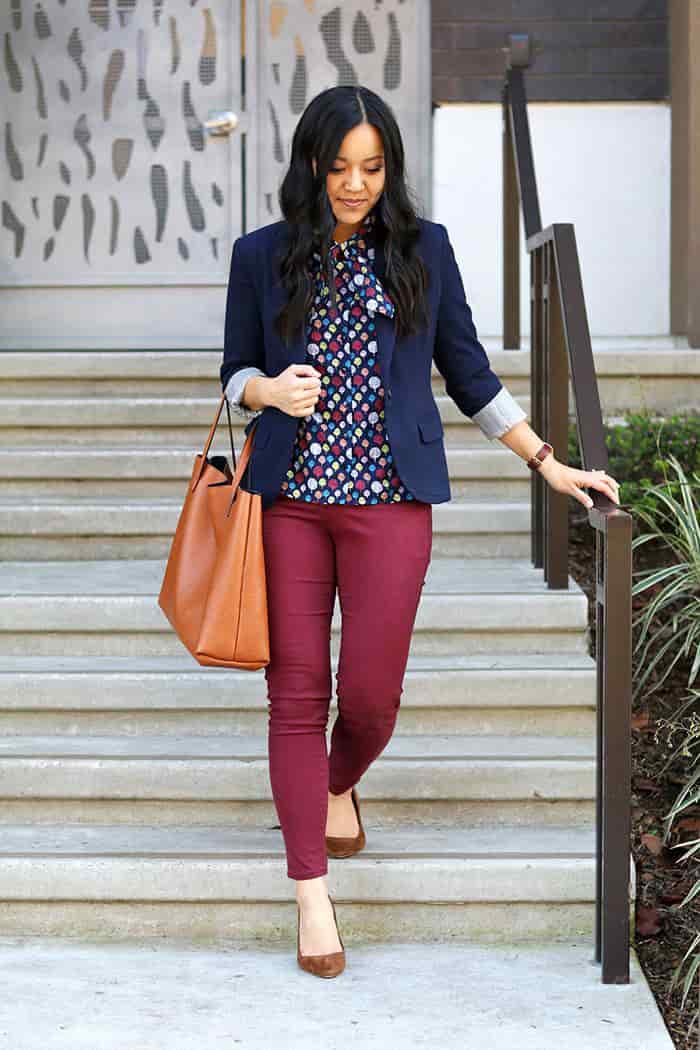 Navy is a great choice to pair with maroon pants. The two colors have a natural affinity for each other and look great together. The Navy also has the benefit of being a neutral color, so it will go with just about anything.
2. Maroon Pants With Gray Color: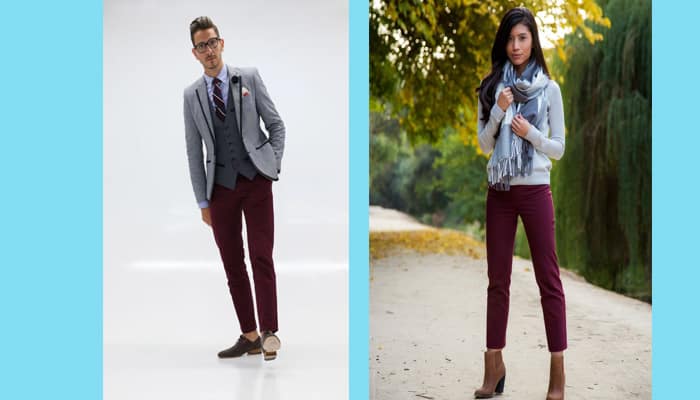 Gray is another versatile option that goes well with maroon pants. It's a great choice for a more formal look, or you can dress it down with a pair of sneakers.
3. Maroon Pants With Burgundy Color:
If you're looking to really make your maroon pants pop, then choosing a shirt or jacket in burgundy is a great option. The two colors are similar enough that they complement each other perfectly, but the contrast is also striking.
Also Read: What Color Pants Goes With White Shirt?
4. Maroon Pants With Green Color: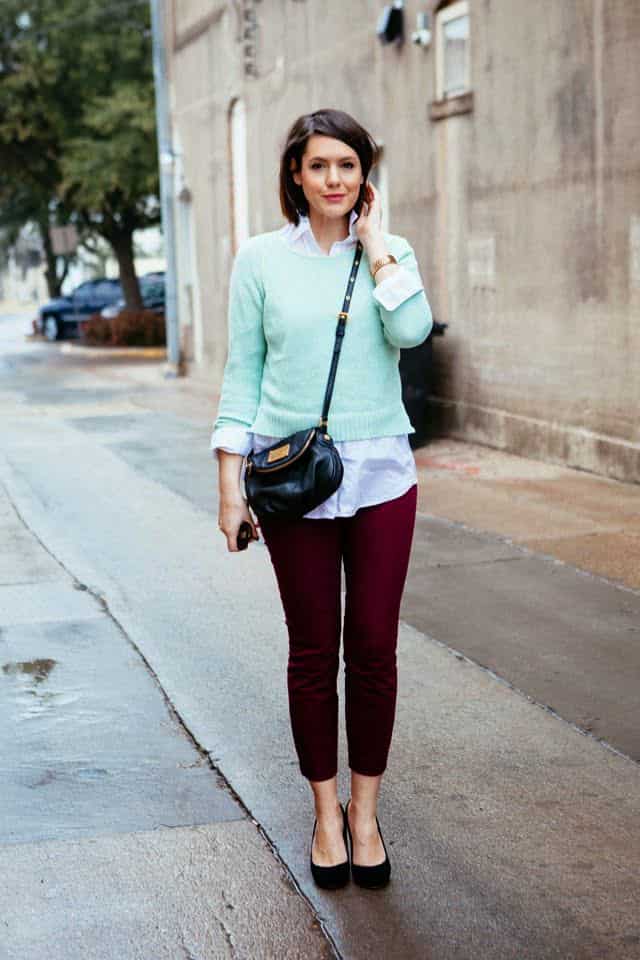 Green is a great choice for those who want to add a bit of color to their outfit without going too overboard. It's a perfect way to add a touch of personality to your look without being too overwhelming.
Also Read: What To Wear With Maroon Pants Women?
5. Maroon Pants With White Color: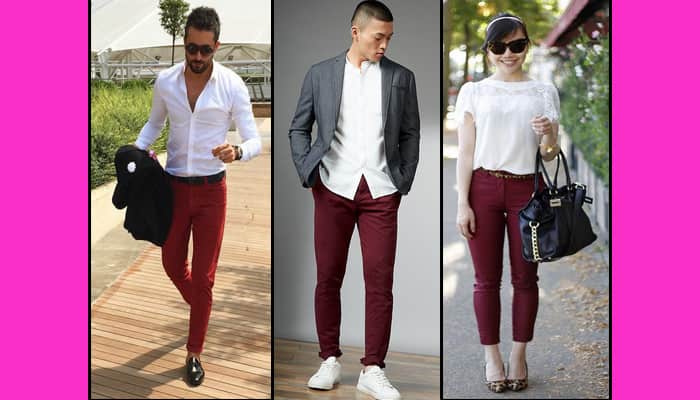 White is always a classic choice, and it looks especially good with maroon pants. It's a clean and fresh look that can be dressed up or down depending on the occasion.
What Color Shirt Goes With Maroon Pants For Ladies?
Maroon is a deep, rich shade of red that flatters many complexions and hair colors. When worn as pants, maroon can be paired with several different shirt colors. Wear maroon pants with a white or light-colored blouse for a classic look. Pair maroon pants with a black top to create a more dramatic look. Or, for a bold and fashionable look, try maroon pants with a brightly colored shirt in a contrasting shade. When choosing the perfect shirt to wear with maroon pants, consider the overall look you want.
What Color Shirt Goes With Maroon Pants For Guys?
Maroon pants are a versatile item that can be dressed up or down, depending on the shirt you wear with them. Try pairing maroon pants with a white tee or button-down shirt for a more casual look. You can also experiment with patterns and textures, like a denim shirt or a chambray shirt. If you're looking to dress up your maroon pants, try pairing them with a black button-down shirt or a light-colored sweater. Finally, consider adding a blazer or sport coat for an even more refined look. No matter what shirt you choose, ensure it fits well and is free of wrinkles for a polished look.
Also Read: What To Wear With Camo Cargo Pants?
Pink Shirt With Maroon Pants
A pink shirt can go with maroon pants in the proper context. However, if you are trying to achieve a particular look, you should consider the overall feel of the outfit. For example, a pink shirt with maroon pants can give off a preppy vibe. In addition, it is essential to consider the event or occasion you will wear the outfit. A more casual event may be more forgiving of a mismatched outfit, but a more formal one will require more thought and planning.
Conclusion
So, what colors go with maroon pants? In general, complementary colors are a good option. This means selecting colors that are opposite one another on the color wheel. For example, try red and gold together if you want something more festive! No matter what color combination you choose, make sure the shades of each color complement one another well. With these tips in mind, finding the perfect outfit with your maroon pants will be easy peasy!