Fashionable and Fabulous: How To Wear Jeans Over 50?
Hey there, fabulous ladies! So you've hit the big 50, and you're wondering if you should retire those beloved jeans? Not a chance! I'm here to tell you that age is just a number, and your passion for fashion can still sizzle.
As a fashion designer well past 50, I'm here to spill the beans on flaunting your favorite denim with pizzazz, panache, and a dash of humor. Trust me; jeans are like that dependable friend who's always covered your back (and your booty).
Also Read: What Age Should You Stop Wearing Jeans? 
how to wear jeans over 50?
1. Embrace the Right Fit
Your comfort and confidence start with finding the perfect fit. Opt for jeans with a mid-rise or high-rise waistline, as they provide excellent support and flatter your curves.
Look for styles with a bit of stretch for comfort and ease of movement. Remember, the right fit is not just about the size but also about the shape that complements your body type.
2. Choose Classic Styles
Classic jeans never go out of style. Consider investing in timeless cuts like straight-leg or bootcut jeans. These silhouettes are flattering for mature figures and offer a polished look. Avoid overly distressed or ripped jeans, as they can look less sophisticated.
3. Play with Colors and Washes
While classic blue denim is a staple, don't be afraid to experiment with different washes and colors. Dark washes are universally flattering and can be dressed up or down. Colored jeans can add a pop of personality to your outfit. Just ensure the color complements your skin tone.
4. Elevate with Accessories
Accessories can elevate your jeans outfit to the next level. Pair your jeans with stylish belts, scarves, and statement jewelry. A chic belt can define your waist, while scarves add a touch of elegance. Don't shy away from bold pieces that express your personality.
Further Read: How To Wear Black Tuxedo Jacket With Jeans for Women?
5. Mix Casual with Dressy
One of the beauties of jeans is their versatility. Mix casual and dressy elements to create a balanced look. Pair your jeans with a tailored blazer and heels for a sophisticated ensemble. Or combine them with a flowy blouse and ballet flats for a more relaxed yet put-together outfit.
6. Embrace Monochromatic Looks
Monochromatic outfits can have a slimming and elongating effect. Choose a top in a similar shade to your jeans for a sleek and elegant appearance. This creates a seamless silhouette that exudes confidence.
7. Opt for Quality Denim
Investing in high-quality denim is worth every penny. Premium denim not only fits better but also tends to be more durable. The fabric holds its shape well and ages beautifully, ensuring your jeans remain a staple in your wardrobe for years to come.
8. Balance Proportions
Balance is key when styling jeans over 50. If you're wearing a looser-fitting pair of jeans, opt for a more fitted top to maintain a proportional look. On the other hand, if you're wearing skinny jeans, consider pairing them with a tunic or longer blouse to create a harmonious balance.
9. Experiment with Shoe Choices
Your choice of footwear can significantly impact the overall vibe of your jeans outfit. Heels can add sophistication, while ankle boots bring a touch of edge. For a casual look, sneakers or loafers work wonders. Don't hesitate to change your shoes to match the occasion and mood.
How To Wear Jeans Over 50?
1. Classic Denim and Blazer Combo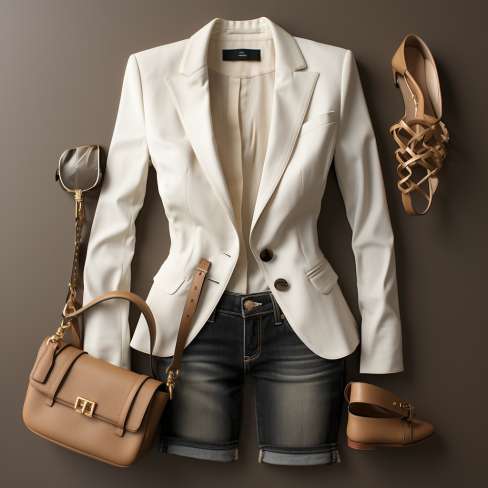 Elevate your sophistication with a classic combination of dark-wash jeans and a well-fitted blazer. A crisp white shirt underneath adds an extra layer of elegance. Accessorize with statement jewelry to showcase your over 50 women's authority in style.
2. Effortlessly Chic Tunic Ensemble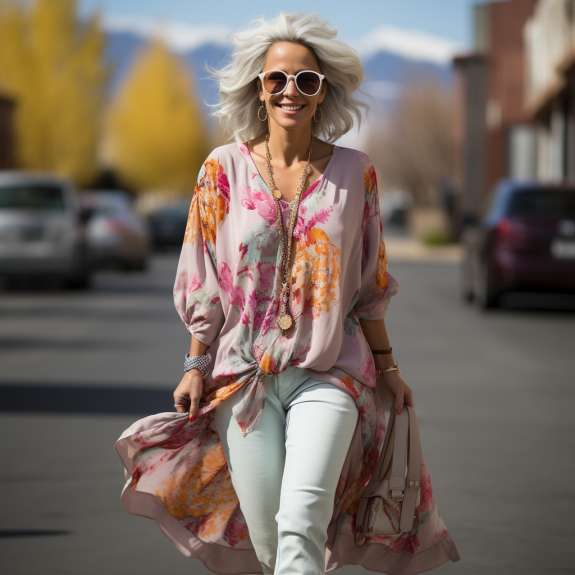 Flaunt your carefree yet chic style by mastering the art of how to style jeans over 50. One fantastic approach is to pair your jeans with a flowy, colorful tunic. The tunic's length adds an extra dimension to your look while providing the comfort you deserve at this stage of life.
And here comes the icing on the cake – finish the ensemble with ankle boots and a wide-brimmed hat for a touch of boho charm that resonates perfectly with the sophisticated and stylish women who are rocking their fashion game even after crossing the half-century mark
3. Casual Striped Sweater Outfit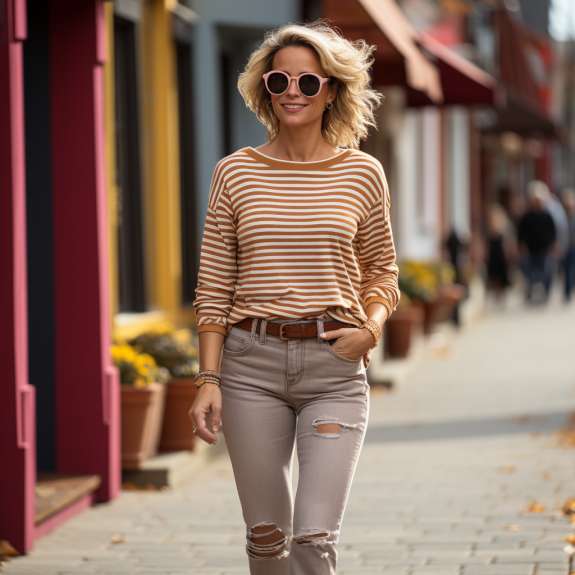 Pair your jeans with a striped sweater for a cozy yet stylish appearance. This timeless combination exudes a laid-back vibe. Add a colorful scarf and a crossbody bag to elevate the ensemble.
4. Daring Denim-on-Denim Look
Embrace the daring spirit by rocking the double-denim trend with poise. Mix and match different denim washes to create a bold yet fashionable statement. Amp up the style further with a colorful belt or a trendy neckerchief that showcases your over 50 women's flair.
5. Elegant Off-Shoulder Blouse Attire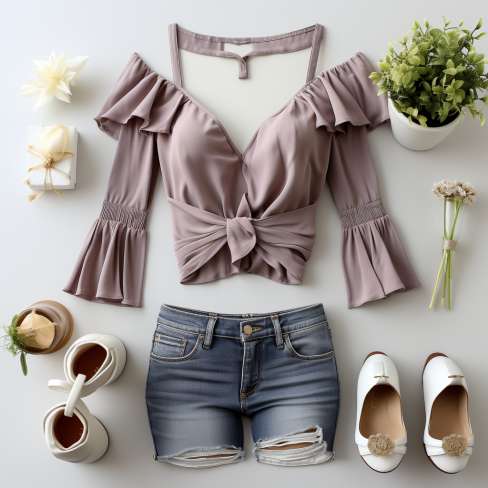 Accentuate your feminine charm with an off-shoulder blouse that beautifully highlights your neckline and collarbones, proving that mastering the art of wearing jeans after 50 is all about striking the right balance between style and grace.
The synergy between the blouse and jeans exudes an understated elegance that's absolutely perfect for women over 50.
To complete this effortlessly chic look, consider complementing it with pointed-toe flats or graceful kitten heels – the kind of footwear that adds a touch of finesse while keeping you comfortable and confident.
6. Smart-Casual Button-Up Shirt Ensemble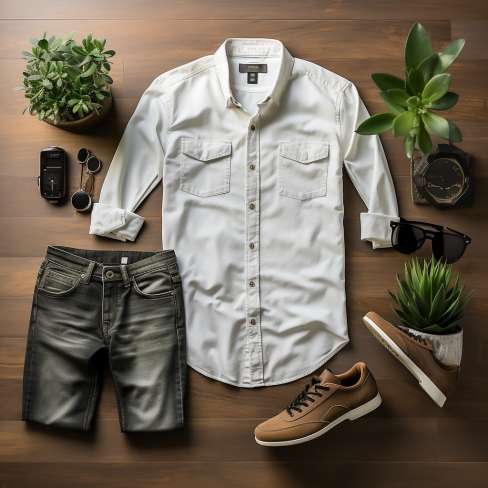 Opt for a well-fitted button-up shirt in a luxurious fabric. Tuck it into your jeans and roll up the sleeves for a smart-casual appearance. Complete the look with loafers or mules.
7. Bohemian-Inspired Peasant Top Look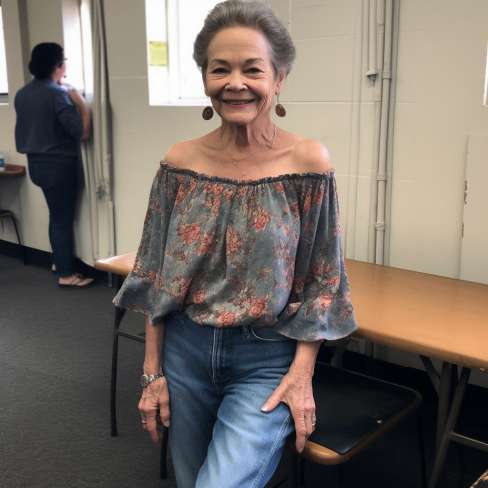 Embrace your free-spirited soul with a flowy peasant top that captures the essence of boho fashion. Pair it with flared or bootcut jeans to create a balanced silhouette that complements the relaxed yet confident demeanor of women over 50. Stack bangles and slide into comfortable wedge sandals to complete the look.
8. Timeless Leather Jacket Outfit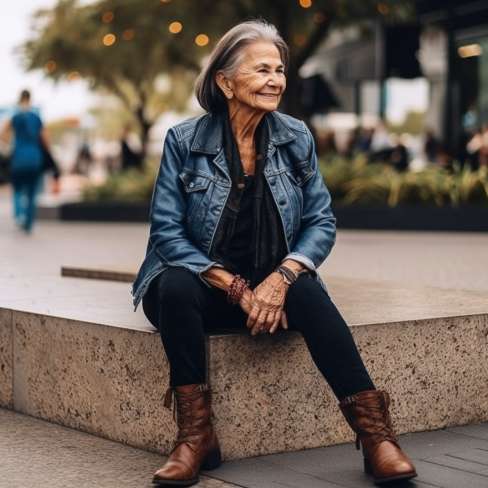 Infuse a touch of edge into your outfit with a timeless leather jacket. Throw it casually over a simple tee and your favorite jeans to exude an effortlessly cool aura that resonates with women over 50. Finish the look with ankle boots for a hint of rugged charm.
9. Sleek Monochrome Moment
Opt for a monochrome outfit for an elongated and sophisticated appearance. Pair black jeans with a black silk blouse or sweater. Accentuate the look with a statement belt and metallic accessories.
10. Relaxed Denim Culottes Ensemble
Embrace the modern trend of denim culottes for a relaxed yet stylish appearance. Opt for a pair of denim culottes that combine comfort and elegance. Tuck in a blouse and slip into comfortable sneakers to create an outfit that resonates with the vibrant energy of women over 50.
11. Statement Jacket and Graphic Tee Combo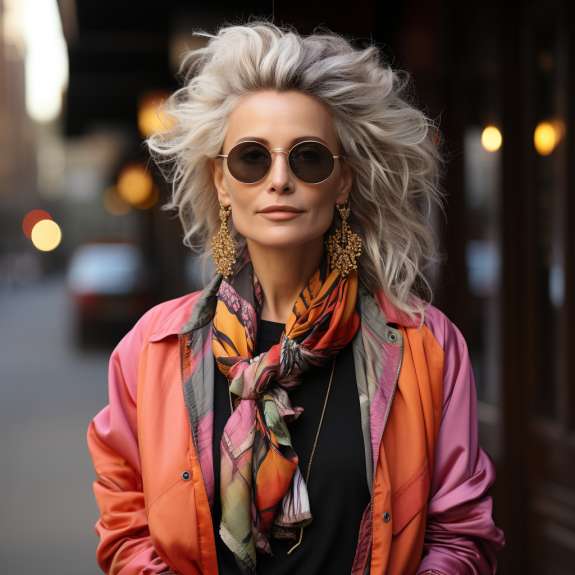 Express your personality boldly with a graphic tee layered under a statement jacket. Whether it's a vibrant bomber jacket, a chic military-inspired coat, or an artistic kimono, the combination with jeans creates an eclectic look that embodies the spirited nature of women over 50. Pair with ankle boots for a finishing touch.
12. Effortless Wrap Blouse Outfit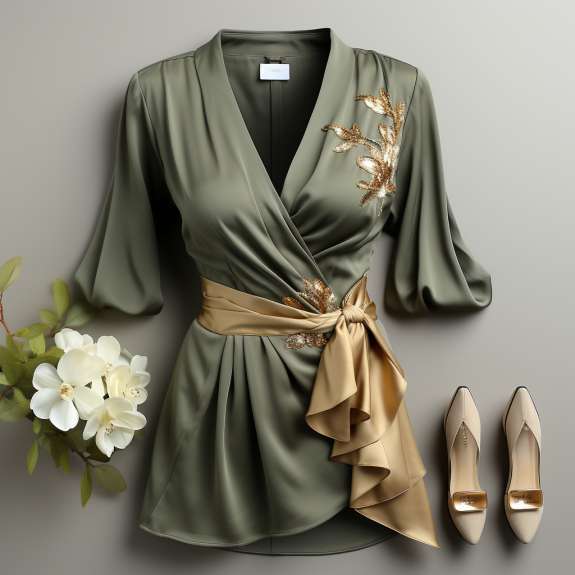 Opt for a wrap blouse in a flattering color or pattern. This silhouette works wonders in enhancing your curves. Pair it with jeans and heeled sandals for a feminine and stylish ensemble.
13. Sophisticated High-Neck Sweater Look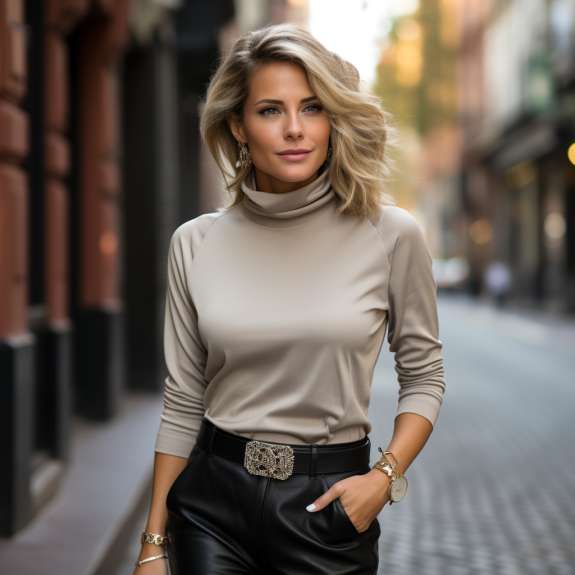 Select a high-neck sweater in a luxurious fabric such as cashmere to elevate your style quotient. Tuck it into your jeans and cinch your waist with a sleek belt for a polished and sophisticated appearance that resonates with the elegance of women over 50. Perfect for a casual dinner or night out.
14. Casual Everyday Denim Jumpsuit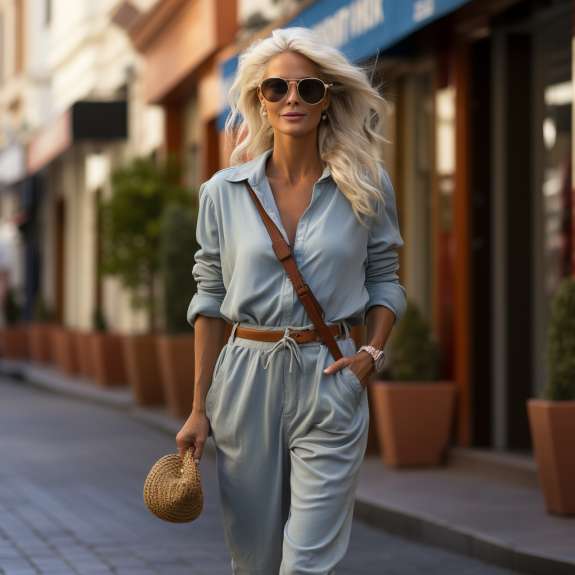 Embrace the ease of a denim jumpsuit for your daily adventures. Cinch it at the waist with a stylish belt and roll up the cuffs for a relaxed vibe that complements the spirited nature of women over 50. Complete the look with white sneakers or comfortable espadrilles.
15. Glamorous Sequin Top and Jeans Combo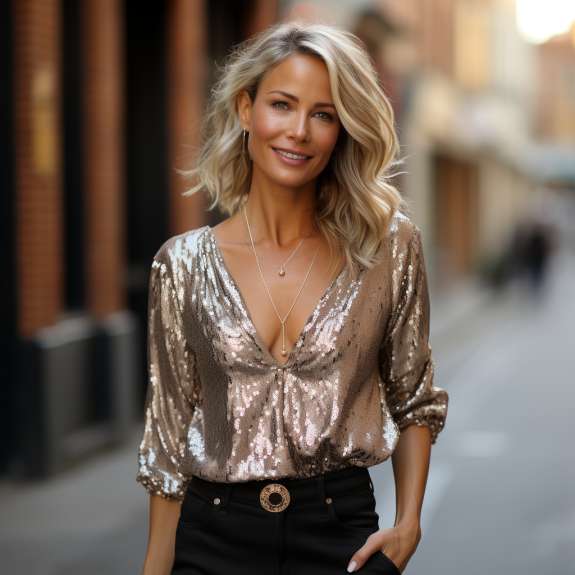 For those special occasions, opt for a sequin-adorned top paired with jeans. The juxtaposition of casual denim and sparkling sequins creates a captivating contrast. Add heels and a clutch to complete the glamorous ensemble.
FAQs
Can I still wear skinny jeans after 50?
Absolutely! Skinny jeans can be flattering and stylish, especially when paired with a flowy tunic or a long cardigan. Just ensure they have a comfortable stretch and a higher rise for a chic look.
What's the best way to add a pop of color to my jeans outfit?
A great way to add a pop of color is through accessories like vibrant scarves, statement jewelry, or even colorful handbags. These touches bring life to your denim ensemble.
Can I wear distressed jeans elegantly after 50?
Certainly! Opt for subtle distressing and pair them with sophisticated pieces like a tailored blazer or a classic button-down shirt. The key is to balance the edginess of the jeans with more polished elements.
How to style flare jeans over 50?
To style flare jeans if you're over 50, choose a modern fit with a slight flare. Opt for darker washes for a polished look. Pair them with classic tops like button-down shirts and heels for an elegant touch. Tuck in your top for a neat appearance and consider minimal accessories to maintain sophistication.
Can a woman over 50 wear ripped jeans?
Yes, women over 50 can wear ripped jeans. Aim for subtle distressing and high-quality denim. Pair them with elevated pieces like blazers or silk blouses. Darker washes are more mature. Remember to balance the edgy ripped look with refined elements for a stylish outcome.
Source:
https://www.aarp.org/entertainment/style-trends/info-09-2013/style-guide-for-women-over-50.html#:~:text=Style%20Smarts&text=Keep%20your%20skirt%20and%20dress,low%20don't%20flatter%20anyone.
https://www.gransnet.com/life-and-style/what-not-to-wear-if-youre-over-50