What Are Cargo Jeans and How To Style With Them?
Cargo jeans are a stylish and functional option for those looking for something different in their denim wardrobe. Unlike traditional jeans, cargo pants have large pockets on the sides, which can be perfect for storing your essentials when you're on the go. They come in a variety of styles and colors, so you're sure to find a pair that fits your personality and style. Plus, they're super comfortable and versatile, which means you'll get good use out of them for years to come. Read our recent post What Are Colombian Jeans?
This blog post will discuss "what are cargo jeans and how to style with them?"
What Are Cargo Jeans?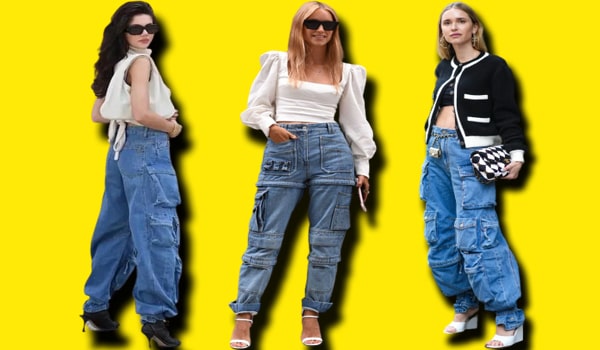 Cargo Jeans are a type of jeans that come with large pockets on the sides of the legs. These were first introduced in the military, as the soldiers needed a place to store their essential supplies while on duty. However, they soon became popular among civilians as well, as people began to see the utility of having extra storage space in their jeans. Cargo jeans are now available in a variety of styles, from relaxed-fit to skinny-fit, and they can be found in a wide range of colors and wash treatments. You can call it the Denim Version of Cargo Pants.
Cargo Jeans is the Denim version of Cargo Pants.
Difference Between Cargo And Carpenter Jeans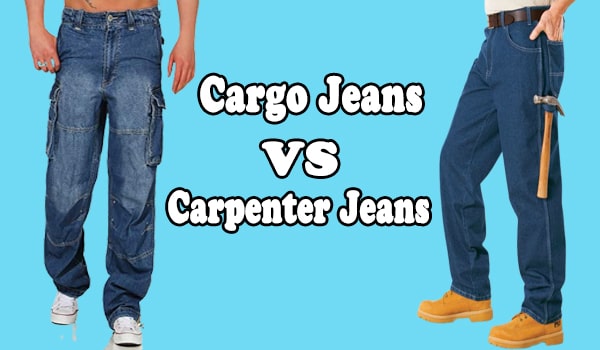 When it comes to denim, there are many different jeans to choose from. Cargo jeans and carpenter jeans are two popular options, but they have distinct differences. Cargo jeans are pants that first gained popularity among the military. These jeans have many pockets, which are perfect for storing tools and other equipment.
Carpenter jeans are a type of workwear that is a durable option for those who need heavy-duty jeans. They often have reinforced panels in high-stress areas, such as the knees, and may also feature utility loops or pockets. While cargo and carpenter jeans are durable and versatile, the purpose of the first product is different than the second.
Cargo jeans are ideal for everyday wear, while carpenter jeans are best suited for work or other heavy lifting or strenuous activities. When choosing between cargo and carpenter jeans, you must consider the activity you'll be doing in them and your personal preferences.
Carpenter jeans have loops and Cargo Jeans have no loops.
How To Style Cargo Jeans?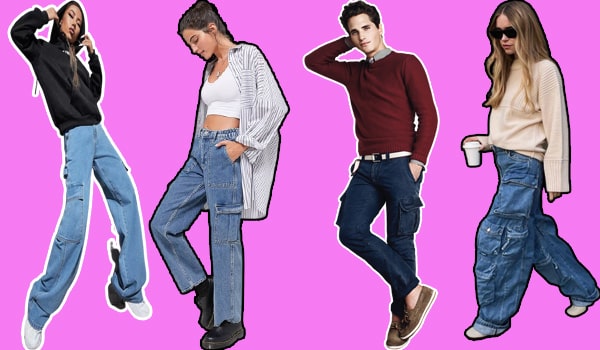 Cargo jeans are popular denim pants with large, oversized pockets on the thighs. While they may seem like a complex style to style, there are many ways to wear cargo jeans and look great. Here will discuss how to style cargo jeans differently.
1. Pair Cargo Jeans With a Tee Shirt and Sneakers
Cargo jeans are an excellent choice for a casual look. You can pair it with a tee shirt and sneakers for a relaxed, comfortable look. When choosing a tee shirt, opt for a neutral color that will go well with the jeans. For sneakers, white or black are always good choices.
2. Wear Cargo Jeans With a Button-Down Shirt and Loafers
Cargo jeans are a great way to add a bit of utility to your look without sacrificing style. First, opt for a button-down style in a complementary color when picking out a shirt to wear with your cargo. Then, pair your cargo with a button-down and loafers for a more polished look.
3. Cargo Jeans With a Sweater or Hoodie
Cargo jeans are a great way to get a monochromatic look. Pair them with a sweater or hoodie in the same color for a stylish outfit. This look is perfect for a casual day out or running errands. You can also dress it up with some accessories for a night out.
4. Wear Cargo Jeans With a Flannel Shirt and Boots
If you're looking for a more rugged aesthetic, pair your cargo jeans with a flannel shirt and boots. This look is perfect for casual days spent outdoors or running. The key to nailing this style is in the details; make sure your flannel is well-fitting, and your boots are clean and polished. Finally, top off the ensemble with a leather jacket for an added touch of edge.
5. Layer a Denim Shirt or Hoodie Over Cargo Jeans
Layer a denim shirt or hoodie over cargo jeans for a relaxed look. The key is to keep the proportions balanced – don't go too baggy or too fitted. And don't forget to accessorize with a great pair of sunglasses and some jewelry.
6. Pair Cargo Jeans With a Dress Shirt and Dress Shoes
Cargo jeans are a great choice for a more formal look. First, pair them with a dress shirt and shoes for a put-together ensemble. This look is perfect for a casual office or a night out. Next, dress your cargo jeans in a blazer or cardigan for a more polished look.
Are Cargo Pants The Same As Cargo Jeans?
Cargo pants and cargo jeans are both types of trousers that feature large pockets. Cargo pants are usually made from a cotton twill fabric, while cargo jeans are typically made from denim. Both styles of trousers are designed for utility, and both can be styled for a variety of looks. Cargo pants are typically more casual than cargo jeans, but either style can be dressed up or down.
Conclusion
Cargo jeans are a type of jeans that have extra pockets on the legs. The relaxed fit and comfortable fabric of jeans make them ideal for casual wear, and you can also wear them in various settings. While cargo jeans used to be popular among men, they have become increasingly popular among women in recent years. In addition, cargo jeans have been a popular choice among celebrities and fashion bloggers, which has helped to increase their popularity. So if you're looking for a comfortable and stylish pair of jeans, consider trying out a couple of cargo jeans.