Are Guess Jeans Good Quality? Denim Expert Opinion
Greetings, fellow denim enthusiasts! If you're as passionate about jeans as I am, you've likely pondered the question: "Are Guess Jeans truly good quality?" With over five years of dedicated experience wearing Guess Jeans, I'm here to offer you a comprehensive and expert analysis of these iconic denim creations. Read Our Recent post-: Are Buffalo Jeans Popular?
History of Guess Jeans
Let's embark on a journey through time to explore the captivating history of Guess Jeans. These legendary denim products made their dazzling debut in 1981, courtesy of the visionary Marciano brothers.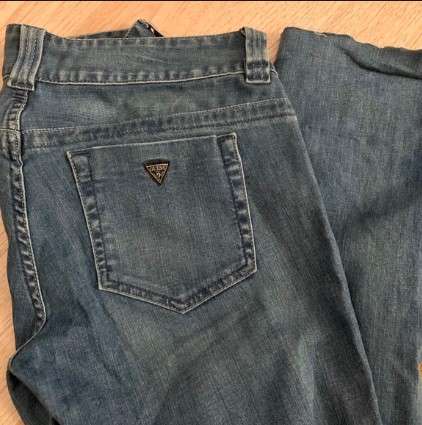 Their revolutionary approach to denim not only transformed it into a fabric but elevated it into a profound fashion statement. Guess Jeans became synonymous with youth, sensuality, and the laid-back allure of California.
What Types of Jeans Does Guess Make? Their Most Popular Varieties
Guess has delighted denim aficionados with a diverse array of jeans over the years. From classic bootcut designs to the trendy allure of skinny jeans, Guess has curated a comprehensive collection. Let's delve deeper into some of their most sought-after varieties: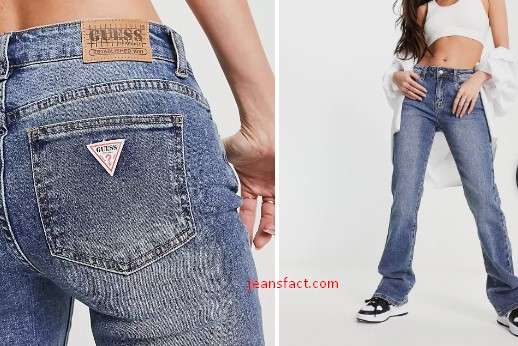 1. Skinny Jeans: These sleek and modern jeans are perfect for those seeking a contemporary look.
2. Bootcut Jeans: An evergreen style that complements many body types, making it a perennial favorite.
3. High-Waisted Jeans: Ideal for achieving that vintage-inspired silhouette and showcasing your curves.
4. Distressed Jeans: These distressed jeans are a must-have in your wardrobe if you like the rugged, worn-in vibe.
Materials Used in Crafting Guess Jeans
Guess jeans are made from a variety of materials, including:
Cotton: Cotton is the most common material used in jeans. It is a natural fiber that is soft, comfortable, and durable.
Stretch fabric is often added to cotton jeans for a more comfortable, form-fitting fit. It is made from synthetic fibers, such as Lycra or Spandex.
Denim: Denim is a type of cotton fabric that is woven in a specific way to give it a unique look and feel. It is typically made from indigo-dyed cotton yarns.
Other materials: Some Guess jeans may also contain other materials, such as polyester, wool, or leather.
Read Also:
Can You Wash Coated Jeans?
Are Bling Jeans Out of Style?
The Intricate Manufacturing Process of Guess Jeans
The manufacturing process of Guess jeans varies depending on the style and wash, but it typically involves the following steps: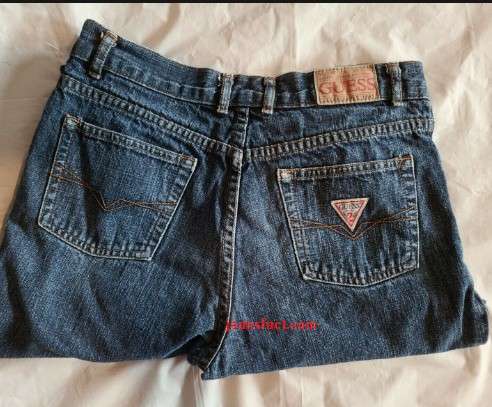 Fabric production: The first step is to produce the fabric for the jeans. This is done by spinning cotton yarns into thread and then weaving the threads into fabric.
Cutting: The fabric is then cut into the desired shapes for the jeans. This is done using a variety of machinery, including laser cutters and waterjet cutters.
Sewing: The pieces of fabric are then sewn together to create the jeans. This is done using a variety of sewing machines, including industrial sewing machines and overlock machines.
Washing and distressing: The jeans are then washed and distressed to give them their desired look. This can be done using various methods, including sandblasting, acid, and stone.
Inspection: The jeans are then inspected for quality. This is done by a team of inspectors who check for defects in the fabric, stitching, and wash.
Packaging: The jeans are then packaged and shipped to stores.
Guess Jeans Sizing Guide
One of the pivotal determinants of jeans' quality is how they fit. Guess understands this crucial factor and offers a myriad of fits to cater to diverse body shapes. Whether you prefer a relaxed, loose fit or a snug, body-hugging one, Guess Jeans has you covered.
Here is a table of the Guess jeans sizing:
| Size | Waist | Hips | Inseam |
| --- | --- | --- | --- |
| 00 | 23.5″ | 32″ | 28″ |
| 0 | 24.5″ | 33″ | 29″ |
| 2 | 25.5″ | 34″ | 30″ |
| 4 | 26.5″ | 35″ | 31″ |
| 6 | 27.5″ | 36″ | 32″ |
| 8 | 28.5″ | 37″ | 33″ |
| 10 | 29.5″ | 38″ | 34″ |
| 12 | 30.5″ | 39″ | 35″ |
| 14 | 31.5″ | 40″ | 36″ |
| 16 | 32.5″ | 41″ | 37″ |
Customer Reviews and Ratings
Here are some customer reviews and ratings of Guess jeans: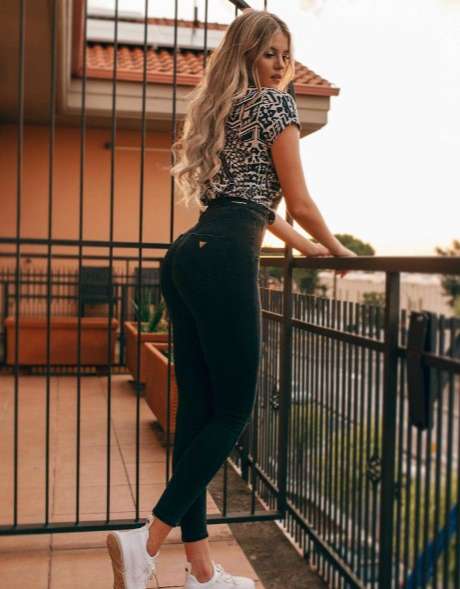 Positive reviews:

"These jeans are so comfortable and flattering. I love the stretchy fabric and the way they hug my curves."
"I've had these jeans for a few years, and they're still going strong. They're well-made and held up well to wear and tear."
"I love the selection of styles that Guess offers. I can always find a pair of jeans that I love, and that fit me perfectly."

Negative reviews:

"I found these jeans to be too tight and uncomfortable."
"The fabric quality was not as good as I expected."
"I had to return these jeans because they were too big."
Are Guess Jeans Good Quality? My Personal Verdict
Are Guess Jeans genuinely good quality? Drawing from my extensive personal experience, I can emphatically affirm that they are. Over the years, Guess Jeans have seamlessly integrated themselves into my wardrobe, consistently proving their mettle. These jeans retain their shape and color and do so gracefully, even after enduring numerous wash cycles.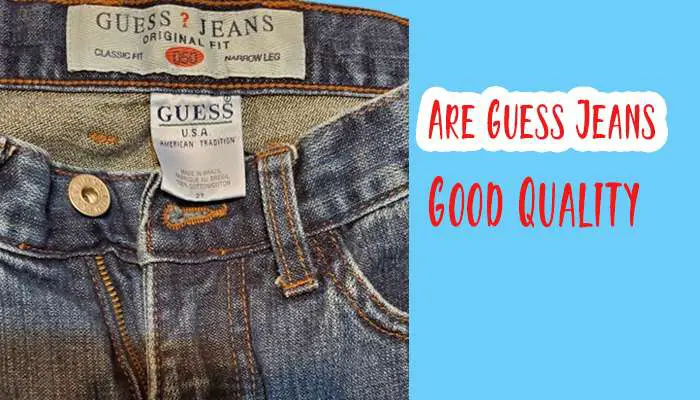 Guess Jeans offer a harmonious blend of style and durability that is genuinely hard to match. They are perfectly suited for everyday wear, and their trendsetting designs ensure you're always at the forefront of fashion. Their meticulous attention to detail in their craftsmanship further distinguishes them from the crowd.
Celebrity Endorsements and Collaborations
Guess Jeans have captured the hearts of fashion aficionados and piqued the interest of numerous celebrities. Here's an illustrious list of some notable figures who have either endorsed or collaborated with Guess:
Anna Nicole Smith: The unforgettable Guess Girl from the early '90s, whose magnetic charm graced numerous campaigns.
Claudia Schiffer: Renowned for her captivating Guess campaigns, her elegance remains etched in Guess Jean's history.
Kate Upton: A more recent addition to the pantheon of Guess spokesmodels, she brings a modern allure to the brand.
A$AP Rocky: The celebrated rapper and fashion icon collaborated with Guess, creating a stylish and highly sought-after collection.
Comparing Guess Jeans to Levi's and American Eagle
Let's compare it with other esteemed denim brands, Levi's and American Eagle, to give you a more comprehensive assessment of Guess Jeans' quality.
| Feature | Guess | Levi's | American Eagle |
| --- | --- | --- | --- |
| Price | Typically more expensive | Typically less expensive | Typically more affordable |
| Materials | Made from high-quality materials, such as cotton and denim | Made from high-quality materials, such as cotton and denim | Made from a variety of materials, including cotton, denim, and stretch fabric |
| Construction | Well-made | Well-made | Well-made |
| Style | Variety of styles to suit different tastes | Variety of styles to suit different tastes | Variety of styles to suit different tastes |
| Durability | Durable | Durable | Durable |
| Comfort | Comfortable | Comfortable | Comfortable |
| Popularity | Popular brand | Popular brand | Popular brand |
Frequently Asked Questions (FAQs)
Why are Guess Jeans priced lower compared to some other brands?
Guess Jeans are known for their relatively affordable pricing compared to some luxury denim brands. The reason behind this lies in Guess's mission to make stylish and high-quality denim accessible to a broader audience. They have successfully balanced quality and affordability, democratizing fashion for many.
Are Guess jeans true to size?
Yes, Guess jeans are known for their accurate sizing. However, referring to the brand's sizing chart for precise measurements is always advisable.
How do I care for my Guess jeans to maintain their quality?
To ensure the longevity of your Guess jeans, it's best to wash them inside out in cold water and avoid excessive heat when drying. This helps preserve the color and fabric quality.
Are Guess jeans worth the price?
Yes, Guess jeans are a worthwhile investment due to their durability, style, and reputation. Many customers find that they get excellent value for their money.
Can Guess jeans be tailored for a custom fit?
Yes, a professional can tailor Guess jeans to achieve a custom fit if needed. However, most individuals find that Guess offers a wide range of fits to choose from.
Do Guess jeans fade over time?
Like all denim, Guess jeans may experience some fading over time, especially with frequent washing. However, their high-quality denim is designed to retain its color and quality for an extended period.
Conclusion
Guess Jeans boasts a rich history, meticulous craftsmanship, premium materials, and a comprehensive range of fits and styles. From my extensive personal experience, I can confidently affirm that they indeed exemplify good quality.
These jeans have consistently proven their resilience in my wardrobe, maintaining their shape, color, and allure even after countless wash cycles.
Source:
https://www.guessfactory.com/us/en/women/apparel/jeans-and-denim/view-all/
https://www.guess.com/us/en/home/