How to Wear Capri Pants: A Complete Guide to Stylish and Versatile Outfits
If you're looking for style inspiration, capri pants are a must-have item in your wardrobe this season. Whether you prefer casual, everyday wear, or classic sophistication – the right pair of capri pants will provide you with the versatility you need to nail numerous different looks. With the right styling, you'll soon have a wardrobe with choices for wearing capri pants. Here are 13 chic outfit ideas to get you started!
Choosing the Perfect Capri Pants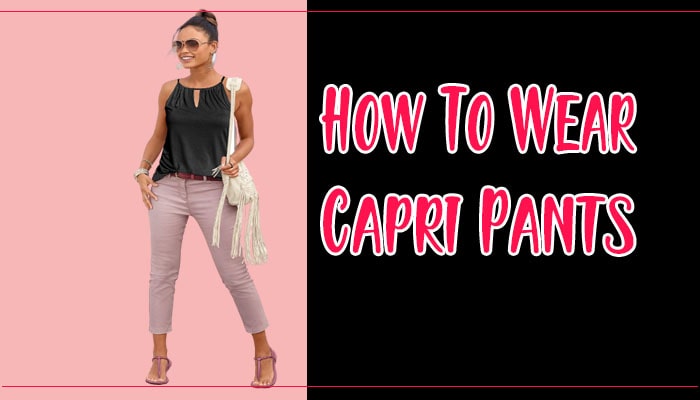 It's important to pick the perfect Capri pants to spice up any wardrobe. A few capri pants fashion tips will help you look fabulous. Here are four simple tips to help you choose the perfect pair:
Select a style that complements your body shape for a more appealing appearance. 
A scarf or statement belt can style up even the simplest of capri pants.
Show off your style with a bold pattern or bright color.
Add layers like a cropped jacket or tank to bring your look together. 
How To Wear Capri Pants?
Fashion trends come and go, but capri pants have been a mainstay in my wardrobe for years. As a long-time fan of evergreen and classic fashion styles, I always look for new and creative ways to style capri pants without buying too many new pieces. In this blog post, I'll share my top-styling capri pants tips on rocking your capri pants with effortless panache.
1. Tops for Capri Pants
For those who are unsure how to style their capri pants, I'm here to help! Here are a few ideas for pairing tops with capri pants to make you look stylish.
Blouses and shirts: classic options for a polished look
T-shirts and tank tops: casual and comfortable pairings
Tunics and oversized tops: creating a trendy and relaxed vibe
2. Layering and Outerwear
Layering and outerwear are important to stay warm and stylish during this chilly season. Here are some tips on how to layer and what outerwear to choose to get the most out of your capri pants.
Blazers and jackets: adding sophistication to Capri pants
Cardigans and sweaters: achieving a cozy yet chic style
Vests and waistcoats: an edgy and fashion-forward choice
3. Choosing Footwear
Capri pants are the perfect choice for warm days! But when it comes to the right pair of footwear to complete the look, you want to make sure that you make the right decision. So here are some of my favorite shoes to wear with capri pants:
Flats and sandals: effortless elegance for a casual look
Heels and wedges: elevating Capri pants for formal occasions
Sneakers and trainers: sporty and stylish combinations
Outfit ideas With Capri Pants
Summertime often requires lighter fabrics and stylish silhouettes. With that in mind, capri pants are a must-have item in my wardrobe. These shoes are comfortable and versatile, making them suitable for different occasions. So, if you're looking for fun, flirty, fashionable capri pants outfit ideas, you've come to the right place. Here are 13 outfit ideas with capri pants:
1. White Dress Shirt With Capri Pants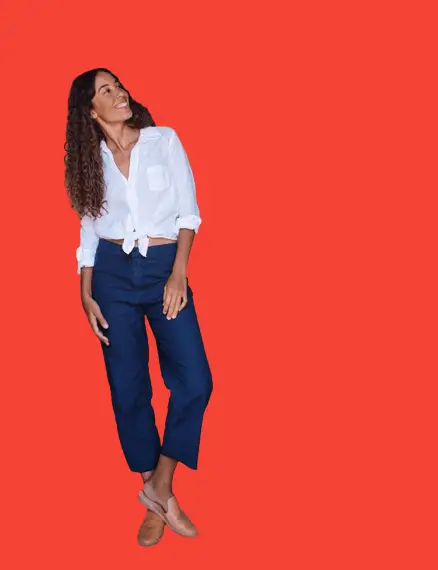 I recently decided to start incorporating capri pants into my wardrobe, and I realized I love how they look with a white dress shirt! I love the white shirt's crisp look and how it gives a polished look to the capri pants but still makes the overall outfit feel more casual and relaxed. Adding color to an outfit is easy without going all-in on a head-to-toe statement look.
2. Blue Denim Jacket With Capri Pants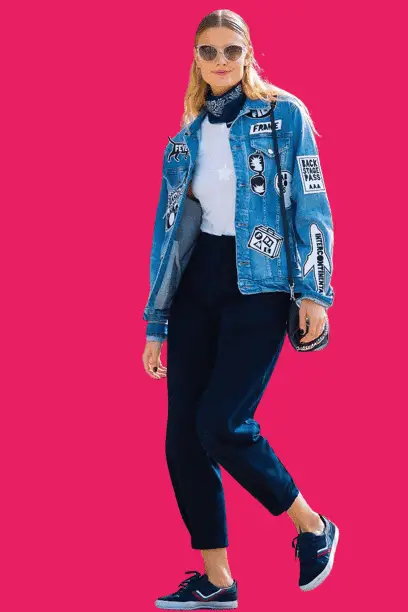 One of my favorite combinations is pairing capri pants with a blue denim jacket. The juxtaposition of the casual denim with the slightly dressier capri pants creates a perfect balance. The blue denim jacket adds a laid-back coolness to the outfit, while the capri pants give it a polished and sophisticated vibe. I love how versatile this look is – it's perfect for a casual day out or even for a semi-formal occasion when paired with the right accessories. So, if you're wondering how to wear capri pants, try them with a blue denim jacket and see how effortlessly stylish you can look!
3. Leather Jacket With Capri Pants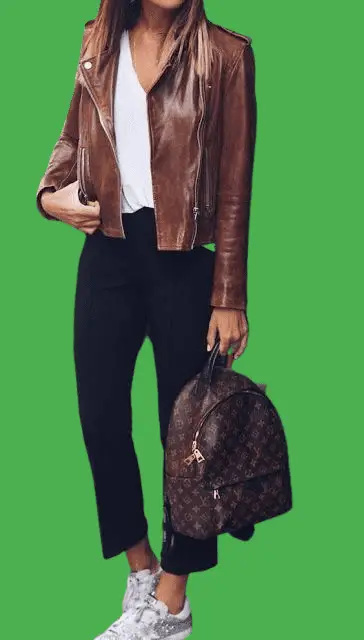 If you want a bold and edgy look, try capri pants with a leather jacket. This combination is perfect for adding that extra something to all your outfits. The leather jacket instantly looks sleek and stylish appeal, while the capris provide a nice contrast to the tough leather. In addition, a leather jacket and capri pants can give you an ultra-cool going-out-ready vibe when accessorized correctly. So, consider making a fashion statement for your next outing with this stylish pair!
4. White Tee With Capri Pants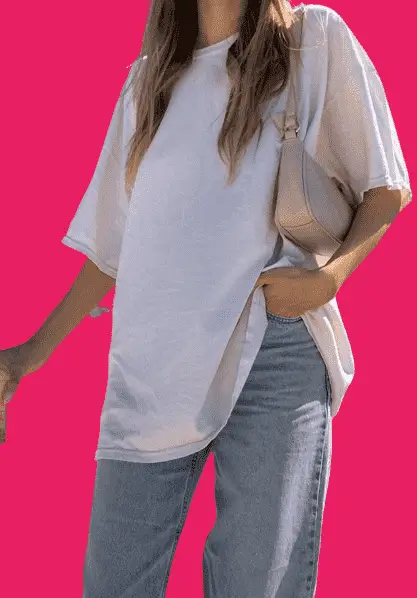 Nothing beats a white tee with capri pants for a classic summertime look. This timeless combo is perfect for a day out shopping or just lazing around at home. The white tee's light and airy look complements the capris perfectly, giving off a relaxed and casual vibe. In addition, this classic and modern style allows you to customize it with various accessories to express your individuality. So, look no further than this classic white tee and capri shirt combo!
5. Crew-neck Sweater With Capri Pants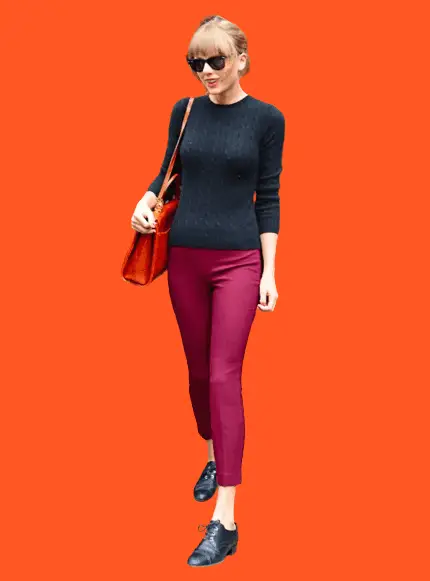 The perfect opportunity arises to show off my favorite pairing–crew-neck sweaters and capri pants. This combination creates a chic yet casual look. The snug crew-neck sweater works perfectly with the capris to establish a flattering silhouette, making them the perfect outfit for a night out with friends. By changing up the accessories, a variety of looks can be achieved. Pair flat sandals that can complete the ensemble; for a dressier version, classic heels can be used to elevate the look.
6. Blazer With Capri Pants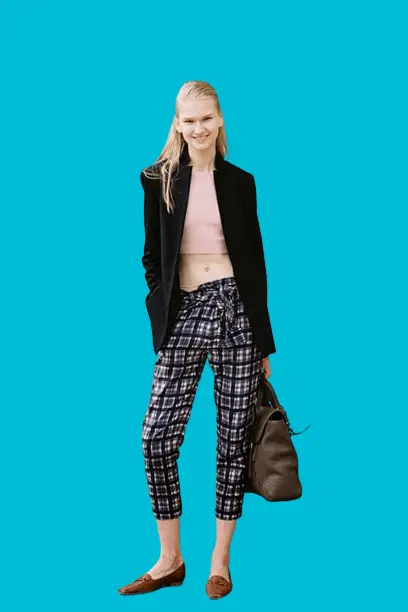 Blazers and capri pants are the perfect balance of professional and stylish; this look exudes confidence and is one of the most comfortable and flattering options for the warmer months. The versatility of this combo makes it easy to wear for virtually any occasion, from level-headed meetings with colleagues to breezy brunches with friends. It's all in the details – try sticking to bright, saturated colors to stand out. Trust me; you won't regret it!
7. Camel Coat With Capri Pants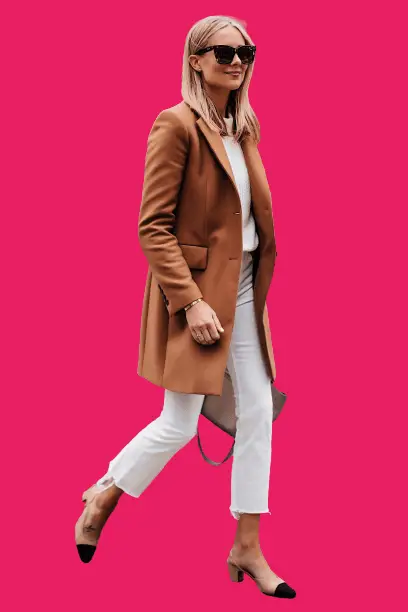 I've always thought combining a camel coat with capri pants was a great way to get a polished, refined look. This is a timeless pairing that remains popular. I like to pair my camel coat with white capri pants, as the combination provides a sharp contrast that makes the look stand out. To fully accessorize your outfit, complement it with a stylish pair of loafers or heeled sandals, and remember to enhance your look with some glamour by adding statement earrings. You can wear this Capri pants outfit idea in winter.
8. Fur Collar Coat With Capri Pants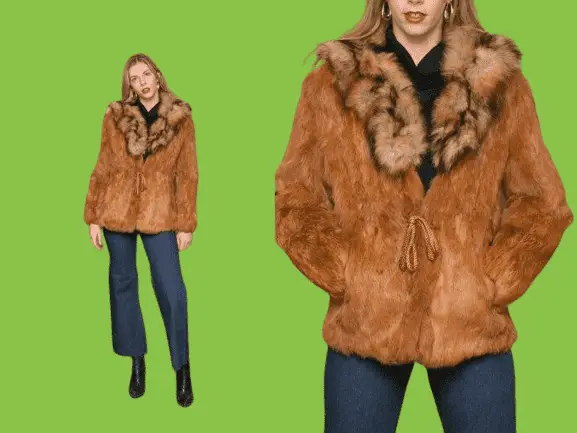 My go-to looks this season is pairing a fur collar coat with capri pants. The thick fabric and furry collar are perfect for layering and making a statement. Capri pants go great with boots, sneakers, and sandals, so they instantly upgrade your outfit for any occasion. You can achieve a trendy and stylish look with the right accessories.
9. Cable Sweater With Capri Pants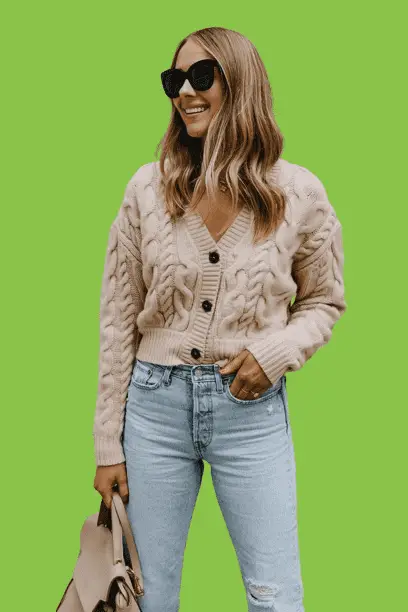 Creating a modern and stylish look doesn't have to be complicated. I love this look from the combination of a classic cable-knit sweater with capri pants. The warm chestnut tones of the knit bring texture and sophistication and pair beautifully with a good quality pair of denim capris. This look can be effortlessly completed and worn in various settings with minor accessories and footwear.
10. Bomber Jacket With Capri Pants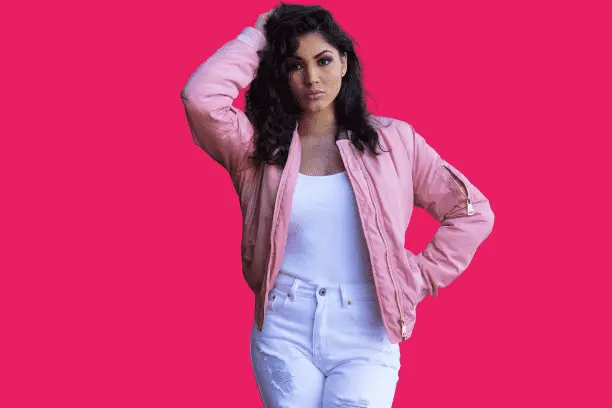 Bomber jackets with capri pants offer a stylish and versatile look for those who like to experiment with their style. I love pairing my well-fitted bomber jacket with capri pants – the shortened length is a great way to break up the décor in an outfit. Plus, I love the look of having a pizzazz of leather and the straight edge of the fabric from the cropped jeans. It's a style choice that never fails to leave me feeling fabulous.
11. Cropped Top With Capri Pants
Being a fan of comfort, I love to pair a flattering cropped top with my favorite capri pants. This look gives me the right coverage while staying cool during the warm summer. It's simple and chic and easily adaptable; I can pair it with cute sandals for more of a classic look or jazz it up with statement jewelry for a night out. No matter what I choose, I will feel stylish and comfortable.
12. Sleeveless Top With Capri Pants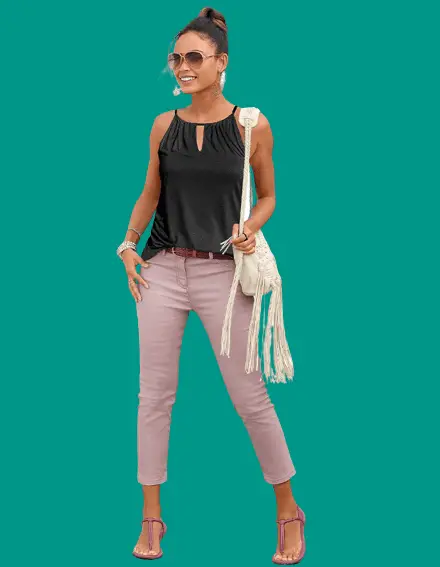 This look is a perfect staple for casual summer days and can be versatile for any occasion. Pairing these two together offers the right balance to show off your womanly curves while still being chic and fashionable. In addition, going for this combination can bring out your individuality. Whether dressing it up with heels for a dinner date or keeping it casual with sneakers and sandals, it's a surefire way to put a unique spin on your wardrobe.
13. Biker Jacket With Capri Pants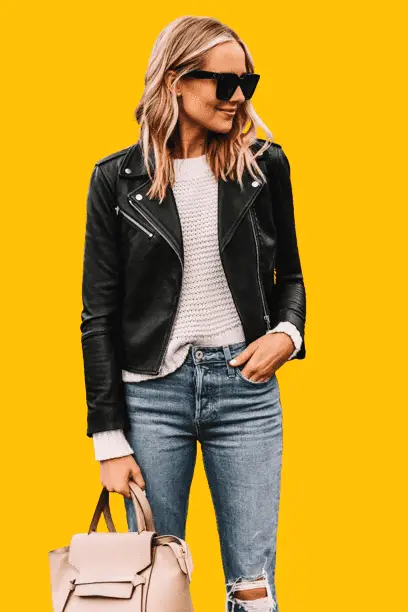 Taking the classic style to the streets, I love this look of pairing a biker jacket with capri pants. The cropped length of the capris gives off a relaxed yet fierce edge that is perfect for my fashion-forward style. It gives me the confidence to own the day. It's a simple outfit choice that I can change in many ways depending on my mood.
FAQ
How far below the knee should capris be?
The ideal length for capri pants is between your calf and ankle. This length will provide an optimal balance between structure and comfort. Not too long to look baggy or too short to look inappropriate. When wearing capri pants, remember to accessorize them to complete your look!
Can all body types wear capri pants?
Yes, capri pants can be worn by all body types. Choosing the right style and fit is the key to wearing them in a way that compliments your body shape. Start by selecting materials that look good on you; for example, breathable fabrics look good on muscular or athletic frames, while curvier frames may look better in stretchy materials. Next, pair a style that fits your shape with tops that add balance. Remember, capri pants can be worn to suit any occasion.
Can you wear heels with capris?
Yes, you can wear heels with capris! I recommend opting for block heels for the most flattering look. Remember that the right block heel can be chic and comfortable! You can also try out heeled sandals or mules for an edgy look. Make sure your capris are tailored and fitted to prevent awkward bunching. Experiment pairing your favorite heels and capris to create the perfect fashionable summer look!
Conclusion
This guide has given you some helpful tips on how to wear capri pants. From finding the right length and fit to pair it with the right shoes and accessories, you can confidently rock your capri pants with various looks. Feel free to try different colors and patterns to develop a distinctive style showcasing your personality!