What Shoes To Wear With Cropped Jeans? 13 Outfit Ideas
Cropped jeans are one of the most versatile pieces of clothing in your wardrobe. They can be worn for casual days out, a night on the town, or even for work! But the question is, what shoes should you wear with them? Well, I'm here to answer that question and provide you with 13 different outfit ideas so you can look your best no matter the occasion. So, if you're wondering what shoes to wear with cropped jeans, keep reading for some great outfit ideas! You might like our recent Outfit Ideas With Wide Leg Cropped Jeans post.
What Shoes to Wear With Cropped Jeans?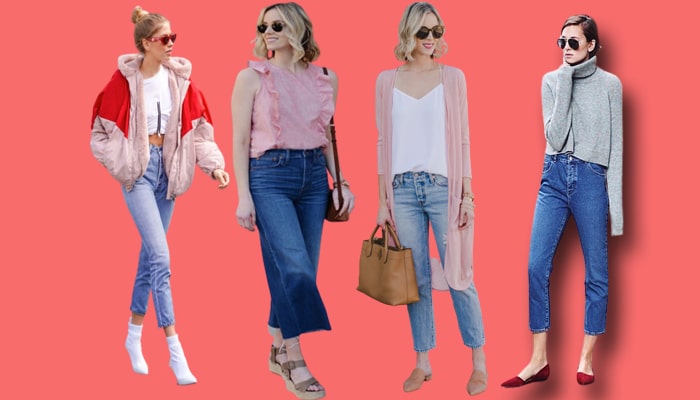 If you're looking for the perfect shoe to pair with your cropped jeans, you've come to the right place! Cropped jeans are a great way to show off your shoes, so choosing the right pair is important. Here are some of my top picks for shoes to wear with cropped jeans: 
Sneakers
Birkenstock
Flat Sandals
Clogs
Mules
Loafers
Boots
Slides
13 Outfit Ideas With Cropped Jeans and Shoes
There are many options for discovering the ideal footwear to accompany cropped jeans. I take great delight in fashioning my cropped jeans with a range of shoe styles to generate diverse ensembles. Here are 13 outfit ideas featuring cropped jeans and shoes:
1. Sneakers With Cropped Jeans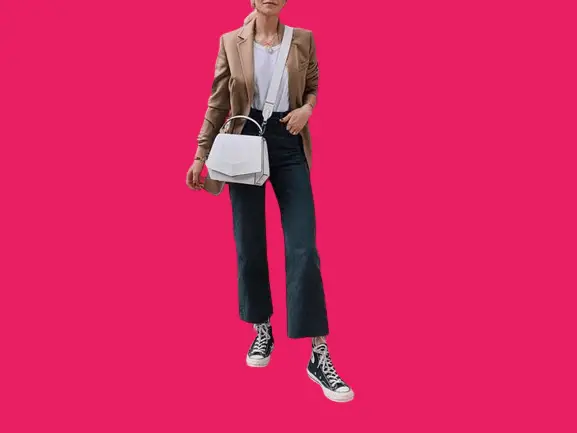 Cropped jeans are the way to show off your new kicks in style. Not only are they comfortable, but they also look great when paired with sneakers. There's something about the combination of cropped jeans and sneakers that works. Whether you're going for a casual look or something more dressed up, a pair of cropped jeans and sneakers will always be a winning combination. So show off your favorite kicks with a pair of cropped jeans!
2. Birkenstock With Cropped Jeans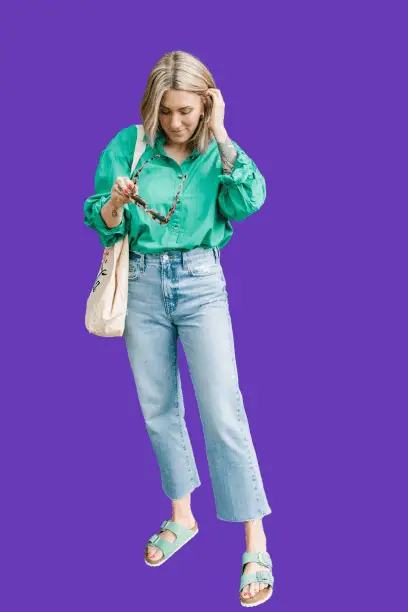 One of my favorite looks for the summer is pairing Birkenstocks with cropped jeans. Combining classic shoes and a modern jeans cut is the perfect way to look effortlessly fashionable. The combination is comfortable and looks great when accessorized with a cute top and some jewelry. Not to mention, it's a great way to stay cool in the summer heat!
3. Flat Sandals With Cropped Jeans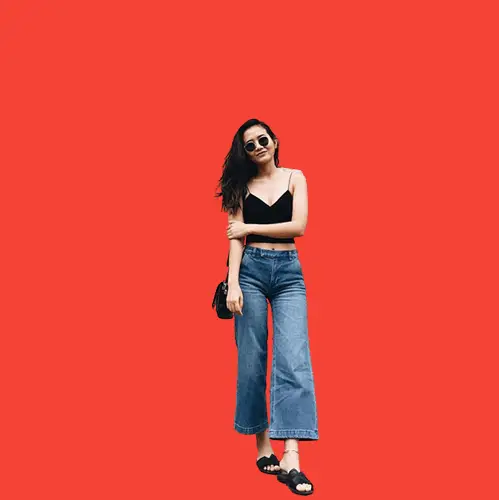 Flat sandals are a great option for choosing shoes with cropped jeans. They are comfortable, stylish and will keep your feet cool and breezy. The flat sandal is perfect for the summer months and is a great way to make a casual look more put together. This look is ideal for a casual day out.
4. Clogs With Cropped Jeans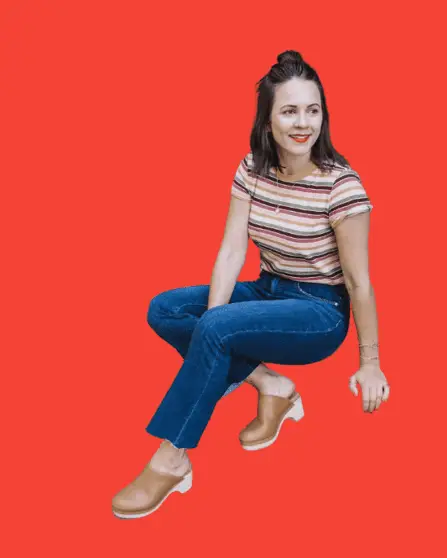 I recently discovered the perfect combination of comfort and style – clogs with cropped jeans! This casual but chic look is ideal for taking a break from traditional sneakers. The low profile of the clogs pairs nicely with the cropped jeans, creating an effortless, laid-back look that's sure to turn heads.
5. Mules With Cropped Jeans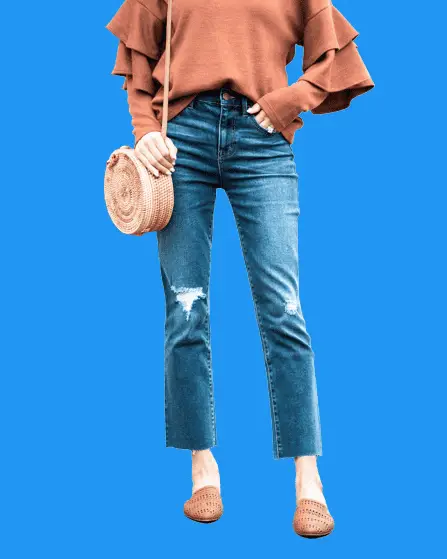 Mules are a great way to take a casual look to the next level. Their elevated heel lengthens and slims the legs, making them ideal for wearing with cropped jeans. Mules will pull the whole outfit together for a chic vibe or a more laid-back look.
6. Loafers With Cropped Jeans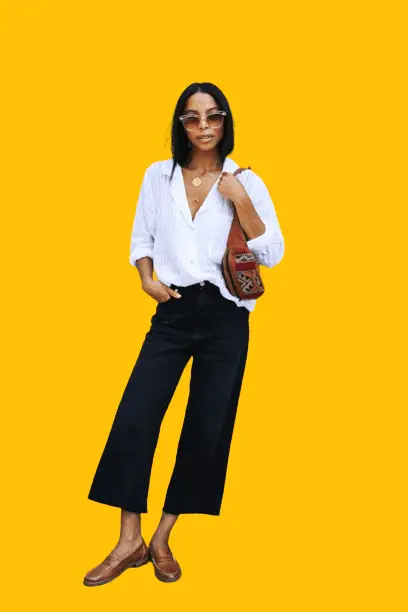 A classic option that always looks chic is loafers. Whether you opt for a sleek leather pair or a more casual suede style, loafers are a great way to pair up your cropped jeans while keeping them simple. With loafers, you can easily pull off a stylish look.
7. Ballet Flats With Cropped Jeans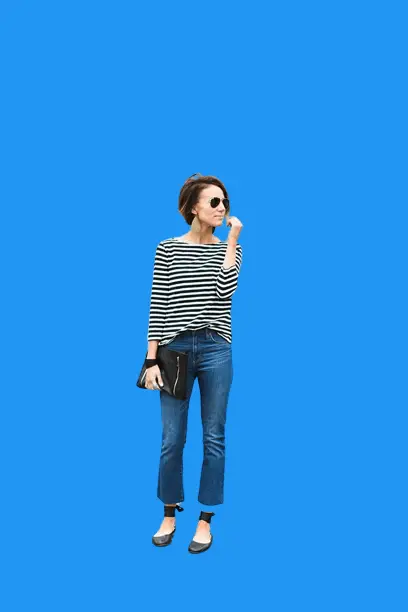 Ballet flats are so versatile and can be worn with virtually anything. For example, they look great with cropped jeans and a T-shirt, or you can style them with a blazer and a statement necklace. You can create a stylish and comfortable look with the right pair of ballet flats.
9. Ankle Boots With Cropped Jeans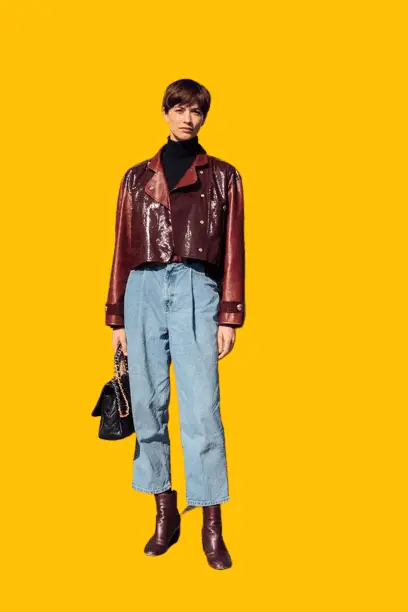 My current go-to is a pair of ankle boots, which look great with cropped jeans. The ankle boots help to elongate my legs and add sophistication to the look. Plus, there are so many styles of ankle boots to choose from, so I can always find the perfect pair for my outfit.
10. Pump With Cropped Jeans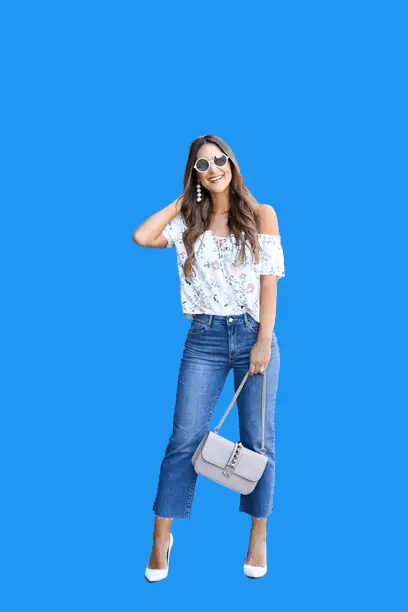 Another great option for cropped jeans is a stylish pump. Whether you go for a classic pointed-toe or a more contemporary, strappy style, pumps are a great way to add a touch of sophistication to any look. The key to making pumps work with cropped jeans is to keep the rest of the look simple, such as a plain white tee or a lightweight sweater. Then, with the right accessories, you can easily create a chic, stylish outfit that can be worn for any occasion.
11. Espadrilles With Cropped Jeans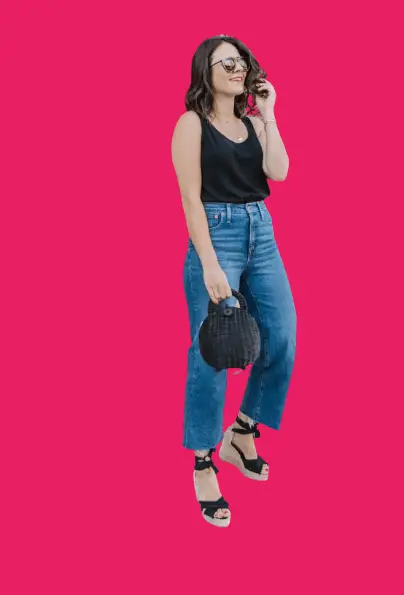 Espadrilles are one of my favorite choices for completing a look. The classic style is perfect for a casual day out, and the soles are comfortable enough for long walks. Plus, the rope detailing adds a unique touch to any outfit. With espadrilles, cropped jeans can easily be transformed from a day look to a night look.
12. Pointy-toe Heels With Cropped Jeans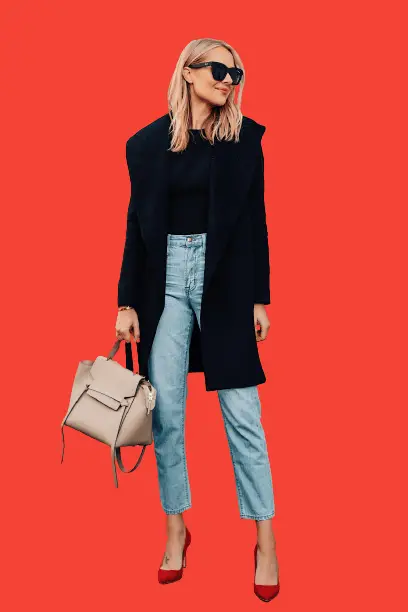 Wearing cropped jeans can be ideal for showing off your favorite shoes. However, I recommend pairing cropped jeans with pointy-toe heels for a classic, timeless look. Pointy-toe heels are a wardrobe staple that can instantly elevate any outfit. Whether you opt for a sleek stiletto or a more casual kitten heel, pointy-toe heels make cropped jeans look polished and put together.
13. Slides With Cropped Jeans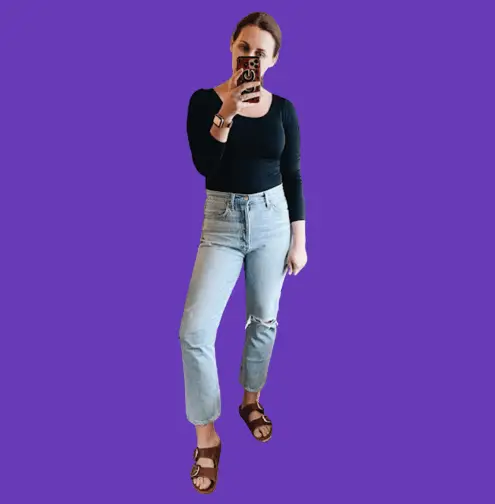 This is my last idea of how to style cropped jeans. Slides, or slip-on sandals, are a great way to add a touch of casual flair to your look. They come in various styles and colors, so you can easily find something that will suit your outfit. They are also incredibly comfortable and instantly make any outfit look cool and effortless. I highly recommend giving them a try! 
Styling Tips for Wearing Shoes and Cropped Jeans
I'm often asked how best to style cropped jeans with shoes. The truth is, there are so many different ways to make this look work! Here are some of my top styling tips for wearing shoes and cropped jeans:
Go for a sleek, streamlined look with classic sneakers. 
Opt for a casual, laid-back look with slip-on loafers. 
Add a touch of sophistication with a pair of low-heeled ankle boots. 
Make a statement with a pair of colorful, patterned flats. 
Conclusion
Having explored thirteen outfit ideas for cropped jeans, I hope you feel ready to design your fashion-forward looks. Whether you prefer a polished or a casual, laid-back one, there's something for everyone. As you can see, the possibilities for shoes with cropped jeans are endless. You'll find the perfect shoe to complete your look, from sneakers to sandals and everything in between. So, get out there and show off your style