8 Perfect Top To Wear With Girlfriend Jeans
Hey, fashionistas! As someone who loves to stay on top of the latest trends, I've recently been crushing on girlfriend jeans. They're the perfect combination of comfort and style, and I love how effortless they look. However, finding the right top to wear with them can be challenging. That's why I'm excited to share with you some of my favorite tops that pair perfectly with girlfriend jeans. Whether you're going for a casual or dressy vibe, these outfit ideas will have you looking and feeling your best. So, let's dive into what tops to wear with girlfriend jeans!
What Top To Wear With Girlfriend Jeans?
Girlfriend jeans are a great way to add a comfortable and stylish touch to any outfit. But what top should you pair with them to complete the look? In this blog post, I'll share my top outfit ideas for styling girlfriend jeans for any occasion.
1. Plain T-shirt with Girlfriend Jeans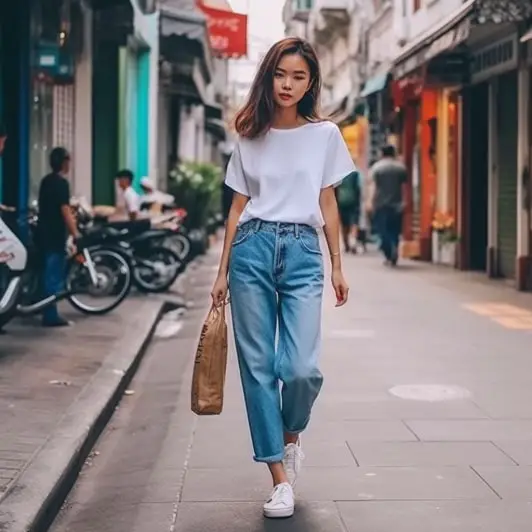 The first outfit idea that comes to mind when considering what to wear with my favorite girlfriend jeans is a plain T-shirt. Nothing beats the classic combination of a simple T-shirt and jeans. It's a timeless, effortless look for casual and dressy occasions. What's great about a plain t-shirt is that you can accessorize it with jewelry, scarves, or a statement belt to add some extra flair. You can go daily tonight with a plain T-shirt without changing your outfit.
2. Shirt with Girlfriend Jeans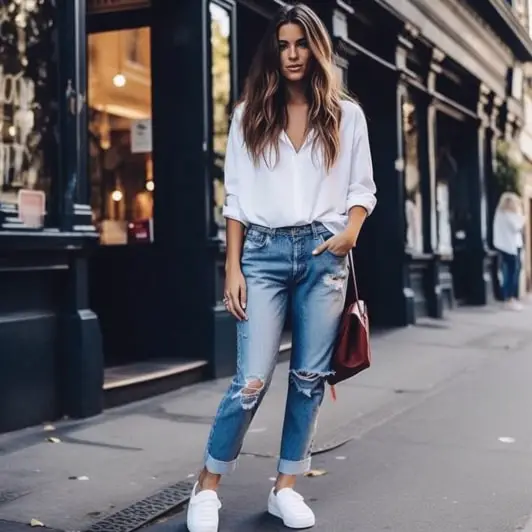 Another great option for styling girlfriend jeans is a classic shirt. Again, there are so many different styles to choose from. A crisp white shirt is timeless, with a statement necklace and heels for a night out. Whether looking for something to wear to the office or a weekend brunch, a shirt is a great way to look fashionable and combine it with your favorite pair of girlfriend jeans.
3. Floral Top with Girlfriend Jeans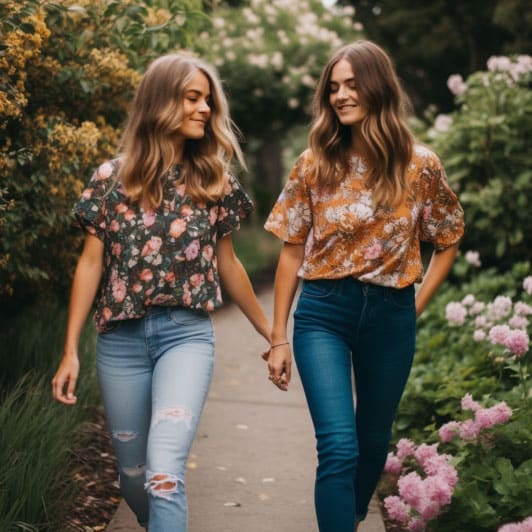 As soon as I saw this combo, I knew it was a match made in fashion heaven! A feminine and flirty floral top with the timeless look of girlfriend jeans. I love completing this outfit with wedges for an elevated look or slipping on tennis shoes for a casual, comfy vibe. It's the perfect way to show off my style no matter the occasion.
4. Sweater with Girlfriend Jeans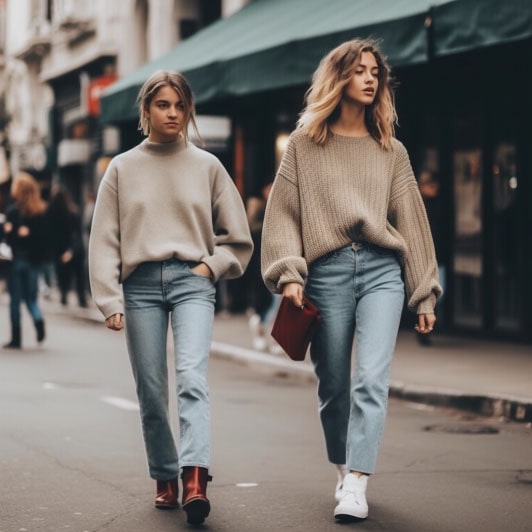 I'm a fan of the girlfriend jeans trend, and a sweater is one of the most versatile pieces to wear with them. Whether you go for a classic crewneck, statement-making turtleneck, or cozy cardigan, sweaters are an easy way to pull together any look instantly. Not only are they comfortable and practical, but they also provide the perfect balance of style and warmth. Best of all, you can easily layer it depending on the weather.
Also Read: How to Wear Girlfriend Jeans in Winter?
5. Flutter Sleeve Top with Girlfriend Jeans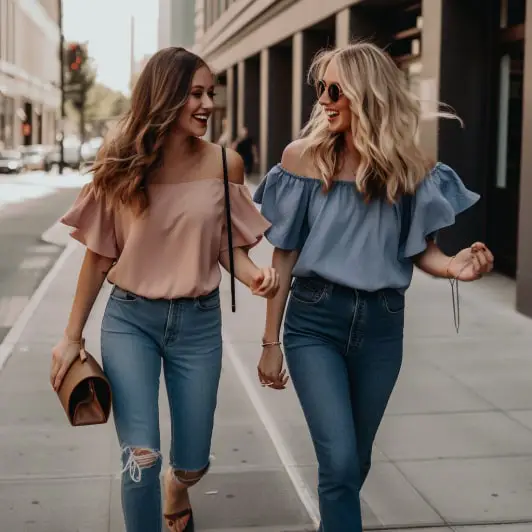 The combination is so effortless and chic, perfect for any occasion. The flutter sleeves perfectly balance femininity and sophistication, while the girlfriend jeans offer a relaxed and casual vibe. I love this look's versatility and how you can easily switch up the accessories and shoes to give it a different feel. Whether heading to brunch or out for a night on the town, this is one of my go-to looks.
6. Striped Tee with Girlfriend Jeans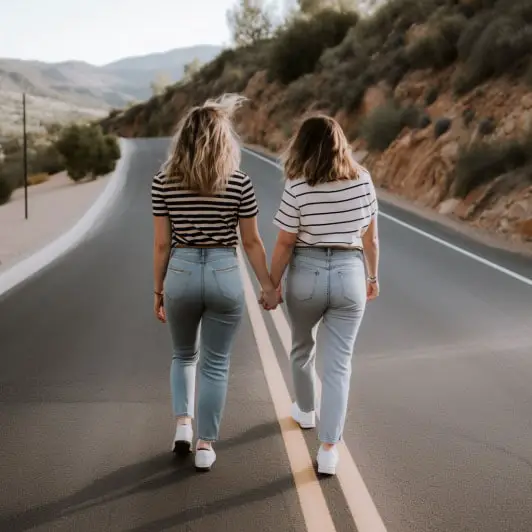 I always wear a classic striped tee and girlfriend jeans combo when looking for something stylish yet comfortable. The relaxed feel of the jeans against the more structured pattern of the tee is the perfect balance of style and comfort. Plus, the neutral colors of the striped tee make it an ideal choice for pairing with any color of jeans. So whether I'm heading out for a casual day or looking for a more elevated look, this combination can be easily styled for any occasion.
7. Graphic Tee with Girlfriend Jeans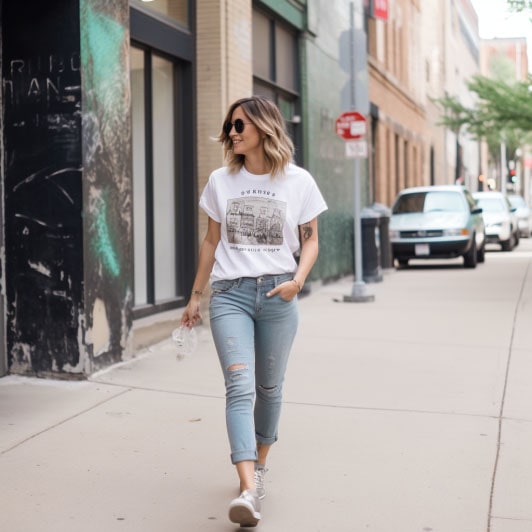 A great way to style girlfriend jeans is with a graphic tee. The casual look of the jeans pairs perfectly with a bold and fun graphic tee. Whether you choose a classic band tee, a funny quote tee, or something more abstract, you will surely make a statement. With this combination, you can easily transition from day to night with the right accessories.
8. Cropped Tops with Girlfriend Jeans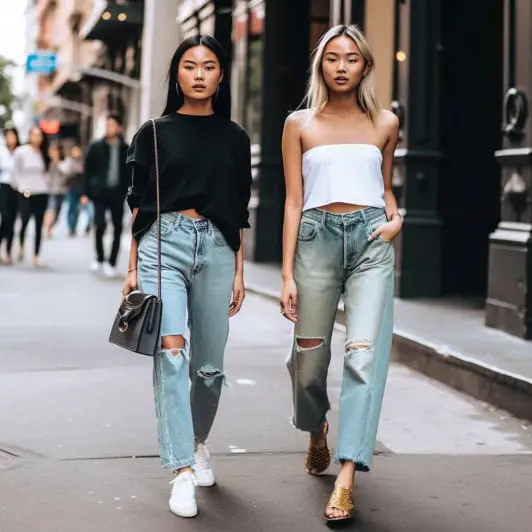 Today's last outfit idea is all about looking stylish and comfortable. Cropped tops are the perfect way to show off your waistline and add a fun, flirty touch to your look. Pair them with girlfriend jeans, and you have a winning combination that can be worn for any occasion. Whether going out for a casual lunch or a night out with friends, this look will make you chic and confident.
Tips for Finding the Perfect Outfit
Finding the perfect outfit is always a task that I look forward to. So here are my four tips for finding that perfect outfit:
Know your body shape and what clothing styles flatter it the most.
Mix and match different patterns, textures, and colors to create a unique look.
Invest in quality staple pieces that can be used for various occasions.
Always accessorize your outfits with jewelry, bags, and shoes that complement your look. 
Conclusion
And there you have it. I hope my tips and ideas on what tops to wear with girlfriend jeans inspired you for your next look. Remember, girlfriend jeans are all about comfort and style; the right top can elevate your outfit to a new level. Plenty of tops will pair perfectly with your girlfriend jeans for a casual, laid-back look or a more polished and put-together vibe. So, don't be afraid to experiment and have fun with your outfits. Thanks for reading, and happy styling!