How To Wear Skinny Jeans For Plus-Size Women?
Finding the perfect pair of skinny jeans can be challenging, especially when you're plus size. Skinny jeans can be a great wardrobe staple, but it can take effort to ensure they fit you perfectly. I am here to help you learn how to wear skinny jeans in plus size. I will cover the basics of what to look for when shopping, how to style your skinny jeans, and how to accessorize them. With these tips, you'll be able to find the perfect pair of skinny jeans that will fit and flatter your curves.
How To Wear Skinny Jeans Plus Size?
Wearing skinny jeans plus size can be challenging, but it's not impossible! Here are some outfit ideas to help you rock the look:
1. Wear A T-Shirt With Skinny Jeans For Plus Size Women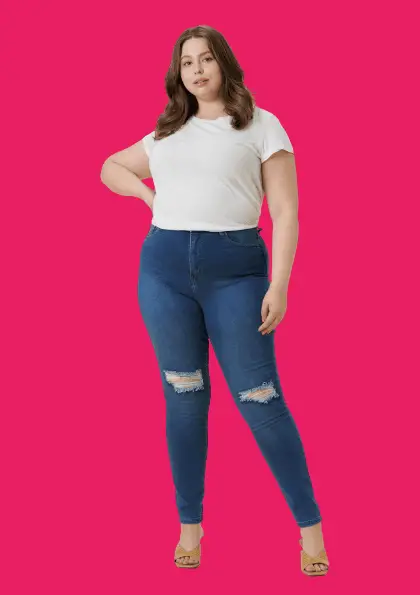 Plus-size women can create stylish looks in a t-shirt and skinny jeans. The key is choosing a t-shirt that is the right size and falls appropriately over the figure. Look for one that skims the body and pairs well with skinny jeans. Also, choose a t-shirt with the right color and pattern to match the jeans. Skinny jeans will look great with a structured t-shirt, oversized t-shirt, or a basic graphic tee.
Finish the outfit with a flattering pair of shoes and accessories to enhance the outfit. With this simple combination, plus-size women can look fashionable and feel confident.
2. Look Fabulous in a Dark Blazer and Skinny Jeans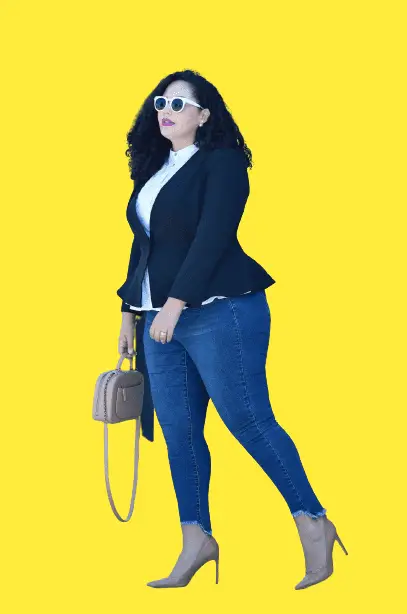 Plus-size women can look great in a dark blazer paired with skinny jeans. This look is modern and chic and perfectly complements a plus-size figure's curves. The dark blazer gives a structured and sophisticated look, while the skinny jeans draw attention to the legs and create a flattering silhouette. Plus-size women can look amazing in this classic combination and have fun playing with different colors and textures to create their unique style.
3. Make a Statement with Denim Jacket and Skinny Jeans
The combination of the two gives off an effortless yet edgy vibe. Not only does it look great on plus-size women, but it'll also keep you warm on those chilly days. The key to achieving the perfect look is ensuring the denim jacket fits your body properly. Choose one that hangs off your shoulders just right, and add accessories like a belt or a colorful scarf to complete the outfit.
Skinny jeans are a great option to slim down your figure and make you look fashionable. With this combination, you'll look stylish and feel confident no matter where you're headed.
4. Wear Chambray Shirt With Skinny Jeans For Plus Size Women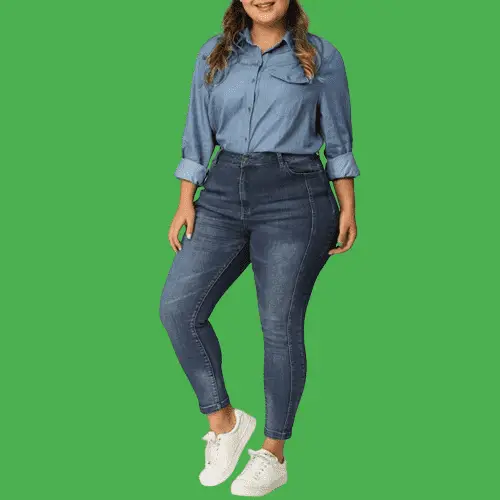 Chambray shirts come in various styles and colors that you can pair with skinny jeans for a more tailored look. Skinny jeans provide a flattering silhouette that is both comfortable and fashionable. The combination of the two pieces creates a chic and trendy look, perfect for plus-size women. With the right accessories, such as statement jewelry and stylish shoes, this outfit will make any plus-size woman look and feel her best.
5. Look Stylish and Elegant With Blouse and Skinny Jeans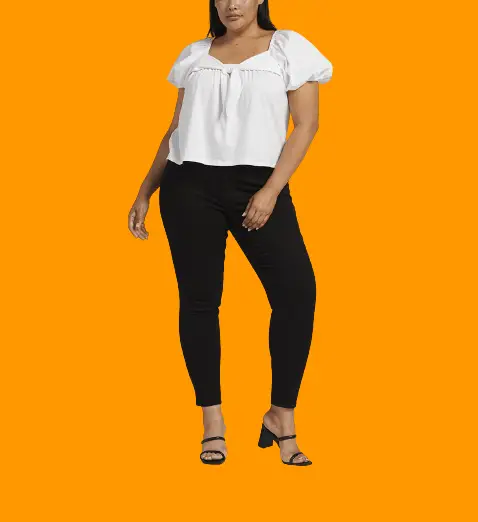 Skinny jeans are perfect for showing off their curves, while the blouse adds a bit of femininity and elegance. Plus-size women can find a variety of blouse styles, from casual to dressy, to match any occasion. They can be paired with various shoe styles, from sneakers to boots, for a fashionable, comfortable look. With the right accessories, plus-size women can make a statement with their stellar outfits.
Styling Tips For Wearing Skinny Jeans For Plus-Size Women
If you're a plus-size woman, you don't have to shy away from wearing skinny jeans! With the right styling tips, you can look amazing in them. Here are some tips for wearing skinny jeans for plus-size women:
Opt for a dark wash to help create a slimming look. 
Look for jeans with a high waist to create the illusion of a longer, leaner silhouette. 
Choose the right top. Go for a blouse or tunic that falls below the hips to balance your look. 
Add a belt to define your waist and create an hourglass shape. 
Don't be afraid to show off your curves. Skinny jeans and a fitted top can help to flatter your frame. 
Try pairing your skinny jeans with a longer cardigan or blazer to add length to your look and keep your outfit balanced. 
Finish off your outfit with a pair of heels or booties. This will help to elongate the line of your legs, giving the appearance of a slimmer figure.
What Tops Should Wear With Skinny Jeans?
When considering what tops to wear with skinny jeans, it is important to keep the overall look in mind. Try pairing skinny jeans with a tucked-in t-shirt and a light cardigan for a more relaxed look. For a more professional look, try pairing the skinny jeans with a dressier blouse or a fitted sweater. To add a touch of sophistication to the look, consider adding a blazer or a tailored jacket.
Opt for a bright-colored top and a bold statement necklace for a brighter, more eye-catching look. Lastly, consider adding a belt to create a more polished, finished look.
Conclusion
Wearing skinny jeans as a plus size can be intimidating but with the right size, cut, and styling, anyone can pull it off. By choosing jeans that fit properly, using strategic layering and accessorizing, you can look fashionable and feel confident in whatever look you create. You can rock your skinny jeans and show off your beautiful curves with a few simple steps.