Why Are Mom Jeans Popular?
As someone who loves fashion, I have recently been curious about mom jeans. With their rise in popularity, I wanted to explore why this style of denim has become so popular. From celebrities to regular people, everyone is wearing mom jeans now. So, what about mom jeans that have made them so popular? In this blog post, I will dive into why mom jeans have become so popular and why they are a great addition to any wardrobe.
What are Mom Jeans?
Mom jeans are high-waisted, relaxed-fit jeans with a straight legs. They are often made of a thicker, more durable denim material and typically come in a medium to light wash. They also tend to have a longer inseam, which means they often require rolling or cuffing to get the right length.
When did Mom Jeans Invent? 
Mom Jeans first became popular in the 1980s; since then, they've been a fashion staple. They were created to provide comfort and style for moms but soon became popular with women of all ages.
In the 1990s, Mom Jeans underwent a major transformation. Designer labels like Levi's, Lee, and Calvin Klein began producing their versions of Mom Jeans, and the style became even more popular. 
Also Read: How to Wear Mom Jeans Over 50?
Why Are Mom Jeans Popular?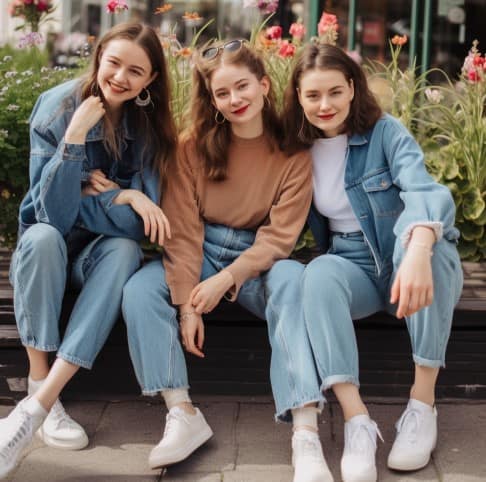 It's no secret that mom jeans are having a moment. The throwback style has been spotted in celebrities and fashion influencers alike, and the classic silhouette has become a must-have item in many wardrobes. But why are mom jeans so popular? Here are a few reasons why this trend is here to stay. 
1. Versatility
Mom jeans are the perfect blend of comfortable and stylish. The classic high-waisted and tapered fit looks great with tucked-in and tucked-out tops. Plus, they are perfect for day-to-day errands or dressing up for a night out. 
2. Flattering Fit
Mom jeans are designed to flatter all body types. The high waistline creates the illusion of a longer silhouette, and the relaxed fit is designed to hug your curves in all the right places. So whether you're tall, short, petite, or curvy, mom jeans will accentuate your shape. 
3. Easy to Find
Mom jeans are an easy style to find. You can get them from almost any retailer, from high-end department stores to budget-friendly outlets. So whether you're looking for a classic blue wash or a trendy distressed look, there's a pair of mom jeans to fit your style and budget.
Who Made Mom Jeans So Popular?
Who made mom jeans so popular? They were considered outdated and uncool a few years ago, but now they're everywhere. So, what happened?
Well, mom jeans gained prominence from a May 2003 Saturday Night Live skit by Tina Fey for a fake brand called Mom Jeans. The skit poked fun at the high-waisted, loose-fitting denim that moms were known to wear in the '80s and '90s, and it quickly became a hit.
When did mom jeans become popular?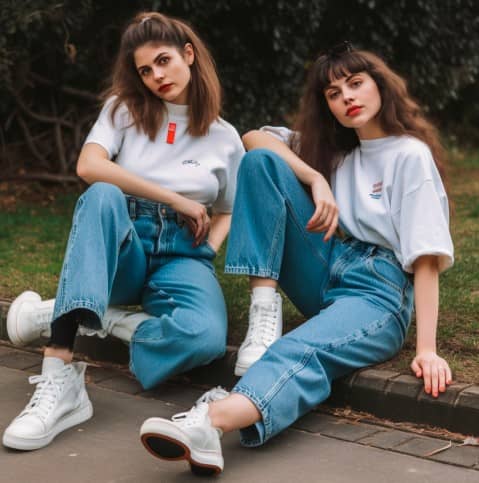 Mom jeans have been a fashion staple for decades, but their popularity has waxed and waned over time. Mom jeans were all the rage in the late 1980s and early 1990s.
Fast forward to the late 1990s and early 2000s, and mom jeans were considered "old" and were mainly worn by adult American women. The trend was seen as dated and out of style with younger generations.
However, in the 2010s, mom jeans made a resurgence in the fashion world. Mom jeans were suddenly cool again, from tween and teenaged girls to college-aged women and beyond. The retro style was embraced, and "mom jeans" was used affectionately.
What body type are mom jeans for?
Mom jeans are designed to provide a comfortable fit that flatters women of all body types, but they are especially ideal for hourglass figures and pear shapes. They have a high waist that cinches around the hips for a flattering silhouette. The legs have a straight, tapered fit and offer room for a comfortable fit that doesn't require constant adjusting.
Do mom jeans look good on thick thighs?
As a woman with thicker thighs, I have always been skeptical of mom jeans. I worried they wouldn't look good on me or fit me properly. But I decided to try them, and I am so glad I did! 
Mom jeans are surprisingly flattering on thick thighs and extremely comfortable. I love that they sit high on my waist and provide more coverage, which helps me feel more 
comfortable and confident. They are in style now, so I can feel stylish without compromising comfort. 
Should Mom Jeans be Loose or Tight?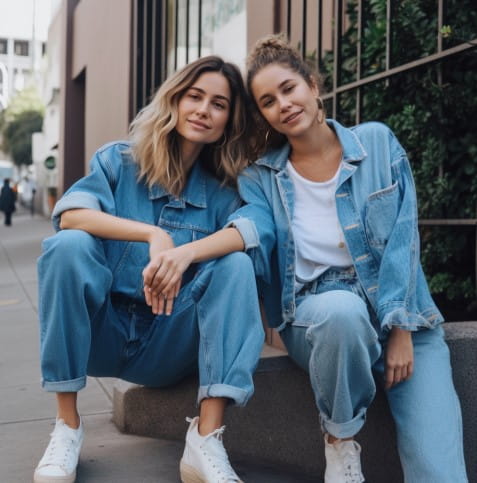 When it comes to mom jeans, it's best to find a balance between loose and tight. The jeans should fit snugly around the hips and thighs but not tight around the waist. Ultimately, it's about finding a pair that makes you feel comfortable and confident.
Conclusion
The popularity of mom jeans can be attributed to their comfortable fit, versatility, and timeless appeal. Their high waist and relaxed, straight-leg silhouette flatter many body types. Their vintage aesthetic and ability to be dressed for various occasions make them a staple in many wardrobes. Overall, mom jeans have become a practical and fashionable statement piece that is here to stay.