Are Black Jeans Business Casual? Black Jeans Unveiled
The balance between professionalism and personal style can be tight regarding office attire. As someone who passionately loves jeans, I've often pondered the question: Are black jeans business casual? In this guide, I'll provide you with a definitive answer, backed by my expertise in fashion and office wear and my genuine adoration for jeans.
Are black jeans business casual?
Yes, black jeans can be considered part of business casual attire, especially when paired with appropriate clothing items. To achieve a business casual look with black jeans, consider combining them with a well-fitted dress shirt, a blazer, and dress shoes. Remember that the overall appearance should appear neat, clean, and put-together.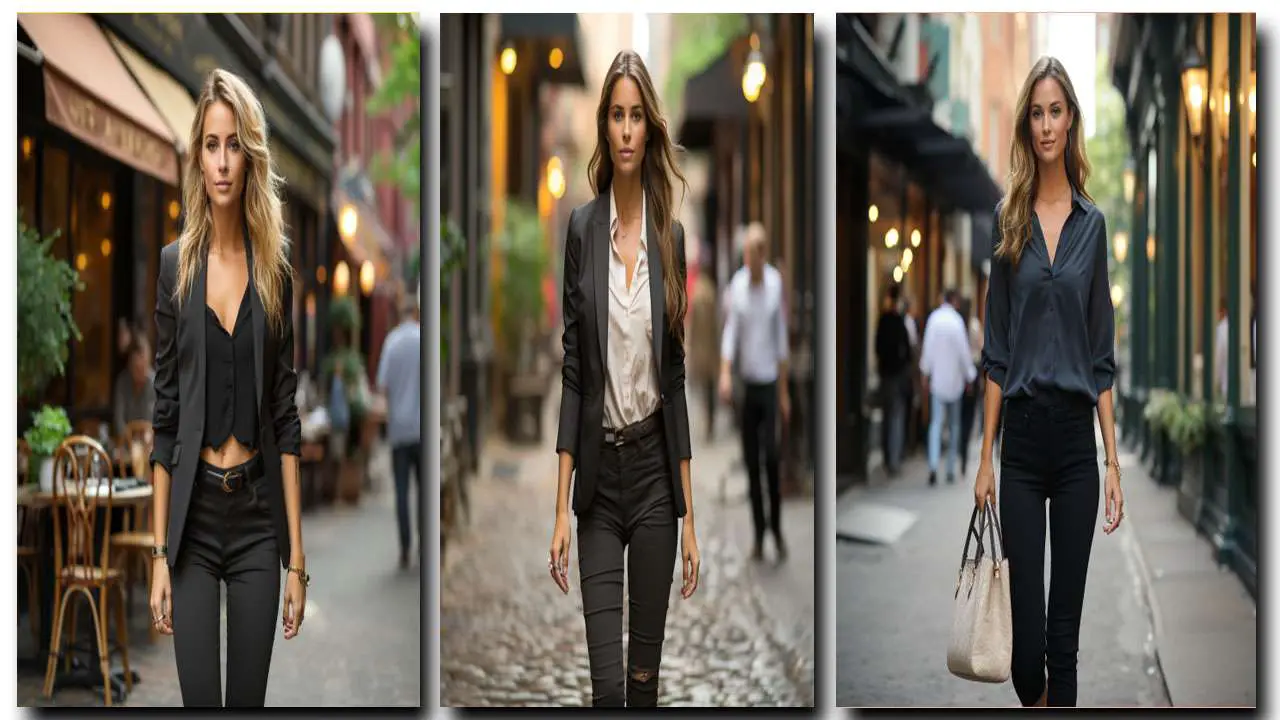 The acceptability of black jeans in a business casual setting also depends on the specific workplace and its dress code policies. So, ensuring your outfit aligns with the company's expectations is a good idea.
How to Rock Black Jeans at Work?
Black jeans exude an air of sophistication, making them a prime candidate for business casual ensembles. Here are some strategies to integrate them seamlessly:
1. The Perfect Pairing: Black Jeans and Blazers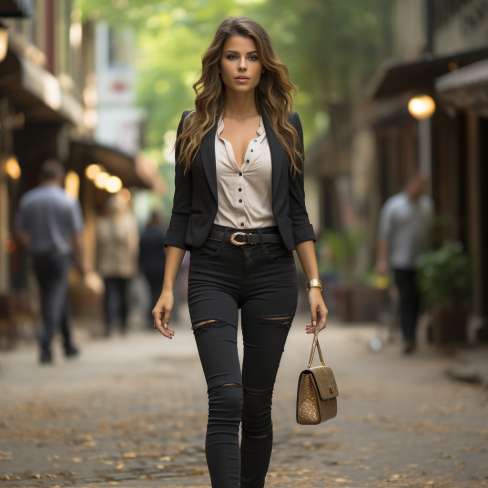 Pairing your black jeans with a well-fitted blazer instantly elevates your look. This combination merges the casual essence of jeans with the polished aura of a blazer, striking a perfect balance between professionalism and style.
2. Elevate with Accessories: Belts and Shoes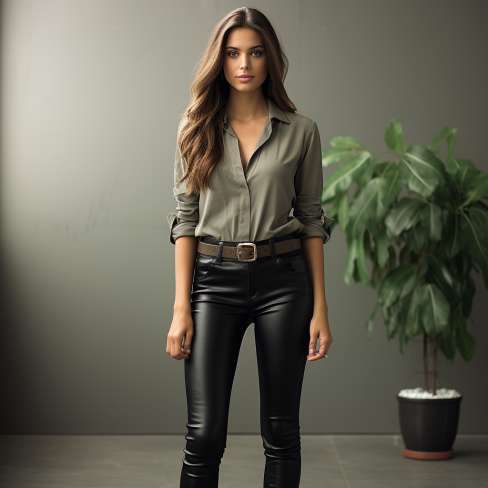 The right accessories can make or break your outfit. A sleek belt and polished shoes can effortlessly take your black jeans from casual to business casual. Opt for classic leather options to exude refined elegance.
3. Chic Tops for a Balanced Look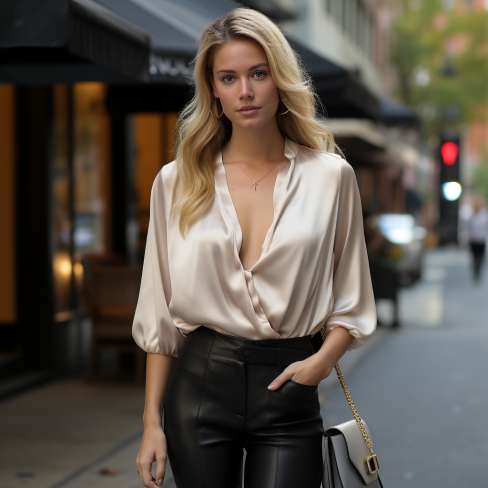 Opt for chic tops like silk blouses or tailored button-down shirts. These options lend an air of formality that complements the relaxed vibe of black jeans, creating a harmonious ensemble suitable for the office.
4. Fit Matters: Opt for Tailored Black Jeans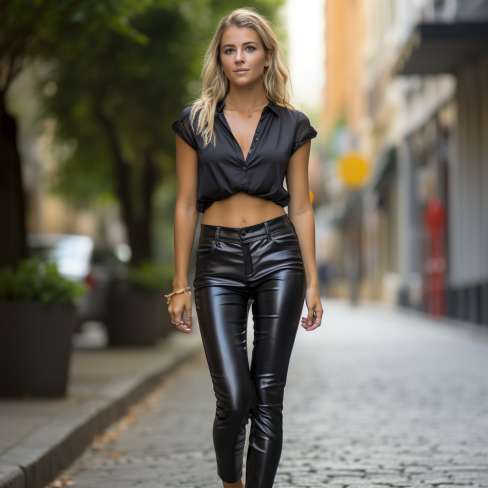 While skinny jeans might be your go-to, consider tailored or straight-leg black jeans for the office. They offer a more refined appearance and can be easily paired with various footwear options.
5. Dark Wash Black Jeans for a Polished Look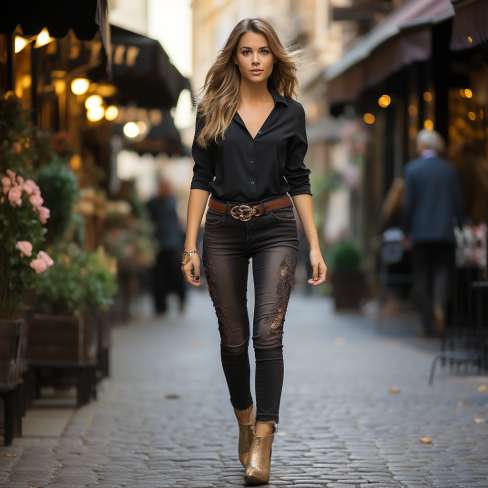 When selecting black jeans for the office, opt for a dark wash. Dark hues convey professionalism, and the sleekness of dark wash jeans makes them suitable for business casual settings.
6. Layering with Elegance: Sweaters and Cardigans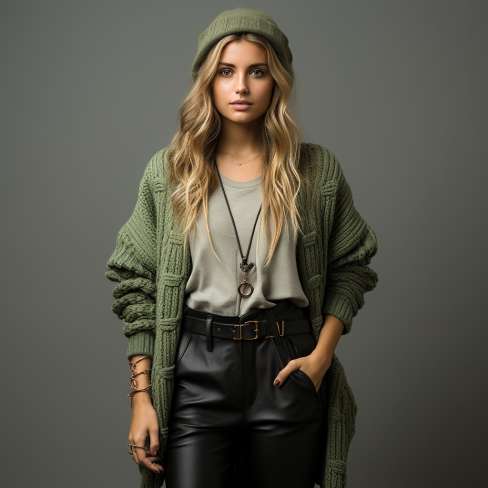 In colder months, layering is key. Combine your black jeans with a sophisticated sweater or cardigan. This layering technique exudes warmth and professionalism simultaneously.
Also Read: How to Get Stains Out of White Baseball Pants?
FAQs
Can I Wear Ripped Black Jeans to the Office?
While distressed jeans can be stylish, they typically lean towards casual wear. Stick to non-distressed options for a more polished office look.
What Footwear Works Best with Black Jeans at Work?
Opt for loafers, ankle boots, or low-heeled pumps. These footwear choices align well with the business casual aesthetic and offer comfort throughout the workday.
Are Black Jeans Appropriate for Client Meetings?
Indeed, they can be. For important client meetings, dress up your black jeans with a blazer and refined accessories to make a lasting impression.
Are black jeans OK for an interview?
It depends on the company and the industry. Generally, black jeans are not considered appropriate attire for a job interview. They could be more casual and make a better impression on your potential employer.
However, some companies have a more relaxed dress code, and black jeans may be acceptable in these cases. If you are unsure about whether or not black jeans are appropriate for a job interview, it is always best to err on the side of caution and wear something more formal.
Are black skinny jeans OK for work?
Again, it depends on the company and the industry. In some workplaces, black skinny jeans are perfectly acceptable attire. However, they may be considered too casual or inappropriate in other workplaces. If you are unsure whether black skinny jeans are appropriate for your workplace, it is always best to ask your supervisor or HR department.
Conclusion
So, are black jeans business casual? With the right styling techniques and a conscious choice of accessories, black jeans can find their place in your office wardrobe. Embrace the power of creativity while maintaining professionalism, and you'll discover the perfect balance between style and work-appropriate attire.
As a fervent lover of jeans and office fashion, I can confidently say that incorporating black jeans into your work outfits is possible and a brilliant way to showcase your personal style while respecting the environment you're in.
Source:
https://www.indeed.com/career-advice/starting-new-job/guide-to-business-casual-attire