As a fashion enthusiast, I always strive to stay on top of the latest trends and styles. One question on my mind lately is whether dad jeans are still fashionable. Some say they are outdated, while others swear by their comfort and classic look. I have delved into denim and conducted extensive research to answer this question. So, let's find out: Are dad jeans still in style?
History of Dad Jeans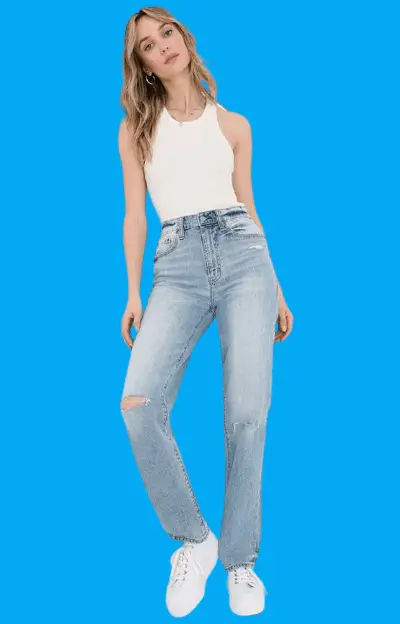 Dad jeans have existed since the 1950s when Levi's introduced their classic 501 jeans. These jeans were designed for working-class men and were known for their practicality and durability. They had straight legs, high waists, and a relaxed fit, making them comfortable for long work hours.
In the 1980s, dad jeans became more popular among middle-aged men as they embraced a more casual style. These jeans were no longer just for work but also for everyday wear. They were often paired with a simple t-shirt or a button-up shirt for a laid-back look.
Dad jeans have returned to the fashion world in recent years, thanks to the rise of normcore fashion. Normcore is about embracing the ordinary and mundane, and dad jeans fit perfectly into this style. They're comfortable, practical, and can be styled for any occasion.
Are Dad jeans in style?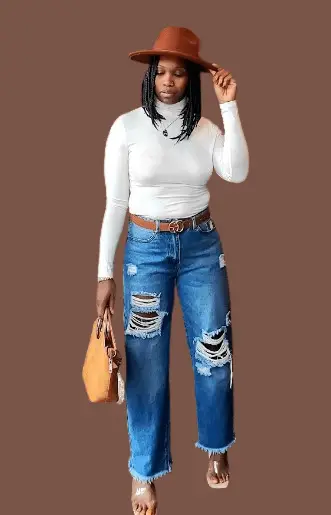 Dad jeans have been popular for decades and remain in style today. In recent years, they've returned to the fashion world.
Many celebrities, including Kanye West and Justin Bieber, have worn them. Fashion bloggers and influencers have also embraced the trend.
Some experts say dad jeans are popular due to a larger trend towards more comfortable and relaxed clothing. As people spend more time at home, they are looking for clothing that is both comfortable and stylish.
So, are Dad jeans in style? The answer is yes, they are! Dad jeans might be the perfect fit if you're looking for a comfortable and trendy pair of jeans. However, as with any fashion trend, wearing what makes you feel comfortable and confident is important. Don't follow a trend just because it's popular – ensure it aligns with your style and preferences.
Men or Women, Who Should Wear Dad Jeans?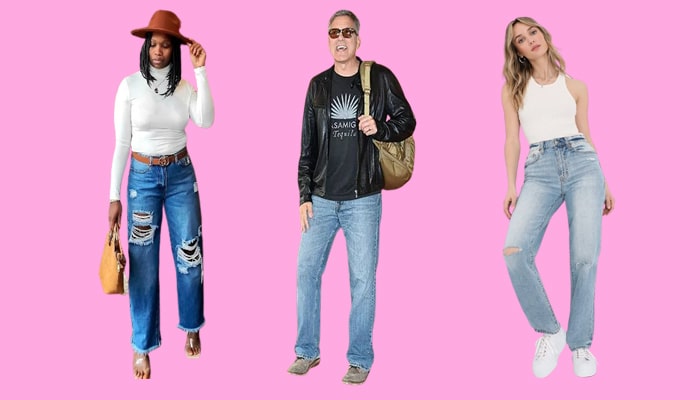 As a fashion fan, I often hear people debating whether Dad Jeans suit men or women. Honestly, I think that Dad Jeans are ideal for both!
Dad Jeans are a great way for men to achieve a casual, comfortable look. You can easily style dad jeans with a t-shirt and sneakers for a relaxed, effortless look. Dad Jeans also look great with a dress shirt and shoes for a more dressed-up style. Dad Jeans can be a great addition to any wardrobe, regardless of your look. Read our guide about the best shoes to wear with Dad jeans.
Women can also rock Dad Jeans in their way. With the right accessories, Dad Jeans can be turned into a stylish look. For example, a pair of Dad Jeans can be paired with a cute blouse and heels for a more sophisticated look or with a graphic t-shirt and sneakers for a casual vibe. Either way, Dad Jeans can be a great way for women to express their style.
At the end of the day, it doesn't matter if you're a man or a woman – Dad Jeans can be a great way to add a unique twist to any outfit. So go ahead and give them a try – you might be surprised at how great they can look!
Conclusion
Dad jeans are definitely in style. They bring comfort, versatility, and a sense of nostalgia to any look. Whether looking for a laid-back casual look or something more modern, dad jeans are a great option. They can be paired with various tops and accessories to create a unique look that will stand out. So go ahead and give dad jeans a try – you won't be disappointed!