What Shoes To Wear With Dad Jeans? The Best Shoes To Complete The Look
The Classic Dad jean is a timeless style that has been around for decades. But what shoes should you wear with them? Whether you're looking for a casual, stylish, or dressy look, there are plenty of options – and I have the scoop on which shoes to pair with your dad's jeans. Read on to learn more about creating the perfect outfit with dad jeans.
What Shoes To Wear With Dad Jeans?
As a fashionista, I always look for new ways to style my outfits. As of late, I've been particularly drawn to the trend of dad jeans, and I need some ideas for what shoes to pair them with. So, lucky for you, I'm here to provide eight inspiring Dad Jeans outfit ideas to help you find the perfect shoes for your dad jeans!
1. Heels With Dad Jeans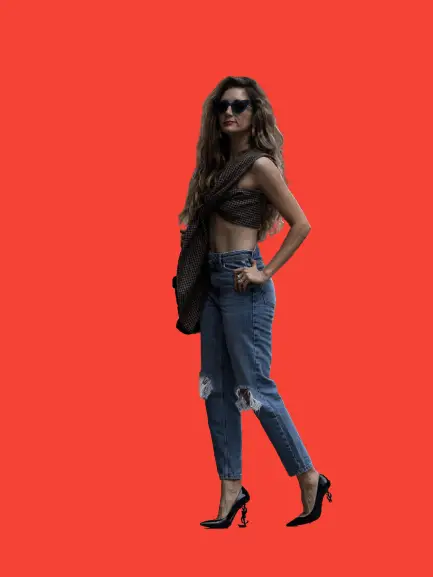 I'm always looking for ways to express my style. One of my favorite looks lately is wearing heels with dad jeans. The juxtaposition of sophisticated footwear with relaxed jeans creates an effortless yet stylish look. My outfit will make a statement whether heading to brunch or out for the evening. Dad jeans are great for creating an easy-going vibe, but pairing them with the right shoes can take your look to the next level.
2. Pointy Boots With Dad Jeans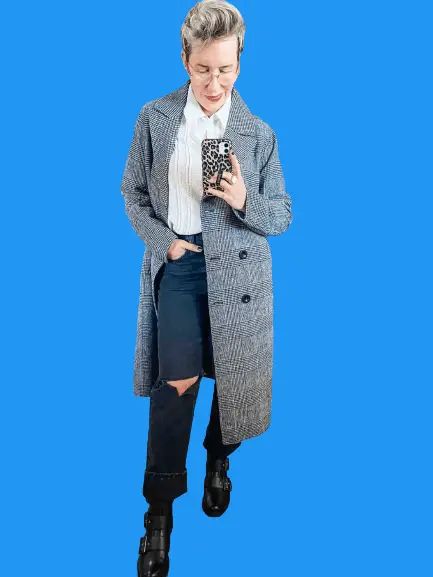 Pointy boots are my go-to choice for a stylish yet casual look. Not only do they add a bit of edge to my outfit, but they also elongate my legs and make me look incredibly chic. In addition, I love how they can easily be paired with a blouse and jacket for a perfect look. No matter what I wear, my pointy boots will always be an eye-catching statement piece!
3. Pointed-toe Flats With Dad Jeans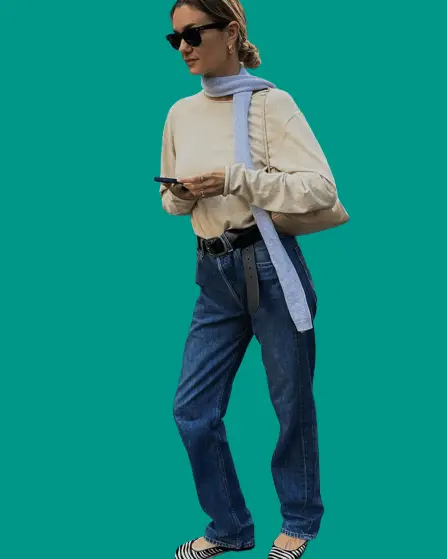 After trying out a few options, I've found that pointed-toe flats are the best way to go when rockin' the dad jean look. The sleek lines of the shoes perfectly balance out the casual vibes of the jeans and add a touch of sophistication to the ensemble. Plus, the pointed toe is a classic touch you can never go wrong with!
4. White Boots With Dad Jeans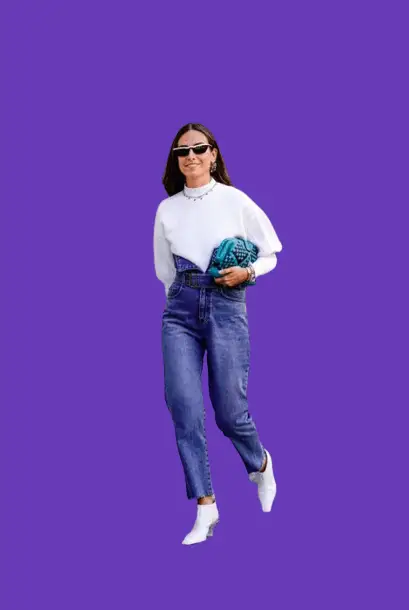 My favorite way to do that is pairing dad jeans with the right shoes. So my go-to choice has become white boots. They provide a much-needed contrast to the casual vibe of the jeans while still keeping the look low-key and effortless. They can be worn with almost any top, from a simple T-shirt to a sophisticated blouse. With white boots, I can create a wide range of looks that can take me from day to night.
5. Dad Sneakers With Dad Jeans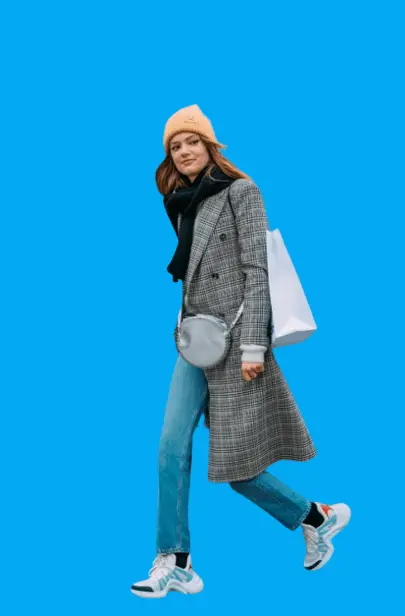 I recently discovered the perfect pairing to add to my everyday look – dad sneakers with dad jeans! This combination is the ideal way to add a bit of extra edge and style to a casual outfit. The shoes contrast with the relaxed jeans, adding a touch of modernity to the look. You can easily switch up the shoes to create a different vibe.
6. Loafers With Dad Jeans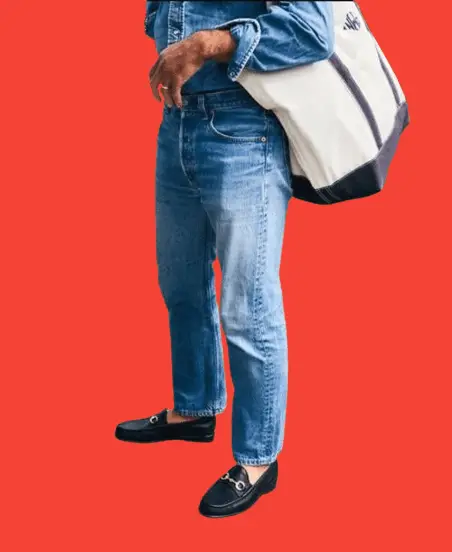 Lately, I've been obsessing over the classic dad jeans look. I love the classic, relaxed fit and comfort of the style – and I also want to make sure I'm wearing the right shoes with them. My go-to combination for the ultimate dad-jeans look? Loafers! The combination of classic and casual is perfect for creating a timeless, stylish, and comfortable look. Loafers are the ideal choice for pairing with Dad jeans if you are going out for a night on the town.
7. Mules With Dad Jeans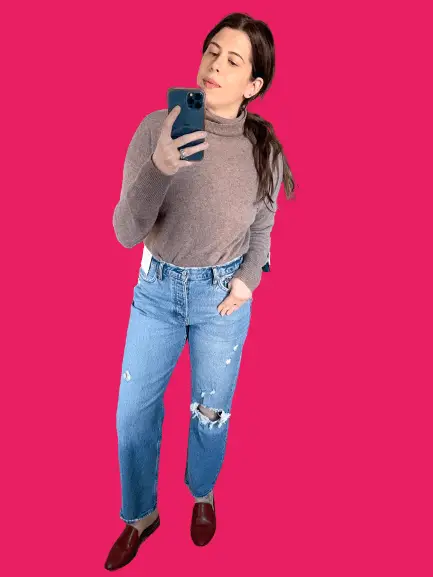 Another great way to wear dad jeans is to pair them with stylish mules. They are perfect for creating a laid-back yet put-together look. I love wearing mules with my Dad jeans, as they add a touch of sophistication and class to the outfit. So whether you opt for a low-block heel or a sleek pair of strappy sandals, you can be sure you'll look put-together and stylish. In addition, you can easily transition your outfit from day to night with the right pair of mules.
8. Ballet Flats With Dad Jeans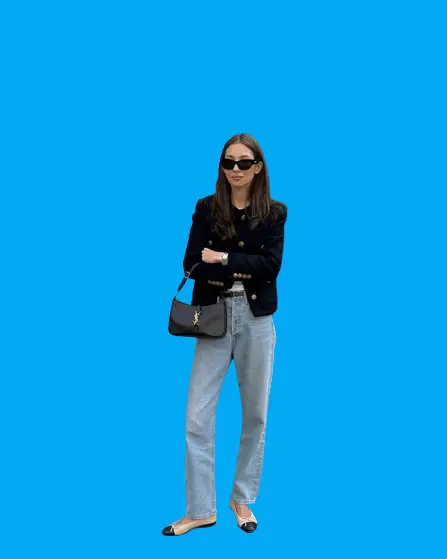 The last outfit I tried with my Dad jeans was a pair of ballet flats. They instantly gave me a feminine, stylish look that was unexpected for a pair of jeans that usually give off a more laid-back vibe. I paired them with a blouse and accessorized them with a statement necklace for a trendy and comfortable look. It was a great way to add a touch of sophistication to an otherwise casual outfit.
Tips for Choosing The Best Shoes
There are a few styles that work particularly well with dad jeans. Here are some of my top picks, along with a quick tip for each:
Keep it casual and comfortable with a pair of white sneakers.
Add some edge to your outfit with ankle boots.
Try a pair of loafers for a more polished and put-together look.
Sandals are perfect for warmer weather and add a touch of femininity to your Dad jeans outfit.
Bring retro flair to your look with high-top sneakers.
Conclusion
Finding the perfect shoes to wear with dad jeans can be challenging, but with these eight outfit ideas, you can find a style that fits your personality and taste. Remember, those dad jeans are all about comfort and relaxed style, so don't be afraid to experiment with different shoe styles and find what works best. Then, you can rock this trend confidently and easily with the right shoes. Happy experimenting!