How to Style Dad Jeans? 13 Ways to Style Dad Jeans and Look Fashionable
If you've been wondering how to style dad jeans, you're in luck! I'm here to show you 13 outfit ideas for women that will have you looking fashionable. Dad jeans are a great way to add a retro vibe to your look and can be worn in various ways. From casual and comfortable to chic, I'll show you how to style dad jeans no matter the occasion. So let's get started!
How to Style Dad Jeans?
Dad jeans are a style of denim that is baggy and relaxed. They are a fun fashion trend that can be worn to create a unique and fashion-forward style. As a fashion enthusiast, I've found many ways to style dad jeans. Here are 13 outfit ideas for women that will help you rock this trend:
1. Oversized Blazer With Dad Jeans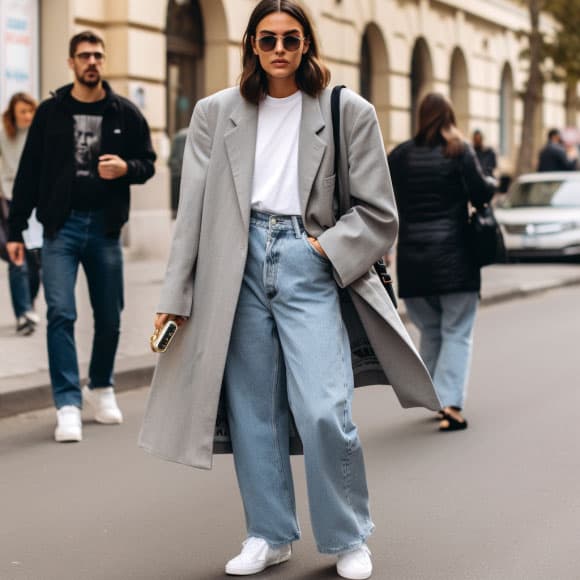 The first outfit combo I thought of when I heard the words "dad jeans" was the classic oversized blazer and dad jeans look. I style it with high-waisted, straight-leg dad jeans tucked into black ankle boots. I also want to add a belt to bring the look together and add a bit of shape. Finally, I paired it with an oversized blazer and a basic t-shirt or tank top to complete the look. This is a great way to elevate your casual look and add a bit of edge to your outfit.
2. Tailored Coat With Dad Jeans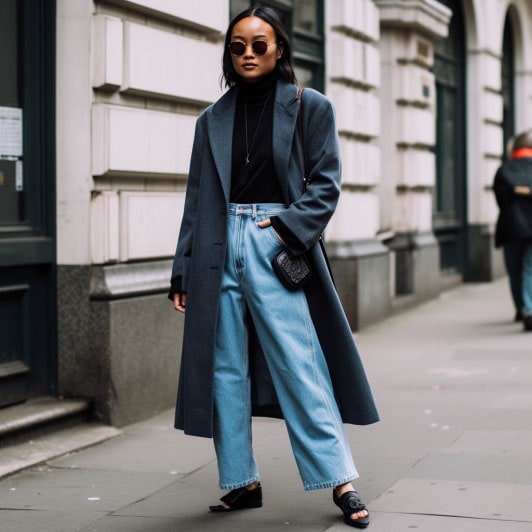 I'm a huge fan of the dad jeans trend, and I love to style them with a tailored coat for a modern look. The key is to find a coat that has an oversized fit, which will look great with the relaxed fit of the jeans. The coat should be long enough to cover the jeans' waistband but not so long that it overwhelms the look. Finish off the look with a simple T-shirt and some stylish loafers. This combination is perfect for days you want to look stylish but still feel comfortable.
3. Printed Blouse With Dad Jeans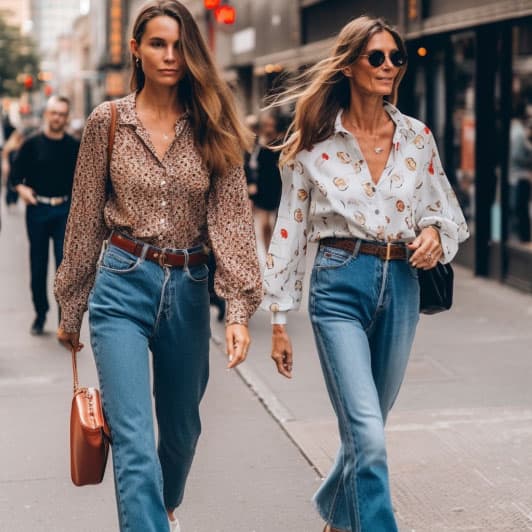 Another great way to style dad jeans is to pair them with a printed blouse. Whether you choose a patterned or plain blouse, combining the two will create an effortless, relaxed look. Try adding a belt and some statement jewelry for an extra touch of style—layer with denim or a leather jacket for a cool, casual vibe.
4. Cropped Printed Jacket With Dad Jeans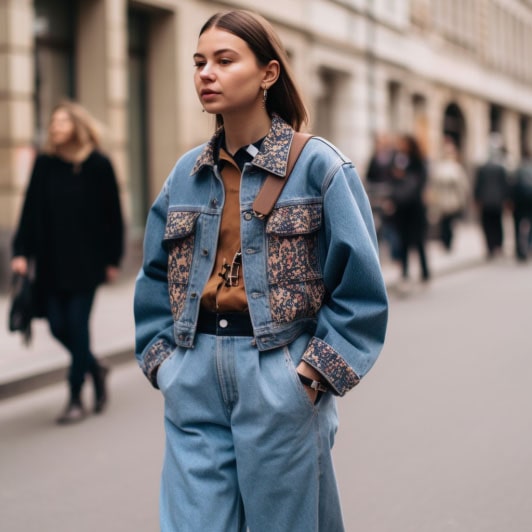 I recently discovered the perfect combination to help me stand out in any crowd: a cropped printed jacket with dad jeans. The variety of these two items has become my go-to look for any occasion. The jacket adds a bit of edge to the classic dad jeans, while the jeans add a casual touch to the statement jacket. With this combination, I can look stylish and put-together yet still feel comfortable and relaxed. In addition, I can easily transition from day to night by adding a few simple accessories, such as a belt or a hat. No matter the occasion, I will make a statement with this outfit.
5. Statement Jacket With Dad Jeans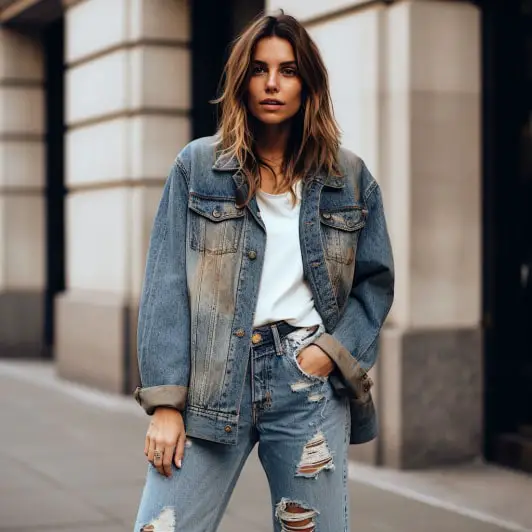 It's the perfect way to make a bold fashion statement without going overboard. The key to mastering this look is to choose a statement jacket that stands out and pair it with a good pair of dad jeans. The baggy jeans give the outfit an effortless, relaxed vibe that's perfect for any occasion. You can style it up with a nice pair of heels or with a pair of sneakers. Either way, this look is sure to turn heads!
6. Turtleneck Sweater With Dad Jeans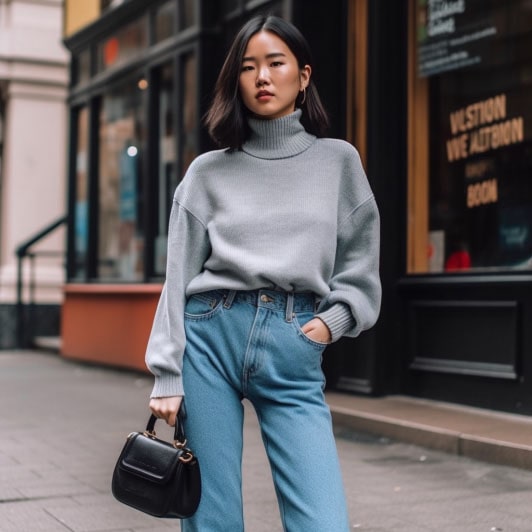 This classic combo is comfortable and stylish, perfect for any occasion. I like to keep it casual but still put together by adding a statement belt and fashionable boots. It's a great way to make a statement without going over the top. And, if I'm feeling extra bold, I'll add a few accessories like earrings or a hat to add a bit of flair. No matter how I style it, I always feel confident and ready for anything!
7. Simple T-shirt With Dad Jeans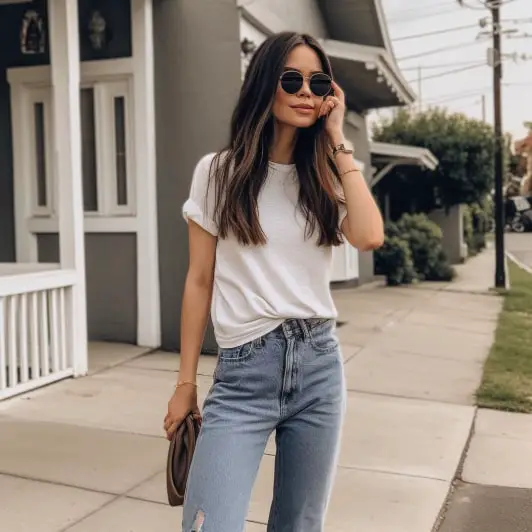 A simple T-shirt is perfect for a pair of dad jeans for a relaxed look. I pair my dad jeans with a simple white t-shirt and some casual sneakers for an effortless yet stylish outfit. This look is perfect for hanging out with friends. You can take this look daily to night with simple accessories. A statement necklace, a bold belt, and cute earrings can easily be added to this look.
8. Oversized Sweater With Dad Jeans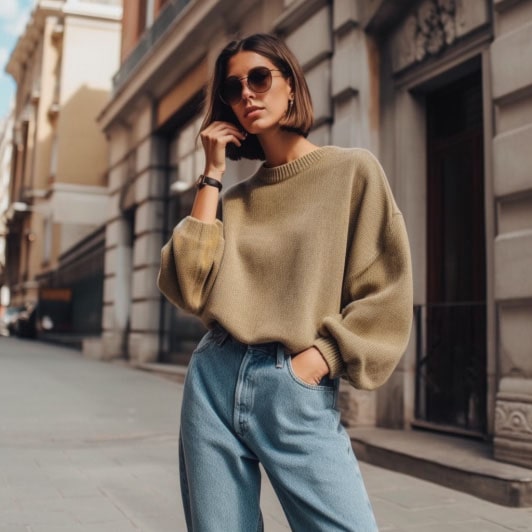 I love pairing an oversized sweater with my favorite pair of dad jeans for the ultimate casual look. The large sweater adds a cozy to the outfit, while the dad jeans give it a touch of vintage charm. I usually add a pair of sneakers or mules, depending on the occasion. I love how this look can be easily paired with a statement necklace and heeled boots. It's a great way to look chic while still staying comfortable.
9. Graphic Tee With Dad Jeans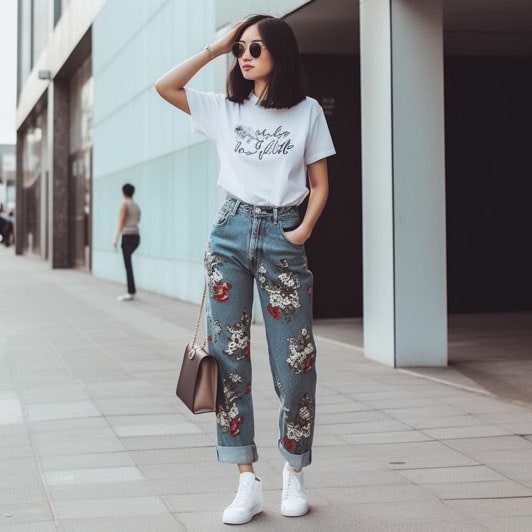 One of my favorite looks is pairing graphic tees with dad jeans. The combination offers a cool and edgy vibe while maintaining my style. I can create a unique and stylish look with the right accessories and shoes. It's an effortless look that can easily be adapted to any occasion. Whether a casual lunch with friends or a night out on the town, I know I'll always look great in my go-to combo of graphic tee and dad jeans.
10. Leather Jacket With Dad Jeans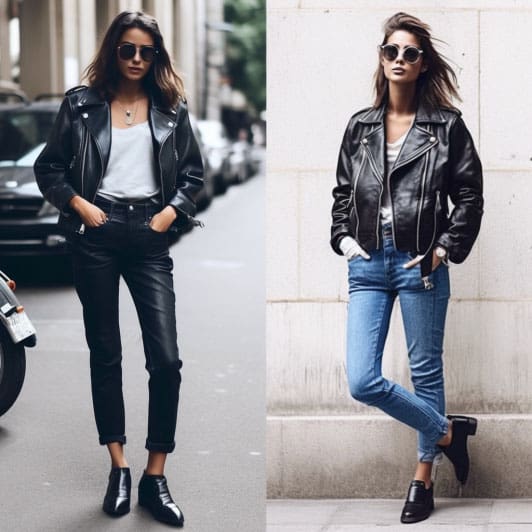 I've taken the classic dad jeans and paired them with a sleek leather jacket to create a style that's trendy but still timeless. The leather jacket adds an edge to the look, while the dad jeans keep it relaxed. The best part is that this combination can be paired on any occasion. Pair it with a simple t-shirt and sneakers for a casual day look. For a more chic look, opt for a bodysuit and ankle boots.
11. Sweatshirt With Dad Jeans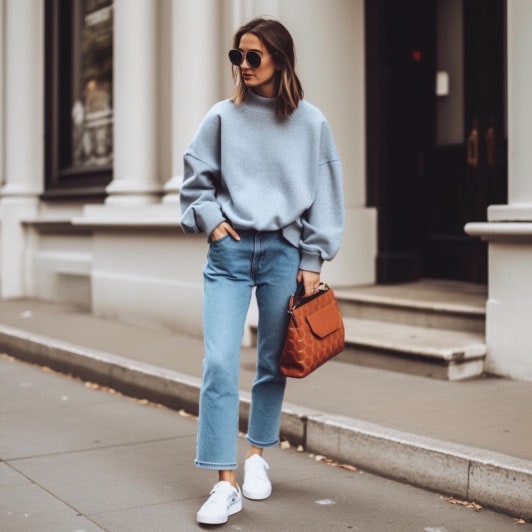 Dad jeans are a classic style that never goes out of fashion and can be easily incorporated into any wardrobe. I love to style them by pairing them with a cozy sweatshirt. The combination of a slouchy casual look is something I find fun and stylish. So whether you're looking for something to wear on a relaxed Sunday morning or a night out with friends, this combination of dad jeans and a comfy sweatshirt gives you the perfect balance of cool and comfort.
12. Long Coat With Dad Jeans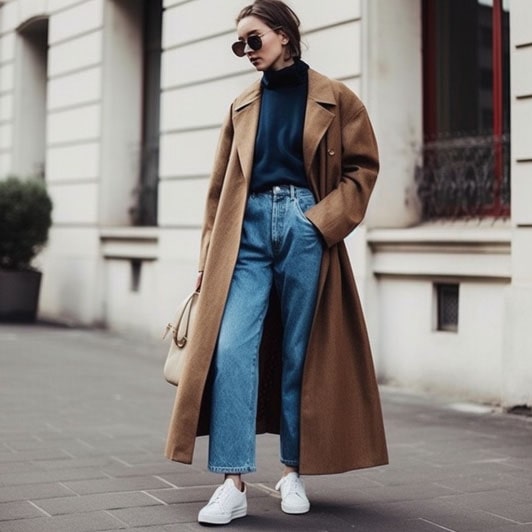 A long coat with dad jeans is a classic combination that never gets old. I love combining my favorite pair of dad jeans with a stylish, sleek coat. Not only does this look to keep me warm in the winter, but it also adds a chic and sophisticated touch to any outfit. I like to accessorize with a statement belt, oversized sunglasses, and a fun pair of shoes with Dad jeans to ensure I get the most out of this look. This way, I stay warm and fashionable all at the same time!
13. Denim Jacket With Dad Jeans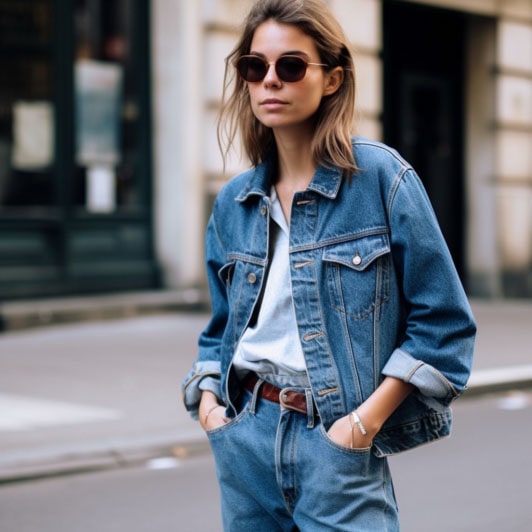 My last season's outfit was a classic combination of denim and dad jeans. I'm a big fan of this look; it's comfortable, stylish, and always in style. I paired my favorite dad jeans with a simple denim jacket that added a fun contrast to my look. The denim jacket adds an extra layer of warmth for cooler days, and the light wash of the denim complements the darker wash of the dad jeans. I accessorized the look with a black belt and some cute jewelry to complete the look. With this outfit, I can express my style with minimal effort.
Tips For Wearing Dad Jeans
As a fashionista, I'm here to give you my top tips for styling dad jeans. Here are a few of my favorite ways to rock this classic look:
Modernize your look with a funky graphic tee or statement blouse. 
Accessorize with a trendy belt or chunky necklace to look a bit of edge. 
Layer a structured blazer or denim jacket to balance the jeans' relaxed fit. 
Wear a pair of sneakers or combat boots to complete the look. 
Choose a light wash or distressed style pair for a cool and casual vibe. 
Conclusion
Now that I have shared 13 outfit ideas for women on how to style dad jeans, I hope you feel inspired to try dad jeans! Dad jeans are a timeless trend that has been around for decades, and they are a great way to add a relaxed, laid-back vibe to any outfit. Whether looking for a casual daytime look or something more polished for an evening out, dad jeans can be worn depending on your style. You can make dad jeans look stylish and modern with the right accessories. So try dad jeans, and see how they can add a unique touch to your wardrobe.