Are Good American Jeans Worth It? A Denim Expert Opinion
Hey there, denim lovers and fashion aficionados! If you've ever found yourself pondering the age-old question, "Are Good American jeans worth it?" then you're in for a treat. As a die-hard Good
American jeans enthusiast who has been donning this fabulous denim for more than five years, I'm here to spill the beans on everything you need to know about these iconic jeans.
Buckle up because we're about to take a riveting journey through the history, craftsmanship, fit, style, sustainability, and celebrity endorsements that make Good American jeans stand out.
History of Good American Jeans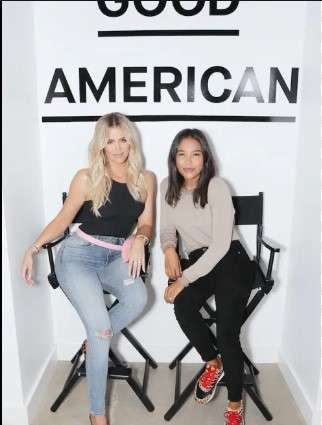 Let's rewind the denim tape to where it all began. Good American Jeans were founded by none other than Khloé Kardashian and Emma Grede in 2016. This dynamic duo aimed to create jeans that celebrated body positivity, inclusivity, and a flawless fit.
It was a game-changer in the fashion world, bringing a refreshing twist to the denim scene often plagued by limited size ranges.
Overview of Good American Jeans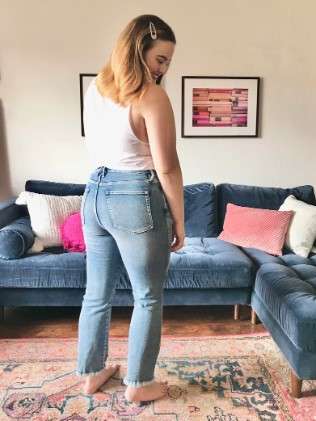 Good American jeans are more than just denim; they're a movement. These jeans are designed to hug your curves, flatter your figure, and boost your confidence. The brand offers an extensive range of sizes, from 00 to 24, ensuring that every body type is catered to.
But don't let the size range fool you—these jeans aren't just about inclusivity; they're about style, quality, and a statement of empowerment.
Craftsmanship and Quality
One factor that sets Good American jeans apart is their impeccable craftsmanship. These jeans are meticulously crafted using high-quality materials that guarantee comfort, durability, and a coveted lived-in feel.
Every stitch and detail is carefully considered, resulting in a pair of jeans that looks great and withstands the test of time.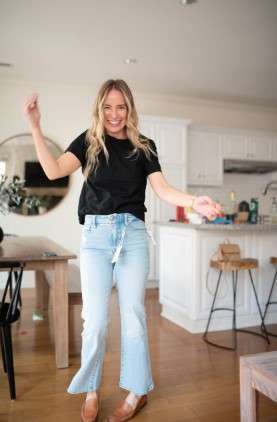 The Perfect Fit
Ah, the fit! The holy grail of denim. Good American jeans have earned their reputation for providing an exceptional fit that embraces and enhances your natural curves.
Whether you're looking for a high-rise, skinny, bootcut, or boyfriend style, you can count on these jeans to deliver a fit that feels custom-made just for you. It's like a second skin that you never want to take off.
Fashion-forward Designs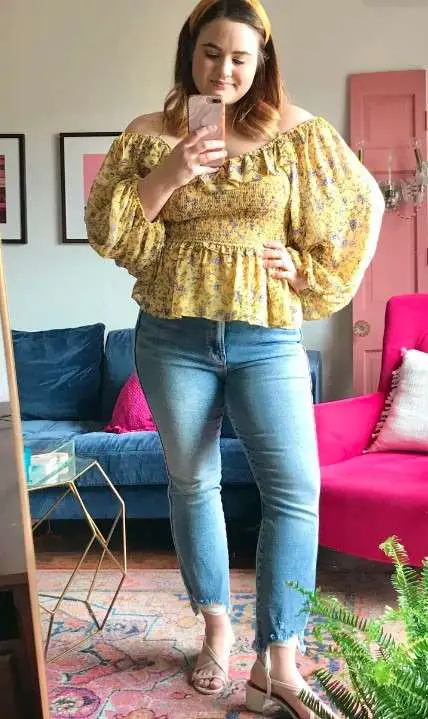 Jeans are more than a basic; they're a fashion statement. Good American understands this, and their designs are a testament to that. From classic blue washes to trendy distressed styles, these jeans cater to a wide range of tastes.
They're constantly innovating and introducing fresh designs that keep you at the forefront of fashion.
Longevity and Sustainability
Investing in quality denim isn't just about style—it's also about sustainability. Good American is committed to ethical practices, using eco-friendly materials and production processes that minimize their environmental impact.
When you invest in a pair of Good American jeans, you're not just getting a stylish garment but contributing to a more sustainable future.
Cost vs. Value
Let's address the elephant in the room: the price tag. Good American jeans fall into the premium denim category, with quality comes a higher cost. But here's the thing: it's not just about the price; it's about the value.
These jeans offer exceptional fit, craftsmanship, and longevity, making them a worthy investment that will be a staple in your wardrobe for years to come.
Celebrity Influence and Endorsements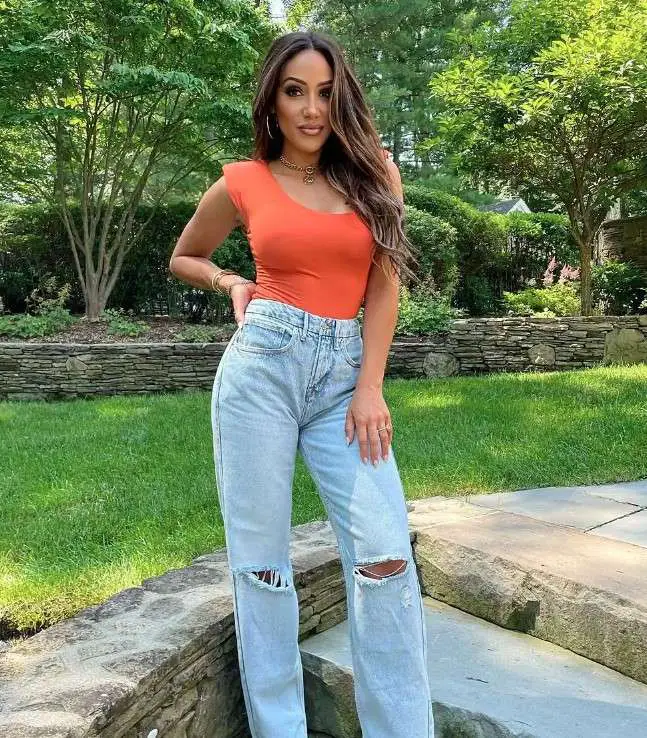 The influence of celebrities can't be denied, and Good American has capitalized on this phenomenon. With Khloé Kardashian as one of the co-founders, the brand has gained significant traction in the world of fashion.
Celebrity endorsements and the brand's commitment to body positivity have made Good American jeans a symbol of empowerment and confidence.
Customer Reviews and Testimonials
But don't just take my word for it—let's dive into what fellow denim lovers have to say. Customer reviews and testimonials are a testament to these jeans' impact on people's lives.
From boosting self-esteem to providing unparalleled comfort, the consensus is clear: Good American jeans are more than just a pair of pants; they're a confidence booster.
Are Good American Jeans Worth It? My Point of View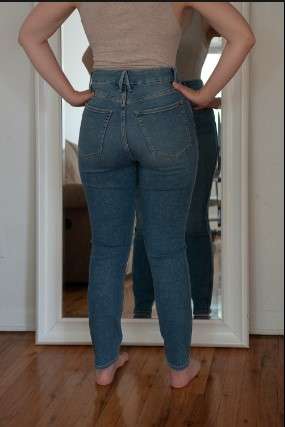 So, after five years of wearing Good American jeans, do I believe they're worth it? Absolutely, without a doubt. These jeans have transformed my wardrobe and how I feel about myself. The fit, quality, style, and empowerment they offer make every dollar spent worth it.
From casual outings to special occasions, Good American jeans are my go-to choice, and I can confidently say that they're an investment that keeps on giving.
Pros and cons of good American jeans
Here are some of the pros and cons of Good American jeans:
Pros:
Inclusive sizing: Good American jeans are available in sizes 00 to 30, with inseams ranging from 28 to 36 inches. This makes them an excellent option for people of all body types.
Comfortable and stretchy: The jeans are made from a blend of cotton, elastane, and Lycra, which makes them comfortable and stretchy. This is important for people who want jeans that move with them.
Flattering: The jeans are designed to flatter all body types. They have a high waist that helps to cinch in the waist and a relaxed fit through the leg that is flattering for most body types.
Sustainable and ethical: Good American is committed to sustainable and ethical practices in its production process. They use recycled materials and fair labor practices.
Cons:
Pricey: Good American jeans are on the pricier side, with most styles starting at around $150.
Sizing can be inconsistent: Some people have reported that the sizing can be inconsistent, so it is important to try on jeans before you buy them.
Not all styles are available in all sizes: Some styles, such as the Good American Curvy Bootcut Jeans, are only available in a limited range of sizes.
Frequently Asked Questions (FAQs)
Are Good American jeans only suitable for certain body types?
Not at all! Good American jeans are designed with inclusivity in mind. Their wide range of sizes, styles, and cuts ensures that there's a perfect fit for every body type. Whether you're curvy, petite, or somewhere in between, these jeans are made to celebrate your unique shape.
What sets Good American Jeans apart from other premium denim brands?
Aside from their exceptional fit and quality, Good American jeans stand out for their commitment to body positivity and sustainability. The brand's dedication to creating jeans that empower and embrace all body types is a refreshing departure from traditional denim brands.
Does Khloe Kardashian own Good American jeans?
Absolutely! Khloé Kardashian and co-founder Emma Grede launched Good American jeans in 2016. Khloé's involvement and dedication to the brand's mission have been instrumental in its success and popularity.
Why are good American jeans so expensive?
Good American jeans are pricey due to high-quality materials, intricate manufacturing, branding, limited production, ethical practices, and innovative techniques.
Are Good American jeans true to size?
Good American jeans aim for inclusive sizing and offer size charts, but fit can vary based on style, stretch, and personal preference. Checking reviews and utilizing returns can help find the right fit.
Conclusion
And there you have it, denim enthusiasts! We've delved deep into the world of Good American jeans, exploring their history, craftsmanship, fit, sustainability, and more.
From their empowering designs to their positive impact on body image, it's clear that these jeans offer more than just style—they offer a sense of confidence that's truly priceless.
So, the next time you ask yourself, "Are Good American jeans worth it?" remember that you're not just buying jeans; you're investing in a movement that celebrates individuality and embraces self-love. If you don't know where to buy Good American Jeans, read this guide- Where To Buy Good American Jeans?
Source:
https://www.goodamerican.com/en-bd/pages/emma-grede