Women's Jeans Fit Guide: Finding the Perfect Fit
When it comes to buying jeans, finding the perfect fit is crucial. Ill-fitting jeans can be uncomfortable and unflattering, but with the right measurements and knowledge, you can easily find jeans that fit you like a dream. In this women's jeans fit guide, I will take you through measuring your jeans size accurately and understanding different fits. 
I will also provide tips for trying on jeans in-store and offer advice for online shopping. Additionally, I will address common fit issues and provide solutions to help you overcome them. So let's dive in and discover your ideal pair of jeans!
Also Read: What Did People Wear Before Jeans?
How to Measure Your Jeans Size?
To measure your jeans size accurately, consider five additional measurements: Waist, Hips, Inseam, Leg Opening, and Rise. To measure your jeans size, you can follow these steps: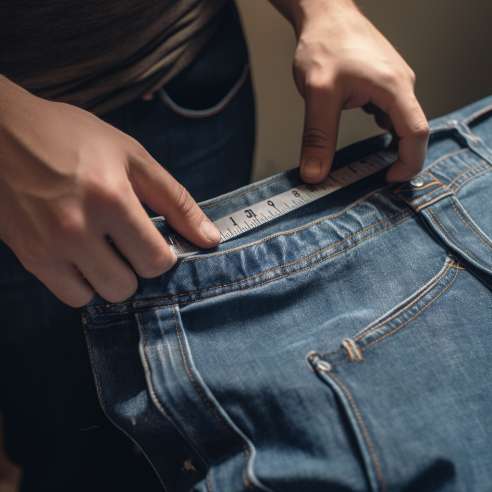 1. Get a measuring tape: 
You'll need a flexible one to measure your body accurately.
2. Measure your waist: 
Find the narrowest part of your waist, usually above your belly button and ribcage. Wrap the measuring tape around your waist, ensuring it is snug but tight. Note down the measurement in inches. Here is full guide about- How to Measure Waist Size for Jeans?
3. Measure your hips: 
Stand with your feet together and measure the fullest part of your hips, usually around the widest area of your buttocks. Wrap the measuring tape around this area, ensuring it is parallel to the ground. Note down the measurement in inches.
4. Measure your inseam: 
This measurement determines the length of the jeans. Stand straight with your legs slightly apart. Measure from the crotch area to the bottom of your ankle or desired length, depending on whether you prefer regular, long, or short inseams. 
5. Measure your Leg Opening:
The leg opening refers to the circumference of the bottom hem of the jeans' legs. To measure it, Lay the jeans flat on a surface. Locate the hem of one leg opening. Take the measuring tape and measure across the bottom hem of the leg opening from one side to the other. Note down the measurement in inches.
6. Measure your Rise: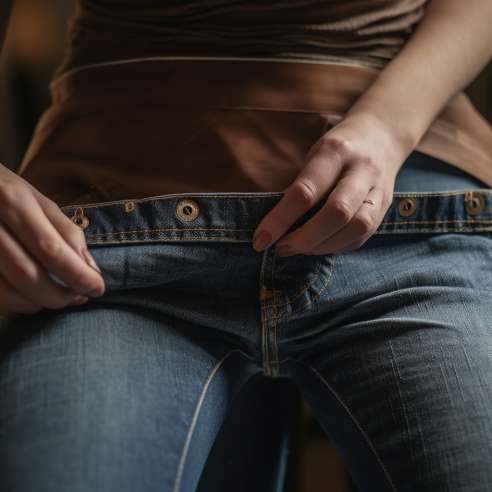 The rise is the distance between the crotch seam and the top of the waistband. This measurement is important to determine the fit and positioning of the jeans on your body.
Start by laying the jeans flat on a surface. Locate the crotch seam, which is the point where the two legs of the jeans meet in the center. Measure from the crotch seam vertically up to the top of the waistband. Note down the measurement in inches.
7. Check a size chart: 
Every brand may have slight variations in its sizing, so it's essential to refer to the specific brand's size chart. Visit the brand's website or look for a size chart on the product page.
8. Compare your measurements: 
Match your waist, hip, and inseam measurements to the corresponding sizes on the size chart. The size chart will typically have a range of measures for each size (e.g., waist: 28-30 inches, hip: 38-40 inches). Choose the size that aligns with your measurements or falls within the range.
Remember that different brands may have different sizing standards, so it's always a good idea to refer to their specific size charts for accurate measurements.
Women's Jeans Fit Guide: Understanding Different Fits
When it comes to jeans, there are various fits to choose from. Here are some popular options:
1. Straight Fit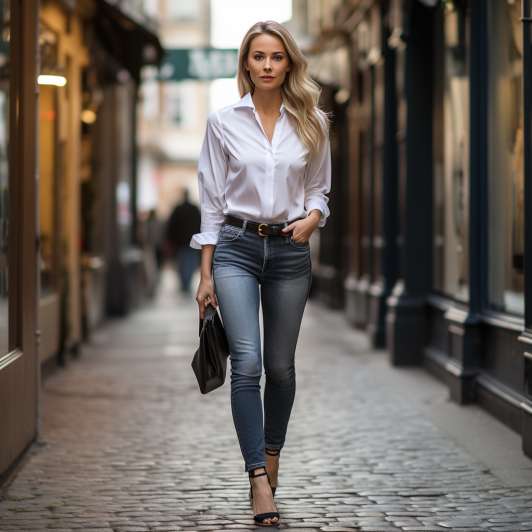 The straight fit is a timeless classic that suits many body shapes. With a straight cut from the hips down to the ankles, this fit offers a clean and streamlined look. 
It provides a comfortable fit around the waist and hips while maintaining a straight silhouette throughout the legs. 
2. Skinny Fit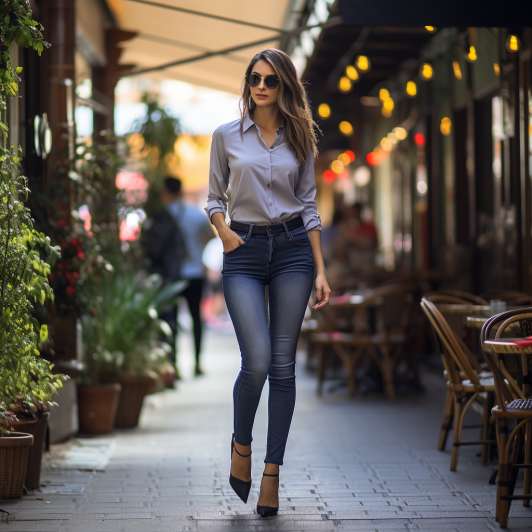 The skinny fit is the go-to choice for those seeking a sleek, form-fitting style. These jeans are designed to hug your curves and create a slimming effect. The skinny fit is characterized by its close fit from the waist down to the ankles, highlighting your legs' natural shape. 
3. Bootcut Fit
The bootcut fit is a classic option with a balanced and flattering silhouette. These jeans are fitted through the waist and hips, gradually widening from the knees to the ankles. The slight flare at the bottom allows you to wear them comfortably over boots, hence the name "bootcut." 
4. Flare Fit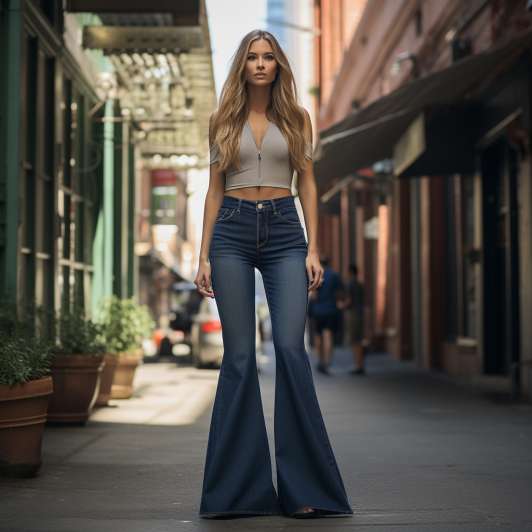 With a nod to the retro fashion of the '70s, the flare fit adds a touch of drama and flair to your outfit. This fit is fitted through the waist and thighs and gradually widens from the knees, creating a distinct bell-bottom shape. 
5. Boyfriend Fit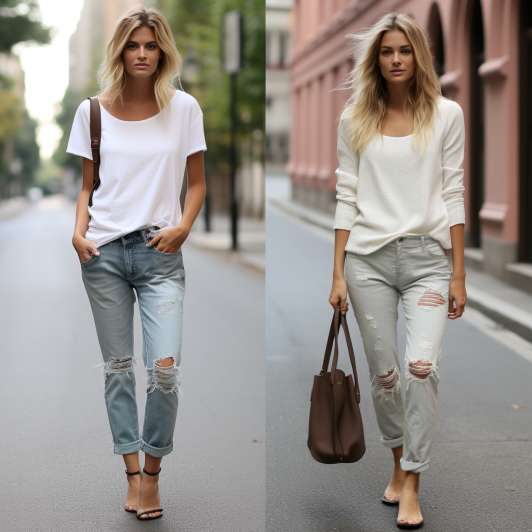 The boyfriend fit is a relaxed and comfortable option that provides a casual and effortless style. Inspired by borrowing jeans from your boyfriend's closet, this fit offers a loose, slightly oversized silhouette. The jeans sit low on the hips and have a straight or slightly tapered leg. 
6. High-Waisted Fit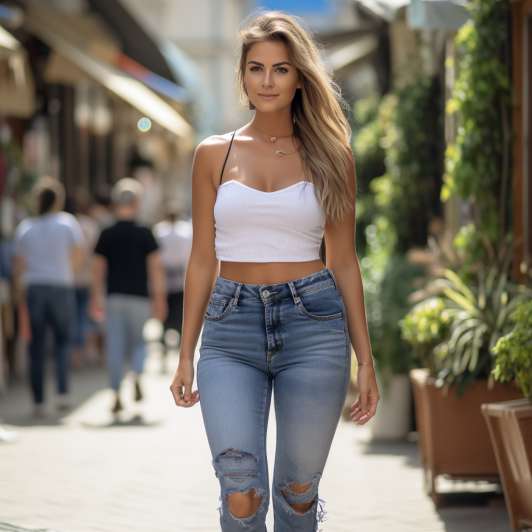 The high-waisted fit has gained popularity recently for its ability to accentuate the waist and create a flattering silhouette. These jeans sit above the natural waistline, providing excellent coverage and support. 
7. Wide-Leg Fit
If you're looking for comfort and a relaxed fit, wide-leg jeans are the perfect choice. As the name suggests, these jeans feature a wide-leg opening from the waist down, providing a loose and flowing silhouette. 
How to Shop for Jeans?
Whether you prefer shopping in-store or online, I have tips to help you find the perfect pair of jeans.
Trying On Jeans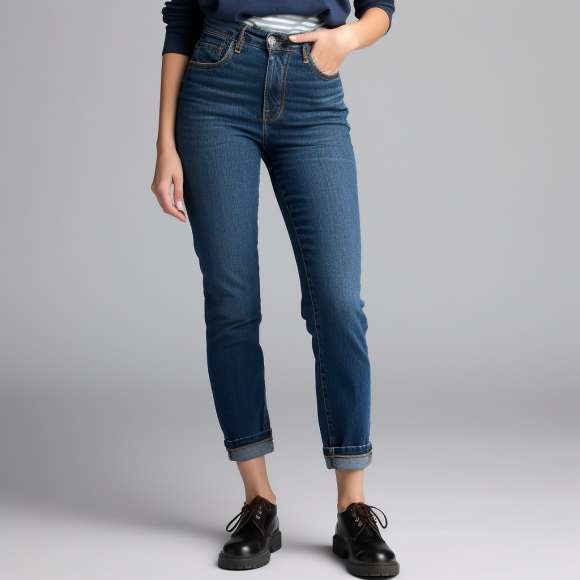 When trying on jeans in-store, keep these tips in mind:
Bring different styles and sizes to compare and find the best fit.
Experiment with different cuts and styles to see what flatters your body shape.
Check the jeans from all angles to ensure they fit well and look great from the front, back, and sides.
Move around and sit down to assess the comfort and flexibility of the jeans.
What to look for when trying on jeans:
1. Comfort: Ensure the jeans are comfortable and allow for ease of movement.
2. Waistband fit: Ensure the waistband sits snugly on your waist without being too tight or causing a gap.
3. Length: Check the length to ensure it fits your height and desired look.
4. Fit around hips and thighs: The jeans should fit well around your hips and thighs without feeling overly tight or loose.
5. Assessing the fit and comfort of jeans:
Bend your knees and squat to test the jeans' flexibility and comfort.
Walk around and sit down to ensure the jeans don't restrict your movement or cause discomfort.
Check for any excessive wrinkling or bunching of fabric, which could indicate an ill fit.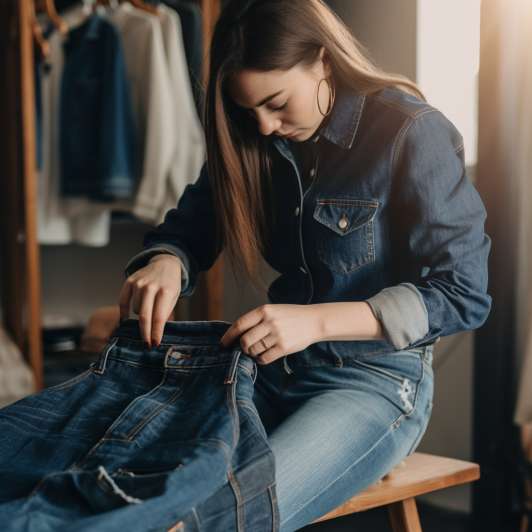 Online Shopping Tips
When shopping for jeans online, follow these guidelines:
Read product descriptions carefully to understand the fabric composition and fit details.
Look for the brand's size charts and compare your measurements to find the right size.
Consider customer reviews and ratings to get insights into the fit and quality of the jeans.
Pay attention to return and exchange policies if the jeans don't fit as expected.
Reading and understanding size charts: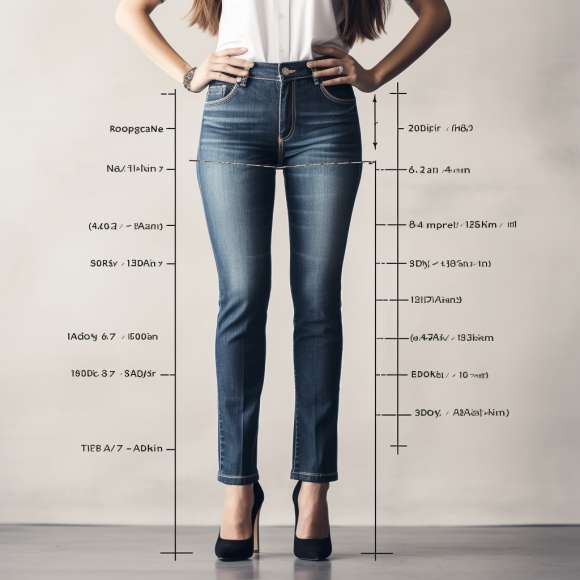 Identify the measurements listed on the size chart, such as waist, hip, and inseam.
Compare your measurements to the size chart and choose the size that corresponds to your measurements.
Take note of any additional sizing information provided by the brand.
Common Fit Issues and Solutions
Even with careful measurements and shopping, fit issues can still arise. Here are some common fit problems and their solutions:
1. Waist Gap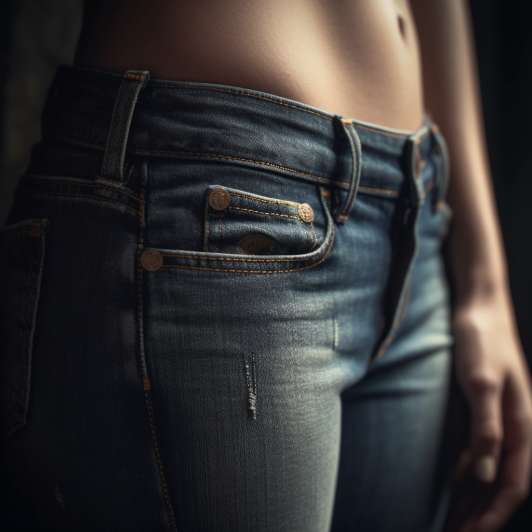 Causes of Waist Gap in Jeans: A waist gap can occur when the jeans' waistband is too loose for your waist measurement or body shape.
Solutions to Fix Waist Gap Issues: Opt for jeans with a higher rise or consider using a belt to cinch the waist. Alterations such as taking in the waistband or using waistband inserts can also help achieve a better fit.
2. Tight Thighs or Calves
Causes of Tightness in Thighs or Calves: Tightness in these areas can be due to the jeans being too narrow or not providing enough stretch.
Solutions for Accommodating Muscular Thighs or Calves: Look for jeans with stretch fabric or those specifically designed for athletic or curvier body types. Alternatively, consider having the jeans tailored to achieve a more comfortable fit.
3. Length Adjustments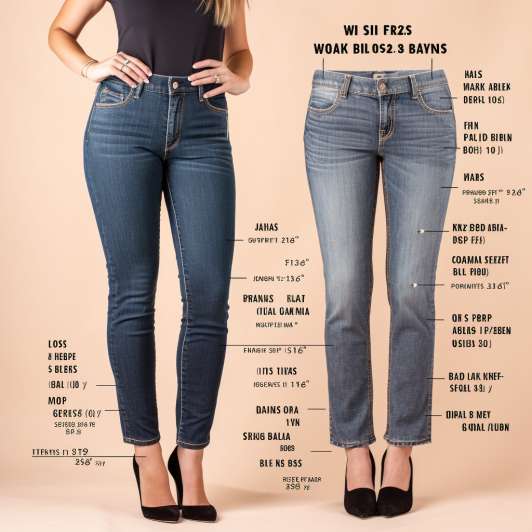 Hemming Jeans for Shorter Lengths: If the jeans are too long, take them to a tailor for hemming. They can adjust the length while maintaining the original look of the jeans.
Alteration Options for Longer Lengths: If you have trouble finding longer-length jeans, search for brands that offer extended inseam options or consider ordering custom-made jeans.
4. Muffin Top
Causes of Muffin Top in Jeans: Muffin top occurs when the jeans' waistband is too tight, creating a bulge around the midsection.
Tips for Choosing Jeans That Prevent Muffin Top: Look for jeans with a higher rise and a wider waistband to provide better coverage and support. Opt for styles that offer a more relaxed fit around the waist.
Frequently Asked Questions (FAQs)
To address some common concerns, here are answers to frequently asked questions about women's jeans:
What Jeans Fit Is Best for Petite Women? 
Petite women often succeed with skinny or straight-leg jeans, as they create the illusion of longer legs.
How Do I Choose the Right Rise for My Jeans? 
The rise of jeans refers to the distance between the crotch and the waistband. Experiment with different rises to find the most comfortable and flattering option for your body shape.
What Size Is 28 in Women's Jeans? 
Jeans sizes can vary between brands, but a size 28 generally corresponds to a size 6 or 8 in women's jeans.
What Is a Size 32 in Women's Jeans? 
A size 32 typically translates to a size 12 or 14 in women's jeans.
What Is the Perfect Fit for Jeans? 
The perfect fit varies depending on personal preferences and body shape. It should provide comfort, flatter your figure, and make you feel confident.
Conclusion
Finding the right fit in women's jeans is essential for style and comfort. By understanding different fits, measuring your size accurately, and following helpful shopping tips, you can make informed choices catering to your body shape and preferences. 
Addressing common fit issues and knowing the answers to frequently asked questions will enhance your jeans shopping experience.