What To Wear With Black Jeans For Females? 13 Best Outfit Ideas
Hey there! If you're anything like me, you probably adore your black jeans – they're versatile, comfy, and effortlessly stylish. But now and then, we might find ourselves standing in front of our closet, wondering what to pair with these beloved bottoms.
I've got you covered Whether to aim for a casual daytime look or a night out. Join me as I dive into a world of fashion possibilities and share fabulous ideas on what to wear with black jeans with flair and confidence. Let's turn those basic black jeans into the centerpiece of countless stunning outfits!
Also Read: How To Wear Jeans To Work For Women?
What To Wear With Black Jeans For Females?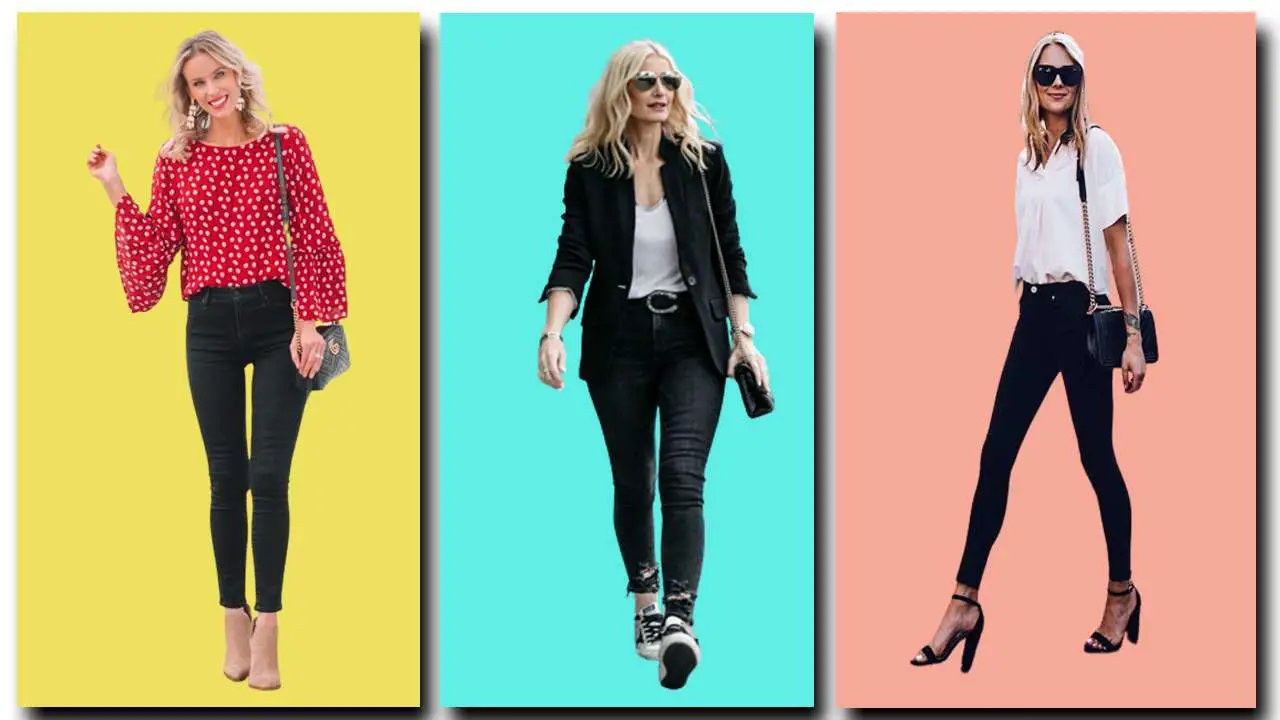 Black jeans serve as an excellent foundation for creating stylish ensembles. You can pair them with tops, footwear, and accessories to achieve diverse looks that suit your style. Whether aiming for a casual daytime outfit or a more polished evening look, black jeans can be your go-to choice.
What Tops to Wear with black jeans for Females?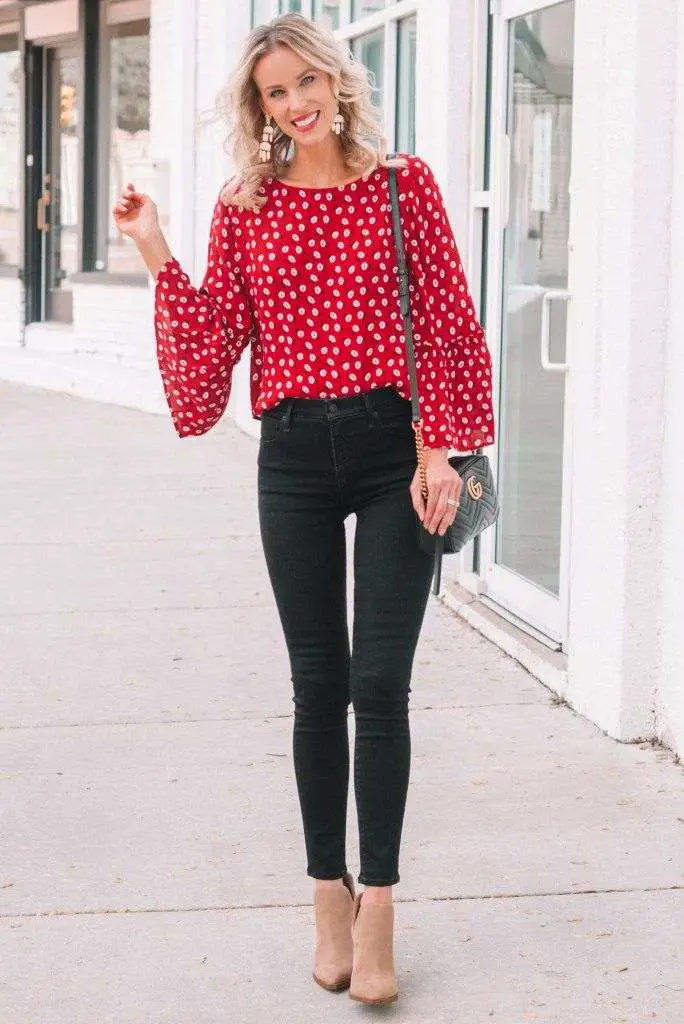 Having a passion for fashion, I've curated a selection of tops that perfectly complement black jeans for females. Explore these versatile options to create stunning outfits:
Crisp White Blouse
Striped T-shirt
Flowy Floral Blouse
Chambray Shirt
Knit Sweater
Structured Blazer
Graphic Tee
Silk Camisole
Turtleneck Sweater
Off-the-Shoulder Top
What Footwear to Wear with black jeans for Females?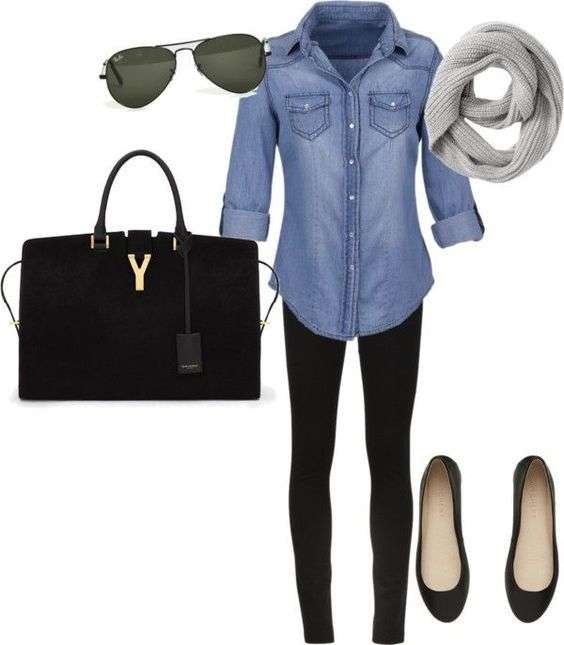 Being passionate about fashion, I've found the perfect footwear options to complete your black jeans ensemble. Check out these stylish choices that effortlessly elevate your look:
Ankle Boots
White Sneakers
Strappy Sandals
Pointed Flats
Mule Shoes
Loafers
How To Wear Black Jeans For Female?
Black jeans are a versatile wardrobe staple that every woman should have. Their sleek and timeless appeal allows for various outfit possibilities, from casual to dressy. Here are 13 chic black jeans outfit ideas:
1. Blazer With Black Jeans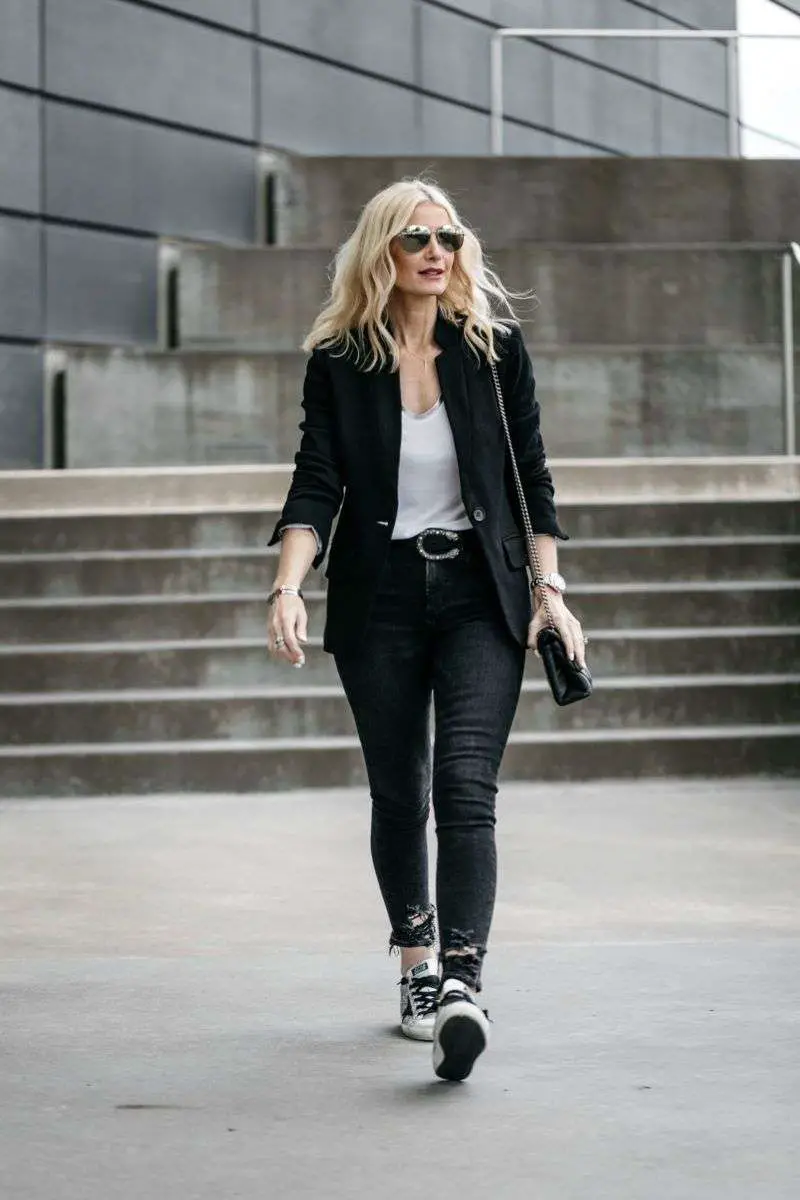 When I want to exude timeless sophistication, there's nothing quite like pairing a sharp blazer with my trusty black jeans. The contrasting textures create a captivating dynamic that speaks volumes. I slip my feet into a pair of pointed ankle boots to finish this empowering look.
These boots elongate my silhouette and add a dash of confidence to my stride. And, of course, to elevate the ensemble further, I adorn my neck with a pendant necklace that draws attention with its elegant yet statement-making design.
2. Beige Trenchcoat With Black Jeans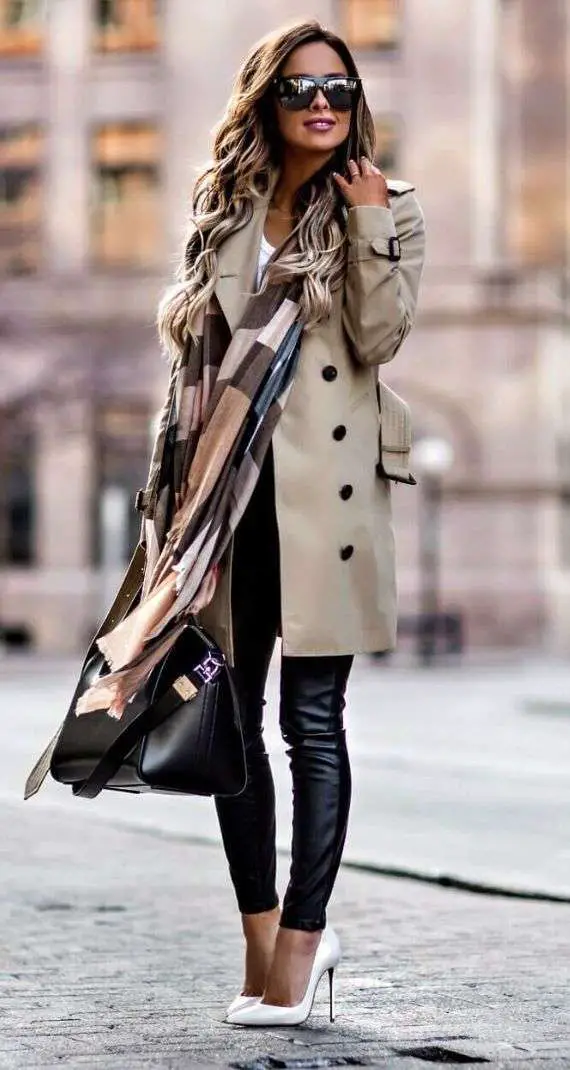 I turn to the enduring charm of a beige trenchcoat layered over my favorite black jeans for that classic yet contemporary feel. The neutral tones play off each other perfectly, creating an effortlessly chic ensemble. To enhance the luxury of this look, I choose suede knee-high boots.
The tactile sensation against my skin is unparalleled; these boots elevate the outfit with their understated elegance. Topping it all off is a wide-brimmed hat that adds an air of mystery to the ensemble. A chunky bracelet wraps around my wrist to balance the softness, adding a touch of edginess to this timeless ensemble.
3. Checkered Shirt With Black Jeans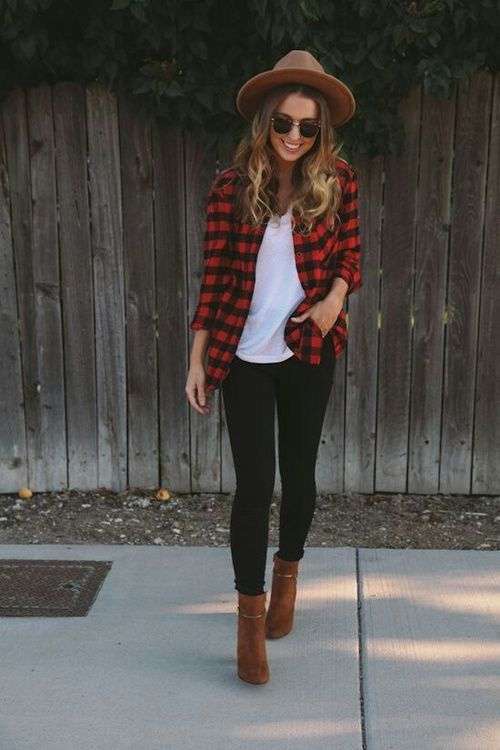 There's something delightfully laid-back yet put-together about a checkered shirt tucked into black jeans. The contrasting patterns create a playful visual interest that's both charming and casual. I slip into a pair of pristine white sneakers to complement the ensemble. These shoes offer comfort and style and effortlessly tie the whole look together.
For practicality, I sling a crossbody bag across my shoulder, ensuring I'm ready to tackle the day's adventures. And to infuse nostalgia, I adorn my ears with retro-inspired hoop earrings that lend a touch of vintage glamour to this effortlessly chic ensemble.
4. Chambray Shirt With Black Jeans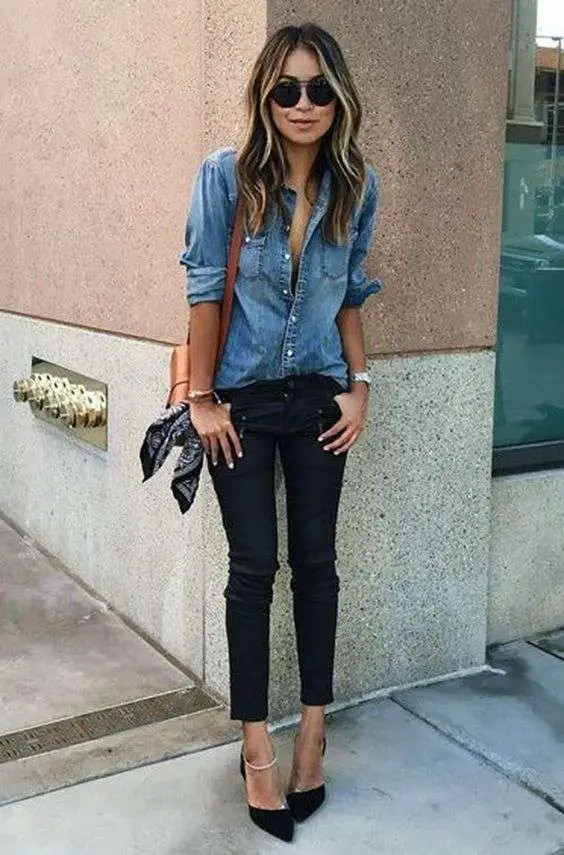 On days when I crave the perfect blend of comfort and style, my chambray shirt matches my dependable black jeans. The denim-on-denim effect is contemporary and chic, perfect for a day out or a casual meeting.
To elevate this laid-back aesthetic, I opt for leather loafers. Their polished appearance balances out the relaxed vibe of the chambray shirt, and they add an air of sophistication to the ensemble.
A delicate layered necklace nestles at my neckline, a testament to the subtle power of accessorizing. This look embodies casual elegance with a hint of understated charm.
5. Knit Sweater With Black Jeans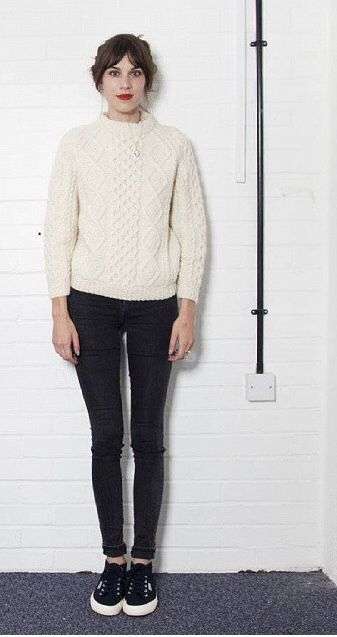 The snug embrace of a knit sweater pairs harmoniously with my trusty black jeans, creating an equal parts cozy and stylish outfit. The contrasting textures invite touch and exploration, making this ensemble a joy to wear.
I slip into ankle boots adorned with playful fringe details to enhance the cozy feel. These boots offer a tactile delight with every step and add an element of bohemian chic to the look.
A slouchy hobo bag hangs casually by my side, offering style and practicality. And to add a touch of personal flair, I slip on a chunky ring that catches the light and reflects my unique personality.
6. Tweed Jacket With Black Jeans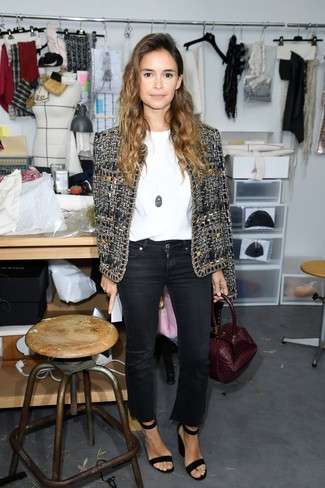 Texture takes center stage as I layer a luxurious tweed jacket over my sleek black jeans. The combination is a study in contrast, blending the structured elegance of the jacket with the casual comfort of the jeans.
To elevate this ensemble, I step into pointed-toe pumps. The heels add a touch of poise and elongate my silhouette, creating a commanding and refined look. A structured handbag enhances the picture, exuding an air of sophisticated elegance.
But the vintage brooch pinned to the jacket truly steals the spotlight, adding a dash of glamour and an element of surprise.
7. Striped Shirt With Black Jeans
Nautical vibes come alive as I slip into a striped shirt, ideally in tune with my black jeans. The alternating stripes create a rhythm that's as captivating as casual. To complement the ensemble, I opt for espadrille wedges that evoke memories of sunny days and strolls.
I don a pair of oversized sunglasses that add a touch of drama, perfect for embracing those summer rays. A woven tote bag rests by my side, ready to carry my essentials while adding an extra layer of style to the ensemble.
8. Ruffled Top With Black Jeans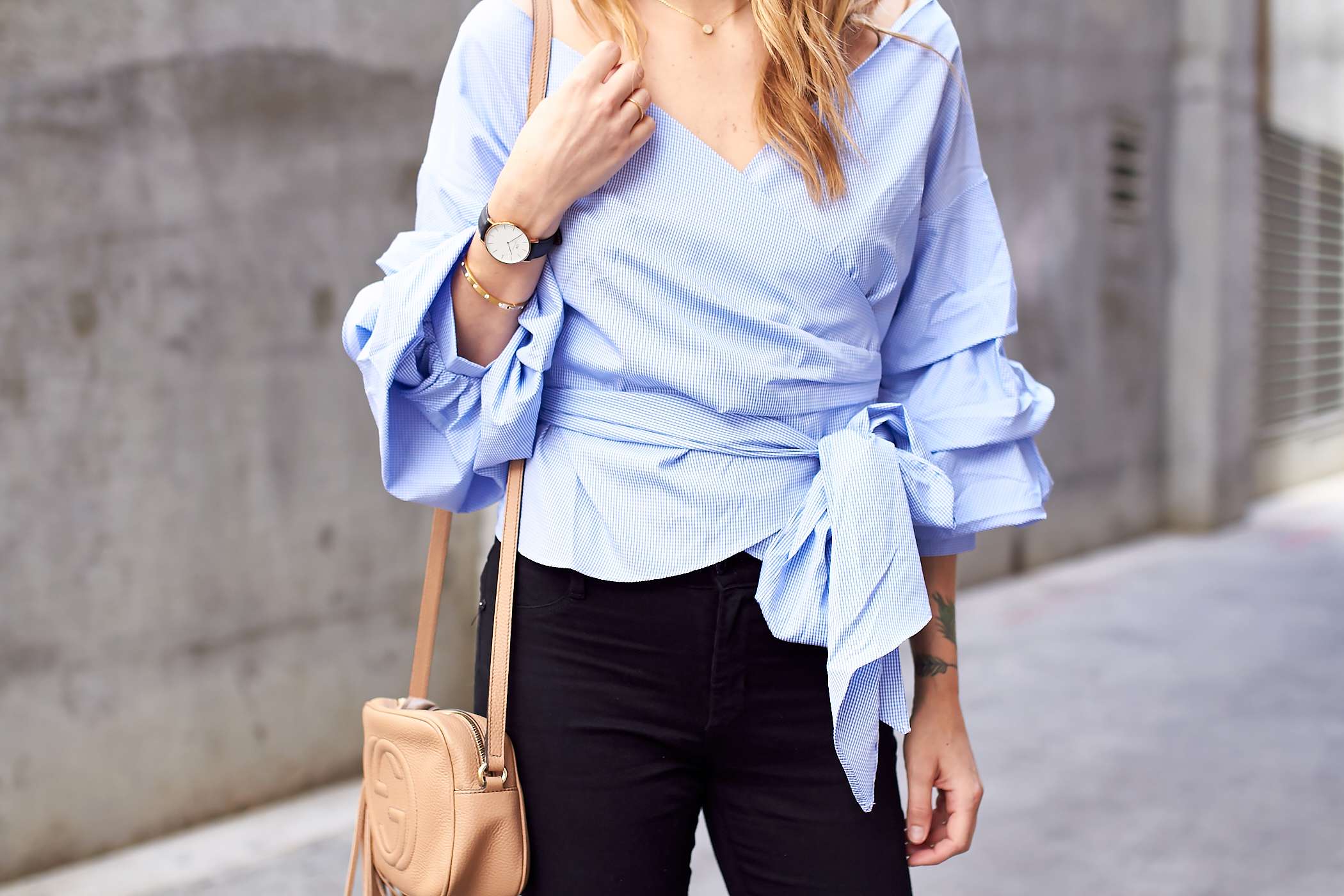 For those occasions when I want to embrace my inner femininity, a ruffled top becomes my companion to black jeans. The delicate frills add movement and grace to the ensemble, creating a look that's both romantic and chic.
I slip into ballet flats adorned with a dainty bow to complete this charming outfit. These flats not only exude elegance but also offer a comfortable foundation for the day ahead.
A bracelet adorned with elegant pearls wraps around my wrist, adding a touch of refined sophistication that's both timeless and enchanting.
9. Off-Shoulder Top With Black Jeans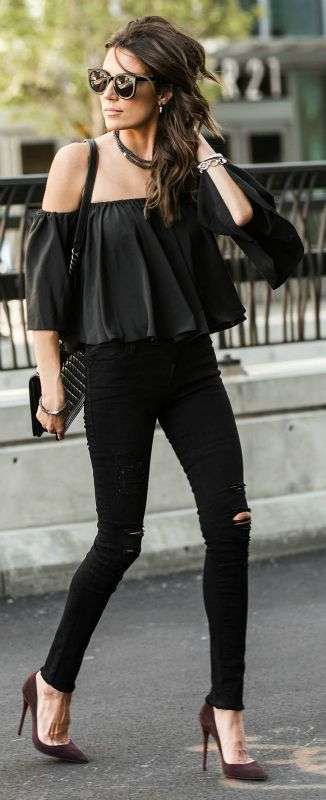 I reach for an off-shoulder top that pairs harmoniously with my black jeans when making a statement. The exposed shoulders create a sense of allure that's perfect for a night out or a special occasion.
To enhance this look, I slide my feet into strappy block heels that add height and confidence to my stride. Statement hoop earrings frame my face, offering a touch of drama that perfectly complements the off-shoulder neckline.
This ensemble radiates confidence and charm, making it an ideal choice for those unforgettable moments.
10. Bomber Jacket With Black Jeans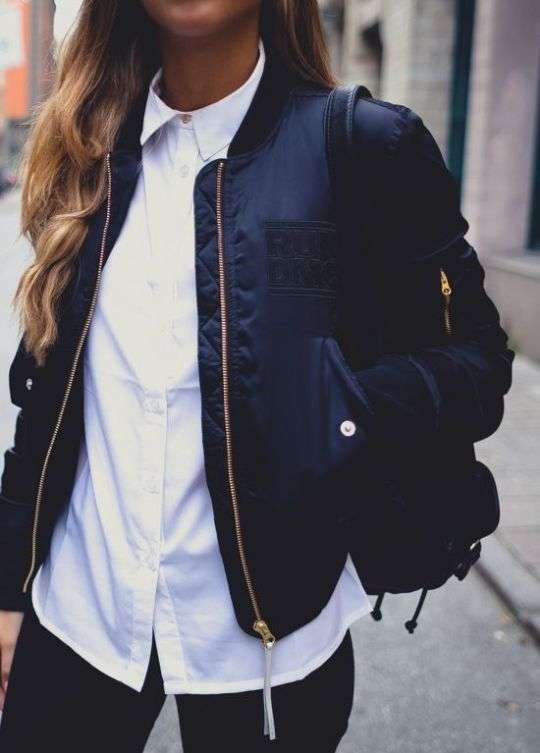 Embracing an urban edge, I layer a bomber jacket over my sleek black jeans. The jacket's silhouette adds a touch of rebellion to the ensemble, creating a bold and confident outfit.
To match this attitude, I opt for lace-up combat boots that give my steps a sense of adventure. Around my neck, a studded choker necklace finishes the look, adding a rebellious touch that harmonizes effortlessly with the overall aesthetic.
11. Graphic Tee With Black Jeans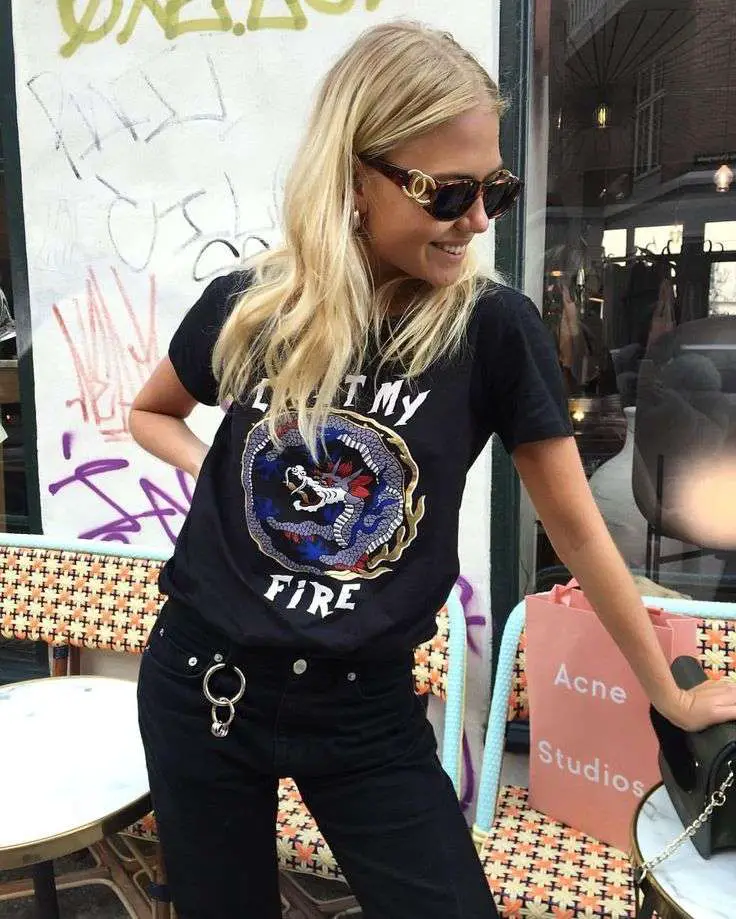 Whenever I seek to convey my personality via fashion, a graphic t-shirt transforms into my canvas, particularly when paired with black jeans. The tee's design speaks volumes, creating an outfit uniquely "me." Stepping into platform sneakers adds a sporty edge, giving the ensemble a sense of youthful energy.
To finish this look, I slip on a casual beanie hat that adds a touch of urban coolness. And on my wrist, a stack of playful bracelets adds a pop of color and whimsy, perfect for embracing a carefree spirit.
12. Flowy Floral Blouse With Black Jeans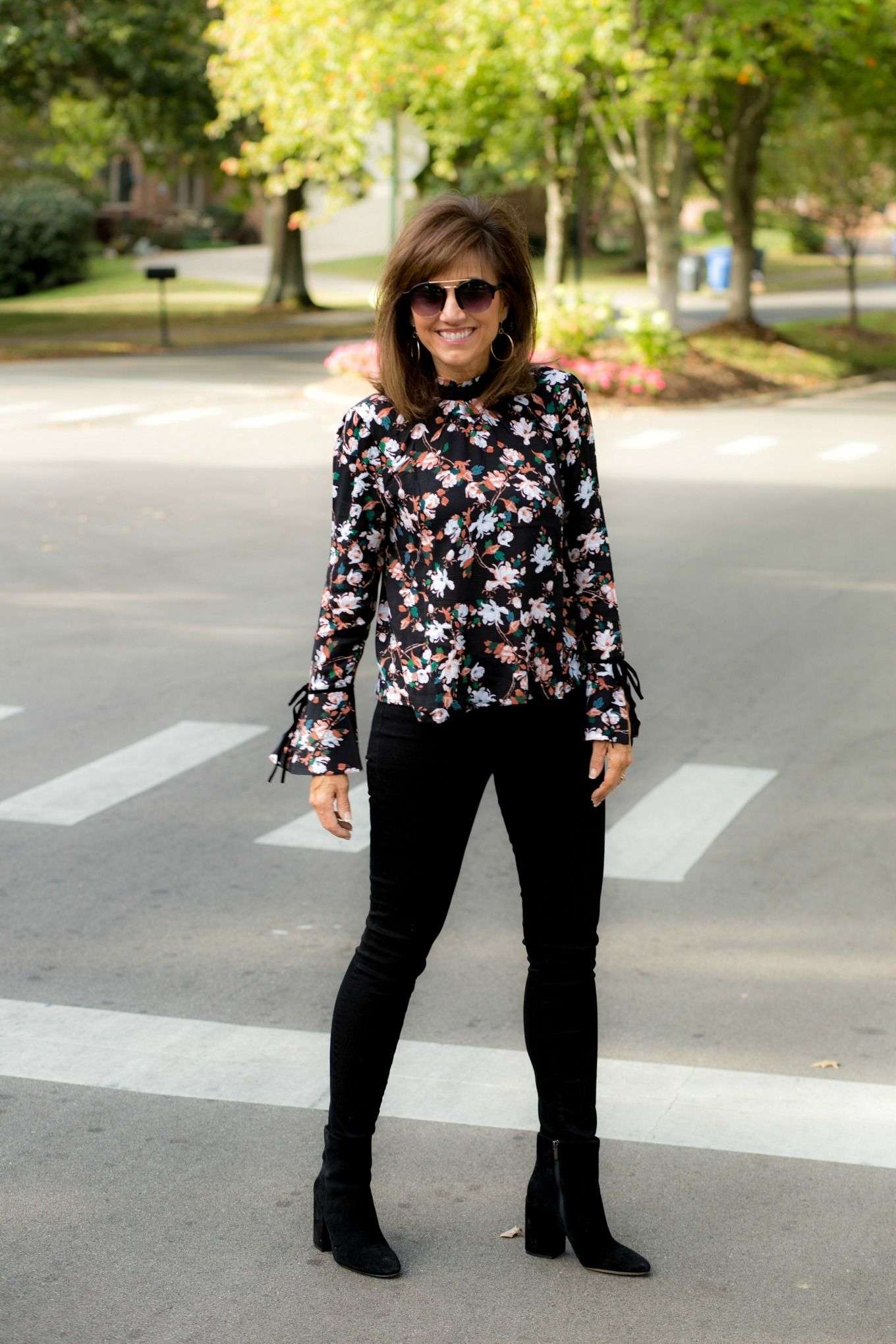 For an ensemble that exudes romance, I drape a flowy floral blouse over my sleek black jeans. The delicate patterns create an ethereal effect that is perfect for embracing my dreamy side. I slide into ankle-strap sandals that mirror the grace of the blouse, offering a touch of whimsical elegance.
Adorning my neck is a pendant necklace that adds a delicate charm to the ensemble, capturing the essence of a serene garden in full bloom.
13. Turtleneck Sweater With Black Jeans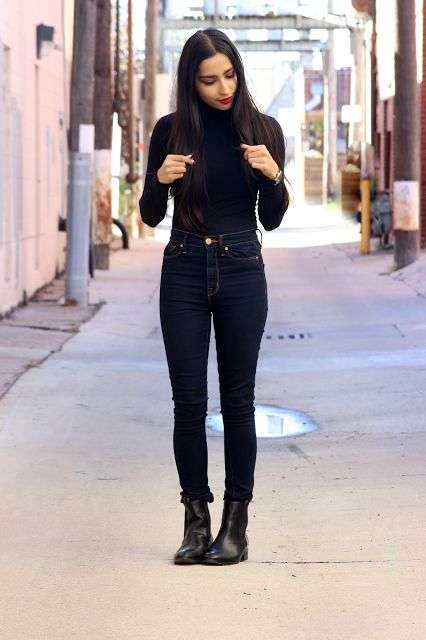 As the temperature dips, I turn to the elegant embrace of a turtleneck sweater paired with my trusty black jeans. The sweater's softness contrasts beautifully with the sleek jeans, creating a polished and cozy ensemble.
I step into knee-high boots that exude sophistication, offering both warmth and style. An elegant belt cinches my waist, adding a touch of structure to the ensemble. Delicate drop earrings frame my face, completing the effortlessly chic look perfect for those colder months.
What to wear with black jeans for work?
When dressing stylishly for work, black jeans are my go-to for comfort and professionalism. Here's a curated list of sophisticated yet fashionable outfits that perfectly complement black jeans in a professional setting:
Crisp White Blouse + Black Blazer + Pointed Flats
Turtleneck Sweater + Statement Necklace + Loafers
Patterned Silk Blouse + Tailored Jacket + Heeled Ankle Boots
Sleeveless Top + Longline Vest + Block Heels
Button-Up Shirt + Belted Trench Coat + Oxford Shoes
Don't forget to read our recent post- Black Jeans Business Casual Women
Frequently Asked Questions (FAQs)
Can I wear black jeans to a formal event?
While black jeans can offer a sleek and sophisticated look, they might not be the best choice for a strictly formal event. Consider choosing tailored trousers or a dress for a more appropriate traditional outfit.
Can I wear black jeans in the summer without feeling too hot?
Absolutely! Opt for lightweight and breathable fabrics to stay comfortable. Look for black jeans with a blend of cotton or other cooling materials. Pair them with light tops and sandals to create a stylish summer look that keeps you cool.
Are there any specific shoe styles to avoid with black jeans?
Generally, it's best to avoid bulky or clunky shoes that can overwhelm the sleekness of black jeans. Chunky sneakers or heavy boots might not create the most balanced look. Instead, opt for slim-profile shoes like loafers, ankle boots, or strappy sandals for a more flattering and stylish pairing.
What colors go well with black jeans?
Black jeans are incredibly versatile and can be paired with various colors. Classic choices include white, gray, and neutrals for a clean look. You can also experiment with vibrant hues like red, mustard, or pastels to add a pop of contrast.
Conclusion 
I hope this guide has inspired you as you embark on your journey of creating stylish outfits with black jeans. Remember, fashion is all about expressing your personality and feeling confident in what you wear.
Whether you opt for a casual tee and sneakers, a sophisticated blouse and heels, or something unexpected, black jeans provide the perfect canvas for creativity. So mix and match, experiment, and most importantly, have fun with your fashion choices.