13 Creative Ways to Rock Your Boyfriend Jeans
Boyfriend jeans, with their relaxed fit and comfortable wear, have quickly become one of the hottest trends in fashion. However, balancing low-key and edgy is the key to successfully styling boyfriend jeans.
In this blog post, I will show you how to style boyfriend jeans to create an on-trend and timeless look. From choosing the right accessories to pairing them with the perfect top, I will walk you through the steps to mastering the boyfriend jean look.
How to Style Boyfriend Jeans?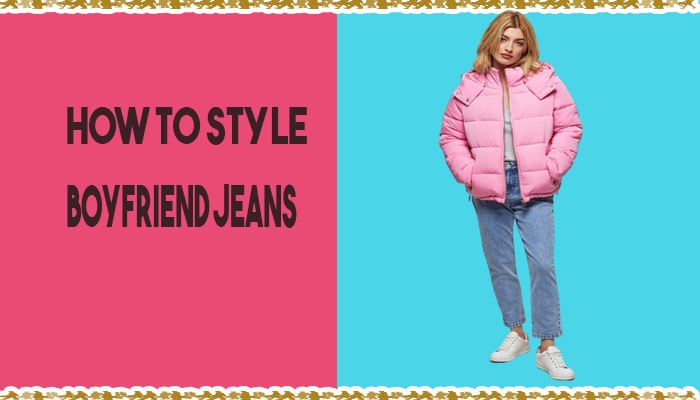 Boyfriend jeans are a great way to add a relaxed, casual vibe to your wardrobe. But it can be daunting if you need help styling them. So here are some tips to help you get the look just right.
1. Choosing the Right fit
I recommend looking for a pair of slightly loose jeans but not baggy when finding the right fit. This will give you a relaxed and casual look. It's also important to pick a pair that's the right length so that the jeans hit right at the ankle.
2. Choosing the Right Tops
Choose the right tops to go with your jeans. I like to pair mine with a simple t-shirt or tank top, but you can opt for a cropped sweater or a button-down shirt. To dress it up, add a blazer or a jacket.
3. Accessorizing
Accessorizing is key to completing your look. A pair of sneakers or sandals will keep the look casual, while a pair of heels can give it a dressier vibe. A statement belt or a few layered necklaces can add some flair.
13 Outfit Ideas with Boyfriend Jeans
Boyfriend jeans are the perfect way to add a touch of effortless cool to your wardrobe. Whether looking for a casual weekend look or a bit more dressy, boyfriend jeans are the perfect way to express your style. Here are 13 outfit ideas to help you get started.
1. Crop Top with Boyfriend Jeans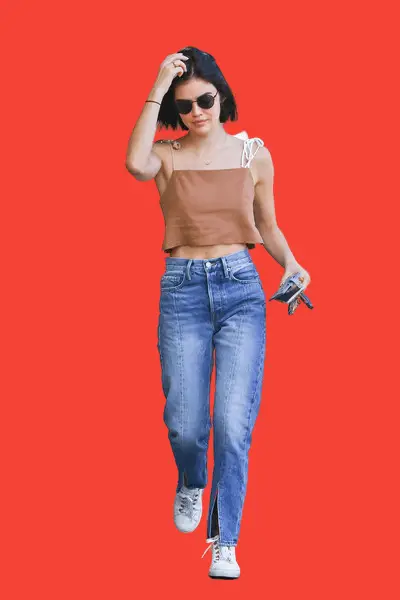 These boyfriend jeans are a great way to add a casual, relaxed vibe to any outfit. I love pairing my boyfriend jeans with a cropped top to add style to your look. This look is perfect for a summer day with friends or a night out on the town.
The combination of the slightly oversized jeans and the cropped top creates an effortless, cool girl look that is always in style. I recommend adding a pair of strappy sandals or chunky sneakers to complete the look.
2. Fur Coat with Boyfriend Jeans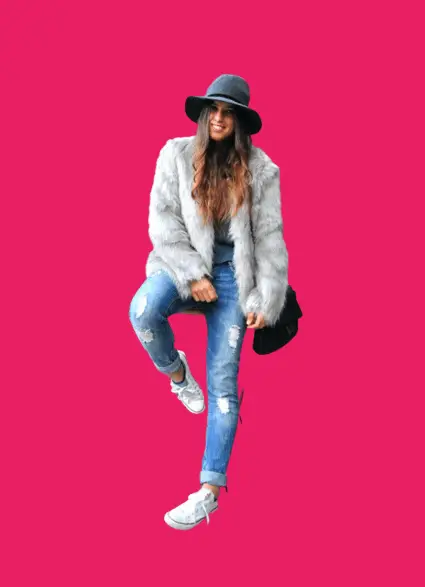 To style a fur coat with boyfriend jeans, opt for a more relaxed fit in your jeans to balance out the glamour of the fur. A cropped or oversized fur coat can look great with boyfriend jeans, adding a sense of effortless cool to the outfit.
Pair this combination with some simple ankle boots or sneakers to keep the look casual, and add some statement accessories such as a bold necklace or earrings to complete the look. Alternatively, you could wear this combination with heels and a clutch for a more formal occasion.
3. Light Blue Coat with Boyfriend Jeans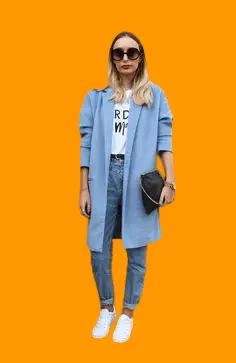 To create a stylish look with boyfriend jeans, I pair them with a light blue coat. Combining the two creates a timeless, effortless look that is perfect for any occasion. I want to pick a coat with a slightly oversized fit for a more relaxed feel.
To add an extra layer of warmth, I like adding a cozy scarf or a thick belt to finish the look. These small details will add a touch of sophistication to your outfit and make it look more polished.
4. T-shirt with Boyfriend Jeans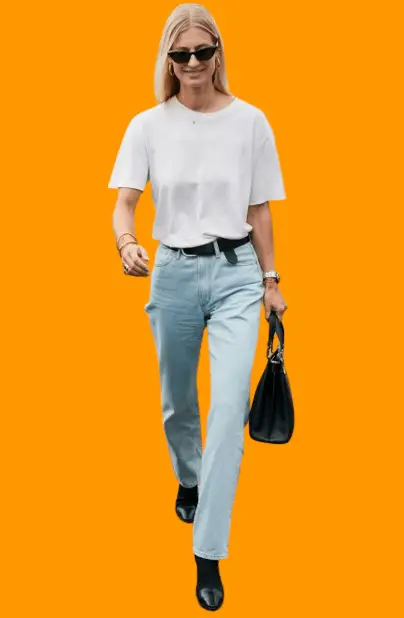 It's no secret that boyfriend jeans are one of the most stylish and comfortable looks. To style them, I like to pair them with a classic t-shirt. I usually wear plain white or black t-shirts to keep the look simple and timeless.
I also add tucking the t-shirt into the jeans for a more polished look. To add a bit of flair, I'll accessorize with a statement necklace or a pair of statement earrings. This look is perfect for a casual day or even a night out with friends.
5. Red Long Coat with Boyfriend Jeans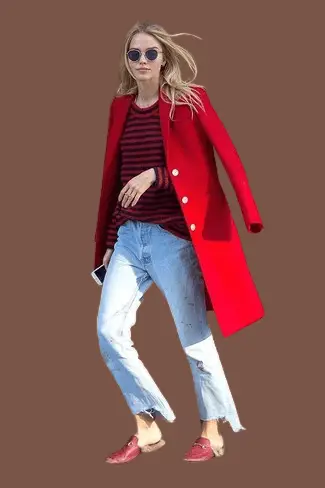 I love the look of boyfriend jeans and excited to share my favorite way to style them! I start with a basic pair of boyfriend jeans to create this look. I prefer a slightly distressed pair, which adds a cool and edgy vibe. Then I layer a long, bright red coat over the top.
This helps to brighten up the outfit, and the length of the coat adds to the overall look. I also added a pair of ankle boots or sneakers and a simple black or white t-shirt. It's comfortable yet stylish, and it's sure to turn heads!
6. Corset Top with Boyfriend Jeans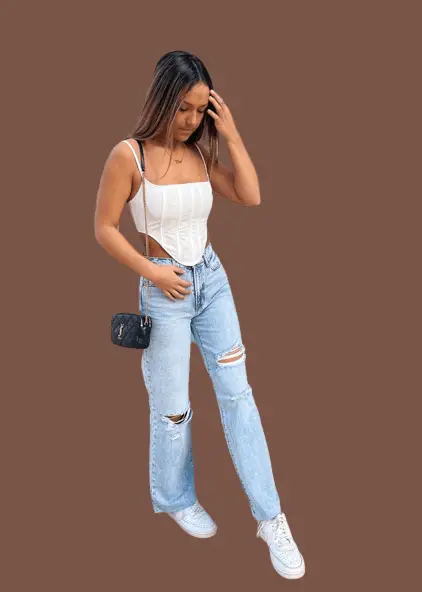 One of the best things about boyfriend jeans is that they are incredibly versatile. I suggest pairing your boyfriend jeans with a chic corset top if you want to wear them. This pairing lets you show off your curves while keeping the look relaxed and casual.
Start with a pair of classic-fit boyfriend jeans, then add a corset top of your choice. I like to tuck the top into the jeans and accessorize with a belt to emphasize my waist further and complete the outfit. Choose shoes that go with a boyfriend's jeans.
7. Oversized Blazer Jacket with Boyfriend Jeans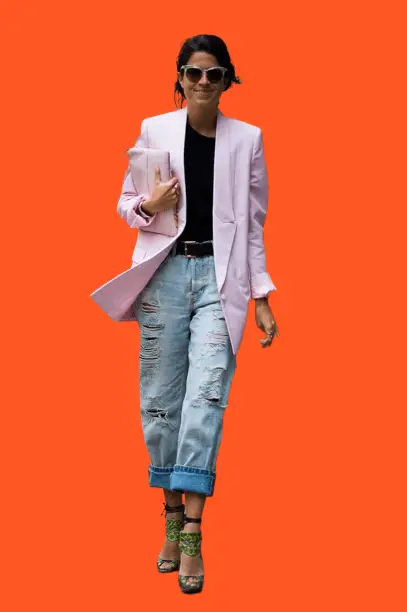 I'm a big fan of the boyfriend jeans look and always looking for new ways to mix it up. One of my favorite combinations is to pair them with an oversized blazer jacket. This classic silhouette is a great way to put a refined twist on the comfortable and easy-to-wear style of the jeans.
To make the look more interesting, choose a blazer contrasting the jeans and a pair of heels to help create a classic yet modern ensemble. It's a great way to stand out and make a statement.
8. Sweatshirt with Boyfriend Jeans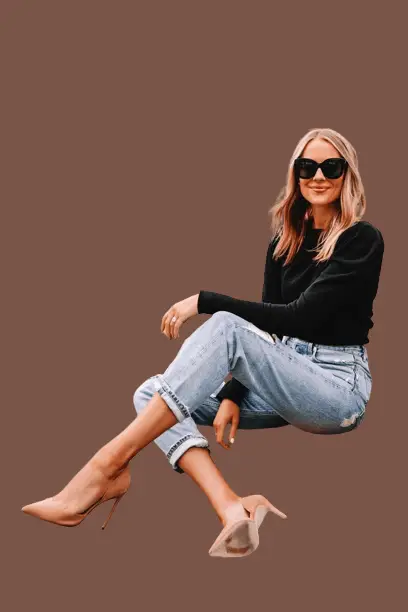 It's easy to look good with boyfriend jeans. You only need a statement-making sweatshirt to make a chic yet comfy outfit. I love to pair my boyfriend jeans with an oversized sweatshirt, preferably one with a graphic. This instantly updates the look and gives it an extra edge. I'll tie the bottom of the sweatshirt to accentuate my waist further or tuck it in.
I also like to pair my boyfriend's jeans with a cropped sweatshirt, which lends a modern street-style vibe. Add a pair of sneakers and some layered accessories to complete the look.
9. Hot Pink Puffer Jacket with Boyfriend Jeans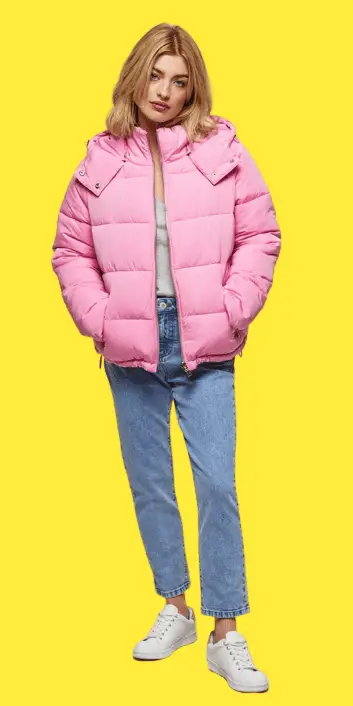 This combination provides a perfect balance of cool and street style. The puffer adds an extra layer of warmth, while the bright pink adds color to any outfit. I like to roll up the bottom of the jeans to show off my ankles, and the top of the puffer gives it a slightly more fitted look. With my hair down and a pair of sneakers, this look is ready to go!
Also Read: How to Wear Boyfriend Jeans in Winter?
10. Olive Trench Coat with Boyfriend Jeans
Olive is one of my favorite colors to wear, and it looks especially great when paired with boyfriend jeans. So start with a pair of classic boyfriend jeans. These jeans should be slightly loose and cuffed at the bottom. Then, add a structured olive trench coat to give the outfit some shape.
To add a pop of color, I like to wear a bright T-shirt underneath the trenchcoat. Lastly, some simple white sneakers will tie the look together. This is a great way to look stylish and stay comfortable.
11. Statement Top with Boyfriend Jeans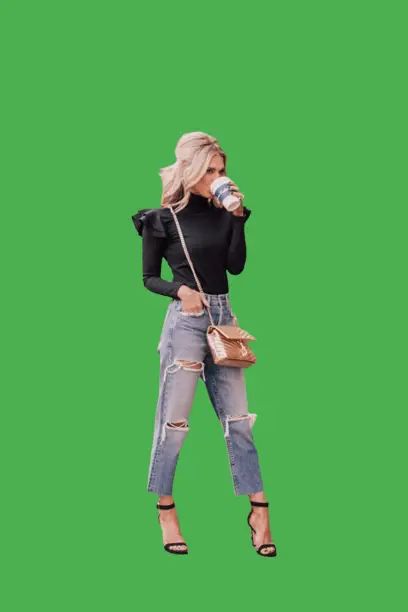 Statement tops with boyfriend jeans are a look that is sure to turn heads. This stylish look is perfect for a night out on the town or a casual day out. The combination of a bold, statement top paired with the relaxed fit of boyfriend jeans gives off an effortless look that is both edgy and chic.
The top can be as simple or bold as you like, from a graphic tee to a bold, patterned blouse. The jeans can be cuffed or left long and casual and should be paired with heels or flats. With the right accessories, you can make this look your own and create a unique style that will surely get noticed.
12. Crop Sweater with Boyfriend Jeans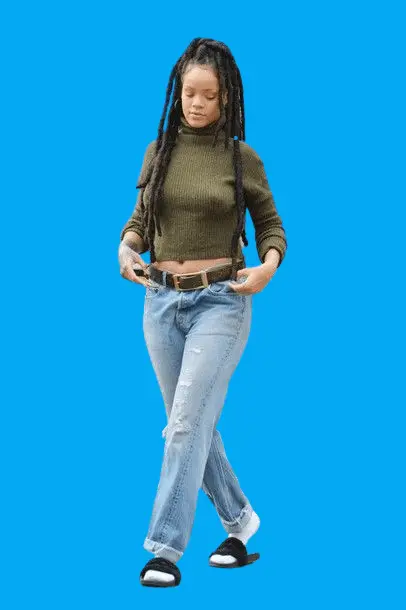 The crop sweater with boyfriend jeans look is a fashion trend that is here to stay. The crop sweater is usually a loose-fitting, cropped sweater that sits just above the hips. It pairs perfectly with relaxed boyfriend jeans for a casual yet stylish look.
Add a pair of low-top sneakers, a simple belt, and jewelry for a more chic vibe to complete the look. The crop sweater and boyfriend jeans look perfect for days when you want to look put together but feel comfortable at the same time.
13. Cozy-knit cardigan with Boyfriend Jeans
A cardigan is a great way to add a layer of warmth and style to any outfit. I love pairing a cozy knit cardigan with my favorite boyfriend jeans for a casual yet chic look. The oversized fit of the cardigan adds a relaxed vibe to the outfit, while the boyfriend jeans give it an effortless edge. I like to accessorize with a printed scarf and ankle boots to add texture and color.
How To Look Slim in Boyfriend Jeans?
Opt for a slimmer cut if you want to look slimmer in boyfriend jeans. Boyfriend jeans typically come in a looser, baggier fit, so to create a more flattering silhouette, try finding a pair that is slightly more tapered at the ankle.
Pair them with a tucked-in shirt and statement belt for a classic look. You can create a stylish and slimming look with boyfriend jeans with the right accessories.
Do Boyfriend Jeans Look Good on Thick Thighs?
When it comes to fashion, there's no one-size-fits-all rule. But if you're wondering if boyfriend jeans look good on thick thighs, the answer is yes! The boyfriend jeans' relaxed fit is great for those with curvier figures.
Pair them with an oversized top to make the most of your boyfriend jeans. This will help to make your figure look balanced and create a stylish look. You can also wear a belt to cinch in the waist, giving you an hourglass shape. Overall, boyfriend jeans can look great on thick thighs. Ensure they fit well and are paired with the right items for a chic yet comfortable look.
Conclusion
Boyfriend jeans are a great way to create a casual yet stylish look. They look great with chunky sweaters, crop tops, and statement jackets. You can also accessorize them with various shoes and accessories to create the perfect look.
With all the different styles and looks you can create with boyfriend jeans, you're sure to find something that fits your style and personality. So, grab a pair and start experimenting with how to style them today!