How To Wear Jeans To Work For Men? 13 Great Outfit Ideas
Gone are the days when jeans were confined to weekend wear. Today, they've found their place in the professional world, adding a touch of versatility to men's work wardrobes. Balancing comfort and style, this guide offers swift tips to help you confidently sport jeans while maintaining a polished office look.
Whether your workplace leans formal or casual, learn how to rock your denim with finesse and professionalism.
Here is a short overview of How To Wear Jeans To Work For Men-
| Outfit Idea | Components | Footwear |
| --- | --- | --- |
| Classic | Dark jeans, white dress shirt, leather belt | Oxford shoes |
| Smart Casual | Jeans, fitted blazer (charcoal/navy) | |
| Casual Friday | Polo shirt, jeans | Loafers/sneakers |
| Business Casual | Jeans, fine-knit sweater | |
| Monochrome | All-black jeans, black dress shirt | Silver accessories |
| Creative | Patterned shirt, classic jeans | Loafers |
| Confident Casual | Fitted T-shirt, dark denim | |
| Denim Harmony | Chambray shirt, chinos | Desert boots |
| Layered Leadership | Denim jacket, dress shirt | |
| Timeless Elegance | Trench coat, jeans | |
| Footwear Finesse | Polished loafers, jeans | |
| Casual Accents | Scarf, jeans outfit | |
| Innovative Edge | Distressed jeans, tailored shirt | |
Also Read: How To Style Dress Pants Men?
What To Know Before Choosing The Right Jeans for Office Wear Men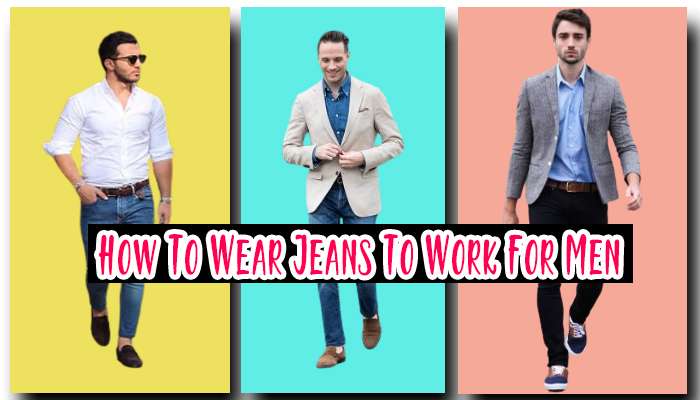 Before diving into the world of jeans office wear, it's crucial to understand what makes a pair of jeans suitable for the workplace. Here are some pointers to keep in mind:
Fit Matters: Opt for a pair of jeans that fit well without being overly tight. Slim or straight-cut jeans tend to give a more polished look.
Dark Wash is the Way: Dark wash jeans are more versatile and lend themselves to a dressier appearance. Light-wash jeans might appear too casual for most office settings.
Skip the Distressed Look: Ripped or heavily distressed jeans are best left for weekends. Opt for a clean and polished pair for work.
Fabric Quality: Invest in jeans made from high-quality denim. Premium denim looks better and holds its shape throughout the day.
What Dress To Wear With Jeans for a Professional Look Men?
Pairing your jeans with the right top can elevate your office ensemble. Here are some dress code-friendly options:
Crisp White Shirt: A classic white dress shirt adds a touch of formality to your jeans. Tuck it in for a neat appearance.
Blazer Combo: Throw on a well-fitted blazer over a dress shirt and jeans for a smart-casual look that exudes professionalism.
Sweater Sophistication: Opt for a V-neck sweater or a lightweight knit over your jeans. This combination is perfect for a cozy yet stylish office outfit.
Polo Power: A polo shirt can be a comfortable and acceptable choice with dark jeans. Just ensure the polo is in good condition and well-fitted.
What Shoes To Wear With Jeans for a Professional Look Men?
Choosing the right shoes can make or break your jeans office look. Here are some shoe options that complement jeans in a professional setting:
Derby or Oxford Shoes: These classic lace-up shoes add a formal touch to your outfit, creating a seamless blend with jeans.
Loafers: Leather loafers are a fantastic choice for a polished look. They're comfortable and versatile enough to pair with jeans.
Chelsea Boots: If you're aiming for a modern and stylish vibe, Chelsea boots are an excellent option. Their sleek design works well with jeans.
Monk Strap Shoes: Opt for monk strap shoes for a slightly unconventional yet sophisticated appearance. They add a touch of personality to your ensemble.
13 Jeans Office Outfits For Men
Here, we'll explore 13 jeans office outfits for men that strike the perfect balance between professionalism and contemporary style.
1. The Classic Combination: Dark Denim and Crisp Dress Shirt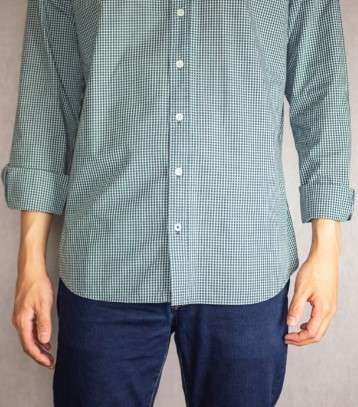 When it comes to office attire, pairing dark denim jeans with a crisp dress shirt is a combination that stands the test of time. The contrast between the rich, indigo hue of the jeans and the immaculate white shirt creates a sophisticated yet approachable look.
Tuck in your shirt for a polished appearance, and complete the ensemble with a sleek leather belt and Oxford shoes.
2. Smart Casual Elegance: Blazer and Jeans Ensemble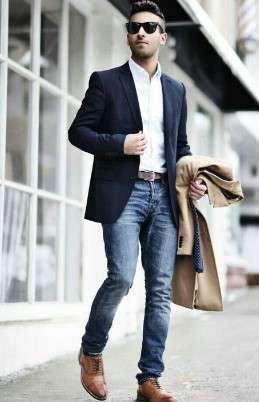 Elevate your office attire by adding a tailored blazer to your jeans ensemble. Opt for a well-fitted blazer in a versatile color, such as charcoal or navy, to exude an air of professionalism. This blend of casual denim and formal blazer strikes the perfect balance between comfort and sophistication, reflecting your expertise and authority in your field.
3. Effortless Fridays: Polo Shirt and Jeans Combo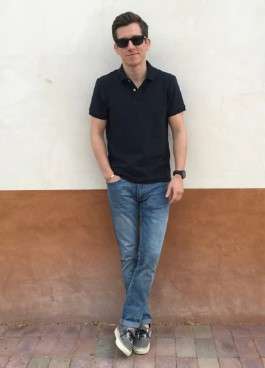 Casual Fridays call for a relaxed yet polished look. Combine a well-fitting polo shirt with your favorite pair of jeans. The polo shirt adds a touch of informality, while the jeans maintain a professional edge. Slip into loafers or suede sneakers to complete this laid-back yet authoritative outfit.
4. Business Casual Harmony: Sweater and Jeans Harmony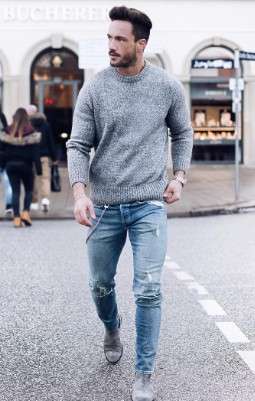 For those brisk office days, a lightweight sweater paired with jeans can provide warmth and style. Choose a fine-knit sweater in a muted tone to maintain an understated elegance.
This combination showcases your ability to navigate the business-casual landscape while embracing comfort and sophistication effortlessly.
5. Monochromatic Marvel: All-Black Ensemble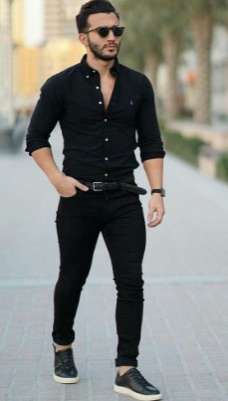 Embrace the power of monochrome by opting for an all-black ensemble. Black jeans and a black dress shirt create a sleek, modern look that embodies your professionalism and authority. Accessorize with a silver watch or cufflinks to add a touch of personality to this streamlined outfit.
6. Creative Contrasts: Patterned Shirt and Jeans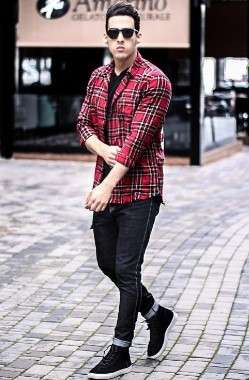 Inject a splash of creativity into your office attire by introducing a patterned dress shirt. Choose subtle patterns like checks or microprints that add visual interest without overwhelming the ensemble.
Balance the vibrancy of the shirt with classic jeans and loafers, showcasing your ability to play with contrasts expertly.
7. Casual Confidence: T-Shirt and Dark Denim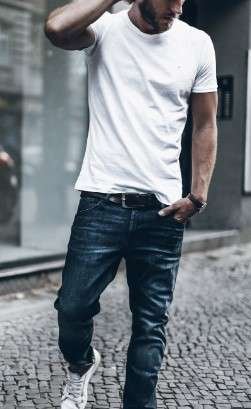 A well-fitted t-shirt paired with dark denim can exude casual confidence in environments with a more relaxed dress code. Opt for a plain T-shirt in a complementary color to your jeans.
This outfit effortlessly marries comfort and authority, reflecting your fashion and professional experience and expertise.
8. Denim Dexterity: Chambray Shirt and Chinos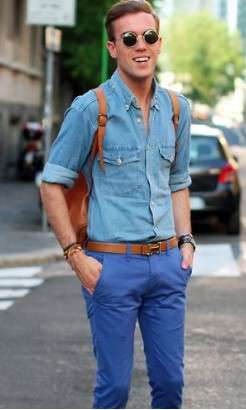 Step up your denim game by incorporating a chambray shirt into your office ensemble. The soft and textured fabric of the chambray shirt pairs harmoniously with jeans, creating a sophisticated yet approachable look.
Complete the outfit with chinos and desert boots, demonstrating your authority in combining diverse elements into a cohesive company.
9. Layered Leadership: Denim Jacket and Dress Shirt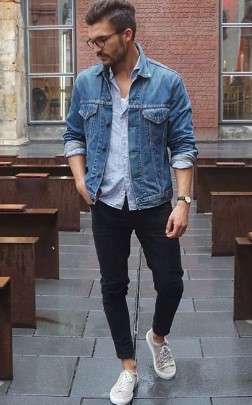 Showcase your leadership qualities by layering a denim jacket over a dress shirt. This dynamic combination adds depth to your outfit while maintaining a professional edge.
The jacket's casual appeal is balanced by the dress shirt's crispness, making a statement about your ability to navigate different facets of your profession.
10. Timeless Trench: Trench Coat and Jeans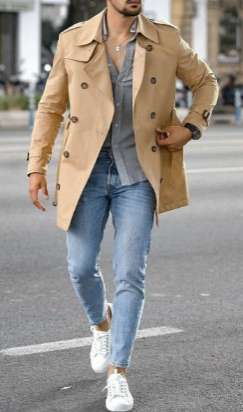 Incorporate a touch of timeless elegance by pairing a trench coat with your jeans outfit. The trench coat's classic silhouette complements the modern appeal of jeans, blending old-world charm with contemporary style.
This ensemble reflects your authority in recognizing the enduring significance of fashion elements.
11. Footwear Finesse: Loafers and Jeans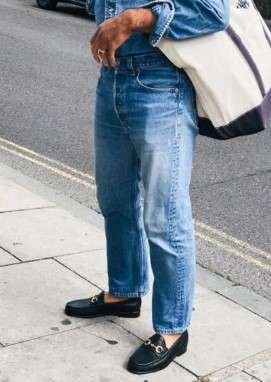 The choice of footwear can significantly impact your overall look. Elevate your jeans outfit with a pair of polished loafers. These versatile shoes effortlessly bridge the gap between casual and formal, showcasing your ability to harmonize disparate elements into a coherent and authoritative ensemble.
12. Casual Accessories: Scarf and Jeans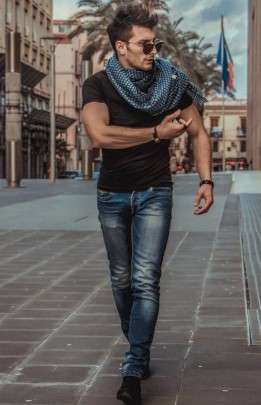 Incorporate accessories to infuse your jeans outfit with personal style. A well-chosen scarf can add a dash of sophistication to your look while keeping you warm in colder months. This attention to detail underscores your expertise in curating an ensemble that balances aesthetics and practicality.
13. Innovative Denim: Distressed Jeans and Tailored Shirt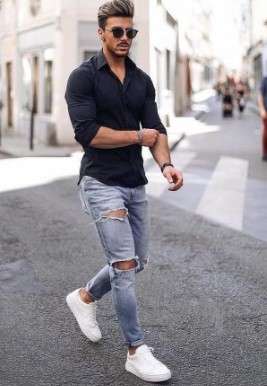 Embrace innovation and creativity by introducing distressed jeans into your office attire. Pair them with a tailored dress shirt to strike the perfect balance between edginess and professionalism. This unique combination showcases your authority in pushing the boundaries of conventional office fashion.
What To Avoid For Jeans Office Wear?
While jeans can undoubtedly make an office-appropriate statement, there are some things you should avoid to maintain a professional look:
Faded or Distressed Jeans: These give off a more casual vibe and might not be suitable for all office environments.
Baggy or Oversized Jeans: Ill-fitting jeans can appear sloppy and unkempt. Opt for a well-fitted pair.
Graphic Tees: While these can be fun, they're generally too casual for office wear. Stick to solid-colored shirts or subtle patterns.
Sneakers: While sneakers have their place, they might not be the best choice for a formal office setting.
FAQs
What are the best jeans for men to work in?
The best jeans for men to work in are well-fitted, dark-wash jeans made from high-quality denim. Look for a pair that offers comfort and a polished appearance.
Are jeans OK for business casual men?
What type of jeans can I wear to work?
Opt for a dark wash, slim, straight-cut jeans without heavy distressing. These styles tend to project a more professional image.
Is it professional to wear jeans to work?
Yes, wearing jeans to work can be professional if you follow specific guidelines. Please choose the right fit, wash them, and pair them with suitable tops and shoes.
Final Thoughts
Wearing jeans in the office doesn't mean sacrificing professionalism. By selecting the right pair, combining them with suitable tops and shoes, and avoiding certain pitfalls, you can create stylish and appropriate office outfits that keep you comfortable and confident throughout the workday.
Embrace the versatility of jeans and make them an integral part of your office attire, proving that you can be stylish and business-savvy.
Source:
https://www.familybritches.com/6-rules-wearing-jeans-business-casual-look/
https://restartyourstyle.com/business-casual-for-men/