From Heels to Sneakers: 17 Shoes To Wear With Wide-Leg Jeans
Wide-leg jeans offer a refreshing departure from the conventional skinny jeans style. Their relaxed and vintage-inspired look provides ample opportunities for creative pairings with various footwear styles.
As a devoted fan of jeans and shoes, I've compiled a list of 17 shoes that seamlessly elevate your wide-leg jeans game. Join me as we explore the world of shoe fashion and discover the art of combining comfort and style.
Read Also: How To Wear Cuffed Jeans With Chukka Boots?
Short Overview of the content:
Here's the list of the 17 shoe options to wear with wide-leg jeans: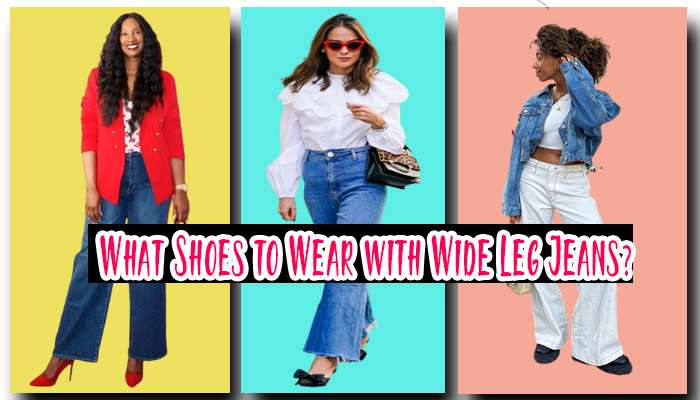 Classic White Sneakers
Ankle Boots with Detailing
Stylish Platform Sandals
Classic Loafers
Chic Mules
Strappy Heeled Sandals
Trendy Cowboy Boots
Comfy Slip-On Sneakers
Edgy Combat Boots
Elegant Ballet Flats
Sophisticated Oxford Shoes
Sporty High-Top Sneakers
Quirky Espadrilles
Stylish Pointed-Toe Flats
Glamorous Heeled Boots
Casual Slide Sandals
Statement Sneakers
Things To Consider Before Choose Shoes For Wide Leg Jeans
Several factors must be considered when choosing shoes to pair with wide-leg jeans to ensure a balanced and stylish look. Here are some guidelines to follow:
Choose a slight heel for balance.
Opt for structured shoes like ankle boots.
Ensure ankles are visible for a polished look.
Coordinate shoe color with jeans.
Match shoe style to the occasion.
Consider the width of the leg opening.
Prioritize comfort and confidence.
What Shoes to Wear with Wide Leg Jeans?
Dressing up in wide-leg jeans is a delightful journey filled with endless possibilities. Here are my top picks for shoes that effortlessly enhance your wide-leg denim look:
1. Classic White Sneakers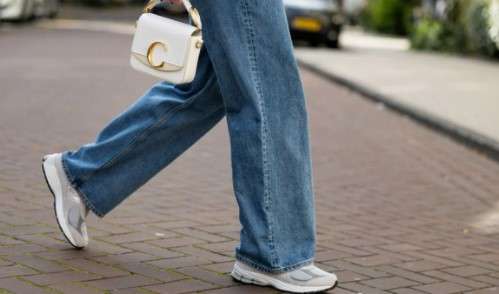 There's a reason classic white sneakers are a wardrobe staple. Their minimalistic charm complements the relaxed nature of wide-leg jeans and adds a touch of urban chic to your ensemble. Whether running errands or meeting friends for coffee, these sneakers ensure comfort and style.
2. Ankle Boots with a Twist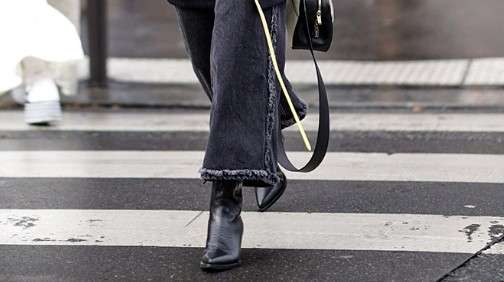 Ankle boots are a match made in fashion heaven for wide-leg jeans. Opt for boots with intricate detailing, like buckles or embroidery, to infuse personality into your outfit. The juxtaposition of a tailored boot and flowing jeans creates a captivating, stylish, and edgy look.
3. Stylish Platform Sandals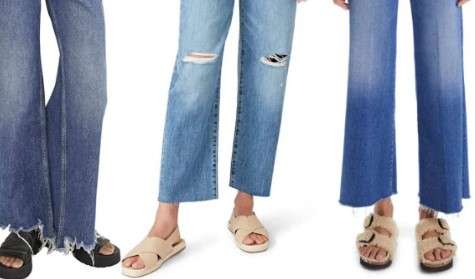 Elevate your wide-leg jeans, literally and figuratively, with platform sandals. These shoes add height and a dash of '70s flair to your ensemble. Choose neutral tones for versatility, or embrace bold colors for a statement-making appearance.
The added height of platforms helps balance out the wide proportions of the jeans, creating a harmonious silhouette.
4. Classic Loafers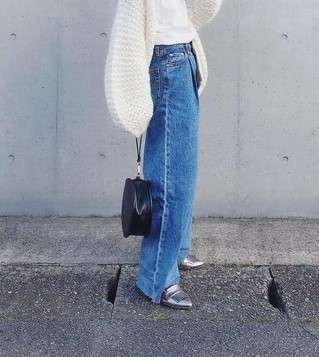 For a polished yet comfortable style, slip into classic loafers. Their refined design harmonizes effortlessly with wide-leg jeans, making them an excellent choice for casual Fridays at the office or leisurely weekend outings. Loafers provide a sophisticated touch to your outfit without compromising on comfort.
5. Chic Mules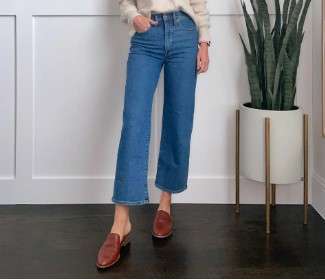 Mules bring a hint of sophistication to your wide-leg jeans ensemble. Whether you opt for open-toe or closed-toe styles, mules offer a touch of elegance that effortlessly bridges the gap between comfort and glamour. The mules' open-back design adds chic playfulness to your look.
Also Read: How To Style Dress Pants Men?
6. Strappy Heeled Sandals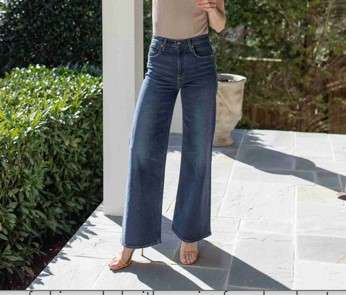 When it's time to step up your game, turn to strappy-heeled sandals. These shoes elongate your legs and add a dose of allure to your wide-leg jeans. They're perfect for a night out or a special occasion. The heels lengthen, enhancing the wide-leg jeans' flowy and elongated appearance.
7. Trendy Cowboy Boots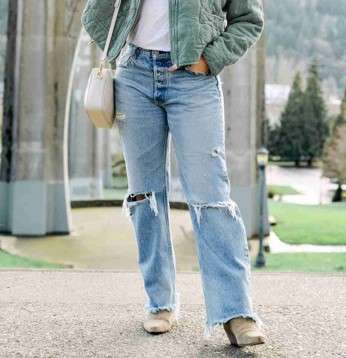 Embrace your inner fashion rebel with a pair of cowboy boots. These boots inject a dose of Western charm into your wide-leg jeans look, giving you a bold and adventurous appearance.
The pointed toe and slightly tapered heel of cowboy boots complement the wide-leg jeans by creating a balanced and visually appealing contrast.
8. Comfy Slip-On Sneakers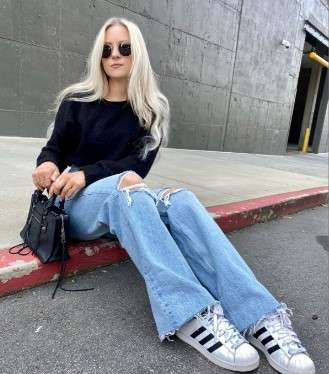 For a laid-back and carefree vibe, slip-on sneakers are a must. Their effortless style complements the relaxed nature of wide-leg jeans, making them an ideal choice for weekends and casual hangouts. Slip-on sneakers provide the perfect combination of comfort and ease.
9. Edgy Combat Boots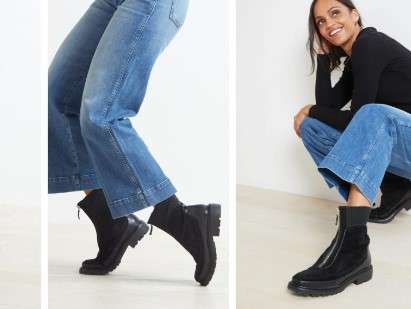 Infuse a touch of edginess into your wide-leg jeans outfit with combat boots. Their rugged allure adds depth and contrast to the flowing silhouette of the jeans, creating a captivating visual balance. Combat boots bring an unexpected and fashionable twist to your denim look.
10. Elegant Ballet Flats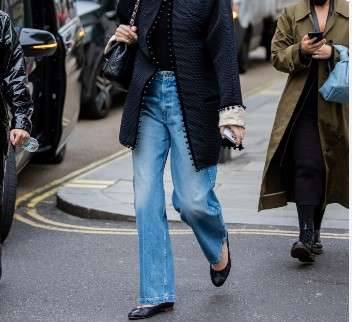 Ballet flats are the epitome of understated elegance. Pair them with wide-leg jeans for a refined yet comfortable look that effortlessly transitions from day to night. The delicate and feminine design of ballet flats provides a graceful counterpoint to the jeans' relaxed fit.
Further Read: How To Wear Black Tuxedo Jacket With Jeans for Women?
11. Sophisticated Oxford Shoes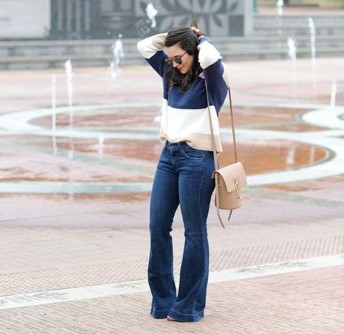 Oxford shoes offer a blend of classic and contemporary styles. Their structured design complements the relaxed fit of wide-leg jeans, creating a harmonious balance between smart and casual. Oxford shoes lend an air of sophistication to your outfit while maintaining a comfortable and stylish appeal.
12. Sporty High-Top Sneakers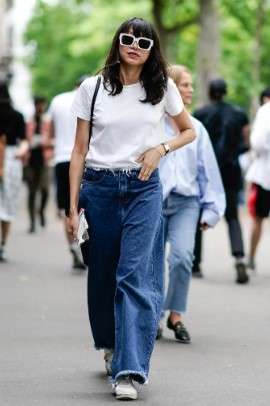 High-top sneakers are your go-to option if you're aiming for a sporty-chic vibe. These sneakers add an element of street-style coolness to your wide-leg jeans ensemble. The high-top design adds a trendy and youthful touch to your look.
13. Quirky Espadrilles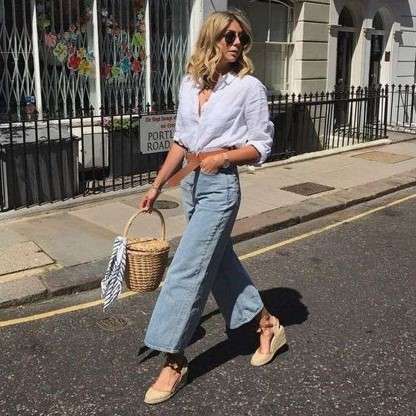 Infuse a touch of whimsy into your outfit with espadrilles. These shoes add a playful charm to your wide-leg jeans look, making them perfect for outdoor gatherings and leisurely strolls. The natural texture of espadrilles complements wide-leg jeans' casual and relaxed aesthetic.
14. Stylish Pointed-Toe Flats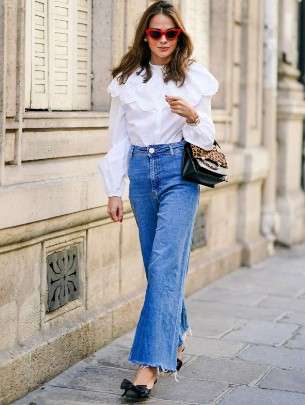 Pointed-toe flats exude sophistication and grace. Their sleek silhouette complements the wide-leg jeans' flowy nature, resulting in a polished and refined appearance. Pointed-toe flats elevate your denim look with a touch of refinement and poise.
15. Glamorous Heeled Boots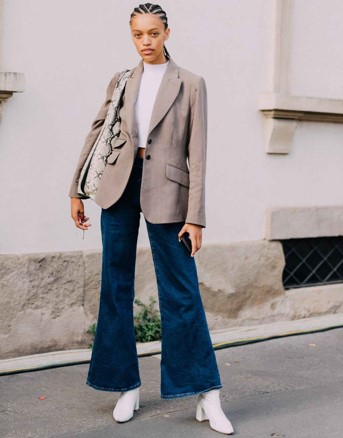 Step into elegance with heeled boots that effortlessly complement wide-leg jeans. Whether you choose ankle boots or knee-high options, these boots add a touch of glamour to your outfit. Heeled boots instantly lift your overall appearance, enhancing both style and confidence.
Also Read: What Shoes To Wear With Carpenter Pants?
16. Casual Slide Sandals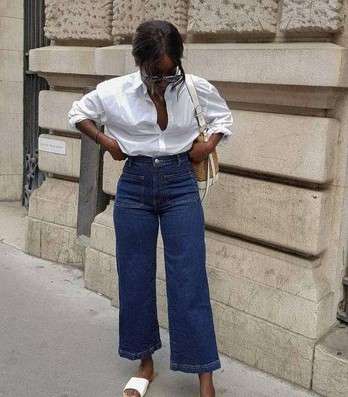 For a breezy and laid-back vibe, slide sandals are a fantastic choice. Their effortless style matches the carefree aesthetic of wide-leg jeans, making them an ideal pairing for warm days. Slide sandals offer comfort and ease while enhancing the relaxed feel of wide-leg jeans.
17. Statement Sneakers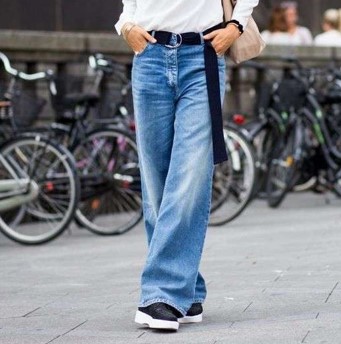 Make a bold statement with eye-catching sneakers. Opt for sneakers with unique patterns, colors, or embellishments to elevate your wide-leg jeans ensemble instantly. Statement sneakers become a focal point of your outfit, drawing attention and showcasing your style.
Shoes to Avoid with Wide-Leg Jeans
Here are some shoes that you should avoid wearing with wide-leg jeans:
Stilettos.
Flip flops.
Clunky boots.
Ballet flats with a round toe.
Platform sandals with a thick strap across the front.
FAQs
Can I wear heels with wide-leg jeans for a formal event?
Absolutely! Wide-leg jeans can be dressed up with elegant heels for formal occasions, creating a sophisticated and fashionable look. The combination of heels and wide-leg jeans adds an element of elegance and ensures a flattering and elongated silhouette.
What shoes should I avoid with wide-leg jeans?
It's best to avoid shoes with overly chunky or thick soles, as they can disrupt the balanced proportions of wide-leg jeans. Bulky shoes can overwhelm the flowy silhouette of the jeans and detract from their elegant appearance.
Can I wear sneakers with wide-leg jeans to the office?
Yes, you can! Opt for clean and classic sneakers for a polished appearance. Pair them with a structured blazer to create a stylish business-casual look. Sneakers with a sleek and minimalist design can add a touch of modernity to your work ensemble.
How can I transition my wide-leg jeans look from day to night?
Transitioning your wide-leg jeans look from day to night is simple. Swap casual shoes like slip-on sneakers for heeled sandals or boots, and add statement accessories to elevate your outfit. The change in footwear and accessories instantly transforms the outfit's vibe from casual to sophisticated.
Conclusion
Choosing the perfect shoes to wear with wide-leg jeans is a thrilling journey that allows you to express your unique style and personality. From casual sneakers to glamorous heels, each shoe style offers an opportunity to create a distinctive and memorable outfit.
By embracing the wide-leg jeans trend and experimenting with different shoe pairings, you'll exude confidence and leave a lasting impression wherever you go.
Source:
https://jolynneshane.com/what-shoes-to-wear-with-all-types-of-jeans.html