How To Wear Ankle Pants in Winter? 13 Outfit Ideas for Styling Cozy Ankle Pants
As the chilly winter winds blow, we often reach for our trusty pair of jeans or cozy leggings to keep warm. But what if I told you there's another stylish option that can elevate your winter wardrobe to a whole new level of chic? That's right; I'm talking about ankle pants! These versatile bottoms are trendy and perfect for transitioning your outfits from fall to winter.
In this blog post, I'll share 13 fabulous outfit ideas showing you exactly How To Wear Ankle Pants in Winter, ensuring you stay fashionable and cozy throughout the season. So, let's dive in and discover the endless possibilities that ankle pants offer for winter styling!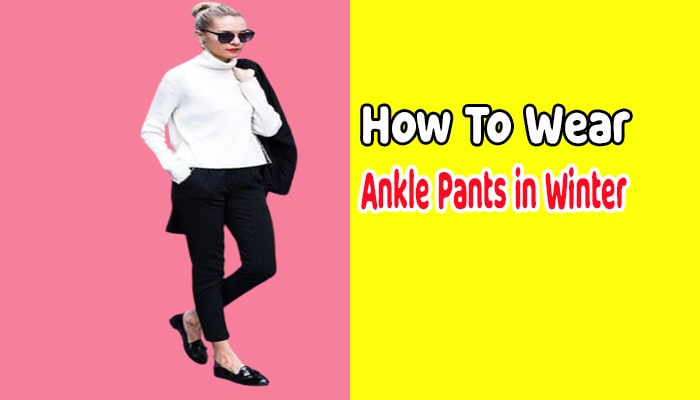 Why Are Ankle Pants Perfect for Winter?
I love wearing ankle pants in winter because they are so versatile and fashionable. They are the perfect way to take your wardrobe up a notch without compromising comfort and warmth. With their cropped length, you can easily pair them with ankle boots and stylish sweaters for an updated winter look. The ankle pants also add style to any outfit – whether for a casual chic look or something more formal. Plus, they're slim-fitting and hug your body in all the right places, making them great for layering and keeping you warm during colder months.
How To Wear Ankle Pants in Winter?
Winter is here—and so are winter fashion trends! One of my favorite trends this season is ankle pants. Ankle pants are the perfect way to keep your look stylish yet functional during the colder months. But how do you pull off wearing ankle pants in winter? Here are 13 outfit ideas to help you stay warm and stylish in ankle pants this winter!
1. Long Blazer With Ankle Pants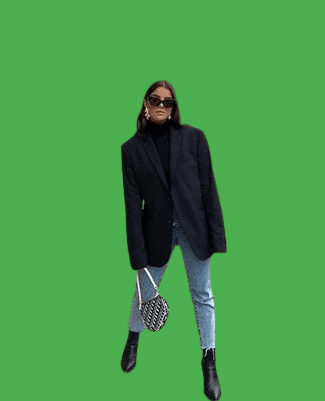 One great option is to pair a long blazer with ankle pants. The length of the blazer will keep you warm, while the ankle pants make for a stylish and modern look. This ensemble can be adapted for any occasion, making it a great choice for various events. It's the perfect way to stay warm and chic at the same time. If you are a plus size woman, you might like our recent post How To Wear Ankle Pants Plus Size?
2. Denim Jacket With Ankle Pants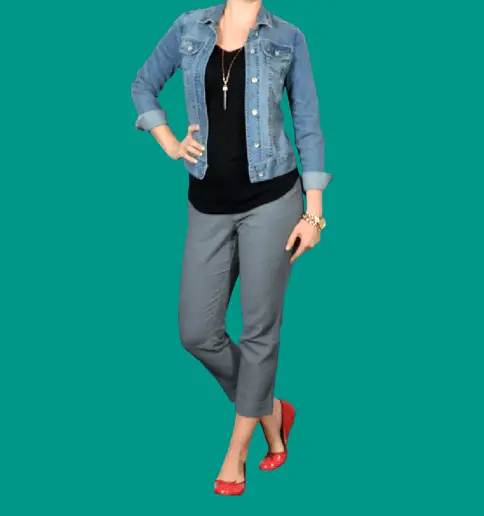 I'm always looking for ways to stay warm yet still look stylish this winter. Combining a denim jacket with ankle pants is a great way to do that. Not only is it a timeless look, but it's also perfect for winter. The denim jacket is a great way to add a layer of warmth, while the ankle pants can easily be worn with any shoe. I love how versatile this look is; it can be worn depending on the occasion.
3. Cozy Sweater Knit With Ankle Pants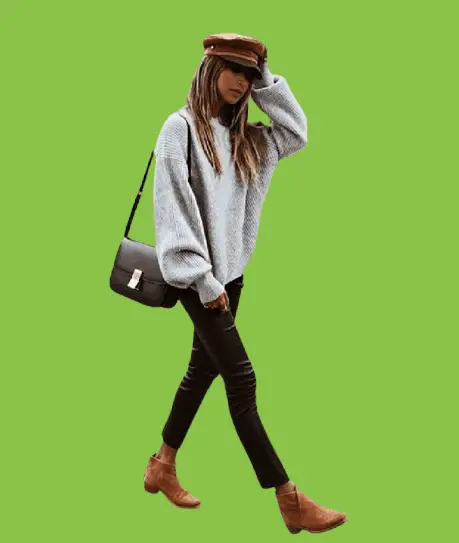 The winter season is a great time to bring out those trendy ankle pants. When the temperatures drop, I love to bundle up in a cozy sweater knit while pairing my ankle pants with a pair of winter boots. This combination of fashion and function is the perfect way to look stylish and stay warm all winter.
4. Sweatshirt With Ankle Pants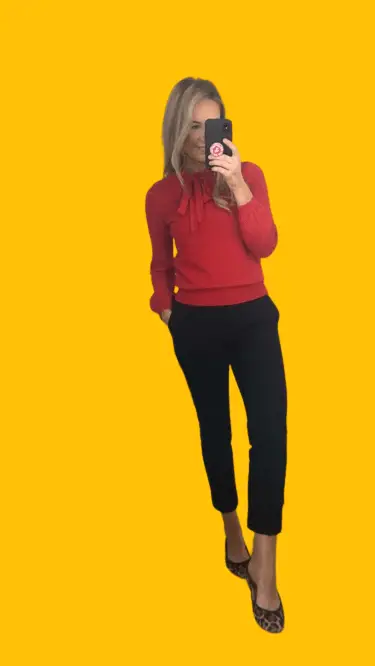 Winter fashion is all about staying warm while still looking stylish. One of my favorite looks to stay warm in the winter is pairing a sweatshirt with ankle pants. This look is comfortable and keeps you warm. For a classic look, I like to pair an oversized sweatshirt with slim-ankle pants in a neutral color. But you can also play with colors and prints for a fun look. For a stylish winter ensemble, pair a sweatshirt with ankle pants and add a cozy scarf, wool hat, and warm boots.
5. Fitted Leather Jacket With Ankle Pants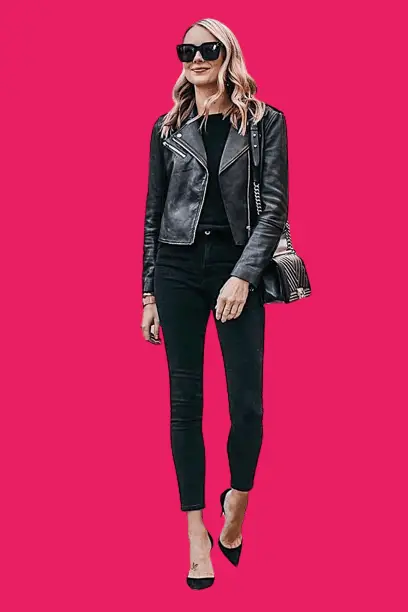 One of my favorite combinations for cooler temperatures is a fitted leather jacket with black ankle pants. This looks stylish and keeps my legs warm and protected from the cold, whether going out in town or meeting friends. The leather jacket creates an edgy yet sophisticated look and can be worn with various footwear, from boots to sneakers. With ankle pants, I can stay warm and fashionable at the same time.
6. Long Cardigan With Ankle Pants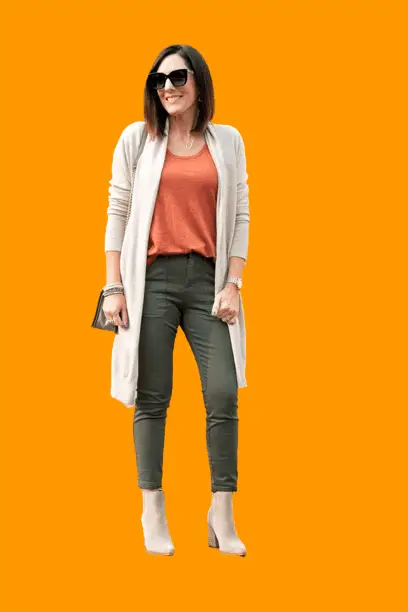 Pairing ankle pants with a long cardigan is a great way to layer up and stay warm. The ankle pants will keep you cozy and warm, while the long cardigan adds a layer of warmth without sacrificing your style. Also, choosing a neutral color for the cardigan will make the look effortlessly chic. The possibilities are endless, so have fun experimenting with different pieces to find the best for you!
Also Read: How To Wear Ankle Pants to Work?
7. Turtleneck Sweater With Ankle Pants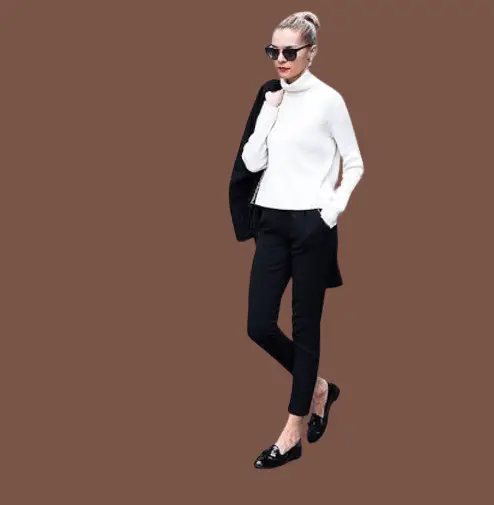 I love the look of a turtleneck sweater with ankle pants for winter dressing. It's the perfect way to stay warm and look stylish at the same time. The key is to layer your outfit to ensure you're comfortable and protected against the cold winter weather. You can start by wearing a warm wool turtleneck sweater over ankle pants. Then, add a stylish coat or jacket with a scarf to keep you warm. Finally, finish the look with some cozy boots, and you'll be ready to take on the winter season in style.
8. Faux Fur Vest With Ankle Pants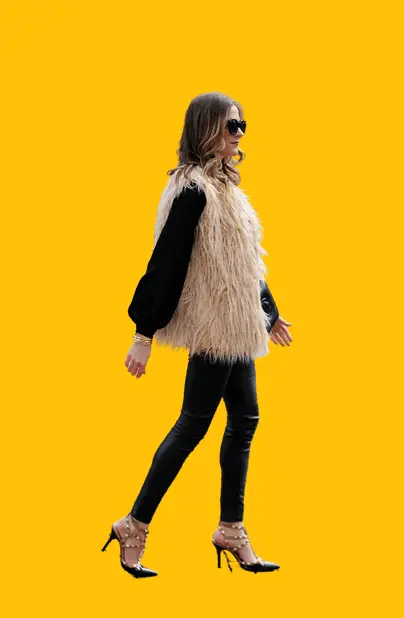 Fashion trends come and go, but one look that has been around for a while is the faux fur vest with ankle pants in winter. I love this look for the winter season because it's stylish and comfortable yet still keeps me warm. It's also great because it can be worn depending on my mood. I start with ankle pants and then layer on a faux fur vest for this look. I finish off the look with booties or sneakers and some cozy accessories. It's a great winter outfit that will keep me warm and stylish all season long!
9. Hoodie With Ankle Pants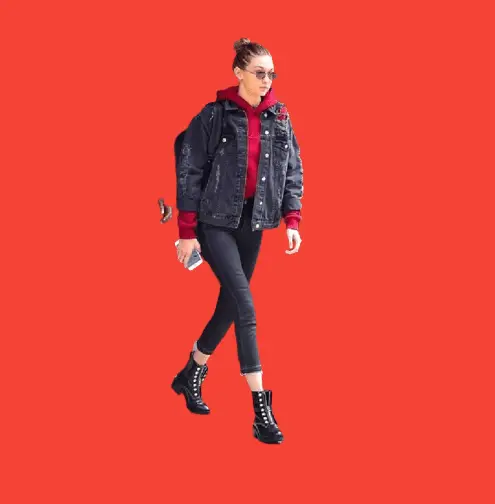 Winter is the perfect time to start experimenting with your wardrobe, and one way to make an edgy statement is to pair a hoodie with ankle pants. Ankle pants are a great way to keep your legs warm and look stylish. Paired with a soft, warm hoodie, it's a winning combination for those chilly days. To ensure the ensemble looks polished, opt for a hoodie in a muted color, such as gray or black, and add a pair of stylish ankle boots or sneakers. This look is both comfortable and fashionable while keeping you warm!
10. Puffer Jacket With Ankle Pants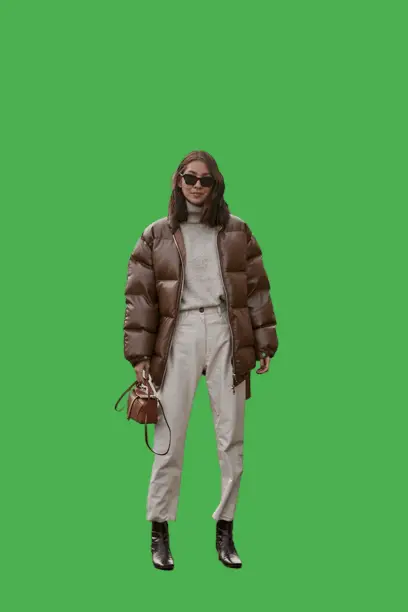 I never thought combining puffer jackets and ankle pants for a winter look would be possible, but I'm so glad I tried it. With the right styling, a puffer jacket and ankle pants can make the perfect winter outfit. The puffer jacket provides warmth, while the ankle pants show off your favorite boots. In addition, I love the look of pairing bright-colored ankle pants with a neutral-toned puffer jacket for a stylish winter look.
11. Long Coat With Ankle Pants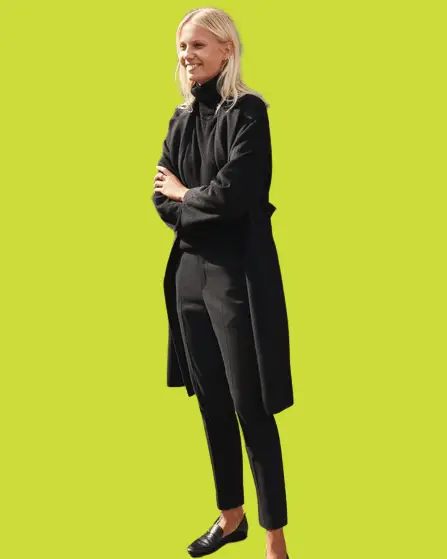 The perfect combination for keeping your outfit stylish and weather-appropriate is a long coat with ankle pants. Ankle pants are a great way to show off your shoes and look chic, while the long coat helps to keep you warm and provides an extra layer of style. With so many colors, fabrics, and lengths options, it's easy to find the perfect look to stay warm and fashionable this winter. For those who love baggy jeans, read our recent post about What to wear with baggy jeans in winter?
12. Plaid Blazer With Ankle Pants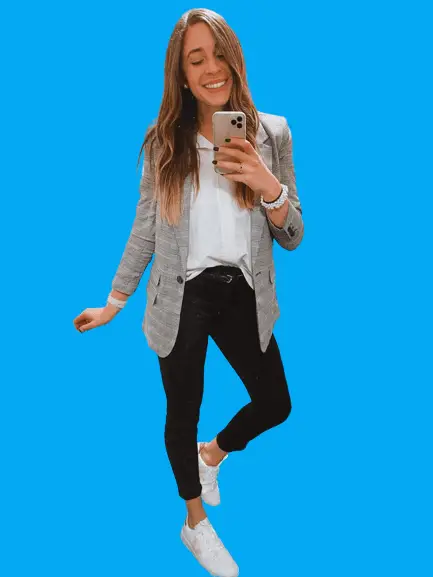 A plaid blazer with ankle pants is a timeless look that will never go out of style. This look can be paired in the winter with various shoe styles, but the key is ensuring the shoe choice is appropriate for the season. What shoes to wear with ankle pants in the winter?
Ankle boots are always great since they keep your feet warm and stylish. If you want a casual look, a simple pair of sneakers or loafers can be worn to keep the outfit looking polished. If you want to style it up a bit, ankle pants with boots look great for a night out or a special occasion. No matter what look you go for, you'll be sure to turn heads with this fashionable combination!
13. Boots With Ankle Pants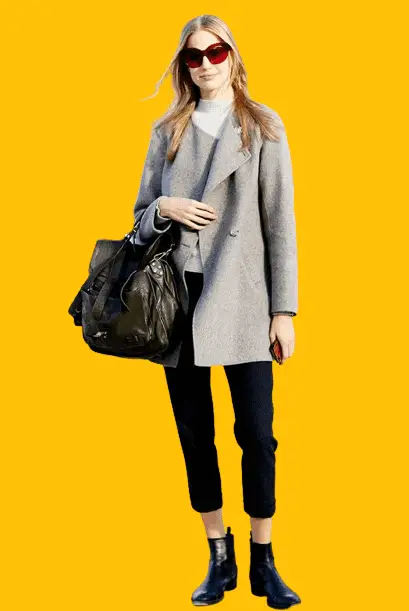 Ankle pants are a great choice for winter because they look fabulous with boots. Whether you're looking for a sleek, formal look or a casual and cozy ensemble, pairing ankle pants with boots is a great way to keep warm while looking stylish. With so many different types of boots, you can create various looks that are perfect for winter. So the next time you're wondering what shoes to wear with your ankle pants in the winter, remember to pair them with your favorite boots!
FAQ
Are ankle pants suitable for all body types?
Ankle pants can suit all body types if you consider a few key factors. The length and fit of the ankle pants play a crucial role in how flattering they can be on different body shapes. For those with shorter legs, opting for ankle pants that hit slightly above the ankle can create the illusion of longer legs. On the other hand, individuals with longer legs can rock ankle pants that hit at or just below the ankle. Choosing a style that flatters your body shape, whether straight-leg, wide-leg, or tapered silhouette, is also important.
Can I wear socks with ankle pants?
Absolutely! Wearing socks with ankle pants is a fantastic way to add a touch of personal style and stay cozy during the winter months. When it comes to cropped jeans in winter, pairing them with socks can create a trendy and practical look.
Can you wear ankle pants in the fall?
Yes, you can certainly wear ankle pants in the fall! It's a great way to add a fashionable flair to your wardrobe while staying warm. Ankle pants look especially chic when paired with ankle boots, creating an effortless yet stylish look. Opt for heavier materials like corduroy or wool to stay comfortable and warm in colder weather. With the right styling, ankle pants can be a beautiful and unique part of your fall wardrobe.
Conclusion
This guide on How To Wear Ankle Pants in Winter has inspired you to elevate your wardrobe. These versatile bottoms can be styled for various occasions during the chilly months. You can create countless fashionable and cozy outfits by layering with cozy sweaters, chic coats, and stylish boots. Remember to have fun with textures, patterns, and colors to make your winter ensembles pop. With the right combinations, ankle pants can be your go-to choice for a stylish and practical winter look. So, embrace the versatility of ankle pants and let your winter fashion shine!