Style Secrets for Making Mom Jeans Look Fabulous with the Right Top
One of my favorite trends is mom jeans, but I always wonder what tops to pair with them. After researching, I've created 13 popular tops with mom jeans to help you make the perfect look. In this blog post, I'll share my top picks and styling tips to ensure you look your best. So, if you're looking for a way to update your wardrobe, keep reading to find out what tops to wear with mom jeans.
What to Consider When Choosing a Top?
Choosing the right top to wear with mom jeans can be daunting. Knowing what will work best with your style can take time with many options. But don't worry; I'm here to help! Here are three things to consider when choosing a top to go with your mom jeans: 
Color: When it comes to color, you want to pick something that will complement your jeans. If you're wearing light-wash mom jeans, try a bold, bright color for your top. If you're wearing a darker wash, try a more muted color.
Style: I consider the style of the top. I usually opt for something casual and comfortable, like a t-shirt or a tank top. However, I also like to add a bit of flair to my outfit, so I often choose a top with a unique neckline or a fun pattern.
Length: The length of your top should be determined by the length of your jeans. If your jeans are cropped, try a top just above the waistband. If your jeans are full-length, try a top that falls to the hip or mid-thigh.
What Top to Wear With Mom Jeans? 13 Popular Tops to Wear with Mom Jeans
Mom jeans are making a huge comeback this season, and I love the vintage vibes they bring to any outfit. But if you're like me and have been wondering what to wear with mom jeans, I'm here to help! I've rounded up 13 popular tops that look great with mom jeans and can help you create a stylish, modern look.
1. Cropped Tops With Mom Jeans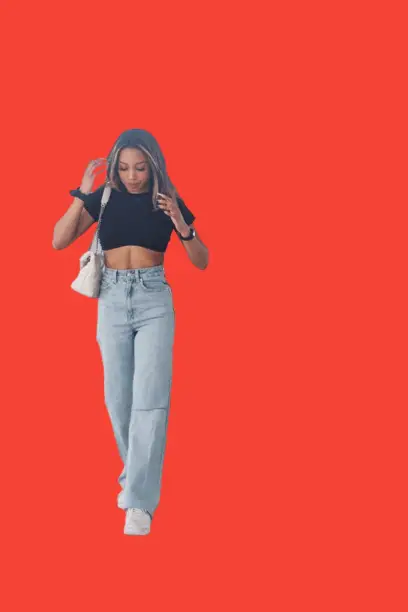 I'm a big fan of the mom jeans trend. They're comfortable and stylish, and they look great with various tops. One of my favorite ways to style them is with a cropped top. A cropped top adds a bit of edge to the look, and it's great for showing off a fun belt. Plus, you can wear a cropped top with mom jeans in any season, making it a versatile look. So whether you prefer a tank top, t-shirt, or blouse, you can easily create a polished and fashionable look with a cropped top and mom jeans.
2. Bodysuit Tops With Mom Jeans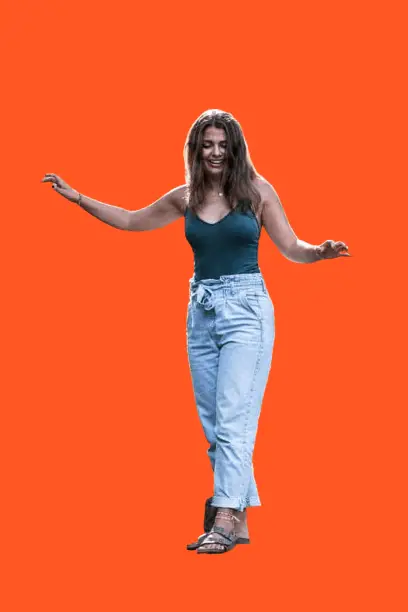 Bodysuit tops are a great way to take your mom's jeans look to the next level. They provide a sleek silhouette and look great tucked into your jeans. In addition, they come in various colors and styles, so you can easily find one to match your style. Whether you choose a long-sleeve, short-sleeve, or tank-top bodysuit, you will indeed look chic. I love pairing my favorite bodysuit with mom jeans for a fun and fashionable look.
3. Fitted T-shirt Tops With Mom Jeans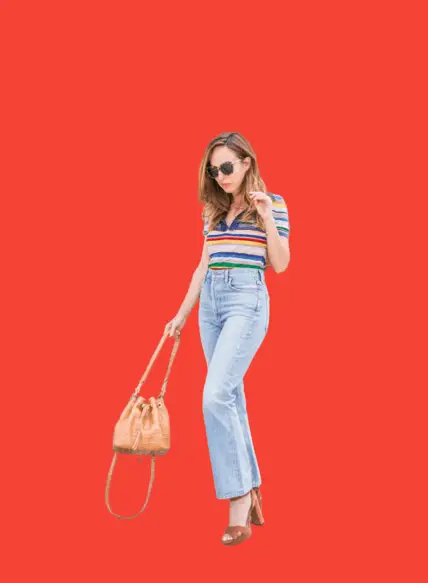 One of the best looks to go with mom jeans is a fitted t-shirt. This classic pairing is a timeless look that always stays in style. Fitted t-shirts are comfortable yet stylish. And when paired with mom jeans, they create an effortless, but on-trend, look. I love adding a pair of statement earrings or a scarf to complete the look. It's a great way to wear your mom's jeans for a night out.
4. Floral Peplum Top With Mom Jeans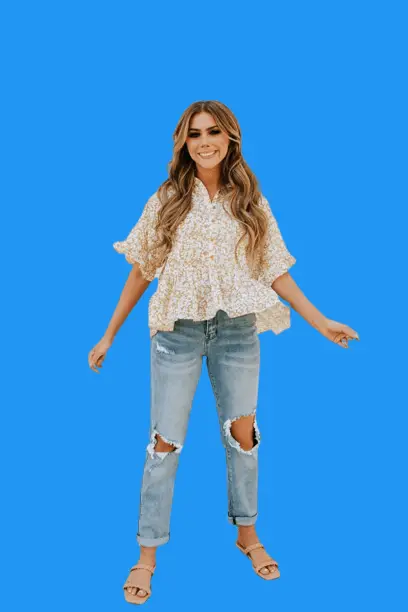 Pair a floral peplum top with mom jeans for a feminine and flirty look. The peplum top is a great way to add a bit of shape to your figure, while the mom jeans provide a casual and comfortable look. Add a pair of ballet flats or sandals and a cute crossbody bag to finish the look. This outfit is perfect for a day out with friends or a casual lunch date.
5. Loose Button Down Shirt With Mom Jeans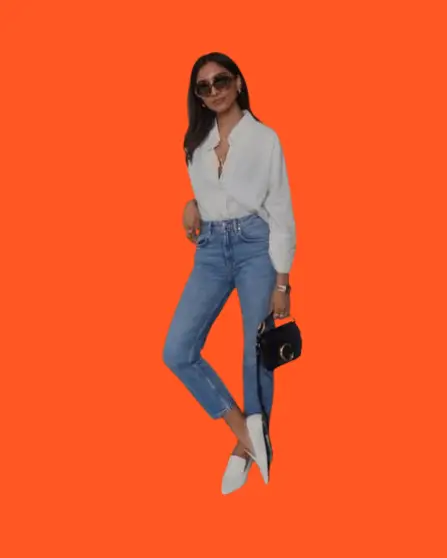 Pair them with a loose button-down shirt to give your mom's jeans a more relaxed and casual look. This look is perfect for a weekend brunch or a casual day out. The loose fit of the shirt will balance out the fitted look of the jeans, creating a stylish and effortless look. Plus, you can easily switch up the look by changing the color or pattern of the shirt. Read more about What Shirt To Wear With Mom Jeans?
6. Graphic Tee With Mom Jeans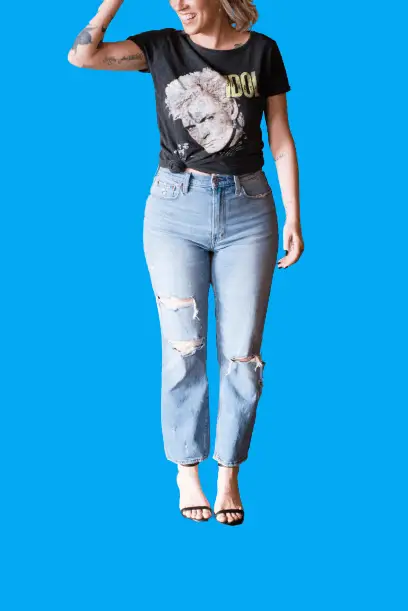 Combining a graphic tee and mom jeans is a great way to express your style without overly showy. Plus, the juxtaposition of casual jeans with a graphic tee creates a cool look. So whether you opt for a classic rock band tee or something more modern, you can always go right with a graphic tee and mom jeans.
7. Pullover With Mom Jeans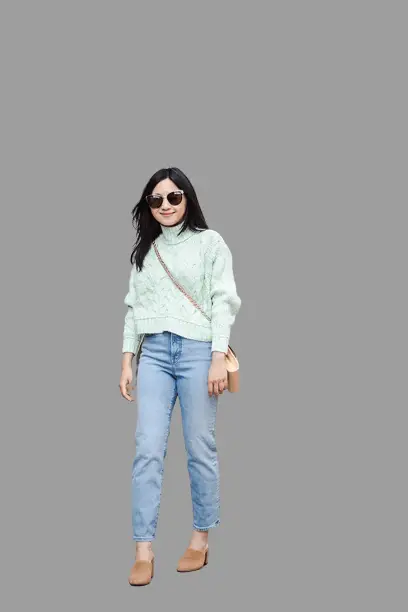 The relaxed fit of mom jeans and a pullover's cozy, comfortable feel make for a stylish and laid-back outfit. The look will surely be a hit if you wear a classic crew neck or a slouchy, oversized style. You can keep it simple with a solid-colored pullover for a classic look, or go bold with a patterned one to add extra personality to your outfit. Whatever you choose, you can't go wrong with a pullover and mom jeans!
8. Cropped Sweatshirt With Mom Jeans
When I think of classic comfort combined with modern style, I can't help but think of a cropped sweatshirt paired with mom jeans. The combination is perfect for any casual occasion, such as a day in the park or a get-together with friends. The cropped look of the sweatshirt gives it an edgy vibe, while the mom jeans are both comfortable and stylish. I like to add a pair of sneakers or sandals and a cool bag. This is one ensemble I find myself wearing time and time again!
9. Tank Top With Mom Jeans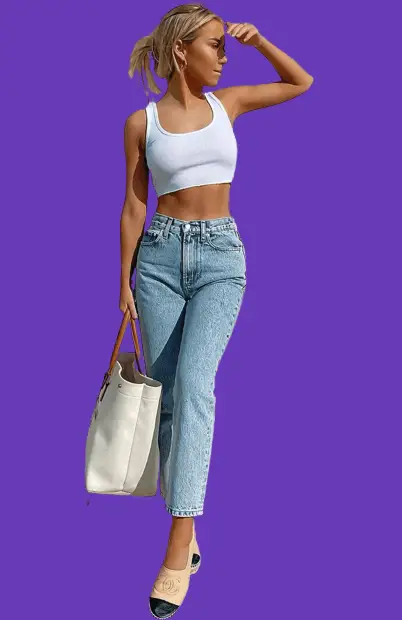 I recently discovered the perfect combination for a casual yet stylish look: a tank top with mom jeans! This look is ideal for running errands, lunch with friends, or even a night out. The tank top adds an edge to the mom jeans, while the jeans provide a comfortable and relaxed fit. I love to pair my tank top with high-waisted mom jeans and some cute sneakers or sandals. The result is a look that is both comfortable and fashionable. I'm sure you'll love it too!
10. Cape Top With Mom Jeans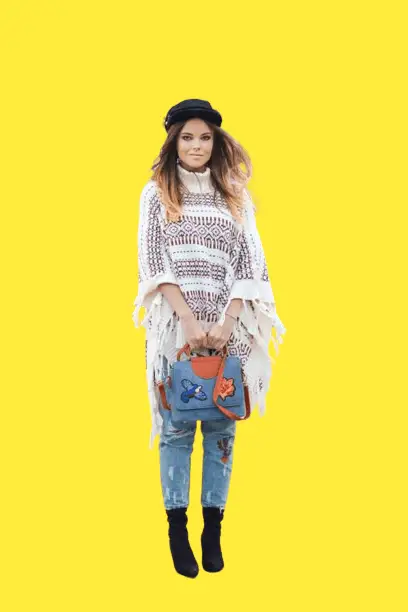 Cape tops and mom jeans are the perfect combinations for a chic and casual look that I can't get enough of! When paired with mom jeans, it creates a stylish and comfortable look. I love how the cape top drapes over the jeans and how the jeans add a bit of structure to the look. It's a classic combination that I can wear just about anywhere! And if you are confused about shoes, read our guide about What Shoes to Wear with Mom Jeans?
11. Kimono With Mom Jeans
The long drape of the kimono is the perfect pairing to the classic mom jeans silhouette, creating a layered look that's both stylish and comfortable. Adding a kimono to my outfit gives it a chic and modern feel. I like to add a belt to emphasize my waist and give the outfit a more tailored look. A pair of ankle boots or sandals with a low heel finishes the ensemble perfectly. With my kimono and mom jeans, I'm ready for just about anything!
12. Knit Sweater With Mom Jeans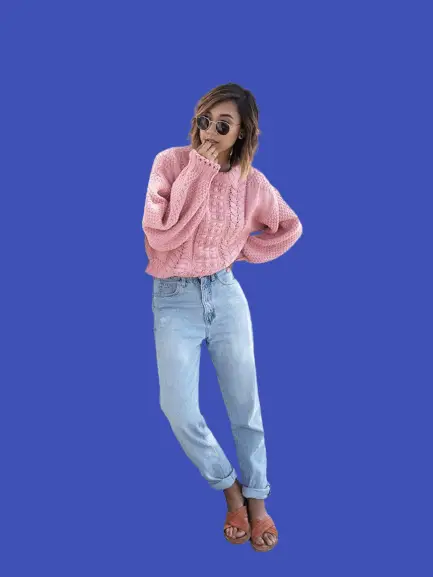 My go-to top for mom jeans is a classic knit sweater. It's lightweight and cozy, perfect for those cooler days. The neutral colors of the knit sweater will go with any color of mom jeans, so it's a great way to add some variety to your wardrobe. In addition, the knit sweater has a timeless look that will never go out of style. So if you're looking for an easy, stylish way to wear mom jeans, I recommend pairing them with a knit sweater! Don't forget to choose the right fit of mom jeans.
13. Basic White Tee With Mom Jeans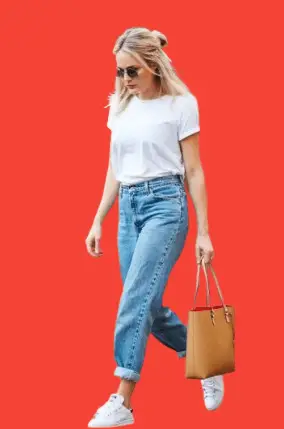 The last outfit I want to mention is the classic white tee and mom jeans combo. This is a timeless look that always stays in style. I love pairing a basic white tee with my favorite mom jeans for an easy, casual look. It's perfect for running errands or grabbing lunch with friends. The best part is that you can quickly wear it on any occasion. Add a pair of heels and statement jewelry for a dressier look, or keep it simple with sneakers and a denim jacket. Either way, you can go right with this timeless outfit.
Conclusion
Mom jeans are a great way to add a modern twist to your wardrobe. With the right top, you can create a stylish, comfortable look that is perfect for any occasion. From classic t-shirts to statement blouses, there are plenty of tops to choose from when styling your mom jeans. With these 13 popular tops, you can easily create a fashionable and timeless look that will keep you looking stylish all year round.