From Sneakers to Heels: The Best Shoes to Wear with Mom Jeans
Have you ever wondered what shoes to wear with mom jeans? This blog post will explore several different options and provide advice on which shoes look best with mom jeans. From sneakers and sandals to loafers and mules, there are many stylish and comfortable options for pairing with mom jeans. Read on to find out which shoes you should be wearing with your mom's jeans!
What Shoes To Wear With Mom Jeans?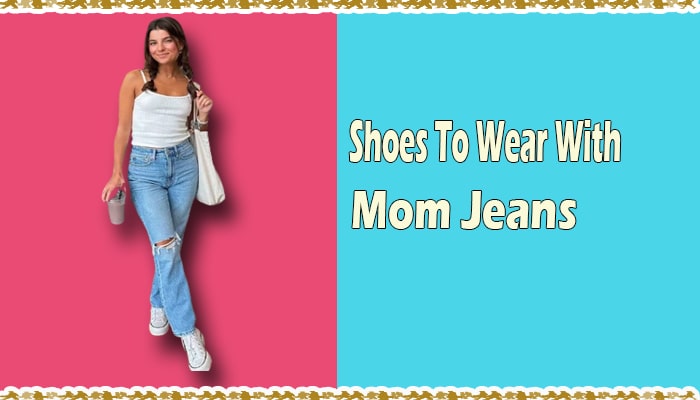 As a self-proclaimed fashionista, I never pass up an opportunity to talk about shoes. This time I'm discussing the perfect shoes to wear with mom jeans. Mom jeans are a classic style that is incredibly versatile. To help you create the perfect outfit, I've rounded up my top 8 shoe list for what shoes to wear with mom jeans:
Classic Sneakers
Ballet Flats
Black Vans Trainers
White Converse Trainers
Gingham Print Slip-on Shoes
Heel Sandals
With Black Trainers
Chelsea Boots
Outfit ideas With Mom Jeans and Shoes
I'm always on the hunt for new outfit ideas that make me look and feel my best. Recently, I've been experimenting with different looks featuring mom jeans and shoes, and I've discovered that this combination is both stylish and comfortable. Here are my favorite 13 outfit ideas with mom jeans and shoes that you can easily recreate at home:
1. Classic Sneakers with Mom Jeans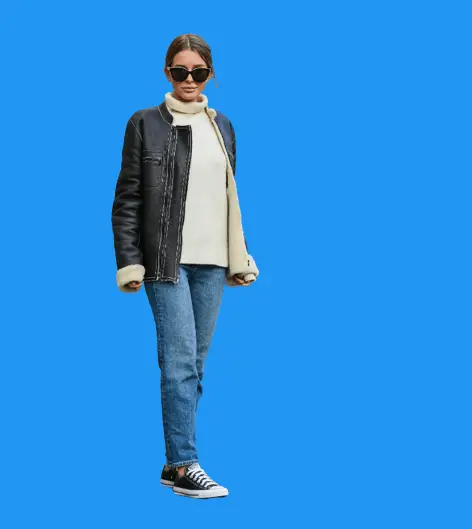 I recently created a classic street-style look with a bonded teddy jacket, black shoes, and mom jeans. I love how combining the three items makes a modern look that's still comfortable and effortless.
I opted for a pair of classic sneakers with a white sole and black upper for shoes. The sleek design and minimalistic look perfectly complement the teddy jacket and mom jeans, giving the outfit a timeless feel. In addition, the rubber sole provides extra comfort and cushioning, making it ideal for all-day wear.
2. Ballet Flats With Mom Jeans and a Black Long Blazer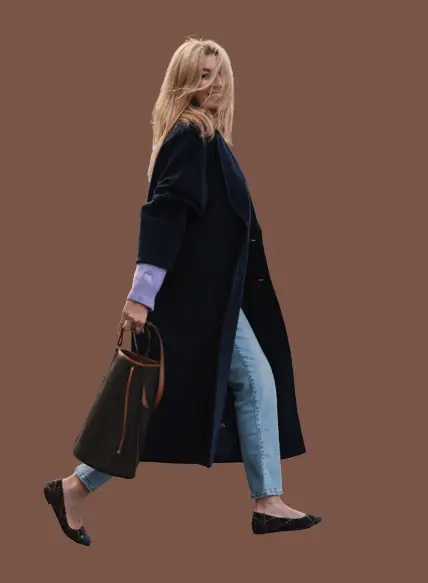 This outfit is perfect for a casual yet stylish look: start with a pair of ballet flats, mom jeans, and a black long blazer. Add a white graphic t-shirt to give it a fun twist, and finish it off with a statement necklace and a simple clutch. This outfit is great for a day out with friends or a night out on the town. One thing to keep in mind you must choose the right fit of mom jeans.
3. A Street-Chic Look with Black Vans Trainers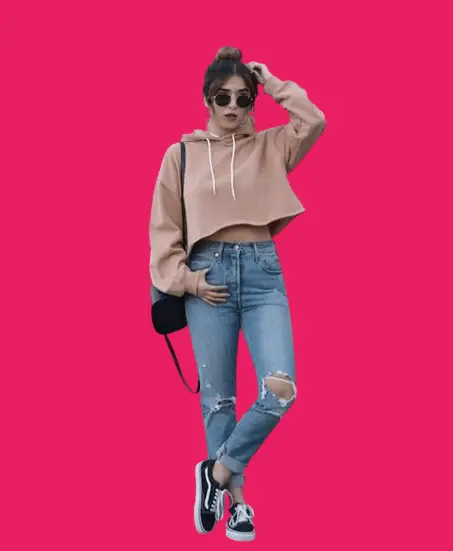 Number 3 on the list is a pastel blush-cropped hoodie. It's a perfect look for those days you want to dress up but keep it casual. I love pairing this hoodie with ripped mom jeans and black Vans trainers. The pastel color of the hoodie adds a delicate touch to the look, while the ripped mom jeans give it an edgy vibe. The black Vans trainers complement the pink hoodie perfectly, making it a stylish and comfortable outfit choice. This look is perfect for weekends or casual outings.
4. A Bold and Vibrant Look with Red Sweater and Mom Jeans
For a casual yet polished look, pair a red sweater with mom jeans. Add a pair of white sneakers, a pair of hoop earrings, and a crossbody bag for a chic weekend outfit. Finish the look with subtle makeup and a messy bun.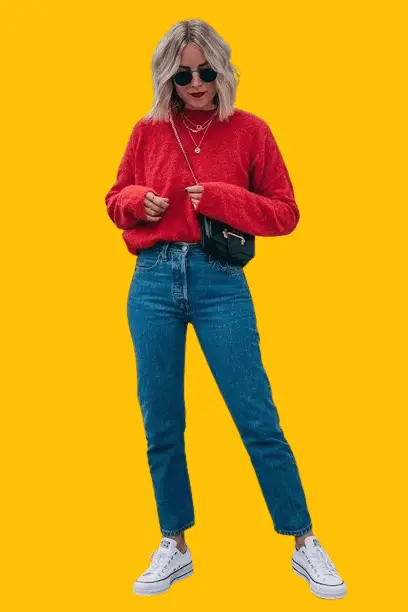 5. Gingham Print Slip-on Shoes with Light Blue Mom Jeans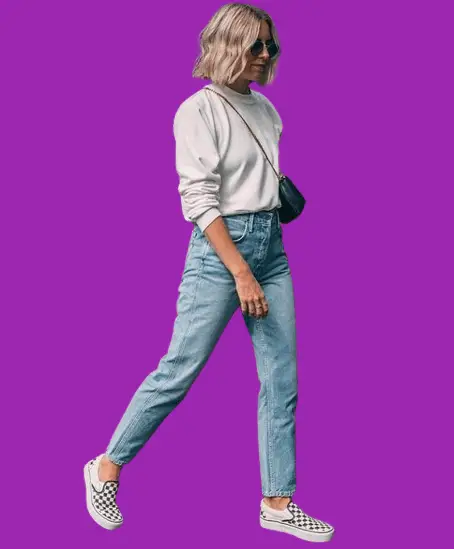 This outfit is perfect for a casual day! Start with a white, off-the-shoulder crop top and pair it with light blue mom jeans and gingham print slip-on shoes. Accessorize with a straw tote and oversized sunnies for a stylish, yet relaxed look.
6. Make a Statement with Mom Jeans and Red Heeled Sandals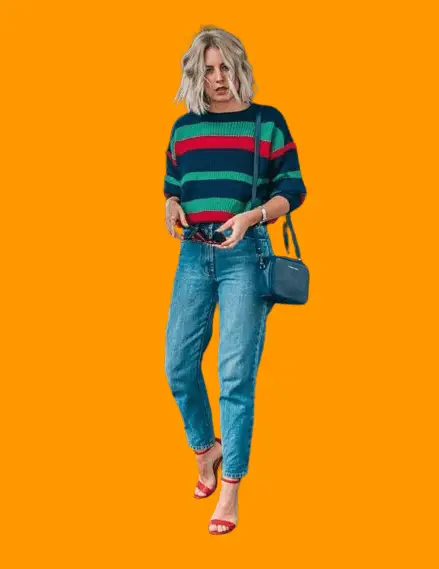 Number 6 on my list of outfit ideas is a multi-striped jumper paired with wash blue mom jeans and red-heeled sandals. This outfit is perfect when you want to look chic yet casual. Combining the striped jumper and the wash blue mom jeans is a great way to add color and pattern to your look. The red-heeled sandals tie the whole look together while adding a bit of glamour to the outfit. The mom jeans and the heeled sandals make it look effortless and stylish.
7. A Sophisticated Look: Mom Jeans with Nike Old-School Dunks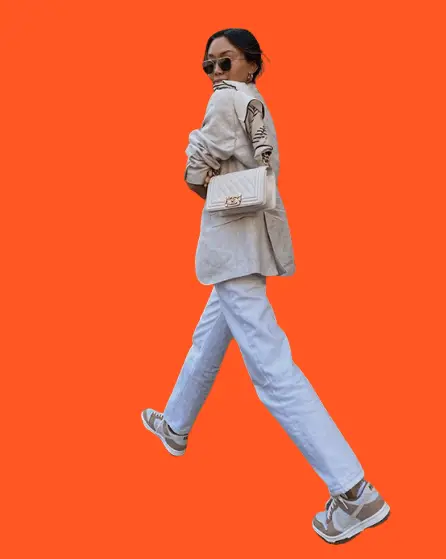 For a sophisticated look, try pairing mom jeans with Nike Old-School Dunks. The jeans should have a straight-leg fit with a high waist and a dark wash. Top off the look with a crisp white button-down shirt and a stylish blazer. Accessorize with a bold gold necklace and a pair of stylish sunglasses. This outfit is both comfortable and fashionable.
8. A Black Sweater and Mom Jeans With Sneakers
A black sweater is one of my favorite pieces with mom jeans. However, I like to pair it with white sneakers for a more casual, stylish look. The white sneakers provide a great contrast to the dark sweater, making the outfit pop. Plus, the white sneakers add a touch of comfort to the outfit. 
9. A Mom Jeans and Black Trainers Fashion Combination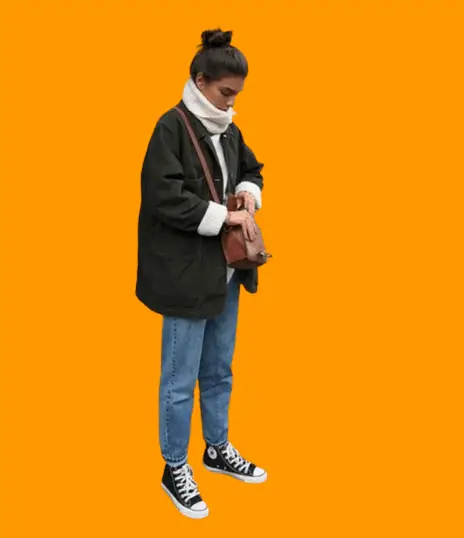 Number 9 on my list of outfit ideas is a classic combination of a corduroy jacket and Mom jeans with black trainers. This is a perfect outfit for the winter, as the corduroy jacket will keep you warm, and the Mom jeans are both stylish and comfortable. The black trainers are the perfect finishing touch, adding a casual, sporty vibe to the look. 
10. A Chic Combo: Blue Mom Jeans and Chelsea Boots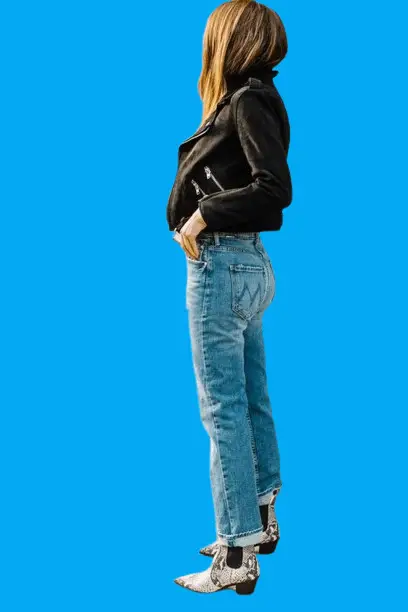 I recently found the perfect outfit combination for winter: a black leather jacket, blue mom jeans, and snakeskin print Chelsea boots. The leather jacket gives the outfit an edgy vibe, while the mom jeans and shoes add a hint of femininity. The snakeskin print Chelsea boots are a great way to make a statement without being too over the top. This outfit will turn heads and keep you warm all winter. I'm so glad I found this perfect combination of items to keep me fashionable and cozy during the colder months!
11. Elevate Your Look with Mom Jeans and Black Heeled Pumps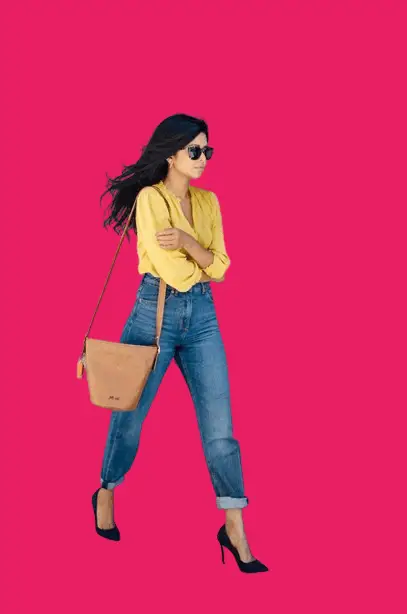 Number 11 on my list of fashionable outfit ideas is a light yellow blouse tucked in mom jeans and completed with black heeled pumps. This look is perfect for a casual day out, and it's also super comfortable. The light yellow blouse is a great way to add a pop of color to your outfit, and the mom jeans will keep you comfortable all day. The black-heeled pumps are the perfect way to dress up the look and give it a little bit of sophistication. This outfit will turn heads and make you feel confident in your style.
12. A White Top Tucked in Mom Jeans and Clear-Heeled Sandals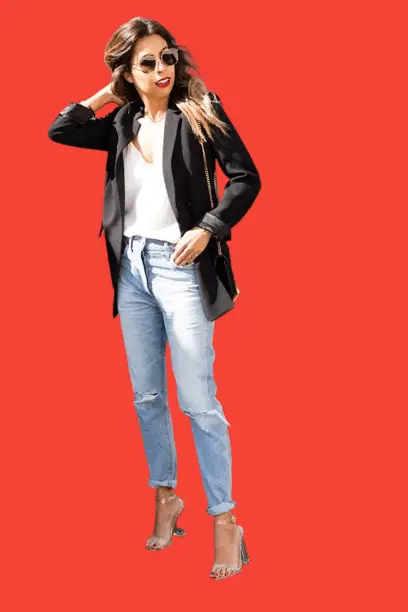 This outfit is perfect for a casual summer day! Start with a white top, and tuck it into a pair of high-waisted mom jeans. Accessorize with a belt to cinch the waist. Add a pair of clear-heeled sandals to complete the look. 
13. Step Up Your Look with Cuffed Mom Jeans and Black Heels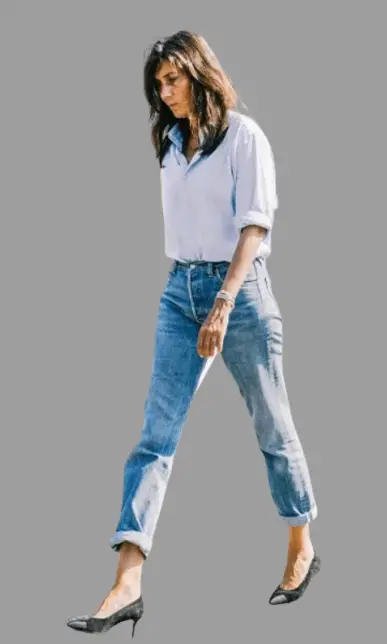 Number 13 is the last of outfit ideas with mom jeans and shoes. For this look, I love to wear a light blue button-up tucked into a pair of cuffed mom jeans. The classic mom jeans provide a comfortable yet stylish look to the outfit. In addition, I paired the outfit with black heels to add a bit of class. Combining the light blue shirt and mom jeans with black shoes creates a perfect balance of classic and modern style. The versatile outfit can be worn to work, a night out, or a casual day out.
Conclusion
Choosing the right shoes to pair with mom jeans can be a challenge. However, with the right guidance, you can easily craft a stylish look that works for any occasion. Whether you opt for an unexpected style like ankle boots or a dressy option like strappy sandals, you can be sure to create an effortless and fashionable look. With a few key tips in mind, you'll be ready to rock your mom's jeans with the perfect shoes.