Styling Tips: What Shirts To Wear With Mom Jeans?
What shirts should I wear with my mom's jeans? Finding the perfect top to pair with your favorite mom jeans can be challenging. Various shirts can be worn with mom jeans, from casual to dressy, to create a stylish look. In this blog post, I'll explore the best shirts paired with mom jeans to inspire you!
What Shirts To Wear With Mom's Jeans?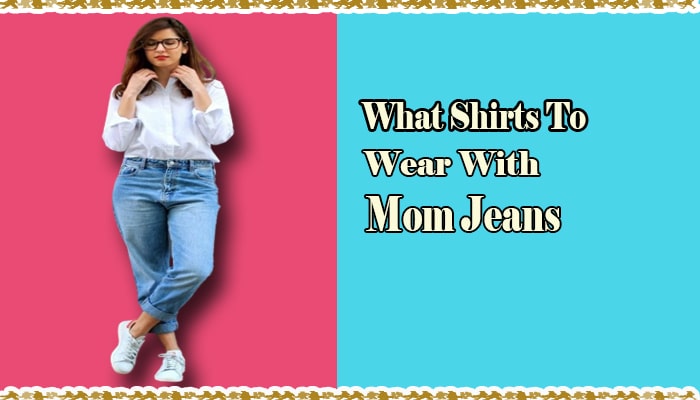 As a self-proclaimed fan of mom jeans, I'm always looking for the perfect top to pair with them. I'm here to share my top 10 shirt list to wear with mom jeans:
Collared Shirt
Silk shirt
Plaid Shirt
A Loose Shirt
Striped Shirt
Jacket Style Shirt
Kayla Shirt
A Ruffled Shirt
Classic White Shirt
Bottom-down shirts
13 Outfit ideas for Styling Mom Jeans With Shirts
I'm excited to share 13 outfit ideas for styling mom jeans with shirts! I love pairing them with shirts of different lengths, colors, and textures to create unique looks. I'll show you how to style mom jeans in various ways. Whether you're going out with friends, running errands, or heading to work, these outfit ideas will have you looking chic:
1. Mom's Jeans With Long Jacket and Collared Shirt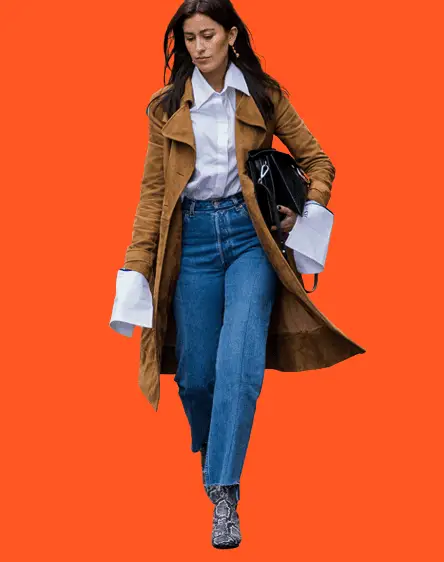 I love wearing mom jeans and like to dress them up with various shirts. One of my favorite looks is pairing mom jeans with a long jacket, collared shirt, and boots. The collared shirt gives a smart, preppy look, and the jacket and boots add a touch of edge. Plus, it's so comfortable! I usually add a colorful scarf or a pair of statement earrings To finish the ensemble,. This is one of my go-to outfits for any occasion.
2. Stylishly Casual: White Shirt + Mom Jeans + Sneakers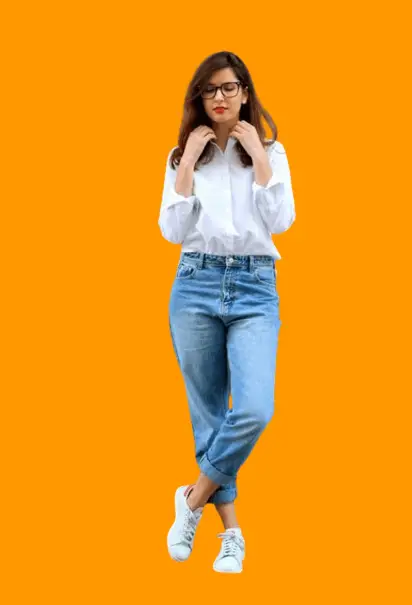 Number 2 on my list of outfit ideas for styling mom jeans is a white shirt and sneakers. This look is perfect for a casual day out or brunch with friends. The white shirt offers a clean and crisp look. While the mom jeans provide a flattering fit, and the sneakers add a fun and sporty touch. I like to accessorize the look with a statement necklace and a cute tote bag to complete the look. This outfit is comfortable and stylish and will turn heads wherever you go.
3. Revive Your 90s Look with Mom Jeans and a Silk Shirt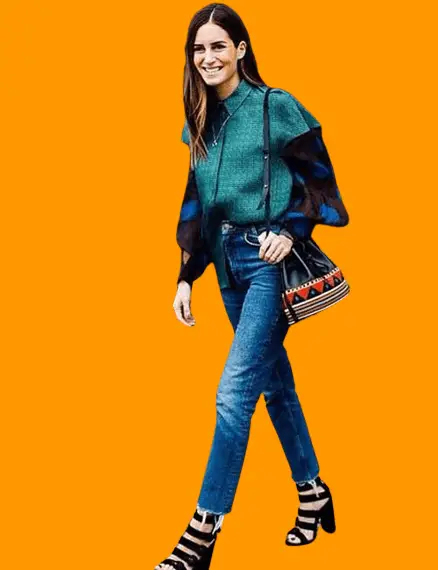 A silk shirt is a perfect way to dress up a pair of medium-washed mom jeans. I love pairing my mom jeans with a classic white or black silk shirt for a timeless look. The combination of the soft fabric and the crisp lines of the shirt gives the outfit a sophisticated look. The thick straps of the heels will add a retro vibe and bring the look back to the '90s. This outfit is easy to put together and will give you that effortless put-together style. Whether you're heading to lunch with friends, this outfit is sure to make you look and feel confident.
4. Chic and Comfortable: Mom Jeans and Loose Shirts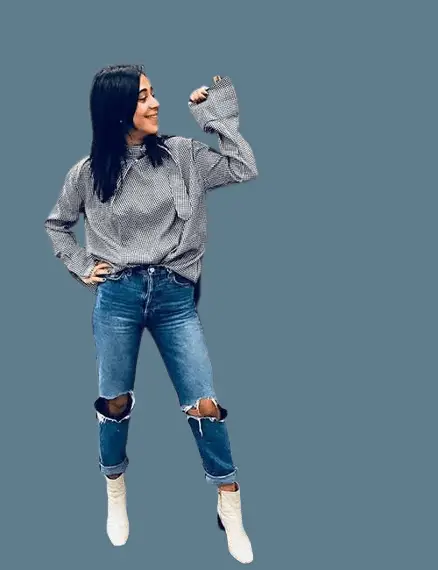 4th number is my favorite Mom Jeans look with a Loose Shirt and Ankle Boots. To get this look, I paired Mom Jeans with a lightweight, loose-fitting shirt and finished the look with ankle boots. It's comfortable and stylish and can easily be dressed with a statement necklace. So for those days when you want to look put-together but still feel comfortable, this is the look for you.
5. Mom Jeans Meet Plaid Shirt and Sneakers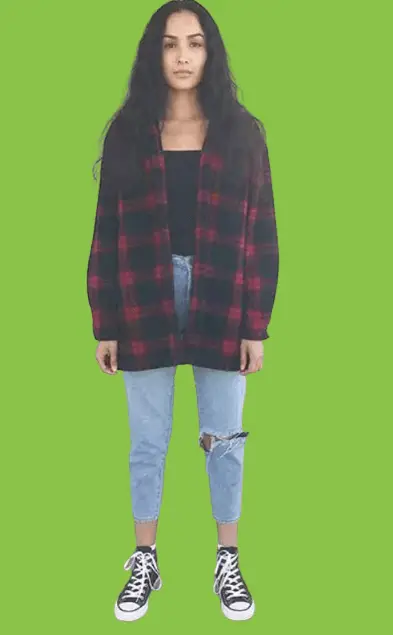 A Plaid Shirt is a classic that can easily be paired with Mom Jeans for a cute and timeless look. I recently styled Mom Jeans with a Plaid shirt and sneakers for a comfortable yet stylish outfit. The plaid shirt I chose was red, which I tucked in at the waist to give the jeans a more fitted look. I completed the look with white sneakers and a simple necklace. 
6. Bottom Down Shirts + Mom Jeans + Air Sneakers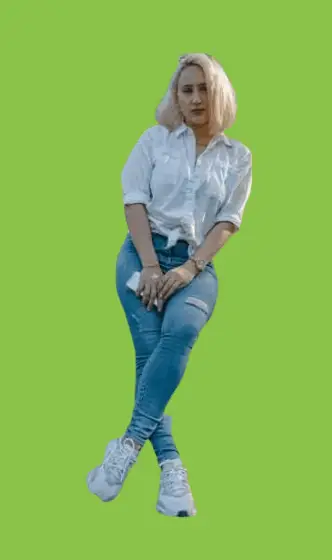 Mom jeans look great when paired with the right pieces. One of my favorite looks is to wear a bottom-down shirt with my mom's jeans and some Air sneakers. The combination creates a casual yet put-together look perfect for any day of the week. The bottom-down shirt adds a touch of sophistication to the look, while the sneakers add a touch of edge. Plus, when you tie the shirt at the front, it creates a relaxed shape to your outfit. With this look, you can always go right!
7. Mom Jeans with a Pink Striped Shirt and Heel boots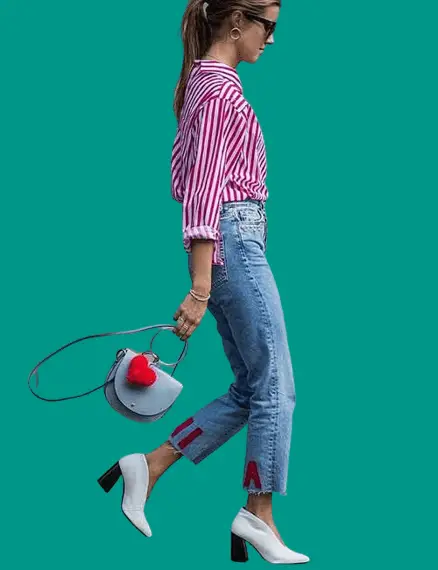 Number 7 on my list is a pink striped shirt and heel boots. I love this look as it is an easy way to dress up an otherwise casual outfit. The pink stripes on the shirt add a touch of femininity, while the heel boots give it a more sophisticated look. I would add some statement jewelry and a pair of sunglasses To finish the ensemble. This outfit is perfect for any occasion.
8. A Jacket Style Shirt with Mom Jeans and a Heel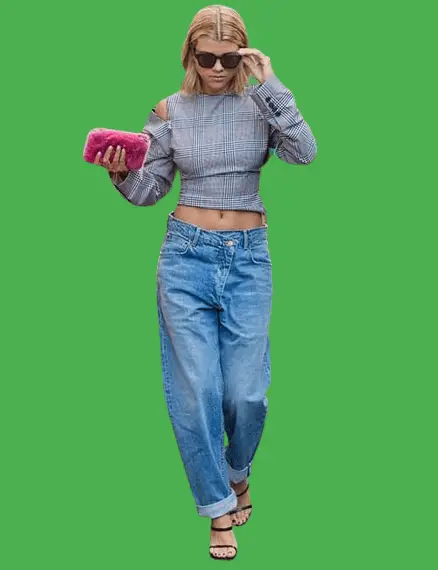 Mom jeans are my go-to when I want to look stylish and comfortable. I like to pair my mom's jeans with a jacket-style shirt to keep my look fresh and modern. It's the perfect combination of stylish and casual. Then, of course, I can dress it up with heels. I also love how the jacket-style shirt gives a look some structure and highlights my waist. This is my favorite way to style mom jeans for an effortless and chic look.
9. Mom Jeans and a Stylish Combo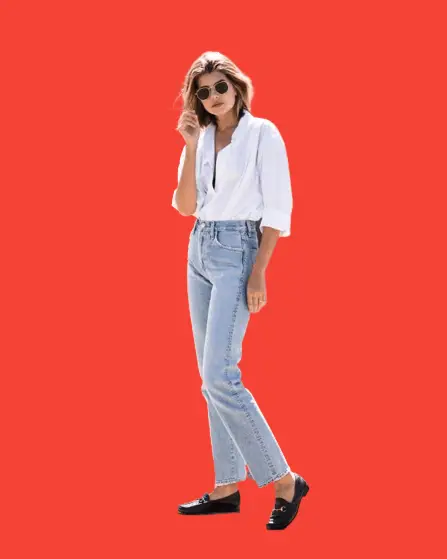 Mom jeans with a shirt and loafers are a perfect choice. I love to pair mom jeans with cute shirts and loafers. It's a classic look that is both cool and comfortable. I love to dress up my look with a basic white shirt and a pair of classic leather loafers. No matter how you style your outfit, mom jeans with a shirt and loafers is an easy, chic look that will always stay in style.
10. Stylishly Chic: Kayla's Look
Number 10 is one of my favorite looks! I love the combination of a classic white button-down shirt with a pair of mom jeans and Balenciaga cutout boots. It's a perfect look for a casual day out. The shirt is lightweight and comfortable, while the mom jeans are a classic, flattering fit. The Balenciaga cutout boots add a touch of edgy style to the outfit. To complete the look, I would add some subtle makeup. It's comfortable, stylish, and easy to assemble – what more could you ask for?
11. Timelessly Chic: The Classic White Shirt + Mom Jeans + Heel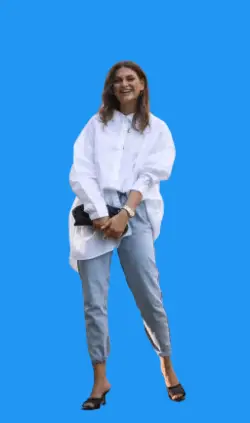 A white shirt and mom jeans combo is a timeless look. I love wearing it with heeled mules or ankle boots to give the outfit a chic vibe. Adding a statement belt or bag will also take a look to the next level. So if you're looking for a timeless yet stylish outfit idea, a classic white shirt with mom jeans and heels is a great option.
12. Fashionably Fun: Mom Jeans and a Ruffled Shirt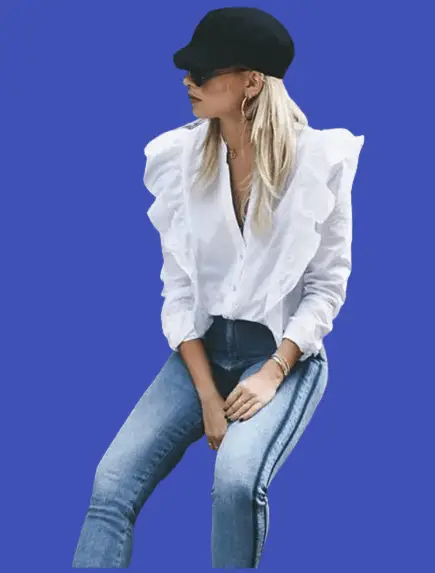 The last number in my list of 12 outfit ideas for styling mom jeans with shirts is a classic and casual look. I love wearing mom jeans with a ruffled shirt, a baseball cap, and hoops. This look is perfect for when I'm trying to get ready quickly but still look pulled together. The ruffled shirt adds a feminine touch to the look, while the baseball cap and hoops add a cool and sporty vibe. It's also a great way to show off my style. I'm feeling confident and ready to take on the day!
Conclusion
While the debate about mom jeans continues, there is no denying that they are a stylish and comfortable alternative to traditional jeans. When choosing a shirt with mom jeans, the best option is to wear something classic. Solid color tees, sweaters, and button-ups are all great options that will look great with mom jeans. With the right top, you can look stylish and put together while still being comfortable. So go ahead and embrace the mom jeans trend, and don't be afraid to get creative with your look!